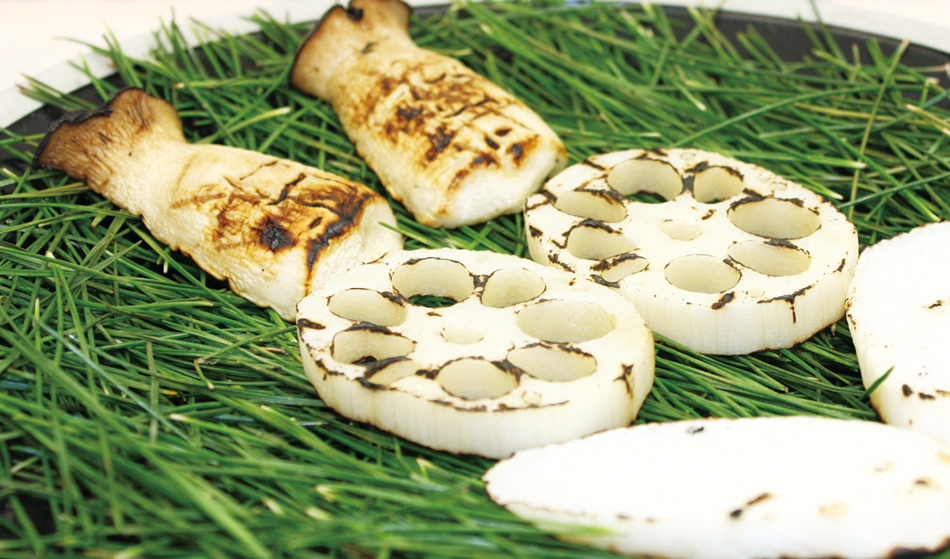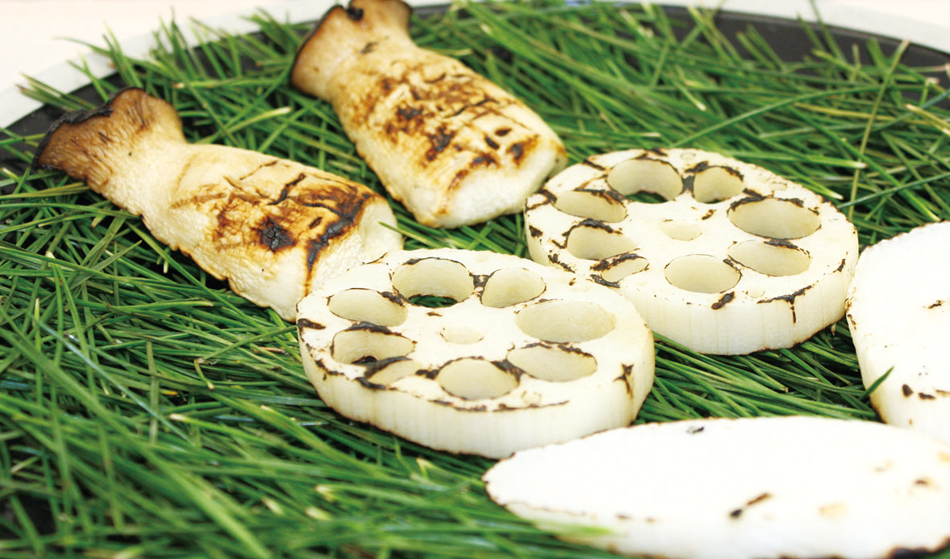 [box_light] Korean Buddhist Cuisine
Eating can be a path to enlightenment[/box_light]
Written by Joe McPherson
Along with the chaotic energy of the city comes the occasional craving to center the soul and mind. Buddhist temples dot the cityscape as idyllic oases of contemplation; then the tummy rumbles, disturbing the quiet. Korean Buddhist temple cuisine presents a realm where tradition meets trendy, where even an unapologetic carnivore can find enlightened satisfaction in a vegan meal.
Temple cuisine's roots go way back, yet still manage to find themselves in sync with modern food trends. It's vegan. It's seasonal. It's local. It's organic. Nothing refined, like sugar, will make its way into a temple dish. On top of that, there are five forbidden vegetables that when eaten raw incite anger, and when eaten cooked encourage sexual mischief. These include garlic, leeks, chives, onions and scallions. With these challenges, to say temple cooks need to be creative is a bit of an understatement.
Fortunately, however, this creativity produces an array of exciting, exotic flavors. Shellfish and fish sauce can't be used in making kimchi, so ripened persimmons come into play. Floral fruit extracts replace sugars. Wild sesame, mountain herbs and homemade vinegars take the place vacated by garlic and onions. An elegant cuisine blossoms from these challenges.
A typical temple dish is yeonip bap, or lotus leaf rice. Freshly harvested sticky rice is steamed in a lotus leaf with Korean dates, pine nuts, chestnuts, gingko nuts and beans to produce an aromatic steam bath of flavors.
Temples conduct baru ceremonies, which are, in essence, eating meditations. It's an elaborate gustatory exercise involving four wooden inset bowls, one for rice, one for soup and two for vegetables. There is a procedure, but the goal of the meal is to slow down and think about your food: Think about where it came from, who harvested it, who cooked it. Think about the people in your life. Think about the bite you are eating now, not the bite you will eat next. Doing so makes the meal a heightened peaceful experience that is the antithesis of the bustling galbi house.
[divider]
→Insa-dong Area
Balwoo Gongyang  발우공양
Across the street from Jogyesa Temple near Insa-dong is the Temple Stay building. Balwoo Gongyang is the flagship restaurant on the fifth floor. The food comes out in multiple colorful courses from a menu that changes seasonally, but the highlights are the crispy fruit and vegetable chips and the lotus leaf rice. Lunches tend to be busier than dinners, so you will more likely get a free table in the evening.
FYI> T. 02-2031-2081
GO> Anguk Station 안국역 (Line 3), Exit 6. Walk past Insadong-gil then take a left, Walk five minutes, and you'll see the Temple Stay Information Center on your left. Balwoo Gongyang is on the fifth floor of the same building.
71 Gyeonji-dong, Jongno-gu, 5th floor
[divider]
→Insa-dong Area
Balwoo Gongyang Kong  발우공양 콩
On the second floor of the Temple Stay building is Balwoo Gongyang's little sister Balwoo Gongyang Kong. They serve three meals a day, but it's primarily known as a lunch space with a popular buffet. They've recently revamped the concept to be more like a baru ceremony in that you receive the four wooden bowls that monks use, where you fill them with rice, soup and the lovely vegetables they make. Being a frugal Buddhist restaurant, though, leftovers are discouraged. Take all you want, but eat all you take. The menu changes daily, but some highlights there are the curry and the sweet and sour fried mushrooms.
FYI> T. 02-736-2083
GO> Anguk Station 안국역 (Line 3), Exit 6. Walk past Insadong-gil then take a left, Walk five minutes, and you'll see the Temple Stay Information Center on your left. Balwoo Gongyang Kong is on the second floor.
71 Gyeonji-dong, Jongno-gu, 2nd floor
 [divider]
→Gyeongbok Palace Station area
Gamnodang  감로당
Tucked away on the western side of Gyeongbok Palace, Gamnodang makes for an elegant lunch spot. Grilled mushrooms and lotus roots rest on a bed of pine needles. Fried morsels of tofu dressed in a spicy sauce. Colorful miniature pancakes dance around the plate. Gamnodang brings the idyllic mountain temple hideaway to your table. Course meals run from KRW26,000 to KRW110,000. They serve lunch until three then close and open again at six for dinner.
FYI> T. 02-3210-3397
GO> Leave Exit 3 of Gyeongbokgung Station 경복궁역 (Line 3). Walk straight and swing a right toward the Daelim Museum. The restaurant is near the museum.
35-106 Tongui-dong, Jongno-gu
[divider]
→Anguk Station area
Sanchon  산촌
One of the more popular temple food restaurants in Insa-dong, Sanchon is known for its live entertainment in the evenings. Run by an eccentric ex-monk who dabbles in art, Sanchon is good for a show with dinner and souvenirs while leaving. Due to the preferences of regular Korean clients, the recipes don't always strictly follow Buddhist rules, but they do make dishes according to the rules if asked a day ahead of time
FYI> T. 02-735-0312
GO> Anguk Station 안국역 (Line 3), Exit 6. Make a left and keep walking past Ssamziegil and look for the sign that says Sanchon.
14 Gwanhun-dong, Jongno-gu
https://magazine.seoulselection.com/wp-content/uploads/2014/04/새송이-연근-참마-솔잎구이.jpg
559
950
cyn
https://magazine.seoulselection.com/wp-content/uploads/2018/01/Seoul-logo.png
cyn
2014-05-09 15:06:36
2018-02-13 16:17:22
Korean Buddhist Cuisine