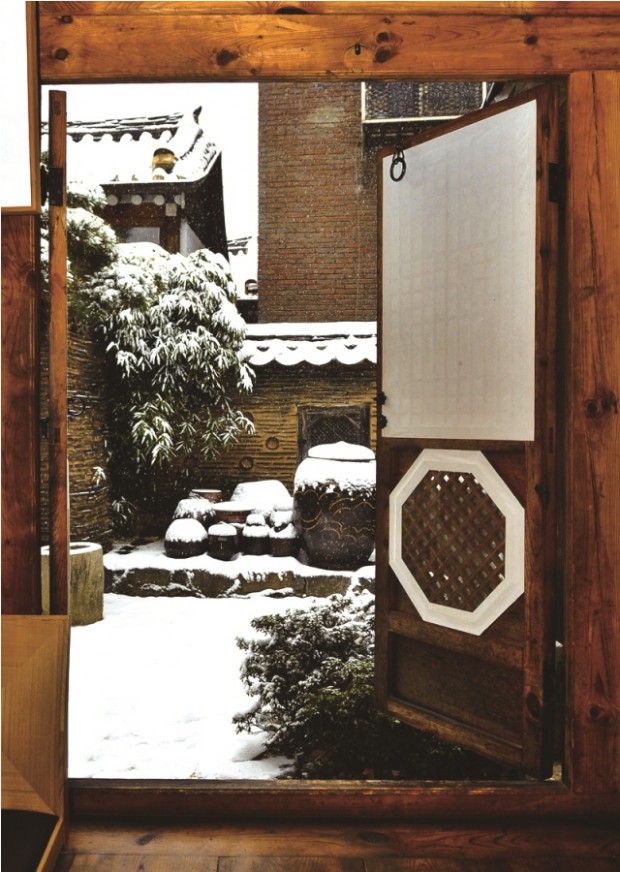 WINTER RETREATS
Written by Robert Koehler
Photographed by Ryu Seunghoo
Relax and recharge at some of the Seoul area's best weekend hideaways
Sometimes, you just want to stay in.
This is especially so in winter. Koreans have an expression, "Happiness is a full stomach and a warm back." Indeed, there are few more pleasant ways to spend a winter weekend than by eating well and relaxing in warm, pleasant surroundings.
Seoul might seem like a never-ending cacophony of light, sound, and energy, but in fact, you don't need to look far to find sanctuary. Hidden throughout Seoul and its surroundings are oases of calm where you (and perhaps a loved one) can kick back, relax, and recharge.
Rak-Ko-Jae  | 락고재
Hidden away in a corner of Seoul's historic Bukchon neighborhood, Rak-Ko-Jae is more than just a hanok guesthouse—it's a chance to experience classic Korean luxury and charm. This stunning 130-year-old aristocratic home, lovingly renovated by Human Cultural Treasure Chung Young-jin in 2003, combines enchanting architecture, captivating landscaping, and masterful cuisine to produce an unforgettable cultural experience. Mind you, it's not an especially cheap experience, with rooms beginning at 250,000 won (and another 30,000 won for dinner), but it's worth every penny.
Rak-Ko-Jae is an aristocratic home, which means you'll be sleeping on the heated floor, Koreanstyle. There are four rooms in all, along with several communal spaces. All the rooms look out on the central courtyard, a lovely Korean garden space with gnarled pines, stone figures, and other visual elements. When it snows, there may be no more beautiful spot in the city.
Cultural programs are available, too, provided you make a reservation. In particular, you can reserve a performance of Korean traditional music—this can make for an especially memorable evening.
[box_info]TIP: There are only four rooms here, so book in advance.[/box_info]
EAT>
The cost of accommodation includes a dinner of samgyetang (chicken and ginseng soup), but for an extra 30,000 won, you can have a dinner of Korean beef ribs. A Korean breakfast is also included.
SEE>
Rak-Ko-Jae is in Bukchon, a picturesque neighborhood of winding alleys lined by Korean traditional homes. It's worth spending a morning or afternoon getting lost here.
DO>
Soothe your aches and pains away in the Rak-Ko-Jae's very own Korean clay sauna. You can also reserve a massage, too.
FYI>
Check-in: 2pm. Check-out: noon.
T. 02-742-3410, http://www.rkj.co.kr
(98 Gye-dong, Jongno-gu, Seoul | 서울시 종로구 계동 98)
GO>
Anguk Station 안국역 (Line 3), Exit 2. Located nearby Jaedong Elementary School.
La Casa | 라 까사
Designed by renowned Korean design house Casamia, Sinsa-dong's La Casa is one of Seoul's premier boutique hotels.      Design is the name of the game here. In a way, the hotel is a virtual showroom of Casamia's furniture—in fact, sales of the company's wares have increased dramatically since the hotel opened.
The hotel reflects Casamia's design principle, which seeks to "provide a comfortable and functional space with creative design and form." Every inch of the place has been scrutinized over, from the light fixtures to the bathroom wastebins. The forms and lines are definitely modern, while the hues are muted. To put you even more at ease, the lobby is done up like a home study… and a very nice one at that.
La Casa has 61 rooms, divided into 10 different styles. The suites are good value and perfect for weekend getaways, but if you're flush with cash, go with the Loft House, with its contemporary chic decor and outdoor deck space. The top floor penthouses also make good venues for private parties.
EAT>
On the first floor you'll find Casa Meal 까사밀 (T. 02-543-0079), the hotel's very pleasant bakery/European café, where you can enjoy the breakfast buffet (included in the cost of your stay). If you're in the mood for something else, the Sinsa-dong neighborhood is literally lined with cafés, bistros, and restaurants.
SEE>
The chic Sinsa-dong district is a little piece of SoHo in Seoul. The vibrant Gangnam district is nearby, too.
DO>
Go shopping in Apgujeong-dong, home to Korea's poshest shops.
FYI>
Room rates: 193,000–1,210,00 won
T. 02-546-0088, Http://www.hotellacasa.kr
(527-2 Sinsa-dong, Gangnam-gu, Seoul | 서울시 강남구 신사동 527-2)
GO>
800m from Apgujeong Station 압구정역  (Line 3), Exit 5.
Gilsangsa Temple | 길상사
For a more spiritual retreat, try Gilsangsa Temple's weekend Templestay program.
Hidden in a mountain valley in the quiet Seongbuk-dong district, Gilsangsa used to be an exclusive, high-end restaurant/entertainment establishment frequented by Korea's economic and political elite of the 1970s. In 1987, the late owner turned the property over to one of Korea's most beloved Buddhist monks, who turned it into a temple. Because of its unique history, much of the architecture and landscaping is quite unlike anything you'll find at other Buddhist temples. When it snows, the scenery here is straight out of a movie.
Winter is a time of intense meditation at Buddhist temples across Korea, but Gilsangsa still manages to conduct bimonthly "Finding Your True Self" weekend retreats. These two-day, one-night sessions are an unparalleled opportunity to unplug, connect with nature, and experience a 1,700-year-old Korean tradition. Retreats include Seon (Zen) meditation, chanting, Buddhist bowing rites, tea ceremonies, vegetarian Buddhist meals, and other programs. It's early-to-bed, early-to-rise—the Sunday morning chanting begins at 3:55am!—but it's well worth the effort.
In January, Gilsangsa will host retreats on Jan 19–20 and Jan 26–27. Sign up early if you'd like attend!
EAT>
Like any Templestay program, you'll be enjoying baru gongyang—communal Buddhist meals. These vegetarian meals are simple, nutritious, and tasty. They are also a form of meditation—nothing, not even a grain of rice, is to be wasted, and you'll be doing the dishes yourself.
SEE>
The temple's main hall, an older building from the time when this was a high-class eatery where Korea's powerful came to eat, drink, and be merry.
DO>
108 bows, a Buddhist rite that doubles as a great morning workout. Besides, what else would you rather be doing at 5 o'clock in the morning?
FYI>
Participation fee: 50,000 won.
T. 02-3672-0036,
www.gilsangsa.or.kr
(323 Seongbuk-dong, Seongbuk-gu, Seoul | 서울시 성북구 성북동 323)
GO>
Use the shuttle bus from Hansung University Station 한성대입구역 (Line 4), Exit 6. The stop is 50m from the station, in front of Jinhak Bookshop.
House of the Mind | 생각속의 집
The small town of Yangpyeong is just a 45 minute ride from downtown Seoul, but it feels like a world away. It's here that the Namhangang and Bukhangang Rivers come together to form the mighty Hangang River that flows through the heart of the Korean capital. It's a beautiful land of mountains, forests, and rivers, glistening white beneath the winter's snow.
MIT-educated architect Q.M. Min pays tribute to Yangpyeong's natural beauty with his House of the Mind, one of Korea's most visually stunning guesthouses/pension houses. Part accommodation, part work of art, House of the Mind remains true to Korean architectural tradition by harmonizing perfectly with its landscape. Each angle, each window offers inspiring views of the trees, fields, and hills. To further take advantage of its surroundings, each room has its own jacuzzi surrounded by glass walls. Just imagine that on a snowy winter's day.
 House of the Mind has six rooms/units, each one named for an herb that grows in the guesthouse's rear garden. In accordance with the exterior architecture, the interior decor is distinctively modern, and the colors complement the landscapes. There's an Italian eatery on-site, but if you prefer to cook for yourself (and/or for someone you love), there are cooking and barbecue facilities, too. The units also lend themselves to parties and other group functions.
EAT>
Try the guesthouse's Italian restaurant, Sapore 사포레 (T. 031-773-2210). The restaurant also does some fine barbecue for 35,000 won a person.
SEE>
If you're going to leave your room, check out nearby Yangsu-ri, a renowned scenic spot where the Bukhangang and Namhangang Rivers meet. Inquire with the front desk about transportation.
DO>
Go skiing at Daemyung Vivaldi Park, which is also nearby.
FYI>
Room rates: 170,000–330,000 won (weekends). American-style breakfast included.
T. 031-773-2210. http://mindhome.co.kr
(32 Buan-ri, Danwol-myeon, Yangpyeong-gun, Gyeonggi-do | 경기도 양평군 단월면 부안리 32)
GO>
Take a bus to Hongcheon from Dong Seoul Bus Terminal. Get off at Danwol and give the guesthouse a call—they'll pick you up from there.
https://magazine.seoulselection.com/wp-content/uploads/2013/02/RYU1546-e1360804820840.jpg
872
620
rjkoehler
https://magazine.seoulselection.com/wp-content/uploads/2018/01/Seoul-logo.png
rjkoehler
2013-02-14 10:45:20
2013-03-04 16:30:31
WINTER RETREATS