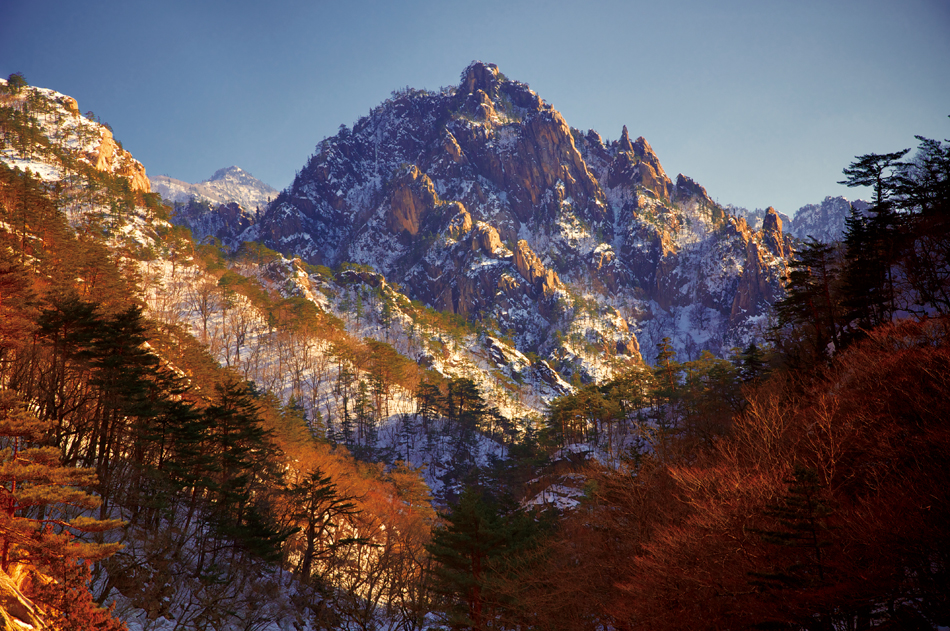 [box_light]
MT. SEORAKSAN 설악산
Korea's most splendid mountain park gets even lovelier in winter[/box_light]
Written and photographed by Romainjohn Boulesteix
Mt. Seoraksan is a beautiful stretch of highland covering 398.5 square kilometers of impressive peaks, numerous waterfalls, big temples and stunning views. Situated in Gangwon-do province by the harbor city of Sokcho, the range has as its summit the peak of Daecheongbong, which at 1,708 meters is the third highest in the country and places it above the clouds. The peak is also roughly 15 kilometers from the sea. This clearly contrasted topography gives Daecheongbong its charm, especially if you find the strength to hike early enough to catch the sunrise over the ocean—a sight you won't forget any time soon.
Dinosaur Ridge (two days recommended) 공룡능선
Another highlight of Mt. Seoraksan is undeniably its most breathtaking place: Dinosaur Ridge. Situated in the very heart of the range, the ridge received its Cretaceous name because if gazed at from one of the nearing peaks, it looks like the twisted back spine of a dinosaur. This is one of the most wonderful mountain views in Korea, but dauntless hikers should also know that the ridge is also the most complicated and dangerous and will take at least five hours to get to, depending on path. But sure enough, effort will be rewarded beyond expectation.
Ulsan Rocks (one day) 울산바위
The third most popular landmark in Mt. Seoraksan is yet another ridge: Ulsanbawi (Ulsan Rocks). Ulsan? How it got its name has several stories competing for it. One says the rocks left Ulsan to help build Mt. Geumgangsan in North Korea but arrived too late. On their shameful return home, they decided to permanently stay in the Mt. Seoraksan area because of its beauty. Other tales tell of a Korean king of old who, on his way back from Mongolia, got confused between these rocks and the ones near Ulsan, calling these Ulsan Rocks. Whichever story one's heart bends toward, Ulsanbawi remains imperturbably standing there, alone and vertical, in a sea of snow and trees for the sheer pleasure of the eyes or, for the most fearless, the knees—you need to climb more than 800 steps to get up there. As tired as one might feel once on top of those stairs, a little more strength is needed to push Heundeulbawi (Shaking Rock), a five-meter high boulder. Or at least try!
Seoraksan Valley (one day) 설악산 계곡
The last attraction in the park is the valley. Fully accessible by all in any weather, the park can be entered through the main entrance.
From there, take the cable car to Gwongeumseong, a peak overlooking the valley. Legend has it that two men, having been chased by enemies, took refuge on the peak. But seeing no fortification, they decided to make their own. They worked together to build a fort in one night and eventually the fort became a peak. The view of the valley and nearby peaks from the cable car is awe-inspiring.
Walk a little further to arrive at the Buddhist temple Sinheungsa. Its main attraction is a tall Buddha sitting on a lotus-shaped base.
Keep walking to enter the valley, so to speak, a lush stream covered with ice and snow. All along the slow rising slope are scenes out of a fairy tale: peaks with snow edges, ancient trees and strange-looking rocks. This will fill the lungs with precious oxygen lacking in urban life. Huge frozen waterfalls also await warmer days to run free and loud again, and visitors may even get lucky and see a few plants or animals indigenous to Mt. Seoraksan.
EAT> Being a fishing port, Sokcho is a great place for raw fish, especially in winter. Another specialty is dak gangjeong, or stir-fried chicken wings coated in a sweet and spicy sauce. Manseok Dak Gangjeong (T. 033 632-4084) at Jungang Market is the place to go for this, as evidenced by the long lines waiting for a seat. Also give the sundae (blood sausage) a try in Sokcho's Abai Village.
STAY> Being the entrance to one of Korea's most popular parks, Sokcho is chock full of accommodations. Many stay at hotels in the Cheoksan Hot Spring District or high-end places around Lake Yeongnangho. For budget accommodation, House Hostel (T. 033-633-3477) by Sokcho Intercity Bus Terminal is popular with backpackers for its basic but clean rooms and eclectically decorated communal lounge. Its friendly English-fluent owner will be all too happy to give the lowdown on Sokcho's scenic spots.
 GO> From Sokcho, take bus No. 7 or 7-1 to Seoraksan and get off at the last stop. From Seoul, take an express bus from Dong Seoul Terminal (travel time: two hours 50 minutes).
https://magazine.seoulselection.com/wp-content/uploads/2013/12/DSC_1891.jpg
631
950
cyn
https://magazine.seoulselection.com/wp-content/uploads/2018/01/Seoul-logo.png
cyn
2013-12-31 10:14:52
2013-12-31 10:17:37
MT. SEORAKSAN