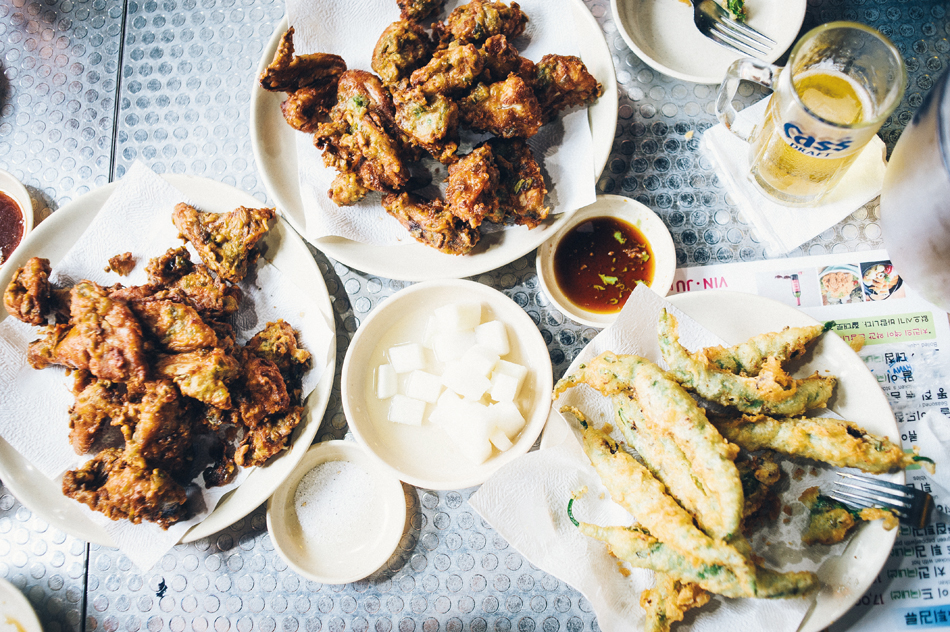 [box_dark]Dak, Dak, Dak 닭
The Chicken in Korea[/box_dark]
Written and photographed
by Daniel Gray
There is a certain dining etiquette when it comes to eating chicken that you should keep in mind in Korea. The legs are the prized part of the chicken, so they should be shared or offered to the most important person at the table. Wings should not be offered to a loved one lest they "fly away." In the past, chicken needed to be prepared in a way to increase the nutrients, so it was often stuffed with rice and boiled in soup with oriental herbs, ginseng, and potatoes. It was also braised in sauces, roasted, and fried. Koreans love to eat chicken feet and gizzards; the latter is called dak ddongjip (chicken poop house). The chicken is also the animal believed to carry the soul, so you'll often find them on old funeral caskets. If you are crazy for chicken, here are some places to try.
[divider]
Chicken Soup for Your Korean Soul
[box_info]Jinokkwa Halmae Dak | 진옥화 할매 닭[/box_info]
Dongdaemun area
When you are in need of some chicken soup in Korea, I suggest you get some dakhanmari in Dongdaemun. This area has dozens of these "whole chicken soup" joints, and they all serve this rustic dish with subtle healing properties. Remember that in Korea, health is the most important part of a meal. That is why, when the broth is made, it is common to add Oriental medicinal herbs in the broth; in special cases, chef/doctors will even add deer antler and ginseng. The place where I feel healthiest is at Jinokhwa Halmae Dak. The broth has this lift of delicate herbs with a warming garlic note that is accented by the fresh green onions. Honestly, I think an IV of this broth could probably cure cancer. As the broth cooks the chicken, you use scissors to cut it up into chopstick-manageable pieces and then let the rice cakes and potatoes cook. The dipping sauce for the chicken is a DIY affair: you can add as much spicy sauce, mustard, and soy sauce as you'd like. After enjoying the chicken, leave some broth to make some fresh noodle soup.
This is a must-have taste experience while in Korea.
FYI>                                                                                                                                                                                                                                                                                                                                                                      T. 02-2275-9666
Price: KRW 18,000 for 2-3
[divider]
Best Fried Chicken in the World at Hanchu
[box_info]Hanchu | 한추[/box_info]
Sinsa-dong area
Hanchu has been called the top fried chicken in the world according to the foodie organization Chowzter. In London, it won Top Fried Chicken in their fast feast awards ceremony. The fried chicken here is encapsulated in a shockingly crisp batter that has an elusive peppery kick. Hanchu is the place where locals go to get their fried chicken desires fulfilled. The batter is a part of the equation, but so are the pork-stuffed green chilies that are fried in the same grease. These gochu go down crispy but leave a spicy undertone that makes you want to chase it with cold beer. The place has a greasy spoon sort of feel and almost seems out of place in the posh Gangnam area, but that is what adds to the charm. If fried chicken is on your bucket list of things to eat in Korea, then this should surely be at the top.
FYI>                                                                                                                                                                                                                                                                                                                                                                       02-3446-5778
Price: KRW 17,000 for 2-3
https://magazine.seoulselection.com/wp-content/uploads/2013/10/hanchu-20110702-010.jpg
632
950
cyn
https://magazine.seoulselection.com/wp-content/uploads/2018/01/Seoul-logo.png
cyn
2013-11-06 17:12:41
2013-11-06 18:14:31
Dak, Dak, Dak. The Chicken in Korea