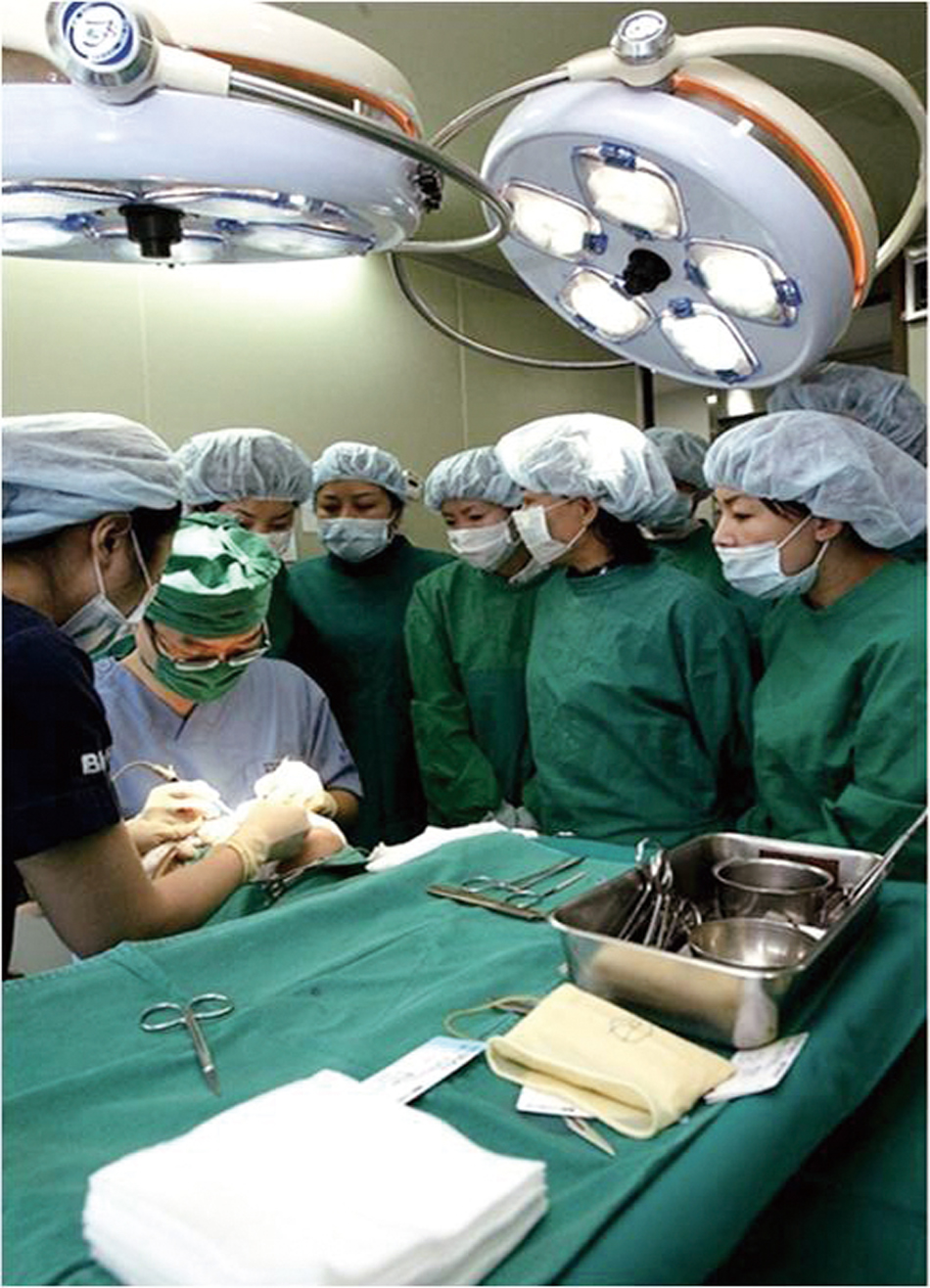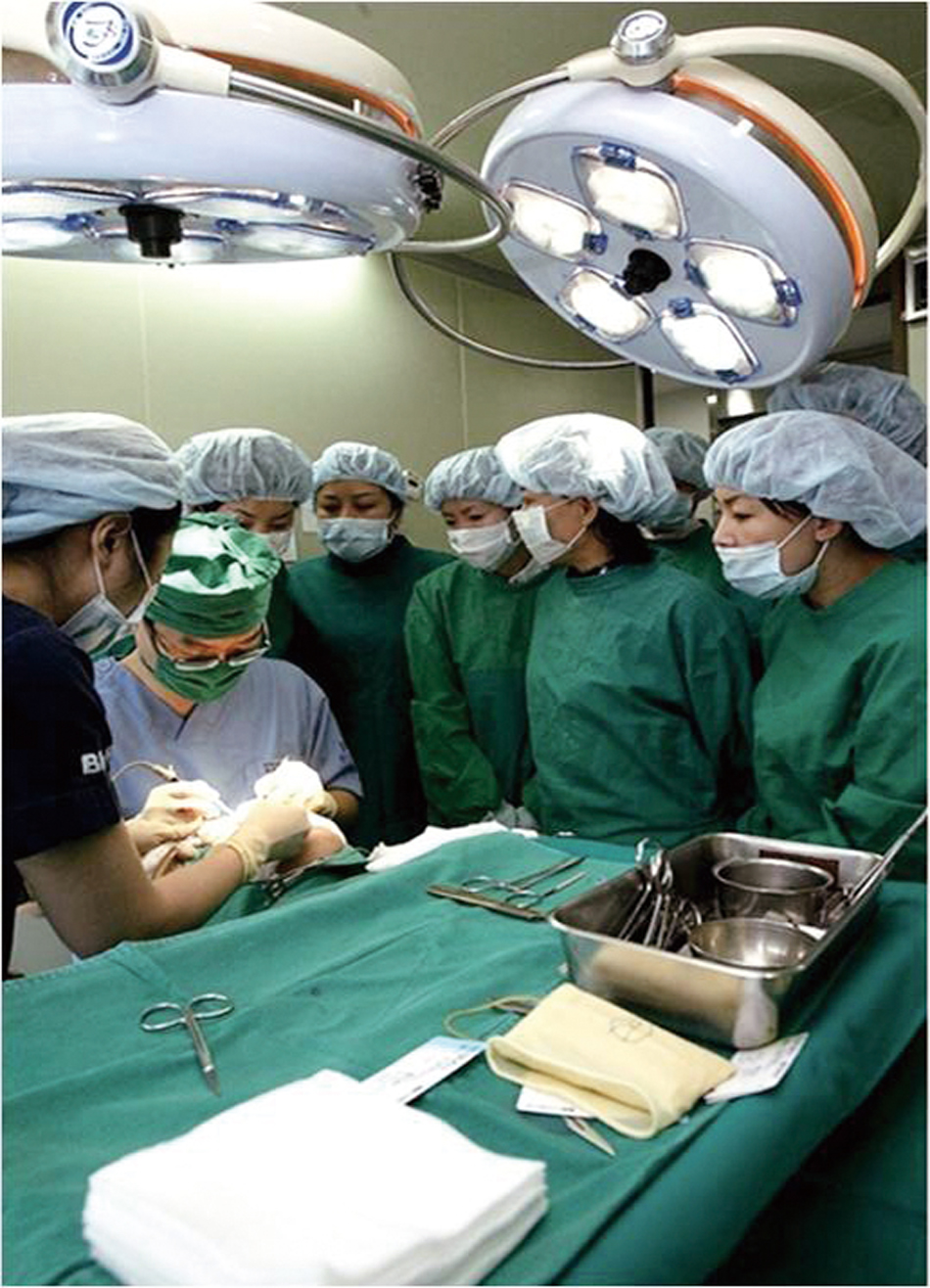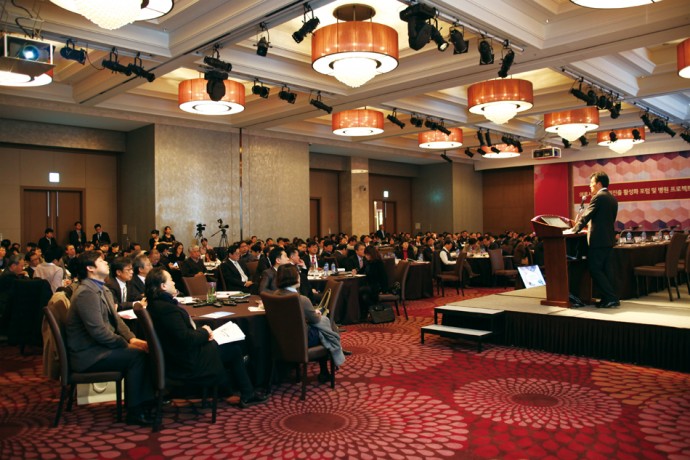 Industry forum plots future of sector's overseas expansion
Many key players in Korea's medical industry gathered at Sheraton Seoul D Cube City Hotel on Dec 10 for Medical System Forum & Overseas Hospital Project 2013, a congress on exporting Korean medical systems and introducing overseas projects in progress. Hosted by the Ministry of Health and Welfare and the Ministry of Trade, Industry and Energy and organized by the Korea Health Industry Development Institute (KHIDI), the Korea Trade-Investment Promotion Agency (KOTRA) and the Korea Medical Export Association (KOMEA), the event attracted some 200 leading executives from hospitals and other medical organizations, associations, government, media and export bodies.
The keynote presentation was given by Kim Ki-Sung, director general of KHIDI's Department of International Cooperation. Introducing the concept and background of overseas expansion by Korean medical systems and their progress, he said, "Since 2010, we've been in an era of building infrastructure through private-public cooperation." As of the end of September 2013, some 111 Korean medical institutions had ongoing projects in 19 countries. He also highlighted limitations and obstacles and concluded with his institutes's vision and an outline of planned state support for this. The Health Ministry will concentrate on providing system improvements, strengthening marketing and building networks and greater capabilities for overseas expansion, while the KHIDI will seek to enhance government-to-government medical cooperation, build information systems, identify and support overseas expansion projects and provide publicity and marketing. "We will build a K-Medical' market by creating a 'Medical Korea Belt' that links the Middle East, Central Asia, Russia, China, Mongolia and Southeast Asia," he said.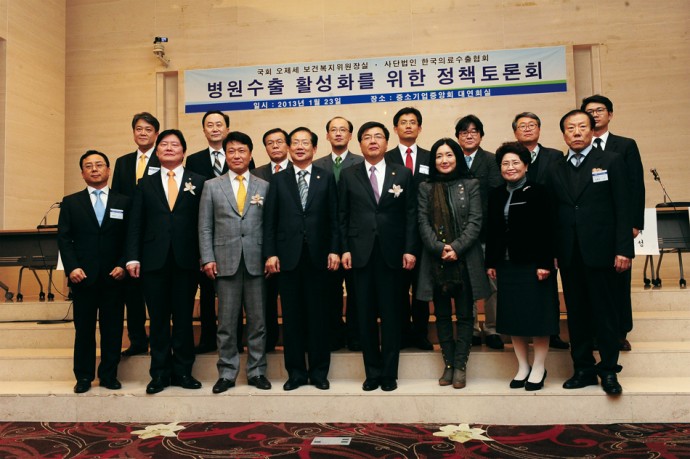 Four representatives from medical organizations then provided examples of overseas projects in progress. Park In Chool of the Korea Network Hospital Association discussed Korean hospitals opening branches in China, while Rhee Chae-Seo of Seoul National University Bundang Hospital presented exporting Korean medical IT products to St. Petersburg, Russia, and training professionals there in their use. Lee Jang Hyuk of Myongji Hospital spoke of an international health check clinic in Vladivostok, Russia. Finally, Lee Kyong Su of Korea Medical Hub highlighted government-to-government-based IT exports to the Middle East. In the final presentation in the morning session, KOMEA secretary general Hong Min Chul outlined a plan for cooperation with the private sector to boost exports of Korean medical systems. "Choosing strategic nations to enter is important, but so is choosing strategic cities," he said. "Sometimes the government and private sector have to do things independently, and sometimes they need to put their heads together."
The afternoon session saw presentations by visiting dignitaries from overseas, introducing those related to healthcare procurement in Mongolia, Brazil, Iraq and Egypt. While health development projects in Mongolia are focused on safe blood transfusion, medical waste management and hospital hygiene, the Brazilian state governments of Sao Paulo and Brasilia are seeking to improve hospital services and efficiency through public-private partnerships. In the Brazilian city of Macapa, a university hospital is being built. Iraq's healthcare sector in 2014 will construct 20 health centers and secure medical equipment supplies, while Egypt's General Organization of Teaching Hospitals and Institutes has projects like the maintenance of existing specialized hospitals and the building of new ones.
KOMEA
KOMEA is a legally incorporated organization affiliated with the Ministry of Health and Welfare. The group represents private hospitals, medical appliance manufacturers, and companies in pharmaceuticals, medical IT, finance and consulting seeking to expand overseas or work with other countries. The association's principal roles are connecting Korean hospitals and related bodies with reliable overseas partners and working with Seoul to improve policy for the sake of resolving problems experienced by Korean medical bodies operating overseas.
The association held its first meeting in March 2012 and was licensed by the ministry in December that year. The first of the organization's five "Global Medical Forums" was held in March 2013, and it sent Korea's first medical delegation overseas in July to survey the medical market in Kazakhstan.
KOMEA Secretary General Hong said, "As of 2012, some 160,000 foreign patients were coming to Korea for medical treatment, and 111 Korean medical institutions have ventured abroad to 19 countries. This is just 50 years after Korea began learning advanced medicine through the Minnesota Project, a US medical assistance program launched in 1957."

KEY FUNCTIONS
Market survey delegations
One of KOMEA's most important tasks is assembling delegations from medical organizations to explore overseas markets, helping Korean groups bid for work abroad, building international partnerships and starting operations in other countries. The association also promotes Korean healthcare and companies and holds export conferences in select strategic countries.
Global Medical Forums
Held regularly by KOMEA, these forums invite medical and healthcare policymakers from abroad, medical CEOs, Korean officials in charge of medical export policy and top industry experts. Thus they provide a venue for high quality information on overseas markets and Korean exports, exchange and networking.
Publishing
KOMEA produces a variety of guides, news magazines and promotional videos on overseas medical environments, markets, export strategies, the latest industry trends, Korean government policy and more.
Website
www.komea.org is a comprehensive, one-stop source of information on Korea's outstanding medical systems and industry, as well as on the Korean and international medical environments, markets and export strategy.
Other services
KOMEA also works on behalf of its member organizations and companies to help them open branches overseas, study industry conditions and licensing systems abroad, and finding partners in addition to offering medical export consulting.
KOREAN HOSPITALS WITH INTERNATIONAL PROGRAMS
Seoul National University Bundang Hospital (SNUBH)
In 2003, this general hospital became the world's first to create a full digital environment free of paper, charts, film and slips with a homegrown EMR system. This has made SNUBH a clear leader in health IT, with delegations from the U.S., Europe, China and Japan visiting to benchmark the system.
SNUBH unveiled a new medical information system in April 2013 that pushes the boundaries of conventional EMR systems. The new system takes a step toward artificial intelligence in assisting decision making by presenting the necessary data and preventing potentially harmful situations for patients.
[divider]
Myongji Hospital
Though the convergence of medicine, IT and mobile technology, Myongji Hospital has laid the foundation for next-generation medical services. It recently began operating a u-Health center in Vladivostok and is working on the construction of Vladivostok International Clinic Center. Myongji has also won contracts to build two similar international clinics in Russia, and formed consortia with many partners in the Middle East and Kazakhstan to extend its business overseas. The Korean hospital was a finalist for the Indonesian Medical Development Project through the EDCF.
[divider]
BK Plastic Surgery Hospital
BK is one of Korea's most globalized hospitals, leading the world with outstanding techniques in plastic surgery, board-certified and experienced plastic surgeons in each area of the discipline, and the best medical services.
Visited by 500 to 600 foreign doctors seeking to learn the latest trends and skills in plastic surgery, BK has communication channels in Korean, English, Chinese, Japanese, Vietnamese and Mongolian for online, phone and real-time video consultations, and collaborates with hospitals in China, Malaysia and Indonesia to provide care for returning medical tourists.
[divider]
Bobath Memorial Hospital
Bobath focuses on neurological disorders and chronic diseases. Its integrated medical services and treatment systems are offered through a wide range of specialties, operating centers for neuro-rehabilitation, neuro-biological disease, lifestyle-related disease, palliative care, home care and health promotion.
Bobath operates the Dubai Rehabilitation Center, runs the Continuing Care Retirement Community in Yixing, China, and has signed agreements and MOUs on cooperation with a large number of foreign organizations.
[divider]
MizMedi Hospital
i-Dream Clinic of MizMedi Hospital is one of Korea's leading fertility centers, providing a variety of treatments ranging from basic infertility care to the most advanced in-vitro fertilization (IVF) technology. The hospital boasts several firsts in Korea, including the first IVF/ICSI baby, the first pregnancy via donor egg, and the first pregnancy from a frozen embryo. In 2012, MizMedi also became the country's first women's hospital to achieve Joint Commission International accreditation.
MizMedi began its international services in 2010. In the first half of 2013 alone, some 3,700 patients from overseas, at least 80 percent who sought fertility treatment, were admitted to the hospital.
[divider]
 Sejong General Hospital
As Korea's lone hospital for heart disease, Sejong also boasts the country's highest rates of operations and success. Its cardiovascular center was established in 1982 with the aim of becoming the best of its kind in Asia. Training programs are also offered for medical staff from countries like Russia, Kazakhstan and China.
Sejong treats more than 1,000 foreign patients each year and is seeking to launch branches in Kazakhstan, Mongolia, China, Vietnam and Saudi Arabia.
[divider]
Wooridul Hospital
Established in 1982, Wooridul specializes in spine treatment and runs 10 hospitals throughout Korea. It developed minimally invasive spine surgery (MISS), an advanced spinal surgical technique that preserves as much normal disc tissue as possible while reducing scarring and ensuring fast recovery with fewer complications.
Wooridul has a well-established overseas presence, which began with the opening of Shanghai Wooridul Hospital in 2009. The hospital's family abroad now includes Wooridul Spine Center in Jakarta, Indonesia, (2010), Wooridul Spine Centre in Dubai, UAE (2011) and Wooridul Turkey Spine Center in Istanbul (2011).
Written by Ben Jackson
https://magazine.seoulselection.com/wp-content/uploads/2013/12/BK-수술.jpg
1316
950
cyn
https://magazine.seoulselection.com/wp-content/uploads/2018/01/Seoul-logo.png
cyn
2013-12-31 11:12:57
2015-04-03 16:05:33
Korean Medical Services Go Global