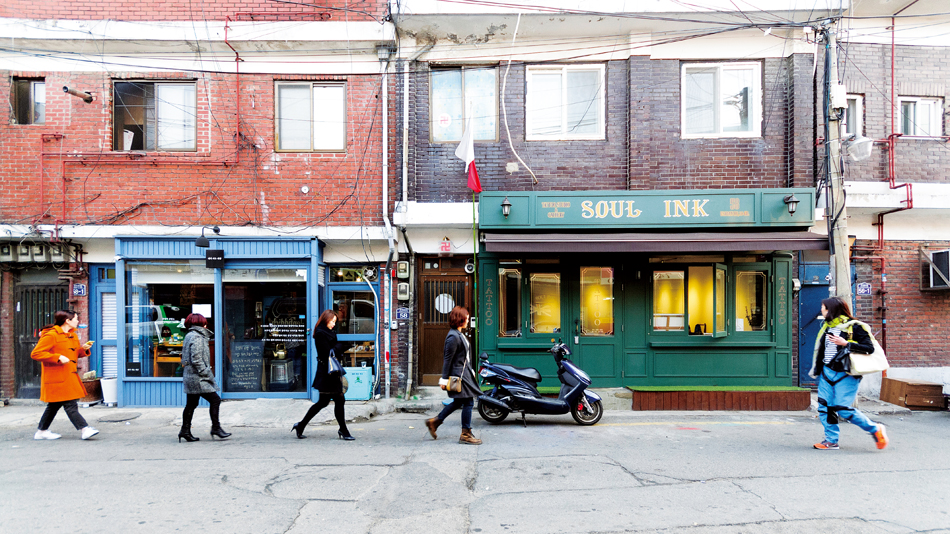 [box_light]
Hip in Hannam-dong 한남동
[/box_light]
Young artists and creatives breathe life into aneglected hilltop community
Written and photographed by Robert Koehler
The hilltop community that overlooks Itaewon from the south is an unusual place, a "strange neighborhood," as one local newspaper recently described it. Imagine, if you will, a piece of 1970s Korea, to which has been added Brixton's multiculturalism and Williamsburg's hipsterism. It's a heady mix, to be sure, but one that certainly seems to be working. Rest assured, you won't find another place like it in Seoul.
From ghost town to hot spot
Thanks to favorable write-ups in the local press and by local food bloggers, the neighborhood along Usandan 10-gil Road—marked by the landmarks of Seoul Central Mosque at one end and Hangwang Presbyterian Church at the other—is a place on the rise. "More and more people are coming," says Ha Dong-gyeong, who runs the local coffee roasting joint Champ Coffee.
The streets weren't always so lively, however. Just a year or two ago, this neighborhood was virtually deserted. In 2003, the entire hillside community was designated a redevelopment zone, and local residents emptied out. This drove down rent, which made the neighborhood popular with foreigners and, more recently, young Korean "creatives" who, since last year, have been transforming the empty buildings into workshops, coffee houses and shops. Today it's a place where traditional markets and old Korean barber shops coexist with Muslim bookshops and tattoo parlors.
Much of the neighborhood is still, at least on paper, a redevelopment zone, as the red flags on many of the buildings will attest. It's safe for now, as Seoul's current mayor has opposed community-destroying urban redevelopment projects, but the upcoming mayoral election looms large in the minds of local residents and merchants alike. One resident who has run a shop here for 15 years complains, "They turned this place into a ghost town, and what happens if the mayor changes again in June?"
Foreigners and Hipsters
Oh Se-jeong opened up her vintage shop Madame de 20th Century Salon a year ago. Like many of the neighborhood's other younger Korean residents, she came in part because of the super-cheap rent. But the multicultural vibe was also a draw. "Foreigners and Koreans live here harmoniously," she says. And to be sure, this may be Seoul's most racially integrated community. "In this building we've got Chinese, Koreans, Arabs and white people," says Yoo Seung-ho, who runs the coffee shop Entropy Coffee. In the courtyard of Hangwang Presbyterian Church, a group of tots—many of the faces clearly multiracial—is hard at play, running around and screaming at each other in Korean.
Not surprisingly, the multicultural element is strongest near Seoul Central Mosque, a historic Itaewon landmark that crowns the hilltop like a beautiful onion-domed castle. Muslims from the Middle East, South Asia and Africa have settled here in large numbers, opening up halal restaurants and other businesses targeting the Muslim community. The restaurants and bakeries have now attracted the attention of Korea's foodie community, who now flock here in droves.
Meanwhile, the influx of young creatives is leading to something akin to chain migration. "Not long ago a lot of interesting people started moving here, so we opened up our shop here, too," says Yoo of Entropy Coffee. Ha of Champ Coffee, who has lived in the neighborhood for eight years, explains, "The rent is cheap, its centrally located, and people keep bringing other people in." Others come here by chance. "We were just walking around when we discovered this place, so we went to a real estate agent and found a place," says Hwang Jiyeon, who was celebrating the opening of her Korean eatery Siktam.
 Aside from concern that political changes might lead to their homes and businesses getting plowed over and turned into apartments, there is also some worry that the influx of visitors and businesses might "ruin" this still beautifully rough gem. Seeing the fate of other neighborhoods, it's easy to see why. "Didn't a branch of [a major Korean coffee chain] open up in Gyeongnidan?" says Oh of Madame de 20th Century Salon. Locals artists and artisans are working hard to keep a good thing going, meeting regularly to discuss means to strengthen and improve the community. Geography is certainly on their side—the hilltop is a long ways away from the nearest subway stop, which isn't particularly good if you're a resident, but it does keep the human waves of tourists away. Ha of Champ Coffee hopes the place can keep its quiet, laid back charm. "I don't know how it will change, but I hope it doesn't get swamped."
GO> Seoul Central Mosque is a 10 minute walk from Itaewon Station 이태원역 (Line 6), Exit 3.
 ___
Local Joints
Café Friend In Front of the Mosque  사원 앞 카페 벗
 T. 010-9471-6486
This fine little café is also a community hub for young artists and artisans.
 [divider]
Champ Coffee 챔프커피
T. 02-792-4516
In addition to making a fine cup of coffee, this is a good place to go for roasted beans.
 [divider]
Soul Ink 소울잉크
T. 010-3200-9292
Looking to get inked up? This is your place. The guy who runs it is also a graffiti artist.
 [divider]
My World 내가 사는 세상
This jewelry shop specializes in handcrafted silver pieces. Next to Soul Ink.
 [divider]
Entropy Coffee 엔트로피커피
T. 010-2797-4210
You'll recognize this delightfully simple coffee shop by the brightly colored plastic cans of coffee near the roaster.
 [divider]
Madame de 20th Century Salon
20세기싸롱
T. 02-6326-8734
Aside from vintage clothing, this place also sells vintage dolls, lamps and other collectibles.
 [divider]
Siktam 식탐
T. 02-749-3666
Traditional Korean food in a blissfully minimalist setting.
 [divider]
Salam Turkish Restaurant
쌀람터키전문음식점
T. 02- 793-4323
This institution by the mosque serves all your Turkish favorites. Be sure to check out their bakery, too.
 [divider]
Siti Sarah 시띠 사라
T. 010-5817-0807
A little taste of Indonesia and Malaysia in Seoul. Not far from the mosque.
  [divider]
Tip 1: Free Market
Some of the young merchants and artists in the area hold a market every last Saturday. See www.facebook.com/wosadan or blog.naver.com/youngseller (Korean) for more information. Or you could just talk to the folk at Café Friend In Front of the Mosque.
Tip 2: Alleyways
The hillside alleyways that branch off the main drag form a maze of concrete steps and narrow passageways flanked by high, dilapidated residential buildings. You won't find many coffee houses and galleries, but boy is it a fun place to explore.
https://magazine.seoulselection.com/wp-content/uploads/2014/03/dsc_6073.jpg
534
950
cyn
https://magazine.seoulselection.com/wp-content/uploads/2018/01/Seoul-logo.png
cyn
2014-04-01 15:51:45
2014-04-01 15:52:36
Hip in Hannam-dong