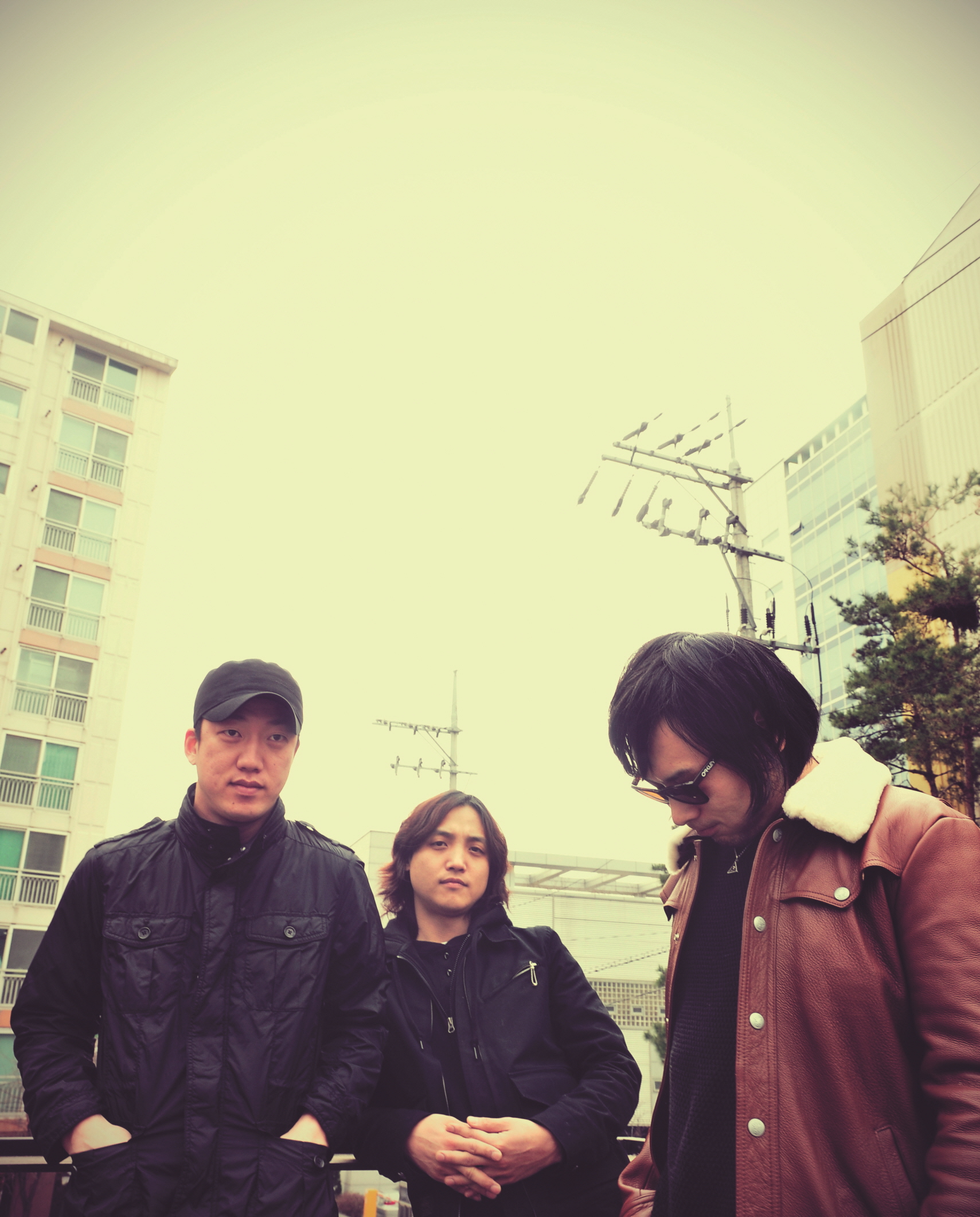 [box_dark]
GALAXY EXPRESS: TO THE UNIVERSE AND BEYOND!
KOREAN ROCK TRIO TAKES THEIR SHOW TO SXSW
Written by Monica Suk
Photographed by Ryu Seunghoo
[/box_dark]
Watching Galaxy Express' performance, it takes less than 10 minutes to realize that the greatest compliment for a rock band is, "They're nuts."
And that's exactly what Korean rock trio Galaxy Express wants to hear.
Since forming the band in 2006, members Park Jong-hyun (guitar/vocal), Lee Ju-hyun (bass/vocal), and Kim Hee-kwon (drums) have built a solid ground in the local music scene as a true one-of-a-kind band. In the seven years of their career, Galaxy Express has already invaded other planets with their signature mixed genre style of garage rock, punk, and psychedelic music.
They're the first Korean artists to be invited to South by Southwest (SXSW) for three straight years (since 2011), the first in the country to hit the road for a US tour in 25 cities in 14 states, and the first to set the milestone of winning Album of the Year at the Korean Music Awards for their debut album Noise on Fire only three years after they debuted.
In an interview with Galaxy Express on Feb 28, a week before they kicked off their second US tour, the three musicians were just being them—Jong-hyun taking the lead in the conversation, Ju-hyun chiming in every minute with his typical sense of humor, and Hee-kwon silently exuding a free-spirited rocker energy.
Below is an excerpt from the interview, with the rockers sharing their thoughts on music and their excitement before the tour.
SEOUL: It's quite impressive that you guys have expanded into other countries in just six years.
Jong-hyun: Wow… I haven't even realized that it's been six years. Times does fly. Six years would have felt like a very long time when I was in school, but it passed in just a second while doing music.
Ju-hyun: I wonder if I've ever worked hard for anything other than music. I was literally living for music the whole six years. Back in school, I was doing bad, bad things (chuckles).
SEOUL: So at what age did you guys start the band?
Ju-hyun: I'm now 22 so that means… (laugh) I'm 36 now.
Jong-hyun: At least we formed the band when we were in our 20s.
SEOUL: I hear there's a whole theme and story behind your band name, Galaxy Express.
Jong-hyun: Ju-hyun suggested a name with the image of the universe or aliens.
Ju-hyun: We were basically like otakus (a Japanese term referring to people with obsessive interests) at first. We even had nicknames to go along with our whole galaxy theme. But we're back to normal now, living ordinary lives.
SEOUL: If I had to compare your personas to a musical genre, all three of you would be very different. How did you guys decide the band's main genre?
Jong-hyun: Me and Ju-hyun used to be in punk bands before Galaxy Express. So naturally, we started off as a punk band. But because we refuse to be normal or obvious, we thought, "Why not just mix everything together?" From psychedelic music to classic rock, putting all those together made this (pointing himself with a poker face).
SEOUL: You're one of a handful of local musicians who know how to have fun onstage. Where does that energy come from?
Jong-hyun: We're really having fun on the stage. I don't like to pretend to look cool in front of audiences. The moment I go up there, it's all about enjoying the moment.
Ju-hyun: I think all three have us were born with that energy. Even Hee-kwon, who is normally very quiet, pounds and beats drums like his arms are gonna fall out when performing. I didn't even know he was [active and energetic] like that until we watched our video on YouTube.
SEOUL: What's the most memorable comment you guys saw online from your fans?
Ju-hyun: "This is nuts." (all three break into laughter)
Jong-hyun: That just means he knows all about us!
SEOUL: It's been about four years since you started taking your tours abroad, including to Hong Kong, Taiwan, and France. Do you guys have a sense of duty as a pioneering Korean rock band?
Jong-hyun: We were born and raised in Korea so that comes out naturally. But we don't think it's like a mission for us to let the world know more about Korea. We're just doing what we like as artists.
SEOUL: It's amazing that people are attracted to you and your music without even understanding the Korean lyrics.
Ju-hyun: It's not just melody that matters. It's the whole spirit or energy in the room that makes people understand who we are.
Jong-hyun: Music is the universal language of humankind. When we go crazy onstage, people know we're excited, and when singing slowly, they know it's something sad. We don't have problems with singing in Korean. You don't even need a special education to listen to music.
SEOUL: In recent years, the word K-pop has been in everyone's lips, everywhere. Do you worry about people around the world understanding Korean music as something that's only limited to girl groups and boy bands?
Jong-hyun: I fear such a trend could show the world only a part of K-pop. But using this fever as leverage, we can introduce them to other genres of Korean music.
Ju-hyun: Because we pursue different things from K-pop artists, the popularity of girl groups and boy bands does not have a big effect on us. In fact, we're just paving our own road.
Jong-hyun: But we do get a lot of interviews from foreign media thanks to the K-pop boom.
Ju-hyun: Years ago when I was visiting France, all people asked me about were North Korea, Kim Jung-il, and missile tests. They thought Korea was at war and asked me if I was okay (laughs). But I don't get that now. K-pop is more popular than Kim Il-sung now.
SEOUL: What do you want to gain from touring overseas?
Ju-hyun: Wealth and fame (laughs).
Jong-hyun: We just want to live to the fullest by experiencing what you can't here in Korea. Something new, and something crazy.
FYI>
www.galaxyexpress.co.kr
www.facebook.com/GalaxyExpressKR
https://magazine.seoulselection.com/wp-content/uploads/2013/04/RYU2669.jpg
2122
1709
rjkoehler
https://magazine.seoulselection.com/wp-content/uploads/2018/01/Seoul-logo.png
rjkoehler
2013-04-24 17:23:33
2013-04-24 17:25:13
Galaxy Express: To the Universe and Beyond!