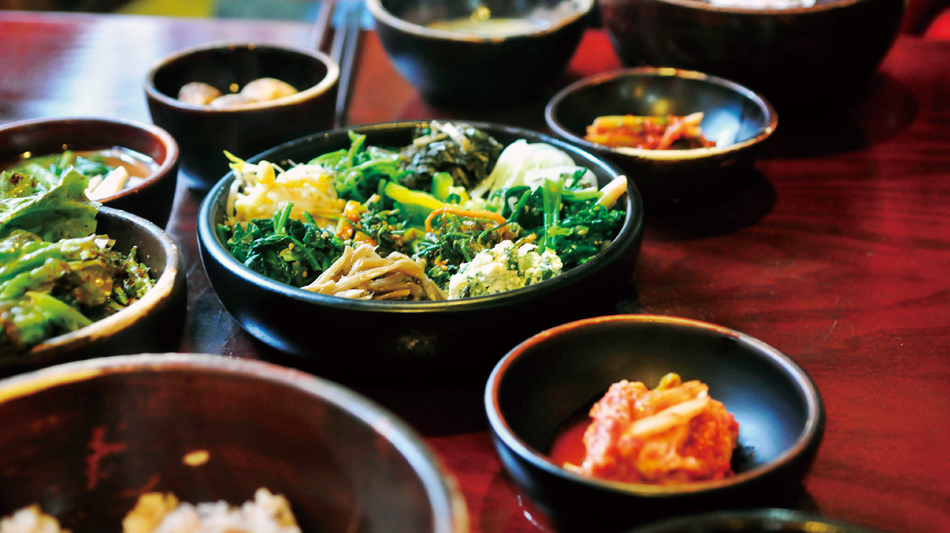 [box_light]
Spring Veggies
Written by Daniel Gray
[/box_light]
→Sadang Station area
Hyosowon Vegetarian Buffet   효소원
Hyosowon is a vegetarian buffet that is focused on offering a wide range of healthy Korean foods. Founded by the company of the same name, they have been developing healthy food such as teas, vitamins and supplements for years. Their philosophy is to focus on the healthy enzymes in food. The atmosphere is zen-like, with natural wood paneled walls and serene white table tops. The buffet station is inviting and looks like a carefully procured garden. There are short tutorials and pictures describing the ingredients used and how they will benefit your body. The foods are seasonal, and currently there are many spring vegetables such as mugwort, nettle, spring cabbage and more on display. These delicate vegetables only come out for a few short weeks in the spring, so they're a special treat. At Hyosowon, you can enjoy vegetables simply blanched with a bit of sesame oil and garlic, or you can have them mixed in a bibimbap of your own choosing. I recommend making a bibimbap with their special brown rice and fresh soybean (saeng cheongukjang). The soybean sauce has an earthy and parmesan-like flavor. But there is more than just bibimbap here. You can get salads and dishes made from mushrooms, burdock, tofu, lotus and more. For meat eaters, their vegetable bulgogi dishes will appease your craving. With so many choices, you won't leave hungry or unsatisfied.
FYI> T. 02-584-1820
11:30–20:30, closed Sundays
KRW 15,000 a person
GO> Sadang Station 사당역 (Line 2 & 4), Exit 14. Go straight, cross two pedestrian crosswalks, turn left and walk straight again. Take your second right. Hyosowon is on the first floor of the YM Building.
Hyosowon
Seochu-gu Bangbaedong 475-31 1st Floor
[divider]
→Seoul National University Station area
Sanchae   산채
To be a chef, you have to be feisty and stick to your principles, because tastes are arbitrary. The chef at Sanchae is not welcoming to all guests. If you are a person that likes overly processed foods filled with MSG or salt, then they kindly ask you to leave. If you like mountain-healthy, calming foods with an emphasis on mountain vegetables, then they welcome you. Here, the foods are naturally fermented and you'll see jars filled with fermenting roots and fruits. They flavor their foods using their own jangs (fermented sauce) and pickles. The restaurant is near Seoul National University, so it is frequented by professors and their students. The most popular meal is the Mountain Vegetable Meal, an assortment of fresh vegetables, a piping cauldron of fermented bean soup, pancakes, side dishes and rice for only KRW 12,000. The food here is earthy and wholesome. The emphasis is on the natural flavors of the vegetables and sauces. They also have a mushroom stew, a wide assortment of mushrooms in a light broth with vegetables and beef. The wild sesame seed flavoring in the broth is comforting. You'll feel like you've just had a reinvigorating meal after climbing a high mountain.
FYI> T. 02-888-1643
11:30–20:00
KRW 8,0000–12,000 a person
GO> Seoul National University Station 서울대입구역 (Line 2), Exit 3. Walk straight, and take your second right. The restaurant should be on your left.
Sanchae
Gwanak-gu Cheongnyong-dong 865-1
[divider]
→Gangnam Station area
O'yull Restaurant   오율
Steak has been a fad in Korea for nearly a decade. While many restaurants used to succeed by giving free sides of bread and offering big steaks with heavy side dishes like potatoes and fries, the Korean palate has grown up. Korea's banchan culture desires a balanced meal with fresh vegetables, tart sauces and nourishing sides. As the old-style steak restaurants have gone out of fashion, sophisticated steak restaurants have become popular. O'yull Restaurant in Gangnam offers grilled steaks surrounded with delicious appetizers and sides made from fresh vegetables. They use a lot of seasonal vegetables and flowers to decorate their foods, challenging the Western idea of steak being a manly food. Once guests are seated, they don't bring out a bread basket but instead serve a plate of roasted potatoes and pumpkin. The chefs are creative in their use of seasonal ingredients. You can get a roasted tomato stuffed with a beefy mushroom with green grape salad as an appetizer, or have the mushroom cap topped with seared scallop and black caviar. The steaks are cooked to individual specifications; for me, a nicely charred exterior and a juicy inside. I recommend the steak with the black garlic sauce that has a familiar and enigmatic quality. The fresh omija berries on the side add a sweet/tart contrast to the steak and creamy potatoes as well. For dessert, there is usually a fresh cake and a fruit cup. O'yull has a welcoming atmosphere that is perfect for couples, and their use of fresh berries and yuza (citron) in their dishes is quite refreshing. Hopefully this will encourage other restaurateurs to follow suit.
FYI> T. 02-554-0511
11:30–22:00
KRW 20,000–30,000 a person
GO> Gangnam Station 강남역 (Line 2), Exit 11. Upon exiting the station, look to your right; O'Yull is on the ninth floor of what should be the first building you see.
O'yull Restaurant
Gangnam-gu Yeoksam-dong 820-9 9th Floor
https://magazine.seoulselection.com/wp-content/uploads/2014/03/RYU3879.jpg
533
950
cyn
https://magazine.seoulselection.com/wp-content/uploads/2018/01/Seoul-logo.png
cyn
2014-04-01 15:48:20
2014-04-01 15:48:20
Spring Veggies