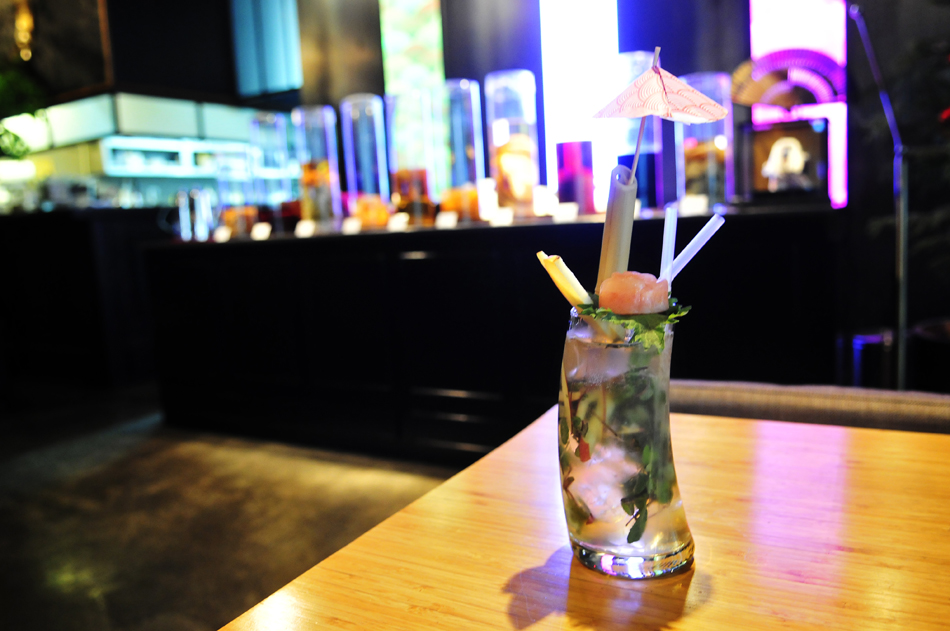 [box_dark]Finding the Perfect Cocktail in Seoul[/box_dark]
Over the past few years, the number of cocktail bars around the city has exploded, but it can still be hard to find a truly great drink for the price. Here are three places that never disappoint.
Written by SEOUL Staff
Photographed by Ryu Seunghoo
 Pier8 피어8
When Pier8 opened in 2012, it was one of the first large, upscale restaurants at the Hannam end of Itaewon High Street. With an impeccably decorated interior, excellent service and an extensive Japanese fusion menu, it is one of the nicest eateries in Itaewon. Possibly the best part about Pier8, however, is its cocktail menu. Manager Hollis Kim has been designing drinks for 12 years, and his experience shines through in all of the restaurant's offerings. Pier8's Japanese sake-based cocktails were specifically created by Hollis, and are unlike any other drink in Seoul. Each one contains fruit-infused vodka soaked in-house, homemade syrup and handmade garnishes. Take, for example, the Apple Shiso-jito. Though most bar menus include a mojito, it's difficult to find a place that makes a great one, much less a unique take on the classic. Pier8's Apple Shiso-jito beats out the competition by a long shot. Containing fresh mint, basil, apple and Japanese shiso, Kim also adds lime juice, apple juice, ginger ale, apple-infused vodka, sake and homemade citron syrup before garnishing with fresh apple. The result is a deliciously refreshing take on the mojito that puts the others to shame. The attention to detail is what makes Pier8's cocktail menu so alluring, and there are approximately 25 more equally fantastic sake cocktails on the menu. Try one with lunch or dinner, or stop in for after-dinner drinks. As an added bonus, Hollis also designed the menus for Berlin Café and Lounge and Buddha's Belly, both of which are also located in Itaewon.
FYI> T. 02-749-2173
GO> 216 Itaewon-ro, Yongsan-gu, 2nd floor
[divider]
Julio Hongdae 줄리오 홍대점
Julio has long been home to some of the best Mexican cuisine in Seoul, and after the success of the original restaurant, new locations opened, including one in Hongdae. Julio was one of the first places in the city to serve a great frozen margarita, and their Bulldog Margarita seemed to spark a trend that has caught on at other Mexican places across the city. The Bulldog is a giant frozen lime margarita with a Corona beer inverted in the glass. It may sound unusual, but the flavors of the beer, tequila and lime complement each other so beautifully that the Bulldog is the perfect accompaniment to any of Julio's dishes. The Hongdae location is particularly nice because of its outdoor seating area, which is a great location for enjoying dinner, drinks and people-watching on warm spring and summer evenings.
FYI> T. 02-3141-5324
GO> 411-18 Seogyo-dong, Mapo-gu
[divider]
Vinyl 비닐
With the arrival of warm spring weather, now is the perfect time to explore the outdoor nightlife scene of Hongdae, and no trip to Hongdae Park would be complete without a stop at Vinyl. Vinyl is located just down the street from both the park and the main gate to the university, and it is one of the most unique bars in Seoul. If you've ever spotted someone sipping a drink out of a large, zip-lock, IV-style plastic bag in Hongdae, it's because they've swung by Vinyl's famous take-out window. There is a cozy seating area inside, but most customers prefer getting drinks to go so they can stroll around the neighborhood. Due to its proximity to the university, the drinks are all priced for students, so it is surprisingly cheap, considering the drink sizes. Plus, the cocktails all pack quite a punch.
GO> 411-1 Seogyo-dong, Mapo-gu
https://magazine.seoulselection.com/wp-content/uploads/2014/04/RYU5187.jpg
631
950
cyn
https://magazine.seoulselection.com/wp-content/uploads/2018/01/Seoul-logo.png
cyn
2014-05-09 14:52:18
2015-06-03 10:08:06
Finding the Perfect Cocktail in Seoul