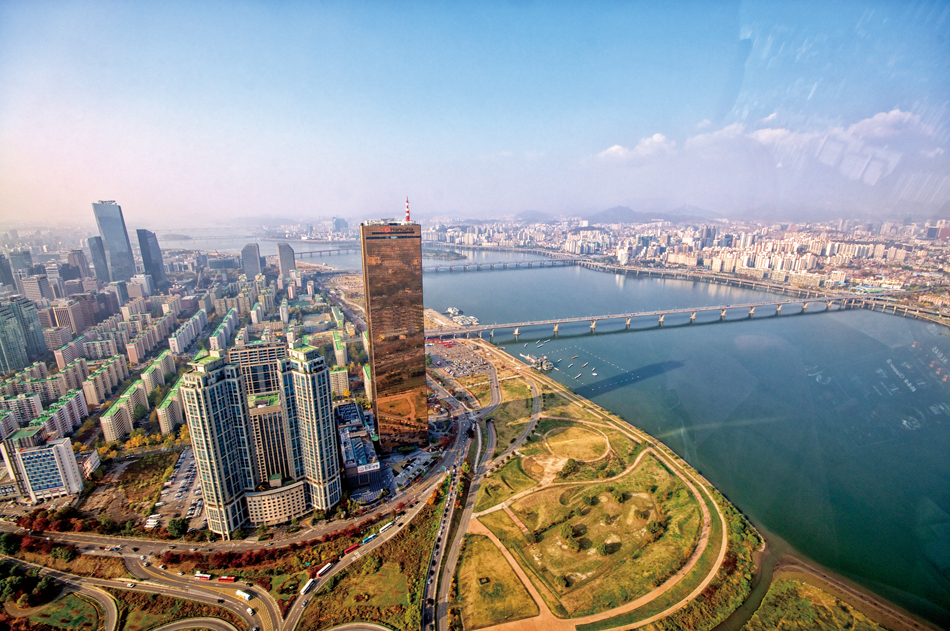 [box_dark]
Seoul from Above
Blue Air's helicopter tours let you see the city as you've never seen it before
[/box_dark]
You haven't really seen Seoul until you've seen it from the cabin of a helicopter.
Small-scale Korean airline Blue Air's newly launched helicopter tours over the Hangang River are not especially long—the longest trip to Yeouido takes just 15 minutes. But what it lacks in time, it makes up for in breathtaking views that make these rides more than worth the price of admission.
Taking to the skies
Armed with experience running helicopter tours in Yeosu and Jejudo, Blue Air began its tour in October. Due to the no-fly zone that covers most of northern half of Seoul, tours follow the scenic Hangang River, with some portions conducted over Yeouido, Gangnam, Jamsil and other points south of the river. This gives you an opportunity to see—from about 300 meters up—some of Seoul's most iconic sights, including the Hangang bridges, the 63 Building, the National Assembly, COEX and Olympic Stadium.
Blue Air operates an American-made Robinson R44 helicopter, a light, four-seat helicopter widely used by tour operators worldwide. While small, the craft's bubble canopy allows for unobstructed, panoramic views of the surroundings. For the best views, try to get the shotgun seat—it's almost like you're suspended above the city in a glass bubble. Which, for all intents and purposes, you are.
To Yeouido and back
This writer took the 15-minute tour to Yeouido, often called "Seoul's Manhattan" due to its iconic skyscrapers. For a two-person tour, this will set you back KRW 200,000 per person, but if you bring a third friend, it comes down to KRW 150,000 per person.
The tour begins at the public heliport at Jamsil Hangang Park—there's a small Blue Air office there where you confirm your reservation or sign up for a tour if you have no prior reservation. Once the paperwork is out of the way, you make your way to the pad, climb into the helicopter and get strapped in. Then it's time to take off.
Gently climbing as you go, your pilot takes you along the Hangang River, providing you with nearly top-down views of the bridges and—if the weather cooperates—fantastic views of Mt. Namsan and other landmarks further afield. Through your headset, the pilot will dutifully point out all the scenic spots along the way, although it's just as fun to listen to the radio chatter with nearby control towers. The ride is surprisingly smooth—this writer, who can't do even the one-hour flight to Jejudo without pharmaceutical assistance, felt quite at ease throughout.
The highlight of the flight come when you reach Yeouido. The views of the landmark skyscrapers, National Assembly Building and Seoul Marina are jaw-dropping, especially as you bank around the west end of Yeouido—as the craft tilts towards the passenger side, you can look almost straight down on Seoul's Manhattan. If the sun is right, the 63 Building will glow reddish gold as you pass it.
The trip back follows along the southern end of Yeouido—again, providing marvelous views of the the district's skyscrapers. Past Yeouido, you skirt the edge of Seoul National Cemetery—you don't get a feel for how vast the place is until you've seen it from above. Following the Hangang River again, you get views of Olympic Stadium and the rest of Jamsil Sports Complex before the tour ends with a gentle landing at Jamsil Hangang Park.
FYI> Fares are as follows: Jamsil Course (KRW 55,000 per person for three-person tours, KRW 70,000 for two-person tours), COEX Course (KRW 70,000 per person for three-person tours, KRW 100,000 for two-person tours), Gwangnaru Course (KRW 100,000 for three-person tours, KRW 140,000 for two-person tours), Yeouido Course (KRW 150,000 for three-person tours, KRW 200,000 for two-person tours). For the independently wealthy, there are 30-minute tours to the Paldang Dam, too (KRW 900,000). Flights begin at the helicopter pad in Jamsil, near the boat pier. For more information, call T. 1899-2679 or visit Blue Airlines' homepage at www.blueairlines.co.kr.
GO> Jamsil Hangang Park (where the helipad is located) is a 10-minute walk from Sports Complex Station, Line 2.
UPDATE: Due to a recent accident involving a helicopter (completed unrelated to Blue Air) in Seoul, tourist flights have been grounded until Dec 25 while the project is reinspected by the Ministry of Transportation.
https://magazine.seoulselection.com/wp-content/uploads/2013/11/Exploring_seoul_1.jpg
631
950
cyn
https://magazine.seoulselection.com/wp-content/uploads/2018/01/Seoul-logo.png
cyn
2013-11-28 19:00:53
2013-12-04 11:00:03
SEOUL FROM ABOVE