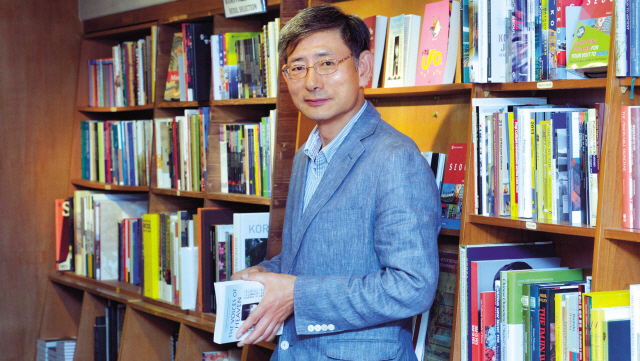 [box_dark]
Publisher Hank Kim talks about devoting his life to publishing English-language books about Korea
[/box_dark]
Publisher Hank Kim says he often feels like Don Quixote, the famous fictional Spaniard with reckless enthusiasm and big dreams.
"It's to dream the impossible dream," he says.
Kim quit his reporting job at Yonhap News Agency to start a bookstore and a publishing house, Seoul Selection, in 2002, and devote himself to promoting Korean culture in the English language.
And the 51-year-old is dreaming the seemingly impossible in Korea's publishing industry, where the number of English-language books published by local companies is not even counted by the nation's largest book retailer.
Hank Kim, CEO and president of Seoul Selection, poses for a photo during an interview with The Korea Herald at his bookstore in Sagan-dong, Seoul, on May 23.(Kim Myung-sub/The Korea Herald)
"We don't have the exact data," says Jin Young-gyun of the Kyobo Book Center. "There are about 50,000 or 60,000 different categories of books, such as fiction, history, tourism and so on. But we don't have a category for, say, English-language books published by local publishing houses."
Kim is more than aware of this. Among some 70 books he's published since the early 2000s, 40 of them were published out of his own pocket.
"I've been doing extra work to do what I want to do, because I don't make money by doing what I want to do," he says.
"I've been translating, designing business cards and English-language brochures so I have enough money to publish the books I want to see in bookstores. In fact my life would have been a lot easier if I only concentrated on such 'extra' work. But that would go against my initial plans and dreams."
Seoul Selection signed a direct wholesale distribution deal with Ingram Content Group, the world's largest wholesale distributor of publisher content, in October last year.
As a result Seoul Selection titles are now available for order through Ingram at more than 35,000 distribution channels worldwide. Seoul Selection is the only Korean publishing house with a wholesale distribution agreement with Ingram.
"We were rejected at first with no explanation," he says. "So we sent them an email asking for explanation, stressing that our Seoul tour guidebook is selling better than the one by Lonely Planet on Amazon, and that we've published books that deal with Korea-U.S. relations, such as the 'Korean War in Color.' A week later, we got the offer.
The inside view of Hank Kim's Seoul Selection Bookshop in Sagan-dong, Seoul. (Seoul Selection)
Signs posted on a pole outside the entrance of

Seoul Selection Bookshop point out the direction 

and distance of major international cities. (Seoul Selection)
Aside from publishing books about Korean culture and tourism, Kim has been also active in raising awareness on a variety of political and social issues, including North Korea and national security, women who were forced into sexual slavery for the Japanese military during World War II, and multicultural families in contemporary Korea.
His interest in Korea's modern history and politics is obvious in Seoul Selection's latest and upcoming projects. The publishing house's recently published English-language novel, "The Voices of Heaven," deals with a young girl's experience going through the Korean War.
In 2009, he published "Vietnam Moment," which is comprised of photographs taken in Vietnam as well as short excerpts from the country's folk poems, proverbs and idioms, after learning about hardships experienced by mail-order brides from Vietnam living in Korea.
He is planning to publish an English edition of Korean author Moon Young-sook's teen novel about "Kkotjebi" ― a term referring to North Korean homeless children in constant search for food and shelter ― as well as a book put together by American mothers of Korean adoptees.
"Hank really does have a sense of mission with Seoul Selection," says Robert Koehler, chief editor of SEOUL, an English-language culture and travel monthly published by Seoul Selection.
Koehler has been working with Kim since 2005.
"He takes on a lot of book projects not necessarily because they are sure moneymakers, but because they are books that need to be written. His enthusiasm for promoting knowledge of Korea is infectious, too, getting those of us like me who work for him."
Kim's efforts certainly have been appreciated by expats and English language readers living in Korea. "I think a lot of my foreign customers felt sorry for me, for running this book shop which doesn't necessarily make you money," Kim says. "Once one of them put a hand-written note on the wall which read: 'Buy something! Keep Hank in Business.' And other customers would write 'I did' after making their purchases."
Kim remembers certain scenes, including the one where one of his loyal customers, an American military general serving in Seoul, stormed into the bookstore completely covered with snow on a freezing winter day. He had walked all the way from Gwanghwamun subway station, in spite of the snow, though he could have easily chosen to hit the Kyobo Book Center ― which is connected by a short underground passage to the station.
"He said 'Whenever I have books that I need, I might as well buy them here,'" Kim says.
The cozy book shop was also once adored by South African English teachers working in Ilsan, a satellite city located northwest of Seoul. One of them started holding social gatherings there after falling in love with the place.
International adoptive parents of Korean children also make frequent visits to the bookstore, in their attempt to learn more about Korea.
"I met one of the adoptive mothers about 10 years ago," Kim says.
"She was here in Korea to buy hanbok at Namdaemun market for her little kid. She happened to visit the bookstore during that stay, and would come here every time she makes her visits to Seoul. And she is one of the mothers who are organizing an English language book about Korean culture from the perspective of international adoptive parents."
Kim has also written a book about Korea in English. Last year he released "Ask a Korean Dude," a collection of his monthly columns published in SEOUL, in which he answers all kinds of questions from foreigners about Korea.
"Hank has done more to help promote the understanding of Korea overseas than any government agency," says professor Robert J. Fouser at Seoul National University. "He is a true 21st century national treasure!"
Korean-born American author Maija Rhee Devine, who published her first novel "The Voices of Heaven" through Seoul Selection, says he makes a strong impression.
"I found him to be a very frugal, humble, down-to-earth person who hates anything that's pretentious," she said. "Recently I asked him to autograph his book ― 'Ask a Korean Dude' ― for me and he humbly refused. It really surprised me. He doesn't like to promote himself. I once asked him if he was a Buddhist and he said he's not."
Devine says while she is touched by Kim's enthusiasm for his work, the two share different views on Korean culture and international politics.
"I think he has this tendency to romanticize Korean culture a bit," she said.
"His approach is 'We have a lot of great things to show, so we might as well promote the good.' He's also defensive of Korea's position in international politics, especially with Japan's war crimes. I, on the other hand, try to remain objective."
"I am not saying Korean culture is the best culture in the whole world," Kim said.
"I am saying our culture should be regarded with as much respect as other cultures are. We have the collective experience of all kinds of human sufferings: We've gone through colonization, war, poverty, forced migration to Kazakhstan and Mexico. And I think that very collective experience is the strength of Korean culture and literature. And I think our history including industrialization, democratization and the sex slaves during World War II must be shared with our neighboring countries in Asia. They are not just a collective Korean experience, but also an important history of Asia."
Kim's dramatic career shift ― from a journalist of 14 years to a Korean culture advocate ― was prompted by widespread lack of knowledge among English speakers about Korea and what was going on there.
In 1999, Kim, visited the British Embassy in Seoul as a reporter. Speaking to the English staff working there, he was stunned to learn that none of them knew about "Shiri," the Korean film that was breaking box office records at the time.
"It was very shocking," he says. "The film had already been watched by one quarter of the whole population. The whole country was buzzing about it. And yet these men just had no idea."
In 1995, he was taking time out from his job to pursue a master's in journalism and public affairs at American University in Washington. There, he met David Kim, the current Luce Scholars Coordinator for the Asia Foundation who was then working for the Korea Society, a non-profit organization dedicated to the promotional awareness of Korea-U.S. relations.
"He asked me if I knew CNN in 1994 had set a satellite dish on the roof of the Press Center in Seoul, thinking there would be a war," he said. "I was shocked that I had had no idea about it, though I was working as a reporter in Seoul when that was supposedly happening.
"I thought war could happen any minute on the peninsula. And in order to secure peace in this country," he continues. "I thought, we need as much foreign investment as possible. And to attract foreign investment, you need to promote culture, I thought."
Kim says he dreams of establishing an English-language internet radio station one day ― one that features cultural issues and happenings in Asian countries.
"Asian countries also have a lot of differences to celebrate," he said. "I have no idea when it will actually happen, but if it happens, I'd like to focus on the diversity of Asia and its cultures."
Seoul Selection Bookshop

Located near Gyeongbokgung Palace, Seoul Selection Bookshop is the place to go if you are looking for English-language books about Korea. The cozy store offers books, Korean DVDs with English subtitles, traditional Korean music CDs, and all kinds of second-hand books in English.
Coffee and other drinks are also available. The store is open from 9:30 a.m. to 6:30 p.m., Monday to Saturday. It is near Anguk Subway Station Exit No. 6. For more information, call (02) 734-0506 or visit www.seoulselection.com.
By Claire Lee (dyc@heraldcorp.com)
https://magazine.seoulselection.com/wp-content/uploads/2013/06/20130531000763_0.jpg
361
640
rjkoehler
https://magazine.seoulselection.com/wp-content/uploads/2018/01/Seoul-logo.png
rjkoehler
2013-06-07 18:45:30
2013-06-10 16:40:47
[The Korea Herald] Korean culture advocate with big dreams