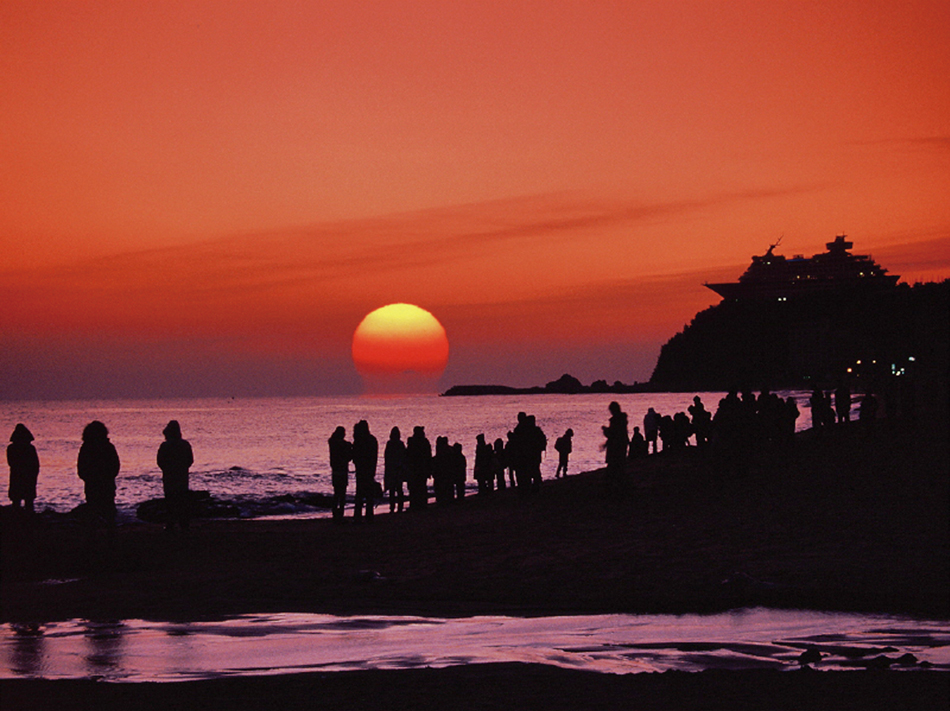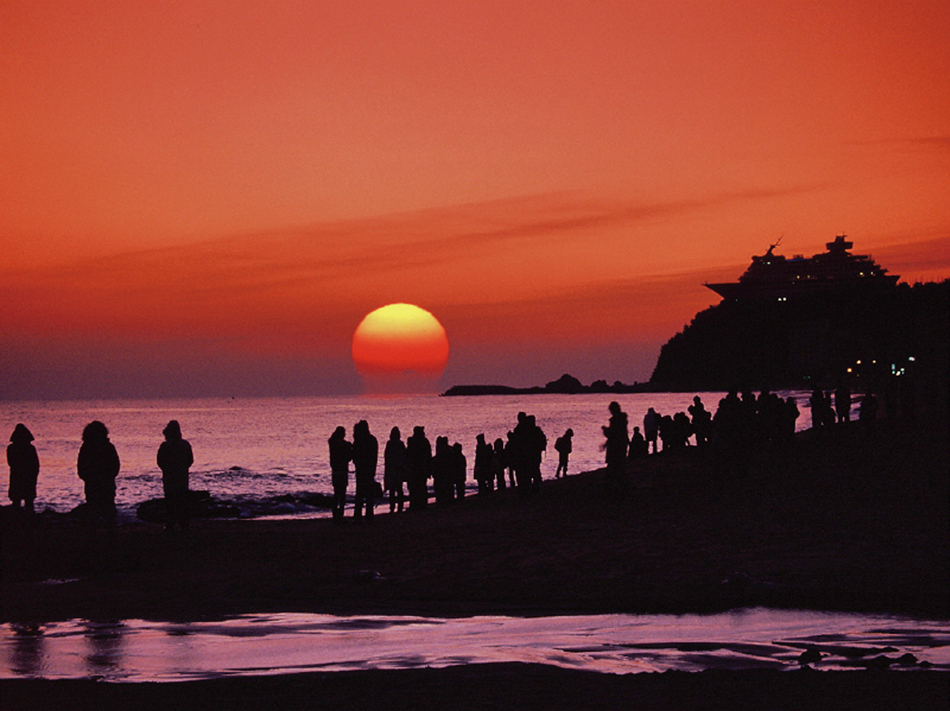 [divider]
[box_dark]December GETAWAYS[/box_dark]
Maryangpo Sunset & Sunrise Festival  마량포
Taking in the final sunset of the year is a popular New Year's Eve activity—it gives you an opportunity to ponder the ups and downs of the previous year. The small fishing port of Maryangpo in Seocheon, Chungcheongnam-do is special in that thanks to a quirk of geography, it offers views of both the sunset and sunrise. This quirk has not been lost on the local authorities, who have organized the Maryangpo Sunset & Sunrise Festival (Dec 31–Jan 1). Some 20,000 folk showed up for this festival last month—the sunrise was nice, and the free bowls of tteokguk didn't hurt, either. There are also concerts, cultural events, balloon releases and more.
EAT> Enjoy a free bowl of tteokguk in the morning.
SEE> Unsurprisingly, the sunset and sunrise.
DO> Take part in the daljip taeugi, or "Burning the Moon House." During this ritual, a tipi-like straw and twig house is burned as a prayer for blessings in the new year.
STAY>The village of Maryang-ri has a couple of minbak (home stay) facilities for you to stay at.
FYI> http://sunrise.invil.org (Korean only)
GO> Take a bus from Seoul Nambu Bus Terminal to Seocheon (travel time: 2 hours, 20 min). From Seocheon Bus Terminal, take a bus to Dongbaekjeong (travel time: 1 hour).
[divider]
Deogyusan National Park and Muju Deogyusan Resort   덕유산 국립공원 & 무주 리조트
With the ski season coming up, no list of winter destinations would be complete without mention of Muju Deogyusan Resort, one of Korea's most popular winter sports venues. The site of the 1997 Winter Universiade, Muju Deogyusan Report boasts of both Korea's longest slope, the 6.1km Silk Road Course (vertical height of 810m), and Korea's steepest run, the Raider's Slope with a 70 degree incline. After your ski (or snowboarding, if that's your thing), sooth your soar muscles with a soak in the resort's outdoor hot spring. The resort is at the base of Deogyusan National Park, a mountain park that offers some of the best winter scenery in the land.
EAT> A wide selection of food and entertainment is available: Korean and Western restaurants, pubs, snack bars, karaoke parlors, and café lounges.
SEE> The sunrises from the peak of Mt. Deogyusan (1,614m) are especially beautiful, but you'll need to spend the night at Hyangjeokbong Shelter (T. 063-322-1614, KRW 8,000)
DO> The resort has a lot to offer—skiing, sledding hills, snowmobile rides, outdoor sauna, amusement parks and a golf driving range.
STAY> The resort has three hotels of varying rates. One can spend the night in a jjimjilbang there as well.
FYI> www.deogyusanresort.com (T. 063-322-9000, 063-320-7367)
GO> Intercity buses depart from Seoul Nambu Bus Terminal to Muju Bus Terminal at 7:40am, 9:20am, 10:40am, 1:40pm, and 2:35pm. Take the free shuttle bus to Deogyusan Resort from Muju Terminal. For inquiries, call T. 063-320-7113.
[divider]
Pohang's Homigot Cape  호미곶
If the Korean Peninsula is a tiger clawing at the Asian mainland, Homigot Cape is its tail. The mainland's easternmost point, the cape is the place to come to see the earliest sunrises—on New Years Day, it's flooded by tourists who come to take in the first sunrise of the year. Homigot Sunrise Plaza is dominated by the "Hands of Coexistence," two giant iron hands, one rising from the land, the other rising dramatically from the waves just off the beach. The hand rising from the sea provides a rather nice resting spot for local seagulls—one can usually be found sitting on the tip of each digit. If you're a lighthouse lover, you'll definitely want to check out the National Lighthouse Museum, where you'll find everything you've wanted to know about lighthouses but were afraid to ask.
EAT> Plenty of places to eat around Homigot Sunrise Plaza—expect some of these places to be open on the first sunrise of the year. A local specialty is mulhoe, or sliced raw fish mixed with pear slices.
SEE> Check out Homigot Lighthouse, one of Korea's oldest, largest and most beautiful lighthouses—note the intricate details on the doors and windows.
DO> Take in the first sunrise of the year, which, not coincidentally, is also the time of the Homigot Sunrise Festival. There will be concerts, cultural performances, and plenty of tteokguk (Korean rice cake soup, a New Year's Day specialty).
STAY> Around Homigot you'll find the Haesu Motel (T. 054-284-8044) and Haesong Motel (T. 054-284-8245). There's also a number of minbakjip (homestays) you can use.
GO> Assuming the sunrise is what you're after, the best way to get to Pohang is by taking the night bus from Seoul Express Bus Terminal—there are buses at 10:40pm, 11:30pm and 12:30am (travel time: 4 hours, 40 minutes). From Pohang Express Bus Terminal, however, you'll need to take a cab to Homigot Sunrise Plaza—expect to pay about KRW 25,000 or more. Of course, if you arrive in Pohang during the day, you could just take a bus.
[divider]
Yongpyong Ski Resort   용평 리조트
Yongpyong Ski Resort is Korea's premier ski destination. Located high in the dramatic mountains of central Korea, the resort combines fantastic scenery, first-class facilities, and a whole lot of fun. One of the principle venues of the upcoming 2018 Winter Olympics, it draws visitors from all over Korea, Asia, and the rest of the world.
The resort has 28 ski slopes in all, graded beginner to expert; the pros will want to make for the Rainbow Slopes. The resort's 15 lifts will get you to where you want to go, and even non-skiers will want to take the 3.7km cable car to the top of Mt. Balwangsan (1,458m), where you'll find the iconic Swiss chalet-style restaurant/coffee shop called Dragon Peak. Snowboarders will find much to like, too. At the bottom of the slopes is Dragon Plaza, the largest ski house in Asia.
EAT> There are Korean and Western restaurants at Dragon Peak, the chalet-like building at the top of Mt. Balwangsan. The spaghetti is quite good, and the views are even better.
SEE> The sunrise from the peak of Mt. Balwangsan.
DO> Future Olympians should test themselves on Rainbow I (1,630m), Yongpyong's longest slope.
STAY> Yongpyong Resort offers a range of accommodations options. Those on a budget will want to use the Yongpyong Hostel. Be sure to make reservations early, though (T. 02-3270-1231)!
FYI> Lift passes are KRW 30,000—60,000. Rental equipment available. T. 02-3270-1231, www.yongpyong.co.kr.
GO> Shuttle bus service available from Seoul's Lotte World. See website for details.
[divider]
2013 Busan New Year's Festival  부산
Korea's second city of Busan rings in the New Year—quite literally—with a midnight bell-ringing ceremony at landmark Yongdusan Park. Oh, but that's not all—locals and tourists alike will gather in the wee hours of the morning at Haeundae Beach to welcome the first sunrise of the new year. In addition, there will be a New Year's balloon release, fireworks, concerts and other cultural activities and performances. If nothing else, it presents a great opportunity to explore one of Korea's most fascinating towns.
EAT> Busan is rightfully famous for its seafood—the best place to score it is the sprawling Jagalchi Market. Another popular dish is dwaeji gukbap, a hearty soup made with rice and chunks of pork. A very popular place for this is Ssangdungi Dwaeji Gukbap (T. 051-628-7020) near Daeyeon Station. Coffee and tea will also be provided during the festival.
SEE> If you'd prefer to see the sunrise elsewhere, the seaside cliffs of Taejongdae Park are a perfect venue for it.
DO> Join the crowds for the New Year's countdown at Yongdusan Park.
STAY> Busan has the best selection of hotels anywhere outside of Seoul. Most of the high-end places, including the Westin Chosun Beach Hotel, Park Hyatt Busan, and Paradise Hotel Busan, can be found in the Haeundae area. Cheaper accommodations can be found around Busan Station and Busan's major bus terminals.
FYI> http://festival.busan.kr
GO> The KTX gets you to Busan from Seoul Station in less than three hours.
If you prefer flying, flights to Busan's Gimhae Airport depart from Seoul's Gimpo Airport.
[divider]
Chuncheon  춘천
Nestled in the rugged snow-capped peaks of the province of Gangwon-do, this warm and inviting provincial capital is a land of mountains, lakes and rivers. A mere hour from Seoul, it gives world-weary Seoulites a place to escape the urban jungle for a day or two, to rejuvenate amid beautiful scenery and enjoy good food before returning once again to the daily grind.
One of the area's most famous winter spots is Namiseom, a riverine island about 30 minutes southwest of downtown Chuncheon in the town of Gangchon. A private arboretum founded by late governor of the Bank of Korea Minn Byeong-do (1916–2006) in 1965, it's crisscrossed by beautiful tree-lined walking paths and home to restaurants and cultural facilities. Ferries to the island depart from a dock connected to Chuncheon by frequent buses; you can also take a zip line across the river, too.
EAT> Chuncheon's two signature dishes are Chuncheon-style pan-fried chicken ribs (Chuncheon dakgalbi) and buckwheat noodles (makguksu). The best place to score dakgalbi is Myeong-dong Dakgalbi Alley, across from Chuncheon City Hall. Here you'll find about 20 restaurants specializing in the dish. You can find places serving makguksu all over, but give Nambu Makguksu (T. 033-256-7856) near Chuncheon Police Station a try.
SEE> When the weather cooperates, the Soyanggang River is a great place to see hoarfrost, which turns the landscape into a winter wonderland.
DO> If you have a head for heights, forgo the ferry to Namiseom and take the zip line instead. Beginning at an elevation of 80m, it will take you nearly a kilometer over the river.
STAY> Downtown Chuncheon has a wide range of small and medium-sized accommodations. The nicest place to stay in the area, however, is the Naminara Hotel (T. 031-580-8000) on Namiseom. The hotel's rooms are decorated with the works of noted artists, turning a night here into a cultural experience.
GO> ITX express trains to Chuncheon depart from Seoul's Cheongnyangni Station (travel time: 64 minutes).
[divider]
Jeongdongjin   정동진
The East Sea beach of Jeongdongjin in the province of Gangwon-do offers some of the most spectacular sunrises in all of Korea. It is also home to the world's closest train station to the sea—Jeongdongjin Station is, quite literally, on the beach.
Every New Year, sunrise gazers throughout Korea descend on the beach to take in the inspiring sunrises and pray for a healthy and happy year ahead. Over the last decade, the Jeongdongjin's fame has grown and, perhaps unsurprisingly, the spot has seen quite a bit of development, some of it a tad on the garish side. The most charming spot consists of a couple of wind-swept pines and a simple bench not far from the station itself, a reminder of the peaceful, forlorn Jeongdongjin of old.
EAT> Jeongdongjin now has tons of cafés, many of which are bound to be open for the first sunrise of the year.
SEE> Not far from Jeongdongjin is Gangneung Unification Park, where you can see a North Korean submarine that was captured following an infiltration attempt in 1996. There's a retired South Korean destroyer you can see, too.
DO> Go with somebody you love.
STAY> There are plenty of places to stay in nearby Gangneung if you want to stay in the area. Not far from Jeongdongjin is the architecturally inspired Hasila Museum Hotel (T. 033-644-9414, www.haslla.kr), run by a sculptor couple. Rooms start at KRW 300,000, but they are works of art—all 24 suits face the ocean.
GO> The night train to Jeongdongjin departs from Seoul's Cheongnyangni Station at 11:15pm and arrives at 4.26am.
https://magazine.seoulselection.com/wp-content/uploads/2013/11/정동진.jpg
711
950
cyn
https://magazine.seoulselection.com/wp-content/uploads/2018/01/Seoul-logo.png
cyn
2013-11-28 18:59:17
2013-11-28 18:59:17
DECEMBER GETAWAYS