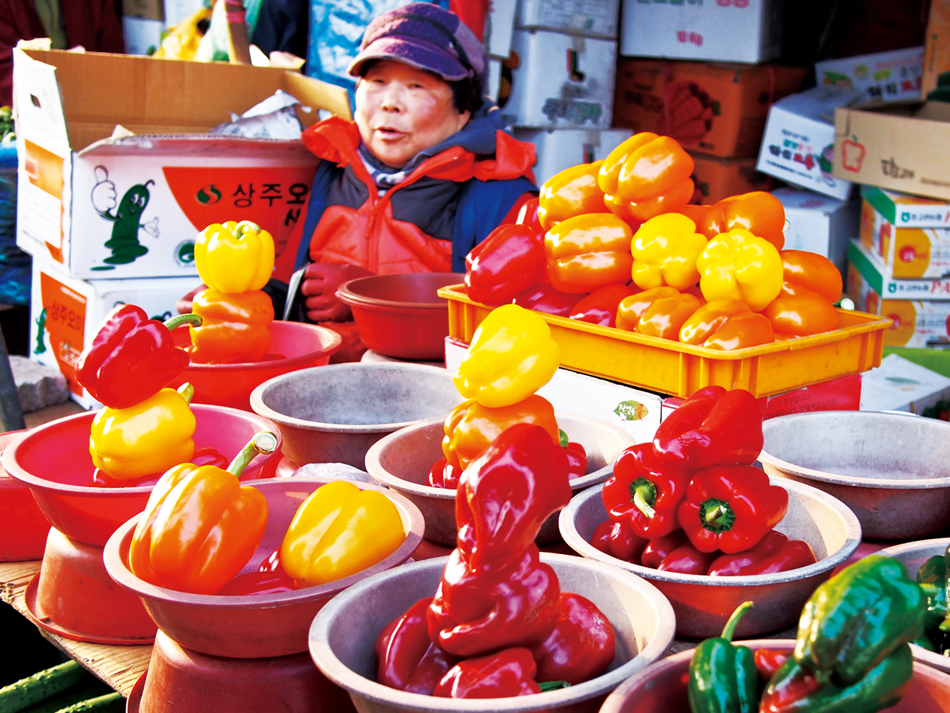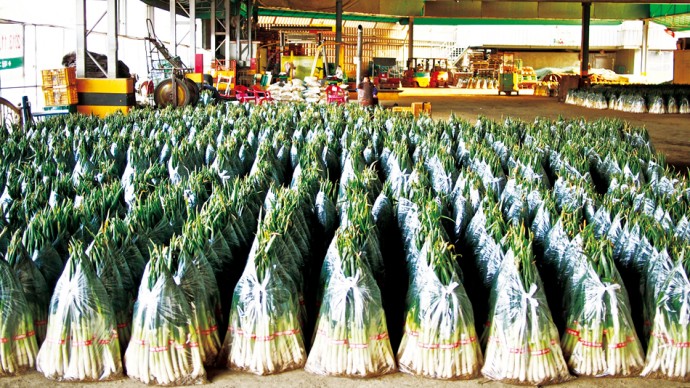 The mother of all markets
If you've eaten in a restaurant today, odds are some of your meal came from Garak Market (가락시장), where many of Seoul's restaurateurs come to restock their kitchens. Cheaper, fresher, and bigger than just about anywhere else in the city, it's the mother of all markets.
Let's start with the numbers. Korea's first and biggest public wholesale market, Garak covers over 540,000 square meters. On an average day, 7,300 tons of food are bought and sold, and KRW 10.4 billion changes hands; around 130,000 customers visit and 42,000 vehicles pass through its gates.
Prices are far lower than in the big chain supermarkets, but even if you're not shopping, Garak's size, expanse, and agro-industrial character make it a fascinating place to wander around, unlike any other market in the city. Women gather strands of olive-black seaweed—looking like film strips dipped in oil—vendors sell bell peppers brighter than traffic lights, and garlic comes in piles big enough to ward off an army of vampires. Workers in airplane hangar-sized warehouses store, sort, and separate boxes of fruit and vegetables for distribution, and at the complex's north end are arch-roofed auction houses, where restaurateurs come to bid on the daily offerings. One warehouse is devoted entirely to onions.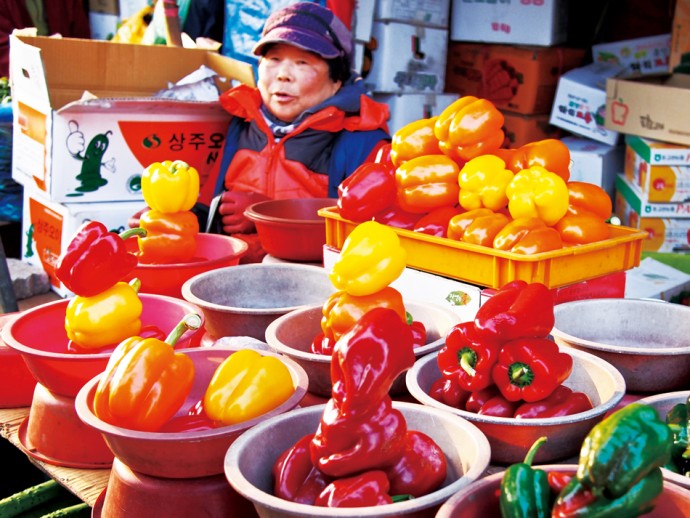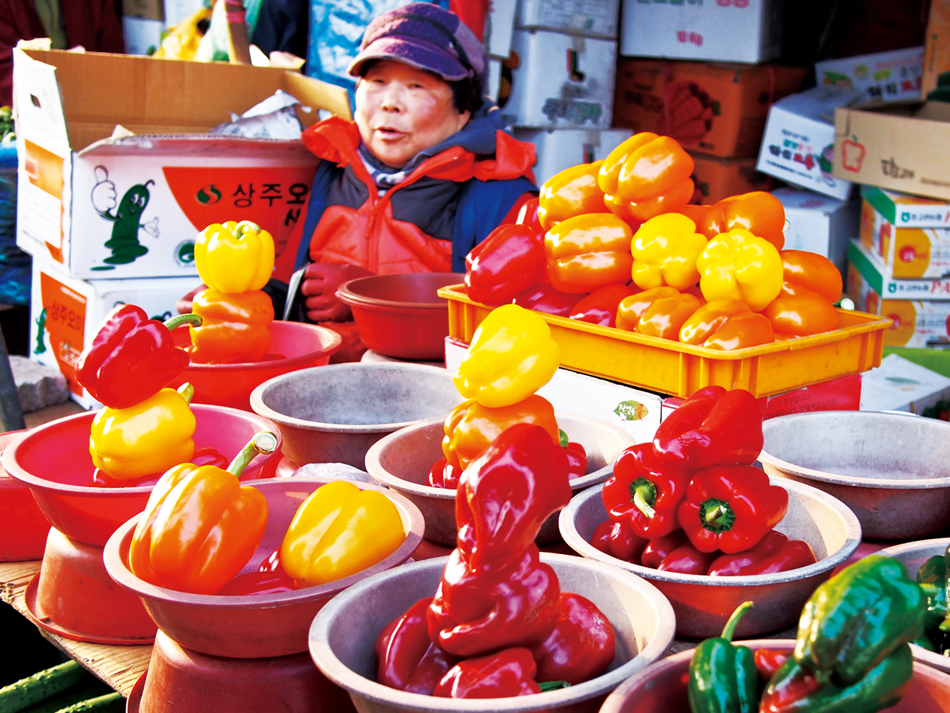 On the market's west side are the fish and livestock markets. The former is a mini-Noryangjin, a watery collection of big pink and gray prawns, octopus tentacles as long and thick as a man's leg, and lobsters with their pincers rubber-banded shut like restrained convicts. In the latter, hanging racks of ribs, legs, flanks and shanks dangle from hooks like nightmare chandeliers, and sliced up organs wait to be sent to gopchang (grilled intestine) restaurants.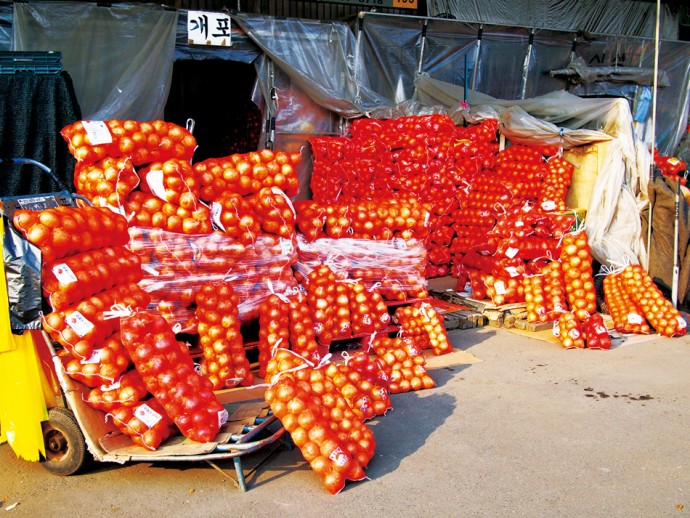 Spring style
If new clothes for spring are in order, head to Munjeong Rodeo Street (문정동 로데오거리), which is lined with dozens and dozens of name-brand stores that sell things at markdowns sometimes as high as 70 percent. There's a bit of everything, clothing-wise, here, but there's a particular abundance of places to pick up Americana apparel like Abercrombie & Fitch and Hollister and to stock up on outdoor gear, with the North Face, K2, Black Yak and more all represented.
And if you need a bit of a break from shopping, duck down Dongnam-ro-6-gil (동남로6길), where, a block from Rodeo, you'll find the Memorial Stone for the Origin of Munjeong Village (문정마을 유래비), explaining a bit of the neighborhood's history and, even better, twin 530-year-old zelkova trees where broad platforms offer the chance for respite under great leafy branches.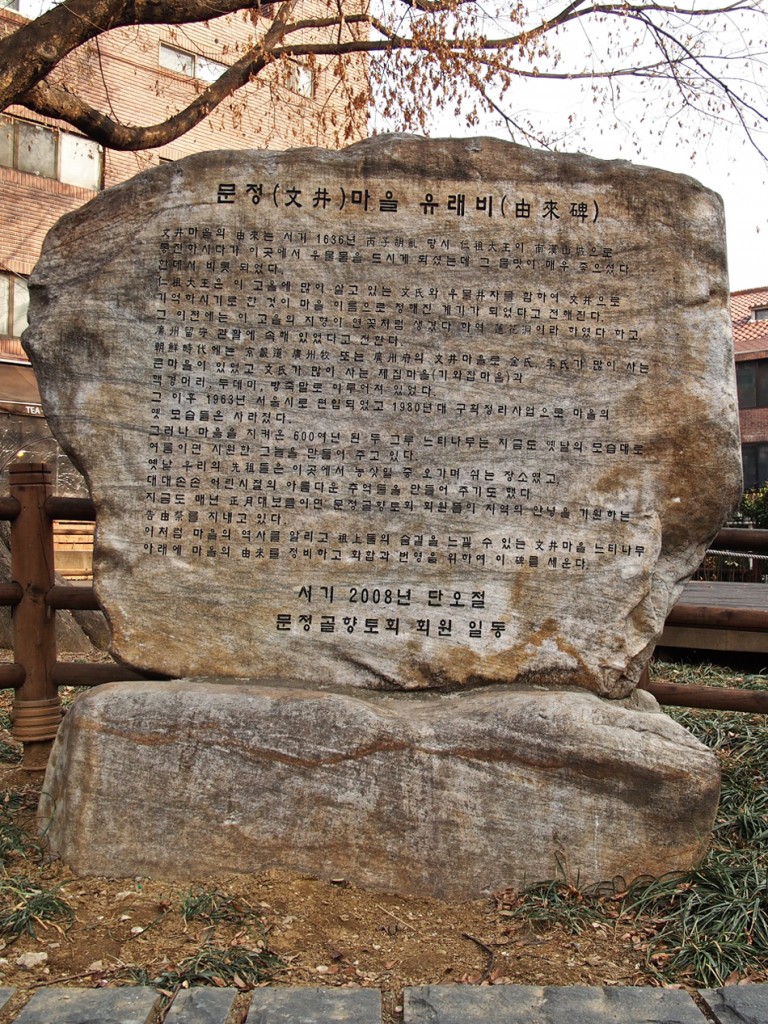 Garak Market 가락시장 / Exit 1
garak.co.kr
Munjeong Rodeo Street 문정동 로데오거리 / Exit 6
Straight on Songpa-dae-ro 송파대로,
Left on Dongnam-ro 동남로
Memorial Stone for the Origin of Munjeong Village 문정마을 유래비 and zelkova trees 느티나무 / Exit 6
Straight on Songpa-dae-ro 송파대로, Light on Dongnam-ro 동남로, Right on Dongnam-ro-6-gil 동남로6길
Written by Charles Usher
Photographed by Melissa Quek
https://magazine.seoulselection.com/wp-content/uploads/2014/03/P2220485.jpg
713
950
cyn
https://magazine.seoulselection.com/wp-content/uploads/2018/01/Seoul-logo.png
cyn
2014-04-01 15:49:15
2015-04-03 11:56:35
Garak Market Station