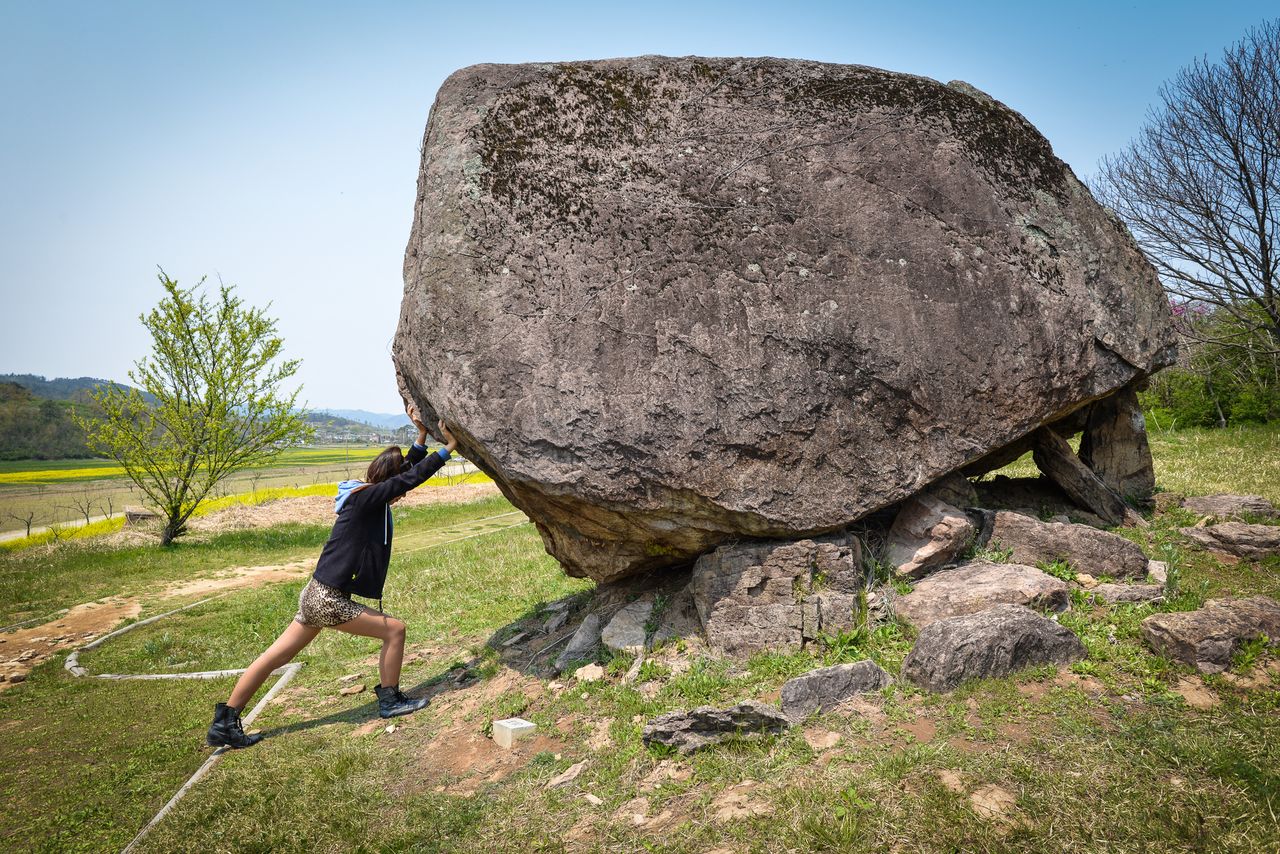 [box_dark]
HWASUN | 화순
Searching for Korea's Sacred Stones
Written and photographed by Peter DeMarco
[/box_dark]
Hwasun, a large county about an hour southeast of Gwangju, looks like any other in Jeollanam-do. People call this area the "rice basket" of Korea. Wide-open terraced fields wedged between green rolling hills are all around. Farmers sit on wooden platforms under trees to escape the sun. A lonely car passes slowly down an empty road. It's the anti-Gangnam, the origin of Korea's slow movement. For those willing to venture beyond Gwangju into Korea's deep south, the intrepid traveler will find two of Korea's hidden stone gems.
Hwasun Dolmen Park: Korea's Stonehenge | 화순 고인돌 공원
They are nothing more than huge boulders. At first glance, you probably won't be that impressed. The stones aren't even propped up to form table-like structures similar to the ones at Stonehenge. But when you imagine people digging the boulders out of quarries, dragging them across the land, and placing them above graves almost 3,000 years ago, it makes you think. After you realize that you are standing in the middle of an ancient cemetery, and you feel the energy from one of the world's most sacred sites, you begin to understand why this place is special.
A dolmen is type of megalithic (meaning "great stone" in Greek) tomb. There were megalithic cultures all around the world, in Europe, Africa, Asia, and the Middle East. Most people don't know that Korea has more dolmens than any other place in world. In fact, 40% of all the dolmens in the world are on the Korean Peninsula. Although they are scattered around the country, most of them are found at three burial sites: Hwasun, Ganghwa, and Gochang. All three locations are on the UNESCO World Heritage list.
Hwasun Dolmen Park is in the middle of the countryside and runs through a small valley. There is a building at the entrance of the park that houses some excavated burial sites. A dirt road and a walking trail go through the middle of the park. It's the perfect place to have a picnic, too. Bring your own food and drinks, though.
Unjusa: A temple like no other | 운주사
Like the dolmen park, Unjusa Temple is famous for stone, or rather, for what has been made with it. All around the temple grounds are dozens of stone Buddha statues. These aren't your typical statues though; they are made from slabs of stone and propped up against the hills. The faces are flat and expressionless. You begin to wonder if they were even made in Korea.
Probably the thing that most people come to see is the massive reclining Buddha carved into the top of a hill. A number of stone pagodas pop up all over the temple grounds too. They are three, five, seven, and even nine stories high. All together there are about 91 stone Buddhas and 21 pagodas. Not much is known about the temple's history. Who built it and when is still a mystery. It's an unusual sight and should make the list of any Korean temple tour.
Stay>
Gwangju has plenty of accommodation options. At the top end there is the Ramada Plaza Gwangju (T. 062-717-7000; KRW 200,000). There are a number of motels to choose from just around the bus station. For something a little more interesting, hop in a cab from the bus station and tell them to drop you off next to the Migliore department store in Chungangro (KRW 5,000). It's the city's most happening hood, filled with restaurants, shops, bars, and clubs. A block down from Migliore is the Windmill Motel (T. 062-223-5333; KRW 35,000), which has basic clean rooms. If you are coming in by train, the Napoli Motel (T. 062-514-9080) is a couple blocks from the station.
(Hwasun-gun, Jeollanam-do | 전라남도 화순군)
GO>
Getting to Gwangju: It's best to make Gwangju your base and explore Hwasun county from there. There are seven trains a day leaving from Seoul Station to Gwangju, and buses leave every 10 minutes.
Getting to Unjusa and the Hwasun Dolmen Park: Take bus 218 or 318 from the main bus station in Gwangju (Gwangcheon Terminal, about 1 hour 30 minutes). Not all of the buses go to Unjusa though, so be sure to confirm with the driver. The same buses also stop at the back entrance of Dolmen Park. If you hike the 2 kilometers or so to the entrance of the park, you won't find any bus stop there. The only options for getting to Unjusa from the main entrance—where the excavated burial tombs are—are to hitchhike, hop on a passing tour bus, or call a taxi (about KRW 20,000–30,000).
https://magazine.seoulselection.com/wp-content/uploads/2013/06/3b46NlXBtSw0qOJnXI_WGNkJgt9vzao0xVzhU1q23ZM1sW2Vu-T1up7q__ikm3w_Sf5sx0rJxsrZ9k2FhSsQKMRIeFKlxkQN8i1NV1ZuKmN8iqzPFk5TADWLab6MVFTbk.jpg
854
1280
cyn
https://magazine.seoulselection.com/wp-content/uploads/2018/01/Seoul-logo.png
cyn
2013-06-11 10:09:08
2013-06-11 11:59:06
Hwasun: Searching for Korea's Sacred Stones