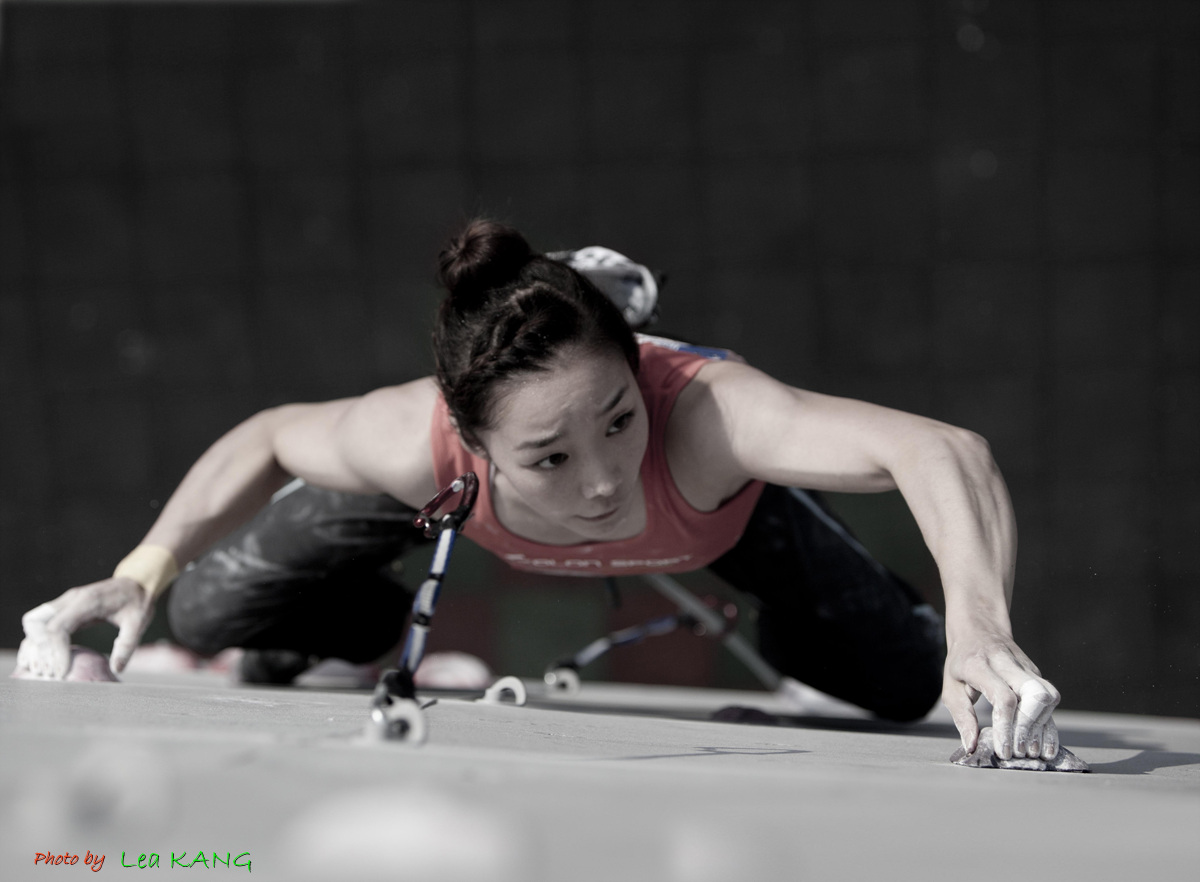 [box_dark]
BORN TO CLIMB
Meeting sports climbing champion Kim Ja-in 김자인
[/box_dark]
Written by Ben Jackson
Photograph courtesy of All That Sports
They say the very best pianists are the ones that make even the hardest pieces look easy, their hands gliding effortlessly up and down the keyboard. Watching the world's No. 1 sport climber Kim Ja-in scale a climbing wall gives a similar sensation: each move is controlled but fluid, perfectly considered and executed, with no jerking or grunting betraying the difficulty of the contortions required or the unnaturalness of such blatant defiance of gravity. The scattering of notes on an IFSC World Championship wall is ungenerous, but Kim plays her way up the vertical score without missing a beat. And like other virtuosos, Kim lets on that behind her competition-beating success lies pure enjoyment.
"By nature, once I start something I want to perfect it, but I also try hard to enjoy it to the fullest. Climbing is what I enjoy most of all, so I work harder at it than anything else."
Kim's hard work and enjoyment have brought her multiple sports climbing competition victories and podium results in the IFSC (International Federation of Sport Climbing) Climbing Worldcup, overall victory in the 2012 IFSC Climbing World Championship, and constant first or second world rankings over the past three years.
Family of climbers
Kim's parents met through their mutual hobby of mountaineering; some of Kim's earliest memories are of going to parks with climbing walls on weekends and watching her elder brothers climb. Perhaps inevitably, Kim soon found herself up a wall, her initial unease rapidly transforming into pleasure.
"My whole family enjoyed climbing, so I think I started doing it naturally," she says. "Perhaps climbing is my destiny. When I climb, I sometimes feel this is the thing that best suits me, that best suits Kim Jain. It's what makes me happiest."
Kim currently competes in the world of sport climbing, which takes place on indoor, man-made climbing walls or on building walls with artificial holes and grips attached. The IFSC divides the sport into three disciplines: lead, bouldering, and speed. Among these, Kim excels at and enjoys lead, which involves climbing as high as possible, with a rope, on a predetermined 15 meter-high route within a given time of eight minutes. Climbers clip the rope into pre-attached carabiners as they progress up the wall.
"It's a discipline that challenges you to think about how you're going to climb a route you're seeing for the first time in your life, so each person comes up with her own different way of climbing the same route. It's fun because of these creative aspects, and because you can learn more by watching how other climbers go up the same route as you using a different method."
Bouldering differs significantly in nature as a discipline: climbers compete to see who can reach the top of four of five walls of around five meters in height in a fixed, five-minute period. Speed, Kim's least favorite discipline, involves simply determining which climber can complete the same course in the shortest amount of time.
"All three disciplines are part of sport climbing, but their characteristics, their lines of movement, and the muscles they require are all different, so it's not easy to do all three. I started doing bouldering because I thought practicing the big, dynamic movements it demands would help me with lead, too," says Kim. "But I found it so fun that I now compete in both disciplines.
"I also climb natural rock faces whenever I get the chance. I want to do plenty of natural rock climbing when I retire from competitive sport climbing."
Solitary focus
Kim's success, she believes, comes from focusing purely on climbing itself, rather than on competition.
"Ultimately, I think, climbing is a fight with yourself. So I always go into competitions just wanting to reach the top of the route in front of me, rather than beating other competitors. I've had some hard times recently when interest in and expectations of me have grown and I've felt more of a burden. I really like climbing and I was afraid that I would be judged only according to competition results. But I think the most important thing is for me to enjoy climbing. So these days I'm using mind control techniques, telling myself not to feel ashamed of whatever the competition results are because I've faithfully gone through every process and worked hard."
"My most memorable moment was at the IFSC Climbing World Championships in China in 2009. Ever since I first took part in the Worldcup at the age of 16, my dream had been to complete a course in the Worldcup finals; in China that year, I fulfilled the dream, and at the biggest competition of all, the World Championships! I ended up taking second place that time, but I was so moved at having completed the course that I remember crying."
Continued enjoyment
"To be honest, I still can't believe I'm ranked number one in the world," says Kim. Though maintaining this position would be nice, she claims, enjoying the actual sport itself is her highest priority and what she wants to do for as long as possible.
"I want to climb well enough that people who see me can feel how attractive and fun climbing is as a sport," she says. "I want to help, even just a little, to increase the number of people enjoying sport climbing in Korea. If sport climbing is included as a sport in the 2020 Summer Olympic Games, I'll be 32 by then, but I definitely want to keep in good shape and take part. I don't have any specific plans for after retirement, but I want to keep doing things related to sport climbing. I'm currently studying sports psychology, which I chose because I think it will be helpful in the future."
Kim is quick to emphasize how safe and fun her sport is and is keen to get as many people involved in it as possible.
"Go and find a climbing wall this weekend with your partner or your family," she says. "Climbing is great for all-round exercise and helps with mental concentration. There are almost 30 indoor and outdoor climbing walls in Seoul alone."
FYI>
https://magazine.seoulselection.com/wp-content/uploads/2013/03/IMG_5955_1.jpg
882
1200
rjkoehler
https://magazine.seoulselection.com/wp-content/uploads/2018/01/Seoul-logo.png
rjkoehler
2013-03-05 16:56:16
2013-03-05 16:56:16
BORN TO CLIMB: Kim Ja-in