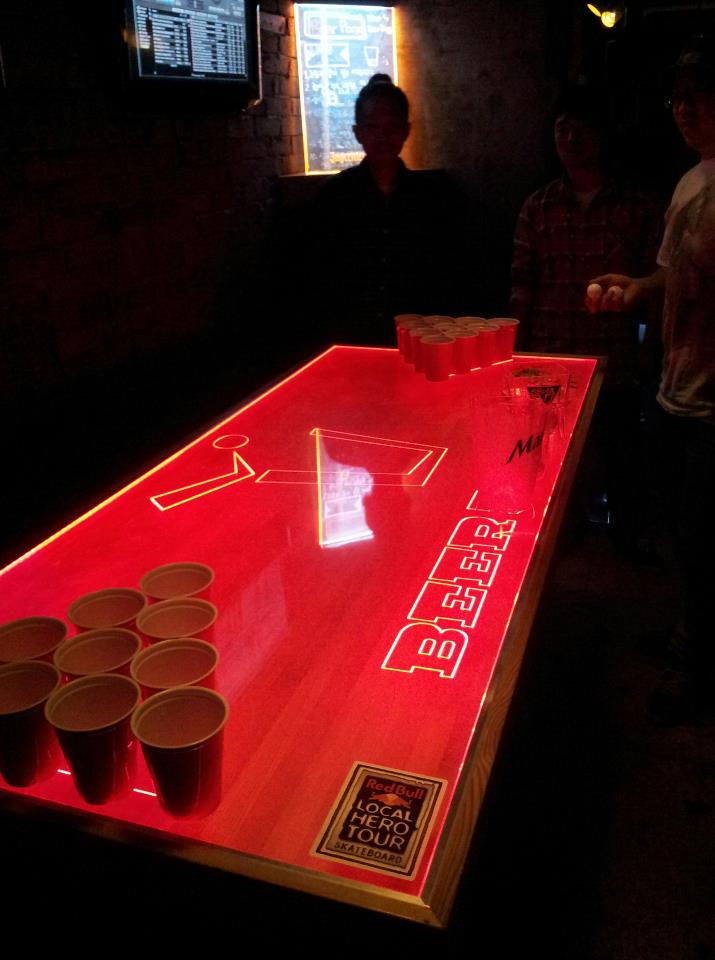 [box_success]
Behind the Belfry
An evening around Jonggak Station
Written by Daisy Larios
[/box_success]
The Gwancheol-dong area in Jongno by Jonggak Station 종각역 (Line 1), Exit 4—the labyrinth of alleys that lie between the Bosingak Belfry 보신각 and Cheonggyecheon Stream 청계천 and extend eastward past Piano Street—is an oft-overlooked nightlife area in the heart of historic Seoul. Packs of colleagues and friends, often local office workers, roam this neon maze looking to let their hair down after putting in a hard day's work. A Korean night out always begins with dinner, and you'll have no shortage of restaurants to choose from in this neighborhood. Afterward, head out for icha 2차—round two—at one of the drinking establishments below, and when you're sufficiently lush, check out one of the many noraebangs 노래방 (karaoke rooms) in the area.
Beer Pong: Alcoholic Game Lounge | 비어퐁
Perhaps the most distinct of the watering holes in the Jongak area is the aptly named Beer Pong, where you can relive all the glory of your college years. Pitchers of beer start at just 10,000 won at this friendly basement bar, and there are three beer pong tables for you to show off your, ahem, athletic prowess. If beer pong isn't your thing, roulette, darts, and jenga are also available. Beer vending machines, a bongo, and a box of neon-colored wigs round out the fun and funky vibe. Open til 5am on the weekends and 3am every other night.
FYI>
T. 02-723-2939, www.facebook.com/seoulbeerpong
102-1 Jongno 2-ga, Jongno-gu, Seoul | 서울시 종로구 종로2가 102-1
GO>
Jonggak Station 종각역, Line 1, Exit 4
Akbari Pocha | 악바리포차
Only about a year old, Akbari Pocha is a modern iteration of the traditional streetside pojangmacha 포장마차 (covered wagon), the tarp-covered foodstalls that abound in Seoul. It takes full advantage of its cavernous basement space by modeling the bar after—you heard me right—a prison. The lower level offers communal seating, but the tables behind bars on the second level offer a surprisingly…intimate experience. Akbari offers your typical anju 안주 fare, the appetizers that traditionally accompany drinking in Korea. Open until 9am nearly every day of the week.
FYI>
T. 070-4248-9742
19-6 Gwancheol-dong, Jongno-gu, Seoul | 서울시 종로구 관철동 19-6
GO>
Jonggak Station 종각역, Line 1, Exit 4
Miller Time | 밀러타임
If playing an American college drinking game on Korean soil doesn't sound surreal enough, there's always Miller Time. One of several locations around the country, this bar is surely the American traveler's equivalent to an out-of-body experience—yet it is decidedly Korean in execution. Particularly popular with the after-dinner crowd, there's Guinness for those who prefer the dark stuff and beer towers for those who can hold their liquor.
FYI>
T. 02-737-4466, www.miller-time.co.kr
11-13 Gwancheol-dong, Jongno-gu, Seoul | 서울시 종로구 관철동 11-13
GO>
Jonggak Station 종각역, Line 1, Exit 4 or Jongno 3-ga Station 종로3가역 (Line 1, 3, 5), Exit 15
https://magazine.seoulselection.com/wp-content/uploads/2013/03/577727_286666231428248_33439115_n.jpg
960
715
rjkoehler
https://magazine.seoulselection.com/wp-content/uploads/2018/01/Seoul-logo.png
rjkoehler
2013-03-08 10:01:03
2018-02-13 16:29:04
Behind the Belfry