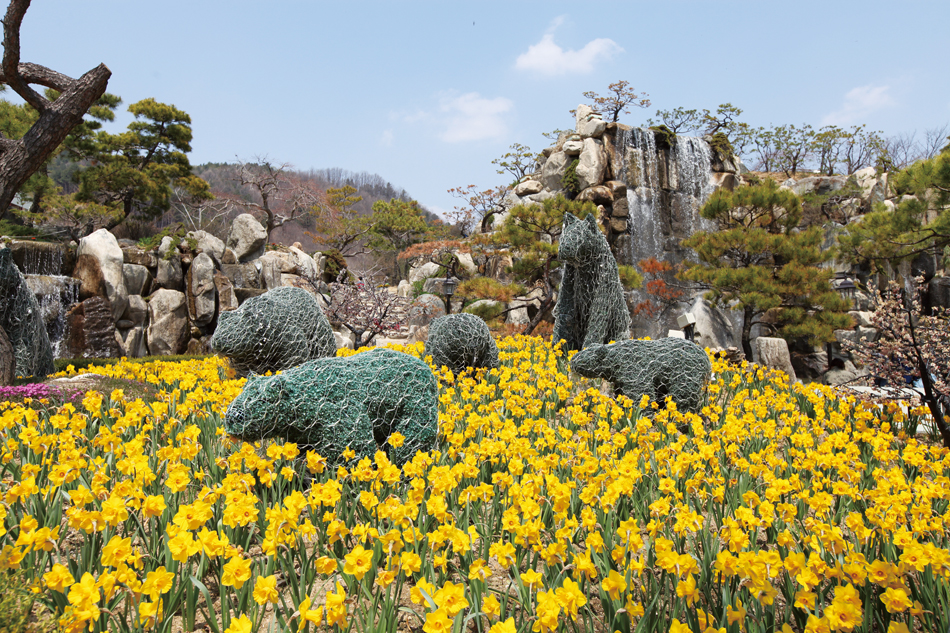 [box_light]APRIL GETAWAYS[/box_light]
Rustic Jeonju Hanok Village 전주 한옥마을
In order to properly appreciate Jeonju Hanok Village, be prepared to get lost. And leave your watch at home.
A maze of picturesque alleyways lined by handsome old Korean homes, Jeonju Hanok Village is a piece of an older, simpler and infinitely slower Korea. Every corner, every back street yields a new discovery. Hidden away amidst the tile roofs and greenery are charming guest houses, quiet teahouses, historic Confucian shrines, artisan workshops and stately old trees that have stood their ground for centuries. If there's something in particular you'd like to see, by all means, bring a map. Otherwise, experience the town as it was meant to be seen—very, very slowly.
EAT> Tons of great places to eat in Jeonju, including many places in Jeonju Hanok Village itself. It's best known dish is the Jeonju bibimbap—rice mixed with fresh vegetables and a tangy pepper sauce and served with a spread of side dishes. Jeonju's best known bibimbap house is Gogung (T. 063-251-3211), a taxi ride from Jeonju Hanok Village. Closer to the hanok village is Gajok Hoegwan (T. 063-284-0982), which is also highly recommended. This writer recommends Seongmidang (T. 063-273-0029), a smaller place hidden in an alley near Gajok Hoegwan. It's friendly, held in high esteem by locals, and above all, does great food. A Jeonju bibimbap will run you KRW 10,000, or KRW 12,000 for one topped with raw beef (yukhoe bibimbap).
STAY> Jeonju Hanok Village is about hanok, and there's no better way to experience the charm of a Korean traditional abode than spending a night in one. There are many good hanok guesthouses in the village. One of the better ones is the Hakindang (T. 063-284-9929), a palatial estate built in 1905 by high ranking royal official Baek Nak-jung. When we say palatial, we mean palatial—the home's architecture incorporates aspects of royal palace design.
SEE> Overlooking Jeonju Hanok Village to the east is a small hill topped by a grand Korean pavilion. The hill provides good views of the entire hanok village.
DO> Experience the paper making process at Jeonju Traditional Korean Paper Center (T. 063-232-6591).
GO> KTX express train service connects Jeonju with Seoul's Yongsan Station (travel time: about 2 hrs, 10 min). You can also take express buses to Jeonju from Seoul's Central City Bus Terminal (travel time: 2 hrs, 45 min).
[divider]
Pocheon's Herb Island  포천 허브 아일랜드
There are few better places to take in the fragrances of the Korean spring than Pocheon's Herb Island. Founded in 1998 to grow, well, herbs, Herb Island is home to a botanical garden, museums, restaurants, an aroma therapy center and much, much more. Most visitors, though, will simply want to stroll amidst the endless fields of flowers, breathing in the scents.
EAT> There are a couple of herb-themed eateries, including one specializing in Korean-style herb ribs. There's a bakery and cafe, too.
STAY> This is a day trip from Seoul, but if you'd like to stay, Herb Island has some pension houses (some more outlandishly decorated than others) for you to stay at.
SEE> The garden is lit up in multicolored lights at night.
DO> Recover from the stresses of modern life at the Herb Healing Center spa.
GO> Take Bus 57 to Soyosan Station 소요산역 (Line 1) and get off at Samjeong-ri. From there, just walk to Herb Island.
[divider]
Historic Incheon  인천
Perhaps best known for the dramatic Korean War battle that bears its name, Incheon has served as the world's gateway to Korea for over a century. In the era of steam and sail, the city's waterfront played host to a heady mix of races, cultures, religions and languages as the adventurous, ambitious, desperate and devout arrived on Korean shores in search of fortunes and souls. This heritage of cultural exchange has left an indelible imprint on the city—stroll about Incheon's old town and you'll come across Chinese townhouses, Japanese banks, colonial-style saloons and Christian churches..
 EAT> Some of the best Chinese food in Korea can be had in Incheon's Chinatown, Korea's largest. Some historic eateries to try are Hyangmanseong (T. 032-766-2916) and Pungmi (T. 032-772-2680).
STAY> This is just a day trip from Seoul. If you are going to stay here, though, the Harbor Park Hotel (T. 032-770-9500) near Chinatown has great views of the harbor from the upper floors.
SEE> Incheon's got plenty of history—many of the old banks and offices in the old Japanese concession are now museums. Incheon Art Platform—a colonial-era warehouse complex—is now a cultural complex with studios and exhibit spaces.
DO> Cruise boats to the scenic Yeongjong Bridge depart from Wolmido Island.
GO> Incheon is the last stop of Seoul Subway Line 1. The entrance to Chinatown is just across the street from Incheon Station.
[divider]
Samcheok/ Donghae Coastal Walk   삼척/동해 해파랑길
A coastal walking trail—the Haeparang Trail (haeparang.org)—links the entire East Sea coast. The section along the coast of the Gangwon-do towns of Donghae and Samcheok is especially scenic with plenty of cliffs, waterfalls and dramatic rock formations. The trail includes some nice beach walks, too. Just what the doctor ordered to revive body and soul.
EAT> Samcheok's signature dish is gomchiguk, a spicy soup made from moray eel. The place to go for this is the Donga Sikdang (T. 033-574-5870). This place's other specialty is seonggye baekban (KRW 10,000)—soup, side dishes and rice, which is mixed bibimbap-style with cooked sea urchin.
STAY> The Donghae Grand Hotel (T. 033-534-6682), on Mangsang Beach, is a three-star place with great views, especially at sunrise. Its indoor and outdoor pools are worth checking out, too.
SEE> Some of the best sunrises in Korea can be had at Chuam Beach, famous for its dramatic rock formations.
DO> While you're in Donghae, it's worth hiking in the Mureung Valley, famous for its dramatic cliffs and scenic waterfalls.
GO> Trains to Samcheok depart from Seoul's Cheongnyangni Station. From Samcheok Bus Terminal, take a bus to Bugu Terminal near Bugu Intersection, the beginning of the trail.
[divider]
Imsil Cheese Village 임실치즈마을
Located just 30 minutes from Jeonju (see above), the town of Imsil is best known as the cheese capital of Korea. You might not associate cheese with Korea, but in 1967, Belgian priest Didier t'Serstevens introduced the art of cheese-making to a small mountain village. The village now produces a wide range of high-quality cheeses, from standards like cheddar and mozzarella to finely aged Gouda.
EAT> Oddly enough, cheese. The Imsil Cheese Theme Park—yes, there is such a place—sells delicious pizzas and spaghetti made with Imsil cheese. You'll also find restaurants in town serving cheese-infused Korean favorites like bibimbap, samgyeopsal and tteokbokki.
STAY> If you're not staying in nearby Jeonju, you can try the pension of Imsil Cheese Theme Park (T. 063-643-2300).
SEE> The scenic valley and cliffs of Saseondae.
DO> Cheese-making programs are available. And while not especially related to cheese, Imsil also hosts a "semi-nude" photography festival each spring. Be warned, though—there's nothing "semi" about the nudity.
GO> Buses to Imsil depart from Seoul's Nambu Bus Terminal (travel time: 3 hours). From the bus terminal, you'll need to take a local bus to Imsil Station, where the village is located.
[divider]
Gyeongju: Ancient Capital of Silla 경주
The ancient capital of the great Korean kingdom of Silla (57 BC−AD 935), the small southeastern city of Gyeongju boasts of one of Korea's richest scenic and cultural landscapes. It is home to no fewer than three UNESCO World Heritage Sites: the magnificent Buddhist monastery of Bulguksa and its sublime Seokguram Grotto, the countless Silla relics of Gyeonggju National Park, and the picturesque Joseon-era community of Yangdong Village. To properly appreciate the place, you need weeks if not months, but even a weekend visit is well worth the time, energy, and money—especially in spring, when the flowers bloom and the town is ablaze in brilliant shades of yellow and pink.
EAT>  Ssambap—rice and meat wrapped in lettuce leaves—is a local specialty. You can find a number of ssambap restaurants at the south entrance of Daereungwon, including Guro Ssambap (T. 054-749-0600). If you're in a party of two or more, Dosol Maeul (T. 054-748-9232) is worth a try. Specializing in traditional Korean meals (jeongsik), the restaurant is in an old Korean home, mixing taste with atmosphere. You'll love their mountains of side dishes.
STAY> Where you stay depends on how thick your wallet is. Bomun Lake, a leisure and recreation district to the east of town, is home to many luxury hotels, including the Hilton, Hyundai, and Commodore, just to name a few. If you're really flush with cash and looking for the Korean traditional experience, look no further than the Millennium Palace Resort & Spa (Ragung), a sumptuous hanok hotel near Bomun Lake. If the beautiful Korean traditional architecture, upscale Korean cuisine, and charming Korean interiors aren't enough, the private outdoor hot tubs attached to each room should do the trick (T. 054-778-2100).
SEE> The sublime Seokguram Grotto, one of the most spectacular pieces of Buddhist art in the world. The evening reflections at Anapji Pond are worth seeing, too.
DO> Hike Mt. Namsan, a scenic peak covered in Buddhist rock carvings and temple ruins.
GO> KTX trains to Gyeongju depart from Seoul Station (travel time: 2 hours). From Gyeongju's KTX station, take a bus to Gyeongju City Bus Terminal.
https://magazine.seoulselection.com/wp-content/uploads/2014/03/IMG_1048.jpg
633
950
cyn
https://magazine.seoulselection.com/wp-content/uploads/2018/01/Seoul-logo.png
cyn
2014-04-01 15:50:27
2014-04-01 15:53:49
Korea Travel Bits