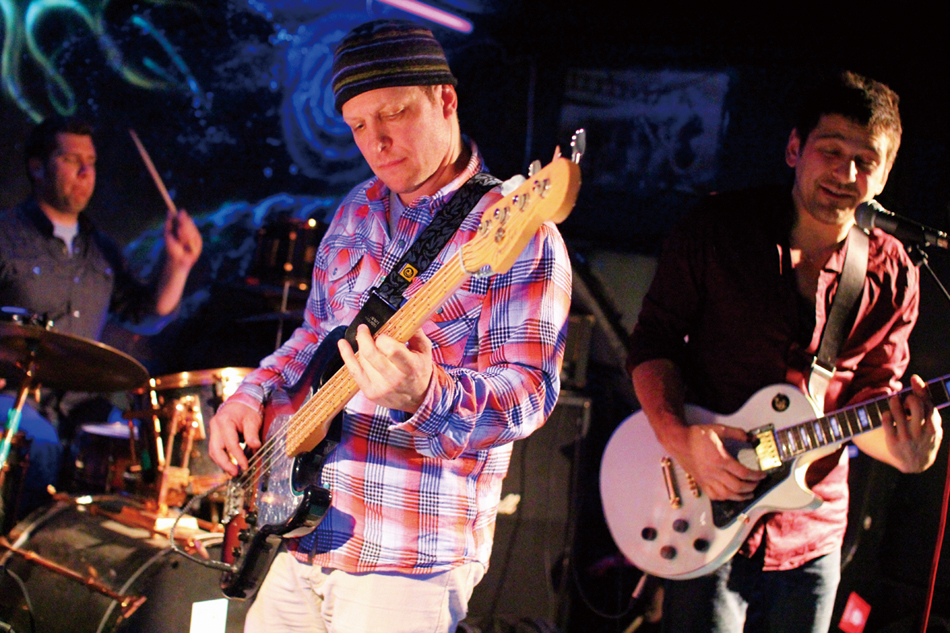 [box_light]
The Search for Live Music in Itaewon
Written and photographed by SEOUL staff
[/box_light]
After the closure of two popular Itaewon venues in 2011, live music has become more difficult to find in the neighborhood. Here are four bars that host bands on the regular.
DOJO Lounge   도조 라운지 
DOJO is a unique venue in the heart of Kyungnidan. Opened in 2012 by NOXA Lounge owner Joseph Kim and Canadian DJ Matthew Clement (DJ 4Play), DOJO is the only lounge club in the area. DOJO features live bands every Friday and an open mic night every Tuesday. The owners are two true lovers of music, and DOJO is known for showcasing quality acts across many genres. As an added bonus, the regular staff members, Kristin and Yenee, are the nicest bartenders in Seoul. It is the perfect place for anyone trying to find live music at a slightly more upscale venue, especially Itaewon residents who do not want to trek to Hongdae for shows.
Live music: Tuesday (open mic), Friday (bands)
FYI> T. 02-790-1334
GO> Noksapyeong Station 녹사평역 (Line 6), Exit 2. Go straight. You should see DOJO across the street you once you hit a crosswalk, next to the Industrial Bank of Korea.
[divider]
Thunderhorse Tavern  썬더호스 태번 
Originally located near the Itaewon main street, Thunderhorse Tavern relocated to Kyungridan in late 2013, making it the first bar dedicated solely to live music in the neighborhood. Kirk Kwon, a former sound crew member for acts such as Motorhead, Slayer, and 50 Cent, runs the cozy tavern, and former Ole Stompers Rock Spot owner Dwayne Robertson can be found behind the bar most nights. A wide variety of Seoul-area bands grace the stage every weekend, and karaoke Wednesdays start this month. Given Kirk's dedication to sound quality, the bar is a must-visit for lovers of live music and those looking for a friendly neighborhood haunt. Though very new, many artists in the area are already regulars, and some of Seoul's best musicians can be found there on weekends.
Live music: Wednesday (karaoke), Friday and Saturday (bands)
FYI> T . 010-5152-1691
GO> Noksapyeong Station 녹사평역 (Line 6), Exit 2. Walk straight and you will see Thunderhorse on your right.
 [divider]
Woodstock Itaewon 우드스탁
Woodstock Itaewon is one of the oldest bars on the main street, and the oldest live music venue in the neighborhood. It has hosted bands for the past 20 years. Mr. Woo, the owner and quite a character, can always be found dancing, playing pool, tending bar, or relaxing on his couch. Nearly every band looking to play in the Itaewon area has set foot on their stage, and four bands perform there every Friday and Saturday. The bar has not been updated in two decades, so it's not for everyone, but if you're looking for a taste of old Itaewon, Woodstock is definitely the spot. Pop in after 9 PM and the experience is sure to be memorable.
Live music: Friday and Saturday (bands)
FYI> T. 010-8860-1419 (Mr. Woo)
GO> Itaewon Station 이태원역 (Line 6), Exit 2. Go straight; Woodstock is on your left.
[divider]
Rocky Mountain Tavern 록키 마운틴 태번
Opened in August 2004, Rocky Mountain Tavern has been a popular spot on the Itaewon main street for nearly a decade. Not only does the pub have excellent food and drink, it also hosts bands every Saturday, and it is the largest live music venue in the neighborhood. One of the owners, Mike Dowding, is a bassist with a couple of popular bands in the area, resulting in great sound. Last year's makeover left the second floor where the bands play more open and accommodating. The venue has held many band parties and fundraisers over the years, and the live shows are always a good time. It's the perfect place to grab dinner and drinks. Head upstairs for superb music on Saturday nights.
Live music: Friday (bands)
FYI> T. 02-792-5392
GO> Itaewon Station 이태원역 (Line 6), Exit 3. Go straight, Rocky Mountain Tavern should be on your right.
https://magazine.seoulselection.com/wp-content/uploads/2014/03/Woodstock-2.jpg
633
950
cyn
https://magazine.seoulselection.com/wp-content/uploads/2018/01/Seoul-logo.png
cyn
2014-04-01 15:47:52
2015-06-03 10:08:40
The Search for Live Music in Itaewon