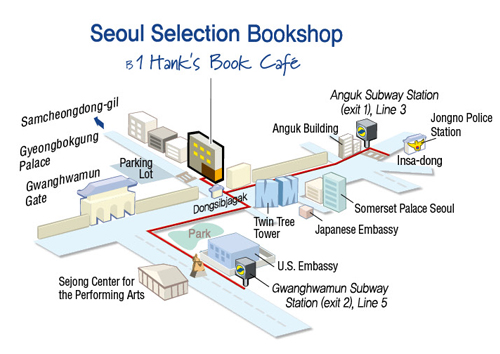 About Seoul Selection
Seoul Selection is a Korean publishing house that takes a leading role in the globalization of Korean culture, including the arts, society, and lifestyle. Its distribution network includes major Korean bookstores, university libraries, bookstores in the United States and other foreign countries, and several major online stores, making Seoul Selection titles easy to find abroad. Though located between much larger China and Japan, Korea boasts a huge repository of sophisticated and original indigenous culture, much of which remains to be translated and made accessible to non-Korean speakers. Seoul Selection seeks to boost the world's understanding of Korea through the publication of works on a wide and diverse range of Korean topics, including history, culture, tourism, economics, society, education, and more. In an age of information overload and mass marketing, Seoul Selection aims to play the role of a dependable guide, selecting and providing easy access to high-quality samples of Korean culture to those looking for a taste of this fascinating country.
About Our Name
Seoul Selection means "Select Korean Goods Available in Seoul." In this age of information overload and mass marketing, we want to play the part of a dependable guide. We aim to help those looking for a taste of Korean culture to easily find quality samples. Whereas "collection" often refers to an exclusive assemblage of art or coveted items, "selection" lets one choose. In that sense, we give our customers access to affordable and appealing cultural works worthy of their attention. That is our basic philosophy.
Company Overview
Seoul Selection is a Seoul-based book and magazine publisher. In our book department, we publish literature about Korean culture in English, German, French, Japanese and Chinese. We also carry Korean films on DVD with English, Japanese and Chinese subtitles, and traditional and contemporary Korean music CDs. Some gift and art items are also available for purchase. All of these selections are available at our bookstore and cafe near Gyeongbokgung Palace.We also publish SEOUL, a monthly, English language magazine that provides a wealth of information for foreigners traveling and living in Seoul. With in-depth reporting on culture and living, foreigners' perspectives on living in Korea, overview of Seoul events and cultural news, SEOUL magazine is an indispensable resource for those who want an insider's viewpoint of Seoul life. SEOUL magazine is jointly published by Seoul Selection and the Seoul Metropolitan Government.Seoul Selection's free newsletter SEOUL WEEKLY also provides a wealth of information about upcoming cultural events such as concerts, exhibitions, and festivals. The weekly newsletter also carries synopses of recently arrived books, CDs, and DVDs. Regular columns like "Streetwise in Seoul" provide practical information to make your stay in Korea more enjoyable and safe. In addition, the newsletter is a great source for news about events arranged by or for the foreign community.
Seoul Selection Bookstore | 서울셀렉션(주)
B1F, Sagan-dong 105-2, Jongno-gu, Seoul | 서울특별시 종로구 사간동 105-2 지하1층
+82-2-734-9565

https://magazine.seoulselection.com/wp-content/uploads/2013/06/shop_map.jpg
354
500
rjkoehler
https://magazine.seoulselection.com/wp-content/uploads/2018/01/Seoul-logo.png
rjkoehler
2013-06-10 16:37:33
2013-06-11 10:11:58
About Us