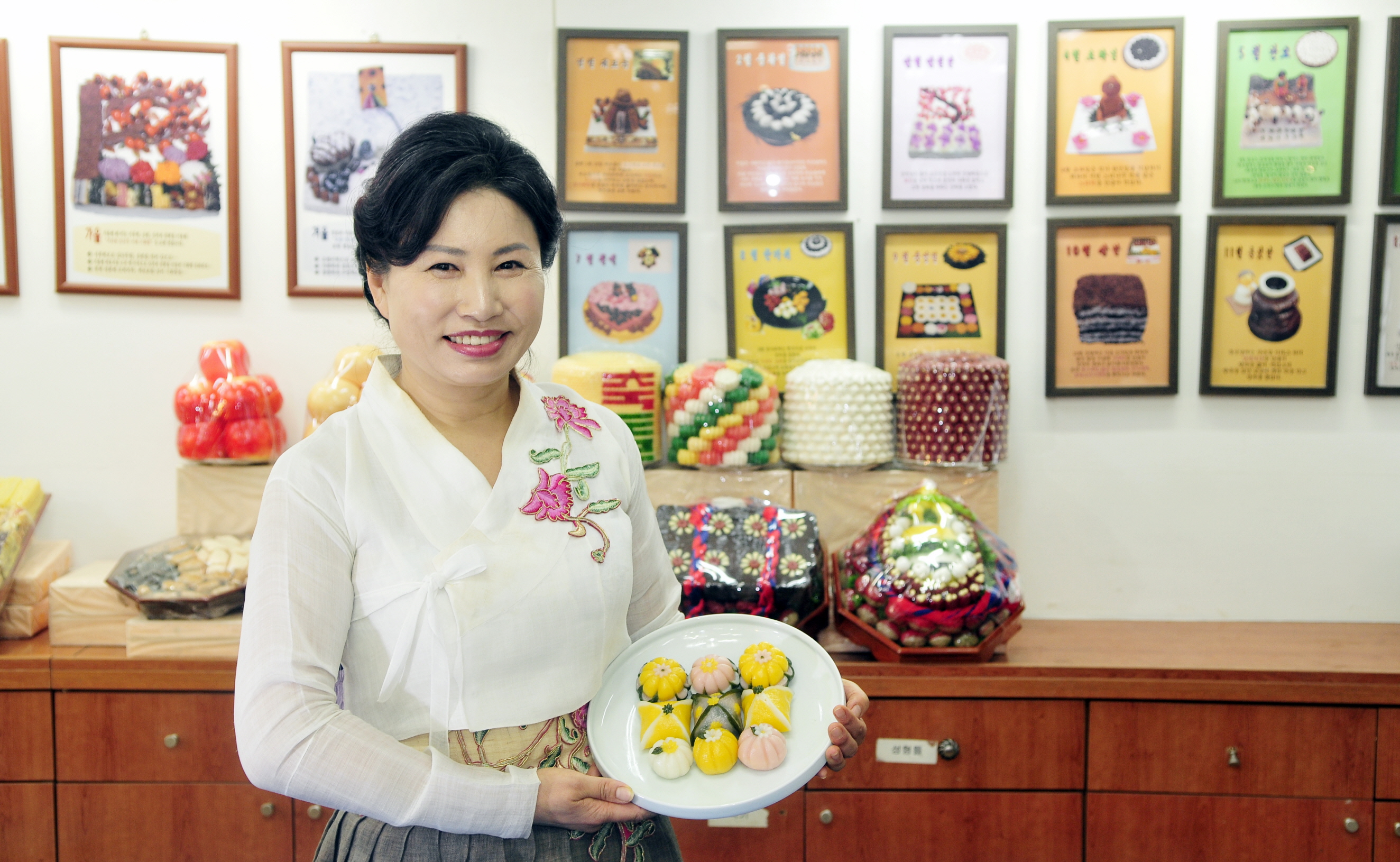 [box_dark]
The Kim Ok-Hee Effect
For one of Seoul's best-known rice cake makers, it's all about dedication
Written by Doyun Kim
Photograph by Ryu Seunghoo
[/box_dark]
When we arrived on-site for the interview, Kim Ok-Hee was hard at work. Her hands, armed with a plastic knife, flew with a life of their own around a lump of tteok. Moments later, she set down an intricately constructed flower, causally wiped her hands on a dishtowel, and greeted us. My jaw dropped.
There are probably very few people who live around the neighborhood and do not know about Kim's accomplishments. Since 1985, Kim Ok-Hee has been the owner of Yeouido Tteok Bang, a small rice cake shop that deserves huge respect. She has been recognized year after year for her mastery in making rice cakes. Most notably, she received the 10th Annual Outstanding Korean Citizen Award in 2010 from President Lee Myung-bak, as well as the first place award in the nationwide Tteok Expert Competition. I spotted these awards from the corner of my eye, sitting in two glass cabinets pushed up against the wall alongside rows and rows of other accomplishments, nearly enough to account for each year she has been in business.
More prominently on display, however, were her creative achievements—models of the tteok arrangements she designed and pictures of whimsically shaped tteok interpretations for each month of the year. It was these personal accomplishments that she showed off with pride.
Humble beginnings
Yeouido Tteok Bang is located in the basement of an apartment arcade. When you walk in, there are no ostentatious signboards advertising the best tteok in Korea, which it could easily pass for without any objections. There is no fanfare as you approach the space quartered off for her shop, just perhaps a bit more movement here and there—but one could accidentally pass by this gem without realizing what they have just missed. Yet, every holiday, hundreds of customers find their way to her little corner and wait for hours.
Kim arrived in Seoul in 1974 at the young age of 11, straight out of elementary school. When she was 13, she began working for her uncle's tteok shop in Yeouido (hence the name), and it was then that her lifelong passion for tteok-making began. During this period of time, there were no recipes delineating the exact quantities of ingredients to add. The only way to learn was by gaining experience—watching her uncle's process, mimicking experts, and repeated trial and error. This is perhaps why she is the best. Her craft truly comes from an inner knowledge that she has fortified over decades' worth of continual improvement, impossible to be replicated anywhere else.
This is perhaps also the reason why Kim can be so confident in her handiwork and yet equally modest in her accomplishments. Her years of experience have taught her not to fear mistakes, but to see them as a opportunity to correct them and improve herself. It is a never-ending process that gives and also humbles.
The heritage of tteok
For Kim, tteok is her life. She spends every day thinking and breathing tteok and believes that she owes all of her success to tteok. But as she points out, she is not alone. Tteok is inextricably entangled with the lives of everyone in Korea. "We grow up with tteok," Kim says. "Tteok and life are one."
This is true—tteok is an integral part of the Korean story. From birth to death, and even beyond, tteok is present in every rite of passage, every transition, and every celebration. On the 100th day after you are born, your family celebrates with baekseolgitteok to wish you purity and honesty in all your days. Every New Years' Day, people eat tteokguk, a rice cake soup, to represent the aging process. Every Chuseok, songpyeons—the half-moon-shaped tteok—are made to bless the new harvest. And each time you move, sirutteok is shared with your new neighbors to ward off any evil spirits lurking around. It is hard to think of any other food as culturally symbolic and ubiquitous as the rice cake.
Customer comes first
Today there are 198 types of tteok—a number that has been unofficially rising thanks to the new types of tteok Kim debuts at her store. Kim always listens to her customers, and what she has been hearing is a demand for a new, healthier type of tteok. So she returns to the kitchen to develop recipes that substitute sugar and salt with other ingredients without compromising taste.
The extent of Kim's dedication to her customers can be seen not just from this external listening to demand but also from the internal awareness of her mind. Her duty in life, she tells me, is to produce enjoyable tteok for everyone. A firm believer in the idea that making good food requires a good soul, Kim realizes this goal cannot be achieved through skill
alone. A customer who eats a dish prepared with spite will taste the bitterness. On the other hand, a dish prepared with happiness will be thoroughly enjoyed. Understanding this, Kim takes much time honing her daily mindset. Forgiveness,
for example, is trait she strives for every day, because she knows that in the end, harboring those ill feelings can only harm herself and her art.
For Kim, true success is to be an ample container. If you have a bowl that can only fit one apple and try to fit ten apples, it will be not enough, she explains. You would need a bucket. A bucket will fit all of them and have space for even more. As I think back to everything she stands for—perseverance, hard work, integrity—I can begin to understand the wisdom behind her adage. Without a properly prepared mind and body, there is no way to learn the lessons of experience. Kim Ok-Hee, the master of rice cakes, still believes that you can always make more room. Her humble message is shaped into every tteok she makes, and truth be told, you can really taste the difference.
FYI>
T. 02-568-2050
www.wadduk.co.kr
(511-1 Daechi-dong, Gangnam-gu, Seoul | 서울시 강남구 대치동 511-1)
GO>
Walk 5 minutes from Exit 5, Daechi Station 대치역 (Line 3). Yeouido Tteok Bang is located in the basement of Mido Arcade.
https://magazine.seoulselection.com/wp-content/uploads/2013/06/as__RYU5509.jpg
1630
2648
rjkoehler
https://magazine.seoulselection.com/wp-content/uploads/2018/01/Seoul-logo.png
rjkoehler
2013-06-25 16:56:50
2013-06-25 16:58:46
The Kim Ok-Hee Effect