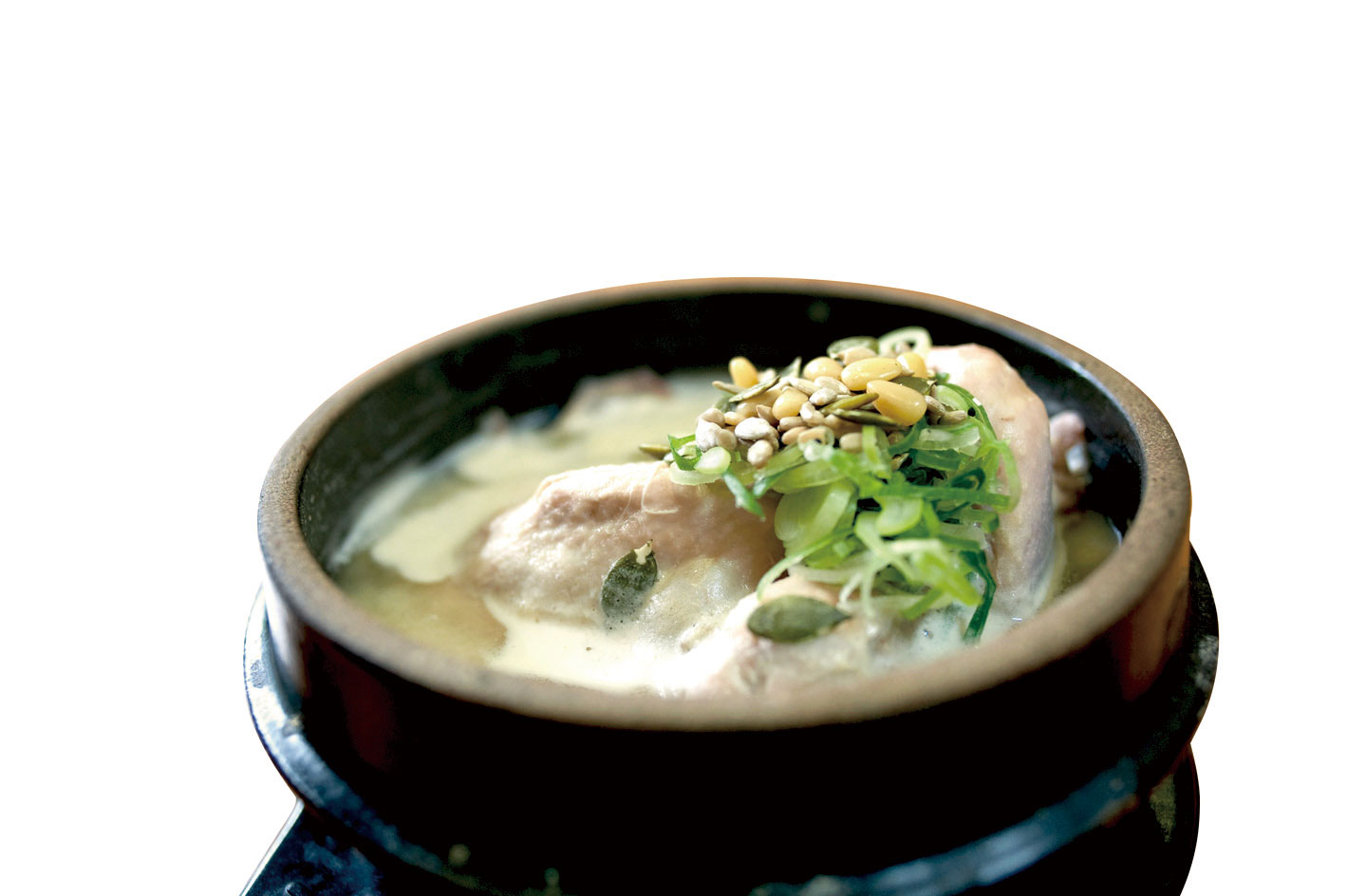 [button link="https://magazine.seoulselection.com/category/dining-nightlife/dining/dining-feature/" variation="darkgrey"]Features[/button]
[box_dark]
Boyangsik
Written and photographed
by Daniel Gray
[/box_dark]
Boyangsik | 보양식
Koreans have a saying, iyeolchiyeol 이열치열, which translates to "fight fire with fire." This expression is true in Korean boyangsik cuisine. Boyangsik refers to rejuvenating summertime foods that are rich in protein, vitamins, and heat. Here are a list of foods that will help you fight the heat.
[divider]
Chicken and Ginseng Soup Roundup
One of the most most celebrated summertime foods is chicken and ginseng soup, known as samgyetang 삼계탕. While it might be strange to eat a piping hot chicken stuffed with vegetables, glutinous rice, and ginseng in the midst of summer, it is surprisingly refreshing in the hot summer heat. You will find lines out the door of every restaurant serving this dish on the three hottest days of the year—chobok 초복, July 13th; jungbok 중복, July 23rd; and malbok 말복, August 12th. The debate over which restaurant serves the best version of this dish continues, but here is a list of some of the best samgyetang in the city.
[box_info]Tosokchon | 토속촌[/box_info] (Gwanghwamun)
This restaurant probably serves more of this dish than any other; you can expect a half-hour to one-hour wait on busy days. Set in a Korean traditional house, the atmosphere is rustic. The broth is milky and thick, the chicken is tender, and the dish has a fragrant ginseng smell. You can upgrade to black chicken or mountain ginseng for extra stamina power. Tosokchon is good, but I feel it lacks soul because of the high demand for the dish, and the chicken broth could be richer. Also, I wouldn't recommend their roasted chicken, which I think is a bit dry.
FYI>
T. 02-737-7444
Open: 10pm–10pm
Price: KRW 15,000
(서울시 종로구 체부동 85-1 | 85-1 Chebu-dong, Jongno-gu, Seoul)
GO>
[box_info]Goryeo Samgyetang | 고려삼계탕[/box_info] (City Hall area)
Located near City Hall, this restaurant is a local favorite and is known for their clear chicken broth and high-grade ginseng. The chicken flesh falls apart as soon as you touch it with your chopsticks, and the broth pairs well with the fresh green onion. Personally, this is my favorite because of the clear broth. Their fried chicken is also one of the best in the city.
FYI>
T. 02-752-9376
Open: 10am–9pm
Price: KRW 15,000
(서울시 중구 서소문동 55-3 | 55-3 Seosomun-dong, Jung-gu, Seoul)
GO>

View Larger Map
[box_info]Mugyo Samgyetang | 무교삼계탕[/box_info] (Insa-dong)
This place has been in business for over 40 years, and they serve their old recipes the same way they always have. Service is curt. The soup is thick and full of ginseng punch. Their side dishes are very good here—I especially love the pickled ginseng. If you'd like something lighter, they offer a rice chicken soup. Although oldfashioned, they still seem to do it right.
FYI>
T. 02-734-4636
Open: 11am–9pm
Price: KRW 12,000
(서울시 종로구 관훈동 198-17 | 198-17 Gwanhun-dong, Jongno-gu, Seoul)
GO>
[box_info]Catfish Stew and Roasted Eel in Nagwon-dong | 낙원풍천장어그라·참게메기탕[/box_info] (Near Insa-dong>)
Catfish is not ordinary boyangsik food. They are freshwater fish and quite difficult to find in Korea, but they are considered to be an excellent source of protein as well as rich in vitamin B-6 and B-12. At the local restaurant Pungcheon Eel and Catfish Soup (Nagwon Pungcheon Jangeo Geura Chamge Megitang) 낙원풍천장어그라·참게메기탕, the fresh catfish are cooked in a spicy chili-bean-paste broth with cabbage, turnip greens, and daikon. The heat from the spice is refreshing in the summer heat. The fish are a bit bony, but the robust broth goes great with rice and the numerous side dishes at the table. This restaurant is also known for it's freshwater eel, which is also a famous summertime food. Eels are an oily type of fish that are high in calories, fat, and iron—perfect for letting your body recover from working all day in the summer heat. The eels here are covered in a thick, sweetened soy sauce—they are first broiled and then brought to the table on a hot plate to finish cooking. The eel is great when wrapped with fresh leaves and freshly slivered ginger. This restaurant is nothing fancy (the interior looks like it is from the 70s), but they do things the traditional way—with lots of side dishes and fast service. If you are looking to try catfish stew, this is one of the few places in the city to do it.
FYI>
T. 02-764-3322
Open: 11am–1am
Price: KRW 6,000–48,000
(서울시 종로구 돈의동 39-3 | 39-3 Donui-dong, Jongno-gu, Seoul)
GO>
https://magazine.seoulselection.com/wp-content/uploads/2013/07/samgyetang-8-사본i.jpg
944
1419
cyn
https://magazine.seoulselection.com/wp-content/uploads/2018/01/Seoul-logo.png
cyn
2013-07-06 14:18:51
2018-02-13 16:18:29
Boyangsik