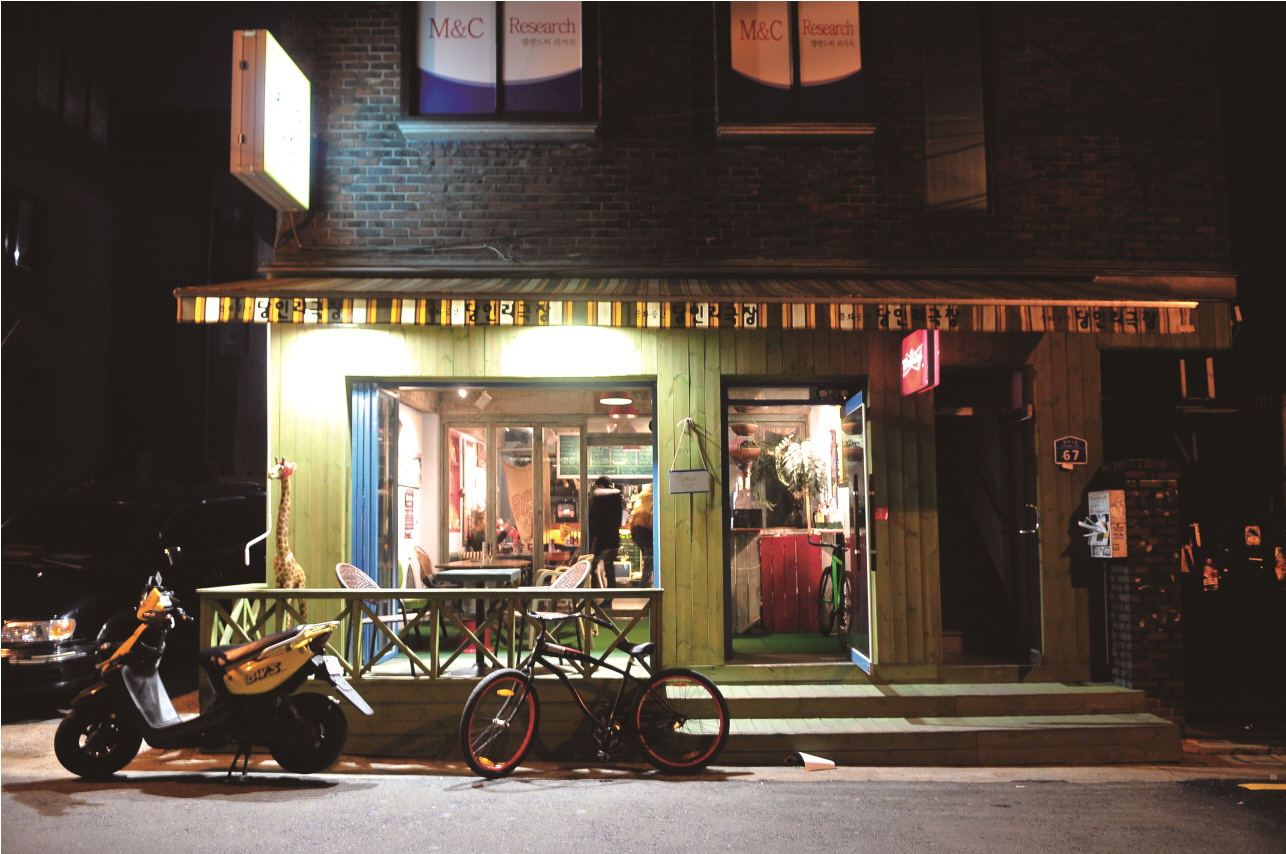 [box_dark]
Sangsu-dong Culture Street
 | 상수동 발전소 문화 거리
As rents in the popular Hongdae club district in front of Hongik University continue to increase, the arts, culture, and nightlife scene of this dynamic neighborhood is expanding to newer, less-frequented locales. One such locale is the Sangsu-dong district, dominated by the massive Seoul Gas Thermal Power Station (formerly the Dangin-ri Power Station), a fixture of the Seoul cityscape for the last 81 years. The alleyways around this still largely commercial and industrial district are filling up with trendy cafés, clubs, and cultural spaces, resulting in an atmosphere simultaneously gritty and sophisticated. The urban scenery makes for some pleasant walks, too.[/box_dark]
[box_light]
Yri Café
 이리카페[/box_light]
This long-time Hongdae institution moved to its current location in 2009. Named after the Korean title of Hermann Hesse's novel Steppenwolf, the café was founded by a painter and poet as a space for artistic souls to congregate. Its move to Sangsu-dong sparked a trend of like-minded spaces following suit. The café hosts a variety of artistic events, including musical performances, art exhibits, and readings by respected literary figures.
FYI>
T. 02-323-7861, http://cafe.naver.com/yricafe
(337-4 Sangsu-dong, Mapo-gu, Seoul | 서울시 마포구 상수동 337-4)
GO>
Sangsu Station 상수역 (Line 6), Exit 4
[box_light]
Dangin-ri Theater
 당인리극장[/box_light]
Billing itself as a "safe house hidden in Hapjeong-dong," this café hosts musical performances and film screenings in a pleasantly vintage environment. In keeping with the Hongdae tradition, indie music is usually on tap, with acoustic performances preferred. There are special live performances every Saturday at 6pm; admission is free. The menu's got coffee, cocktails, deserts, and even a bulgogi (Korean BBQ) bagel sandwich.
FYI>
T. 070-4254-6230, www.당인리극장카페.kr
(361-20 Hapjeong-dong, Mapo-gu, Seoul | 서울시 마포구 합정동 361-20)
GO>
Hapjeong Station 합정역 (Lines 2, 6), Exit 7
[box_light]
The Lost Continent of Mu
무대륙[/box_light]
The Lost Continent of Mu is another Hongdae institution that has found a new home near Seoul Gas Thermal Power Station. Part café/bar, part music hall, and part atelier, this "cultural complex" offers a big space to host a variety of exhibits and musical performances, largely of the indie variety. A wide variety of hot and cold beverages, including cocktails, beer, and wine, are available.
FYI>
T. 02-332-8333, www.mudaeruk.com
(357-7 Hapjeong-dong, Mapo-gu, Seoul | 서울시 마포구 합정동 357-7)
GO>
Hapjeong Station 합정역 (Lines 2, 6), Exit 7 or Sangsu Station 상수역 (Line 6), Exit 4
https://magazine.seoulselection.com/wp-content/uploads/2013/02/RYU1940.jpg
854
1286
rjkoehler
https://magazine.seoulselection.com/wp-content/uploads/2018/01/Seoul-logo.png
rjkoehler
2013-02-27 00:22:45
2018-02-13 16:29:43
Sangsu-dong Culture Street