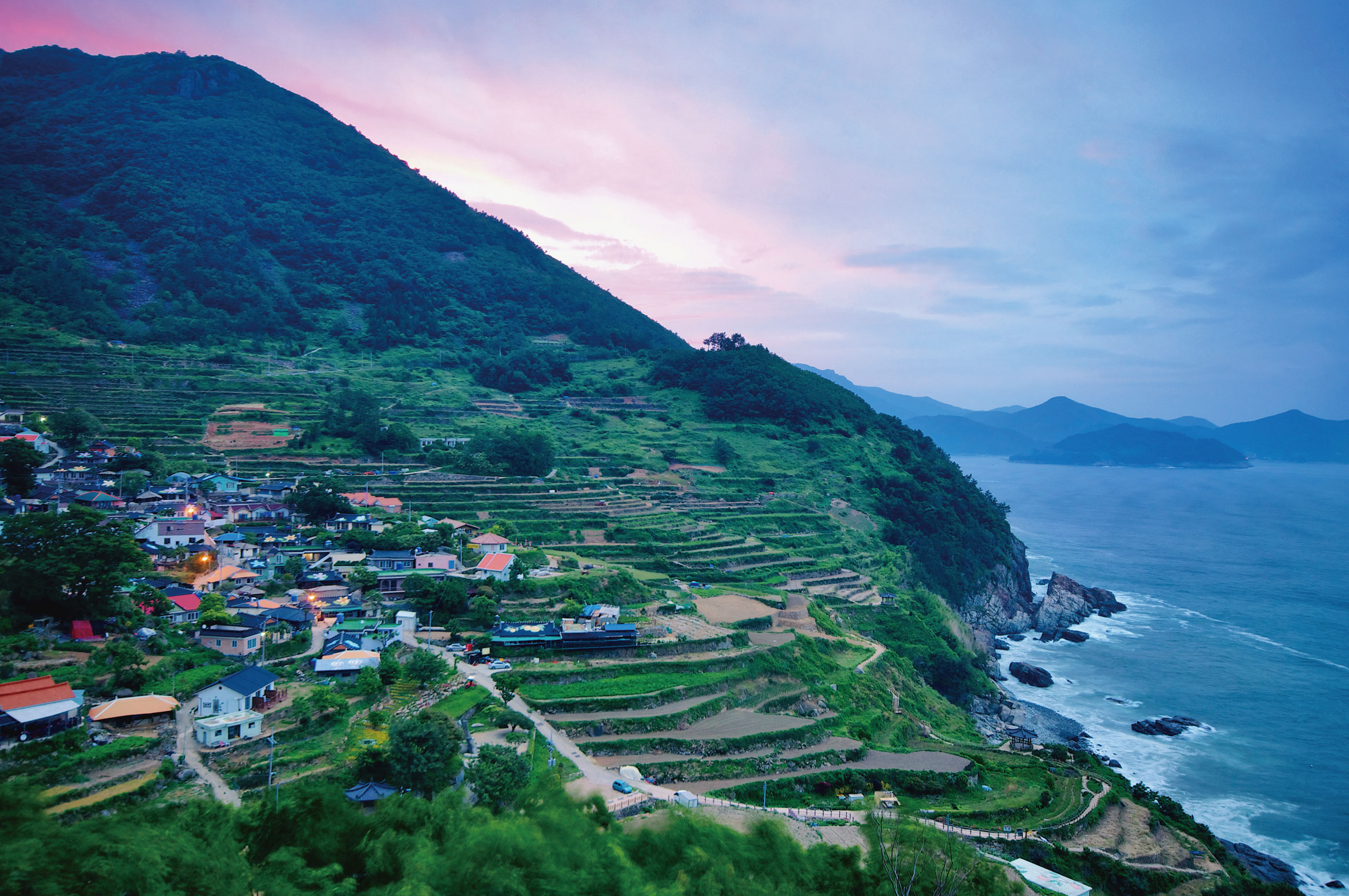 [box_dark]
South Sea Jewel — NAMHAE | 남해
A flawless blend of nature and leisure, Namhae is the perfect weekend getaway package
Written and photographed by Robert Koehler
[/box_dark]
Koreans like to call Namhae a "treasure island," and not without reason—the island is home to three nationally designated scenic spots and several scenic roads, an impressive total considering that the place just isn't that big. If Namhae were located closer to Seoul, perhaps this scenic beauty would sink the island beneath a horde of tourists every weekend. As luck would have it, though, the island is just far enough away from both Seoul and Busan to allow it to retain much of its rural seaside charm, even as luxury hotels like the Hilton Namhae Golf and Spa Resort make "roughing it in the sticks" a most pleasurable experience indeed.
Drive
You don't need to have a car to enjoy Namhae; in fact, this writer doesn't even drive. It helps if you've got one, though—the island is ringed by a series of inspirational, scenic roads. The scenery starts even before you touch dirt— the two bridges that connect the island to the mainland were separately named to the list of Korea's most scenic roadways. In fact, the bridges and the waterways they span are included in Hallyeo Haesang National Park, which links many of the southeast coast's most scenic locations. The more eye-catching of the two is the Samcheonpo-Changseon Bridge, a road link of several spans connecting Namhae with the port of Samcheonpo. The best views of it and the surrounding islands can be had from an old signal fire station that's a 40 min hike from Daebangsa, a temple near Samcheonpo.
Also on the Samcheonpo side is a small park just under the bridge, where locals come at night to relax and set off fireworks. Namhae Coastal Road, meanwhile, rings the entire island, taking windshield tourists through and past its countless beaches, picturesque villages, and dramatic coastal cliffs. The most popular beaches are found in the southeast—particularly visit-worthy is Sangju Eunmorae (Silver Sand) Beach, a crescent strip of white sand backed up by 100-year-old pine trees. You'll find rental car facilities near Namhae Bus Terminal.
Terraced fields of Gacheon
One of the most scenic spots on the island is Gacheon Daraengi Village, a small fishing/farming community on the southwest corner of the island. The village is built into a steep, rugged hillside overlooking the sea; to cope with the difficult topography, villagers built an ingenious—and incredibly picturesque—series of terraced fields. The resulting landscape of terraces overlooking the sea is inspiring and, for Korea, quite exotic. Nowadays, villagers rely as much on tourism as they do on their fields, and many of the homes also serve as reasonably priced bed-and-breakfasts as well as restaurants and cafés. Colorful wall murals brighten up the place as well. Maps of the village also point out a series of scenic spots where visitors flock for obligatory "confirmation shots" to prove they've been. The observatory on the road above the village (a short walk from the tourist information center/public restroom) is the best vantage point, especially at sunrise.
[box_info]
Getting there:
Buses to Gacheon depart from Namhae Bus Terminal.
Pro tip
: If you've gotten up early to take in the sunrise from the village, you'll be happy to learn that the friendly Sochi Pension and Cafe opens its doors not long after sunrise and is an exceptionally pleasant place to caffeinate.[/box_info]
Spiritual views
If you prefer your view-seeking with a side of spiritual enlightenment, make your way to the southeast corner of the island and head for Boriam, a Buddhist hermitage high on Mt. Geumsan (681 m). Like the Namhae bridges, the Mt. Geumsan district's scenic beauty got it included into Hallyeo Haesang National Park; unlike the bridges, however, you've got to pay a small park fee to enter. Boriam Hermitage was founded in the seventh century, although most of what you see today was built relatively recently. The temple is perched just below the granite peak and provides jaw-dropping views of the sea and offshore islands. The sunrises here are worth the early wake-up time. There are buses to Boriam from Namhae Bus Terminal. From Bokgokje Parking Lot No. 1 (where local buses let you off), you can either walk a kilometer up to the hermitage or take a shuttle bus (KRW 2,000 round-trip).
Relaxing in style
For centuries, Namhae's beauty has inspired Buddhist monks, poets, and scholars. In recent years, it's inspired hoteliers and developers, too. If the accommodations in Gacheon are too rustic for your tastes, just down the road is Hilton Namhae Golf and Spa Resort (T. 055-860-0100), operated by the renowned hospitality chain. The seaside links draws golfers from all over Korea, and the guest rooms are what you'd expect from the Hilton. Even if you don't have the KRW 400,000-plus you'd need to spend a weekend evening here, it's worth visiting just for the smartly designed spa (entry: KRW 13,200), which offers views of the sea and golf course. There are outdoor pools, too, and an assortment of massage treatments (bring your wallet/pocketbook for the latter, though).
[box_info]
Getting there:
There are local buses that pass by the resort, but it's a 10-minute walk from the stop, and if you're actually staying here, you're.[/box_info]
Eat>
Namhae is an island, so fish features prominently in the cuisine. Its particularly known for its myeolchi (sardines), caught in ingenious bamboo nets set up in the strait near the village of Jijok. Myeolchi ssambap (sardines, rice, and side dishes, eaten wrapped in lettuce) is a local favorite. Uri Sikdang (T. 055-867-0074) in Jijok is well-known for this dish. Baegane Myeolchi Ssambap (T. 055-867-7337), also in Jijok, is also worth trying. If you're feeling peckish in Gacheon Daraengi Village, try Sigol Halmae Yujaip Makgeolli (T. 055-862-8381), where you can get seafood doenjang, myeolchi ssambap, noodles, and other simple dishes with a bottle of makgeolli made from locally produced quince leaves. You'll also quickly notice that Namhae produces a lot of garlic.
Stay>
Up for a fun challenge? Drive the Namhae Coastal Road and try to find a home that ISN'T either a pension or a bed-and-breakfast. You shouldn't be at a loss for places to stay, and you're better off just finding a locale you'd like to wake up in and simply finding a place nearby. Half of Gacheon Daraengi Village has been turned into bed-and-breakfasts, one of the more architecturally unique being Dome House (T. 055-863-4769), an igloo-like house a local resident built on the roof of his home. For the money-is-no-object crowd, the Hilton beckons, of course, but there are some upscale pension options, too. The Hi Class-Namhae (T. 070-8220-9089) has rooms with verandas with private pools overlooking the sea for the low, low cost of KRW 850,000 during the peak season. Near Gacheon Daraengi Village is Pension Vincent, with smartly designed interiors and bathrooms overlooking the sea. Barbecue dinners are offered for free, or rather, is included in the rates, which begin at around KRW 200,000.
Go>
Buses to Namhae depart from Seoul's Nambu Bus Terminal, and the ride takes about 4 hours, 30 minutes.
https://magazine.seoulselection.com/wp-content/uploads/2013/07/8.jpg
1569
2362
cyn
https://magazine.seoulselection.com/wp-content/uploads/2018/01/Seoul-logo.png
cyn
2013-07-22 15:13:19
2013-07-22 15:36:21
South Sea Jewel -- Namhae