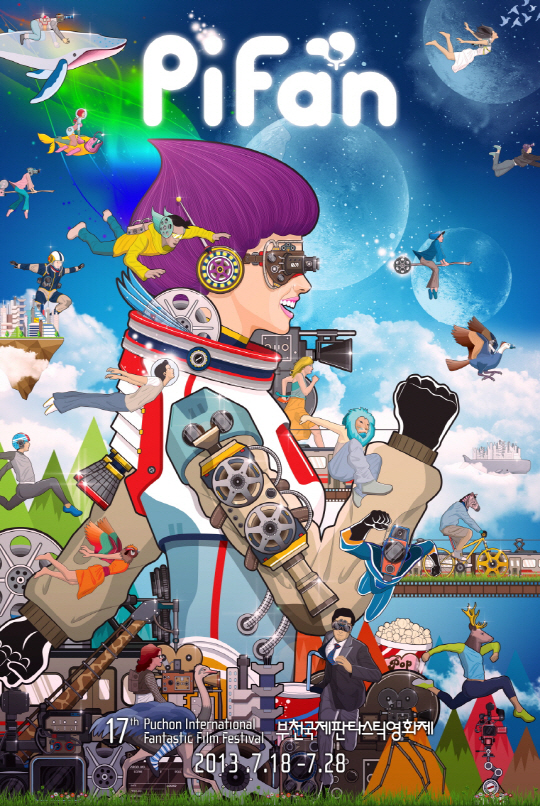 July 17, 2013 / Issue No. 589
Looking for a Translator: Seoul Selection is always looking for competent, experienced Korean-to-English translators. If this sounds like you, send an email with a resume and cover letter to Eugene at planner@seoulselection.com.
Puchon International Fantastic Film Festival
Korea's most off-beat film festival features 141 entries from 21 countries
With just a few weeks left before the opening of Puchon International Fantastic Film Festival (PiFan), its organizers have revealed 21 entries for the It Project, run by the Network of Asian Fantastic Films (NAFF). Whittled down from 141 entries hailing from 21 countries, this year's NAFF selection showcases some of the best young and veteran genre talent from across Asia and the rest of the world. In recent years, NAFF has acted as a spawning ground for Asian genre films.
PERIOD: Jul 18–28
VENUE: Various theaters in Bucheon
MORE INFO: T. 032-327-6313, www.pifan.com
GETTING THERE: Songnae Station 송내역 (Line 1), Exit 2. Use the PiFan express shuttle for free transportation
Pop legend Quincy Jones will hold a concert for the first time in Korea on July 25, bringing a team of his Global Gumbo artists. The concert is prepared as part of his world tour marking his 80th birthday. Jones has an illustrative career as composer, artist, film producer, arranger, conductor, instrumentalist, TV producer, and multimedia entrepreneur. Jazz vocalists participating in the Korea tour include Patti Austin, James Ingram, and Nikki Yanofsky, while jazz pianist Alfredo Rodriguez and 11-year-old prodigy pianist Emily Bear will also join the team.
DATE: Jul 25, 8pm
VENUE: SK Olympic Handball Arena
ADMISSION: KRW 99,000–176,000
Tickets: http://ticket.interpark.com/global
MORE INFO: T. 1544-1555
GETTING THERE: Olympic Park Station 올림픽공원역 (Line 5), Exit 3
Alphonse Mucha—Art Nouveau and Utopia
Czech artist Alphonse Mucha was one of the leading artists of the Art Nouveau movement, displaying his immense talents in painting, decorative arts, arts and crafts and illustration. In fact, in wouldn't be an exageration to say that Art Nouveau began and ended with him. Some 235 works are on display.
VENUE: Hangaram Art Museum, Seoul Arts Center
PERIOD: Jul 11–Sep 22
ADMISSION: KRW 12,000
MORE INFO: T. 1666-2775, www.mucha2013.com
GO: Nambu Bus Terminal Station 남부터미널역 (Line 3), Exit 5. Transfer to shuttle bus, or green bus No. 4429.
During the hugely popular Boryeong Mud Festival, everyone is happy to be covered in mud from head to toe. Now in its 16th year, the festival will run July 19–28 on Daecheon Beach, taking advantage of the abundant mud found in nearby tidal flats.
Tourists flock to the beach to experience the beneficial properties of Boryeong mud; the mud is considered rich in minerals and used to manufacture cosmetics. Festivalgoers also have their pick of fun activities, like the Mr. Mud contest, mud wrestling, mud races, and even a mud boot camp. Colored mud is also produced for body painting.
Those looking for a more laid-back experience can opt for mud facials, pottery demos, soapmaking, and lounging on the beach. A big stage is erected for live music, competitions, and various other types of entertainment. A small market runs along the seafront selling cosmetics made from Boryeong mud. In the evening, music and fireworks enliven the party on the beach.
VENUE: Mud Plaza, Daecheon Beach, Boryeong-si, Chungcheongnam-do
PERIOD: Jul 19–28
ADMISSION: KRW 6,000–10,000
MORE INFO: T. 010-5438-4865, www.mudfestival.or.kr
GO: Head for Daecheon Station 대천역 by train or Boryeong by intercity bus. Then transfer to a local bus bound for Daecheon Beach
Jeju-do Sunset
A beautiful Jeju-do sunset near Jeju City. Photo by Arnab Sen.
*Click the photo to see a full-size version at our website.
NOTE: If you have a photo you would like to see in our Everyday Koreans section, please sent it to story@seoulselection.com. Photos should be AT LEAST 950px wide. Send a one-line bio, too.

Tell Us About 'Your Korea': If you're a longtime resident of Korea and would like to share your story in KOCIS's KOREA Magazine, shoot an email with your story idea to book@seoulselection.com.
Looking for Translators – Seoul Selection is looking for a few good translators (Korean to English) for general translation work. Those interested should send a resume and cover letter to Kyehyun at trans@seoulselection.com.
Seoul Selection eBooks
– You can purchase some Seoul Selection titles in ebook format via
Amazon.com
(for Kindle) and Apple's
iBookstore
. Titles include
Ask a Korean Dude
,
Moon Tides
,
Doing Business in Korea
,
Once Around the Sun
, and seven volumes of our Korean Film Directors series:
BONG Joon-ho
,
IM Kwon-taek
,
KIM Jee-woon
,
LEE Chang-dong
,
LEE Man-hee
,
PARK Chan-wook
, and
SHIN Sang-ok
.
Send Your Event Info
– If you would like to advertise any upcoming events you are organizing, please send us the press release material at
book@seoulselection.com
by the preceding Friday in order for it to appear in the following Tuesday's issue.
Freelance Contributors Wanted – SEOUL Magazine needs writers who are fluent in both Korean and English. Writers should have a strong interest in Korean culture and be able to interview Koreans. Send your resume and writing samples to book@seoulselection.com.
We Buy & Sell Used Books – Seoul Selection buys and sells used books in English. Unlike our regular selection of publications that specialize in Korea-related topics, our Used Book section carries books on all subjects. It's all part of our effort to make life easier for the English-speaking community.
Buy Books at Seoul Selection's ONLINE Bookshop!
The Guest
The Berlin File
Korea: Land of The Morning Calm
SsokSsok Korean Card for Exciting Korean Class
韓國語と 韓國文化
Tuttle Korea for Kids Flash Cards
Bi-lingual Edition Modern Korean Literature Set 2
Miracle in Cell No.7
Shin Sang Ok's Melodramas From The 1950s Collection
Spring Breeze
Bravo! Jazz Life
Nobody's Daughter Haewon
Publisher: Hank Kim / Editor: Robert Koehler
Seoul Selection reserves all intellectual property rights on information provided in this newsletter. Some event information has been provided by the Korea Foundation. The IPRs are protected by pertinent laws
https://magazine.seoulselection.com/wp-content/uploads/2013/07/PiFan.jpg
806
540
rjkoehler
https://magazine.seoulselection.com/wp-content/uploads/2018/01/Seoul-logo.png
rjkoehler
2013-07-17 10:34:10
2013-07-22 15:09:36
SEOUL Weekly: Puchon International Fantastic Film Festival