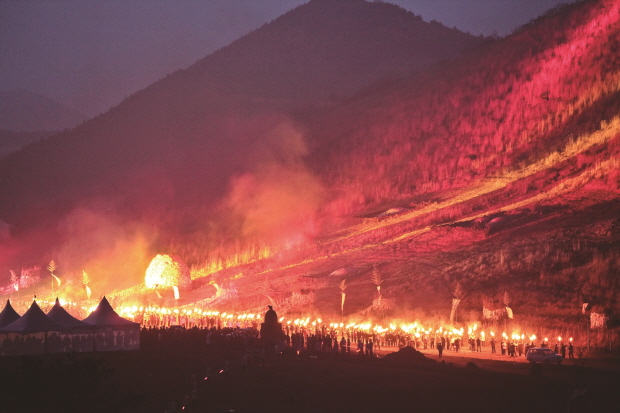 Jeongwol Daeboreum Fire Festival (March 8–10)
Jeju-do's signature festival is link to Korea's rural heritage
Written and photographed by Douglas Macdonald
The late afternoon sun had begun to slip behind the hills as I made my way across a large field of dead grass on the western side of Jeju-do. The weather was cool and I could see the faint wisps of my breath catch the last rays of golden light as it escaped into the crisp air above me. I arrived at my destination as evening came and the sky turned from a deep blue to black. A large crowd of people had already arrived. There was noisy chatter everywhere; men and women of all ages shared food and drinks while children flew kites nearby. The atmosphere was electric, the sense of anticipation high.
I set my camera on a tripod beside a long line of photographers preparing for the big event. It was completely dark now and, as if on cue, a woman in a long, flowing, white robe began to descend a small hill a few meters away, several young boys and girls with lit torches trailing behind her. As they reached the bottom of the hill, hundreds of spectators began to converge around them. Quickly realizing a tripod would be useless, I handed it off to a friend and squeezed my way to the front of the crowd as the woman began to dance and chant her way through the throng of cheering people.
This marked the beginning of Jeju-do's Jeongwol Daeboreum Fire Festival. Traditionally held on the first full moon of the Lunar New Year to commemorate the ancient agricultural practice of setting fire to farm fields in the winter and thereby readying them for spring by clearing them of dead grass and destructive insects, the festival has evolved over the years and is now an annual event that attracts thousands of people.
Throughout the day, visitors of all ages come to write down their hopes and prayers for the upcoming year and then attach their messages to the many hay bales placed around the base of Saebyeol Oreum, a small, extinct volcanic vent on the western side of Jeju-do, Korea's largest island and a place of much natural beauty.
The woman in the robe slid effortlessly, almost ghostlike, through the frenzied crowd and towards a large group of local dignitaries taking part in the torch lighting ceremony. The men, their fiery torches raised in a scene reminiscent of Frankenstein, then marched to the foot of Saebyeol Oreum, where large, wooden structures containing the hale bales and the paper wishes awaited.
Racing ahead of this determined army of men, I crouched down low and positioned myself as close to one of the structures as possible. The bales of hay and the messages attached to them were set on fire and, as fireworks went off overhead, the crackling flames raced upwards, engulfing the entire hill within minutes—a symbolic act representing the burning away of bad luck from the previous year and clearing the path for good luck in the year ahead.
NOTE For more info about the festival, visit http://festival.jeju.go.kr or call T. 064-728-2752.
EAT> Local Jeju-do specialties include: Heuk dwaeji—black pig, possibly Jeju's most famous dish. Galchi—Galchi (largehead hairtail) is a long, silver fish that is often grilled or boiled in a spicy stew with vegetables. Jeonbokjuk—Abalone and rice porridge. Abalone alone is one of the most expensive dishes in Jeju, but a bowl of this porridge is only about 8,000 won.
STAY> Jeju-do is a major tourist destination; accordingly, it's blessed with a wide range of accommodation, including: Jeju December Hotel—A well-rated 2 star hotel only 2.3 km from the airport. Decent rooms with free Wi-Fi. (T. 064-745-7800) Ever Hotel Jeju—Another 2 star hotel located close to the airport with Korean-style rooms. (T. 064-742-2911)
GO> Korean Air, Asiana, Jin Air, T'way, and Jeju Air all fly to Jeju-do several times a day from Seoul's Gimpo Airport. The flight takes about 1 hour. Saebyeoul Oreum, the venue of the festival, is located beside highway 1135, about a 20-minute drive southwest of Jeju City. To get there, you'll need to rent a car or hire a cab.
https://magazine.seoulselection.com/wp-content/uploads/2013/01/Jeju-Fire-Festival-5.jpg
413
620
rjkoehler
https://magazine.seoulselection.com/wp-content/uploads/2018/01/Seoul-logo.png
rjkoehler
2013-01-28 11:29:27
2013-02-09 13:43:01
Jeongwol Daeboreum Fire Festival (March 8–10, 2013)