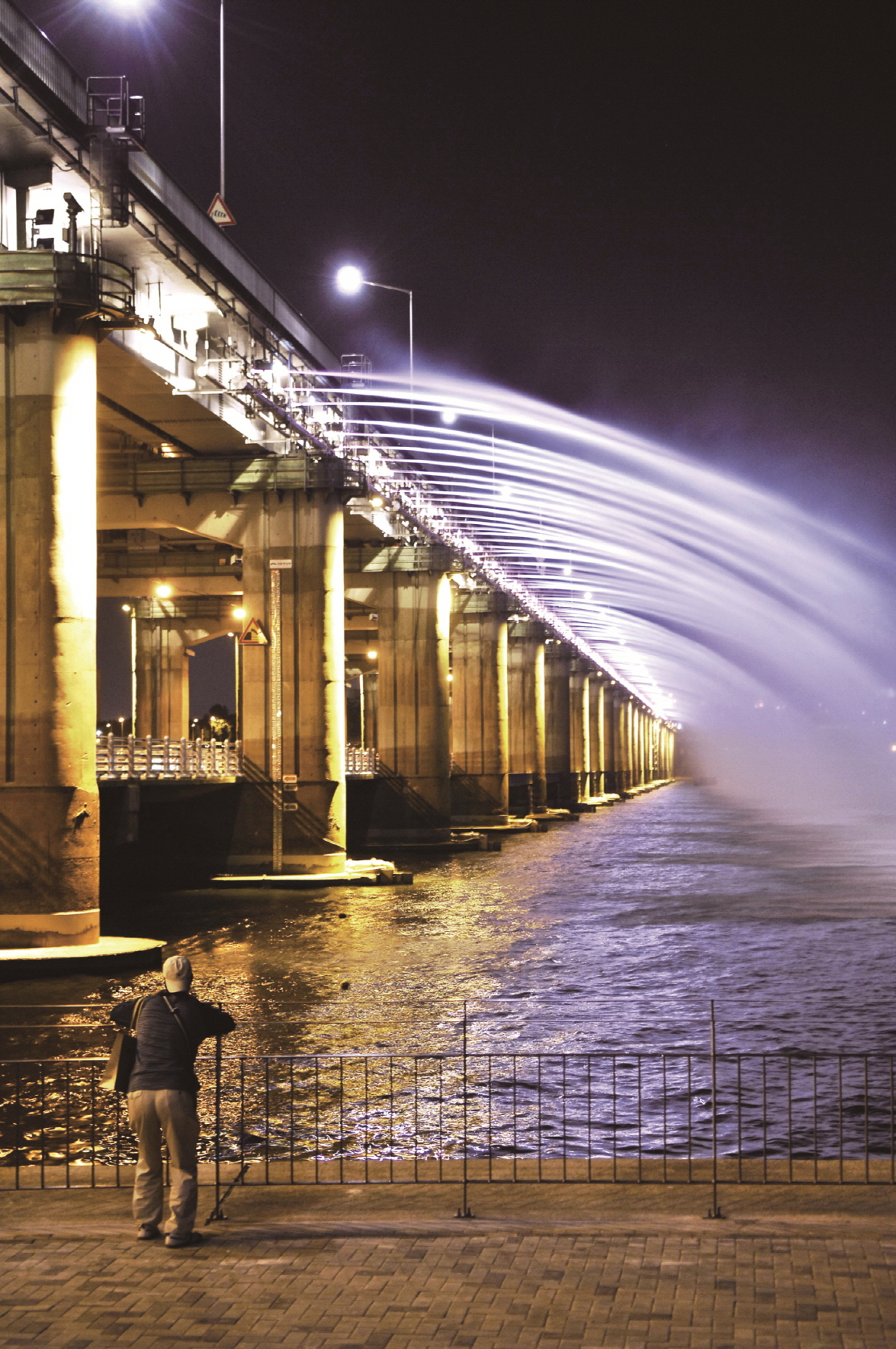 [box_dark]
Spring by the Hangang River | 한강
A day following the lazy river at the heart of a workaholic city
Written by Ben Jackson
Photographed by Ryu Seunghoo
[/box_dark]
After spending its youth trickling and splashing through the mountains of Gangwon-do, the Hangang River enters Seoul as a fat, sedate, and middle-aged waterway, its lack of pace furthered by a variety of man-made interventions. Series of parks on each bank guide the Hangang through the city, punctuated by bridges, resorts, and marinas and linked by a network of walking and bicycle paths.
When the warm spring weather sets in, Seoulites hit the riverbanks with characteristic vigor, charging along the bike paths (you'll even see the occasional chalk outline), power-walking off calories, skating, walking dogs, flying kites, eating, drinking and sleeping. Spending a day following the Hangang as it flows from east to west is a great way to discover Seoul from another angle while getting some hard-earned fresh air and exercise.
[box_light]
Ttukseom Resort | 뚝섬유원지
[/box_light]
Located on the north bank of the river, this spot is easily reached from Exits 2 and 3 of Ttukseom Resort Station 뚝섬유원지역 (Line 7), making it a good place to start a day's journey. There's plenty to do here, including hiring "duck boats" for a 40-minute jaunt on the river (KRW 15,000/23,000 for pedal-powered/automatic), waterskiing and windsurfing (call T. 02-1330 for information), or relaxing on the embankments with snacks from one of the nearby convenience stores. Also worth a look is the Jabeolle (J-Bug) cultural complex, a raised, tubular structure whose innards are comprised of a gallery, cafés, a restaurant, and a gift shop; it offers a great view across the river.
[box_light]
Seoul Forest | 서울숲
[/box_light]
A couple of kilometers west along the riverbank lies Seoul Forest, one of the capital's major green areas. Designed with the aim of creating a local equivalent of New York's Central Park, Seoul Forest is a combination of trees, lawns, gardens, greenhouses, a butterfly house, lakes, and more. It even has a deer garden, with deer feeding opportunities on Tuesday, Thursday, Saturday, and Sunday afternoons at 2pm and 3:30pm (reserve by calling T. 02-460-2987; Korean). There are cafés and convenience stores in the forest itself and a collection of restaurants and cafés on the lower floors of the two giant green apartment blocks nearby.
[box_light]
Jamsu Bridge | 잠수대교
[/box_light]
Another five kilometers west stands Seoul's only "double deck" bridge: while Banpo Bridge carries most traffic above the river, like the Hangang's other bridges, the Jamsu Bridge—directly beneath it—lies barely a few meters above the water level, making it an ideal point to cross the river from north to south along dedicated bicycle lanes (though crossing the river at other bridges is possible, too, thanks to various staircases, ramps, and elevators). On the way here, shortly after Seoul Forest and the mouth of Jungnangcheon Stream, is Mt. Eungbongsan, a favorite spot for photographers in search of the perfect shot of the cityscape.
[box_light]
Yeouido | 여의도
[/box_light]
From the southern terminus of Jamsu Bridge, it's a 6.5-kilometer journey west to the island of Yeouido. The journey takes in Banpo Hangang Park, as well as a possible short diversion to Seoul National Cemetery, a large complex containing the resting places of some of the country's greatest heroes and most controversial figures.
Yeouido itself is full of things to see. Surrounded by bike trails, it is lined by Yeouido Hangang Park on the northern bank and Yeouido Saetgang Ecological Park to the southeast, a lush complex of wetlands, trees, and undergrowth crisscrossed with walking and bicycle paths as well as raised walkways and a very distinctive pedestrian bridge. Beyond Wonhyo Bridge are a couple of floating cruise terminals with a buffet restaurant, café, and fast food joint.
Further west, another large park crosses Yeouido at its center, and at its southern side stands IFC Mall, one of the newest additions to Seoul's rapidly growing mall collection. Drop in here for food or a coffee, or even to watch a film at the CGV multiplex cinema on Level 3. The western tip of Yeouido is home to Korea's National Assembly building and Yeouiseo-ro, a curved street lined with cherry trees. It's also the location of Seoul Marina, which offers cruise yacht rides from KRW 15,000 per person, per hour. (Seoul Marina stated that this price may be amended in late April. Reservations must be made online at www.seoul-marina.com [Korean] at least three days in advance. Seats may be obtained, if still available, by those turning up on the day of without a reservation: departures are at 3pm, 5pm, 6:30pm, and 8pm on weekdays, with an extra 1pm sailing on weekends.)
[box_light]
PARADISE | 파라다이스
[/box_light]
By the northeastern bank floats Paradise, a restaurant serving fairly pricey Western-style dishes, alcoholic beverages, tea, and coffee. Paradise also has a collection of duck-shaped paddle boats, rowing boats, and motorboats for messing about on the water.
FYI>
T. 02-447-3333
www.hankangwedding.co.kr (Korean)
(86 Yeouido dong, Yeongdeungpo Gu, Seoulㅣ서울시 영등포구 여의도동 86)
[box_light]
Seonyudo Park | 선유도공원
[/box_light]
A short distance west of Yeouido is Seonyudo Park, an attractive complex set on the island of the same name. Seonyudo Park is famous for its innovative design, which makes extensive use of the giant concrete tanks, walkways, baths, and other structures remaining from the water treatment facility previously located there. The park comes to life from late spring onward and makes an impression on most visitors.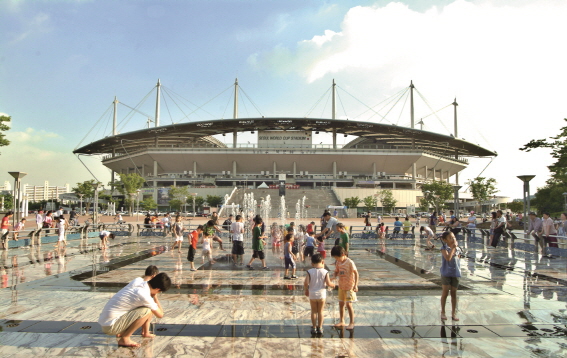 [box_light]
World Cup Park complex | 월드컵공원
[/box_light]
Yanghwa Bridge offers a good way to cross the river again, back to its northern bank. From here, the journey continues west to the enormous World Cup Park complex. If you're hungry again, the World Cup stadium itself is home to several eateries. If not, make your way around the network of walking and cycling trails around the complex. Haneul Park is a high hill that offers great views across the western part of the capital and of the setting sun. Crowned with fields of reeds dotted with sculpture-like structures, it makes for an atmospheric end to the day. Nanji Hangang Park contains a variety of sports fields and a camping ground, which can be used for daytime picnics and barbecues (KRW 3,750) or camping at night in a variety of tents (reservation needed; call T. 02-304-0061; Korean). Noeul Park is a wide, grassy area that also boasts a golf course, while Nanjicheon Park features as its centerpiece a successfully restored stream, once heavily polluted but now a haven for local wildlife.
Other options
The route above, from Ttukseom Resort to Nanji Hangang Park, is around 25 km long. If you've blasted your way through it in a couple of hours and are not even ready for lunch, there are various other options available. Heading back along the southern bank and continuing from Yeouido all the way to Amsa-dong, near the 1988 Olympics complex, is one 25-kilometer possibility; others include following bike paths up the various streams that flow into the Hangang: Jungnangcheon (near Seoul Forest) and Hongjecheon (just east of Nanji Hangang Park) Streams on the northern bank and Anyangcheon (3 km west of the southern terminus of Yanghwa Bridge) and Tancheon/Yangjaecheon (slightly east of Ttukseom Resort; cross the river via Yeongdong Bridge) Streams on the southern bank.
The Korea Tourism Organization recommends several other routes: go to http://english.visitkorea.or.kr and search under "Recommended Bicycle Trails in Seoul."
Seoul Metropolitan Government's cycling page (http://bike.seoul.go.kr) is in Korean, but has a useful map: click on 자전거지도 on the red navigation menu and you'll be shown the cycle trails around the city (red lines are dedicated cycle routes, green are shared with pedestrians).
More information
The route described above covers a fair distance in central Seoul, but for more information on any of the places it passes through, see the Korea Tourism Organization website (http://english.visitkorea.or.kr) or call the Korea Travel Hotline at T. 02-1330.
Bicycles can be hired from 12 locations along the northern and southern banks of the Hangang, including Ttukseom Resort, the southern terminus of Banpo/Jamsu Bridge, two locations on Yeouido, and Nanji Hangang Riverside Park. Recent reports indicate that managers are reluctant to let bikes rented at one location be dropped off at another on weekends: this may change if Seoul authorities decide to intervene. Rentals cost KRW 3,000 per hour. Check the brakes, chain, and other basic parts of the bike before you set off!
The banks of the Hangang are highly exposed to the sun: protection is recommended.
https://magazine.seoulselection.com/wp-content/uploads/2013/04/banpo-2.jpg
1678
1115
rjkoehler
https://magazine.seoulselection.com/wp-content/uploads/2018/01/Seoul-logo.png
rjkoehler
2013-05-07 18:04:43
2013-05-07 18:04:43
Spring by the Hangang River