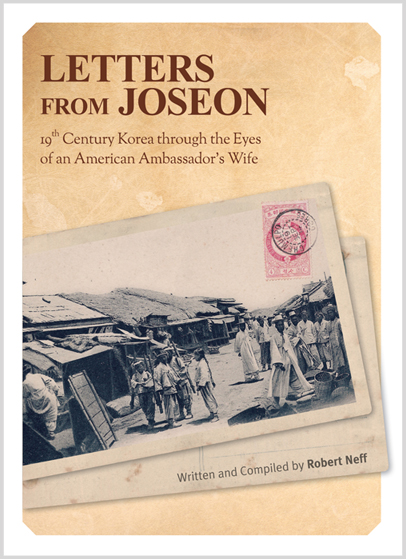 Feb 13, 2013 / Issue No. 567
Translators Needed
Seoul Selection is looking for Korean-to-English and English-to-Korean translators. Experienced translators preferred. If interested, send a resume to Eugene at planner@seoulselection.com.
'Letters from Joseon' on Amazon
Fascinating history sheds light on dramatic times
We are pleased to announce that Robert Neff's
Letters from Joseon
is now available through Amazon.com
. Based on the personal correspondences between the family of the US ambassador in Korea and their family in the United States,
Letters from Joseon
provides a candid view of life in not only the American community in Seoul, but also in the Russian legation, where King Gojong and the crown prince sought refuge following the murder of Queen Min. It also gives evidence of the rumors and speculation that plagued the daily lives of not only the Western community in Seoul but the Korean community as well.
W Singles Party (with DJ Bueno Clinic)
You will never feel alone on Valentine's Day again! Mingle with hot singles while sipping on cocktails and enjoying the sounds of DJ BUENO CLINIC from Poland, rocking with all eyes on you.
VENUE: W Seoul
DATE: Feb 16, 10pm–4am
ADMISSION: 40,000 won (35,000 won in advance)
MORE INFO: T. 02-2022-0333, www.facebook.com/events/328392283929036
GETTING THERE: Take shuttle bus at Gwangnaru Station 광나루역 (Line 5), Exit 4
Seoul Players: 'Stop Kiss'
Sara and Callie are walking through New York City's West Village when they share their first kiss. This leads to a vicious attack by an angry bystander, in which Sara is horribly injured and falls into a coma. (Call for Crew: seoulplayers@gmail.com)
VENUE: Whitebox Theatre
DATES: Feb 15, 16, 17, 22, 23, and 24
ADMISSION: 15,000 won, ticketing@seoulplayers.com
MORE INFO: www.seoulplayers.com
GETTING THERE: Hyochang Park Station 효창공원역 (Line 6), Exit 2
Seoul Foreign School Open House
Seoul Foreign School is holding an Open House for prospective parents interested in placements in our Pre-K to Grade 12 levels.
VENUE: Seoul Foreign School, Yeonhui-dong
DATE: Feb 21, 9:45am–noon
MORE INFO: Please register via email sfsoffice@seoulforeign.org or call 02-330-3121.
www.seoulforeign.org
Japandroids—Live in Seoul
Japandroids is a two-piece band from Vancouver, BC, consisting of Brian King and David Prowse. Originally intending to be a trio, the boys decided to skip the extra members and do all the work themselves. As a result, the Japandroids are a set of drums, a guitar, and a vocal duo optimized to sounds like a five-piece band that you've never heard before.
Japandroids released their critically acclaimed debut album Post-Nothing via Polyvinyl in 2009. Then, King and Prowse toured extensively throughout 2009–2010, playing over 200 shows in more than 20 countries and quickly gained notoriety for their extremely energetic live performances.
VENUE: V-Hall
DATE: Feb 14, 8pm
ADMISSION: 40,000 won (35,000 won in advance)
scstickets@gmail.com
MORE INFO: http://supercolorsuper.com
GETTING THERE: Hongik Univ. Station 홍대입구역 (Line 2, A'REX Line), Exit 9
Lo-fi's favorite nomad, Dirty Beaches, is on the road again—and this time, he's coming to Korea! Alex Hungtai, the 32 year-old Taiwanese-Canadian behind Dirty Beaches, took the blogosphere by storm with his first full-length release
Badlands
in 2011. Dirty Beaches gets to the heart—or rather, the dark, grimy underbelly—of themes like longing and loneliness. Hungtai's voice sounds like he's channeling the ghost of a 1950's rockabilly. Dirty Beaches' decaying, reverb-haunted beauty evokes the celluloid hallucinations of films by David Lynch, Wong Kar-Wai, and Terrence Mallick.
VENUE: Moon Night
DATE: Feb 16
ADMISSION: 25,000 won (20,000 won in advance)
scstickets@gmail.com
MORE INFO: http://supercolorsuper.com
GETTING THERE: Itaewon Station 이태원역 (Line 6), Exit 3
Canada Ball Hockey Korea:
Season Kick-Off
CBHK will kick off a new season on the weekend of Feb 23–24. A 170,000 won fee covers a 14-week regular season and up to three weeks of play-offs; free beer at the draft party; a season-ending banquet with food and drinks; and a team shirt. New players are welcome.
Promo video: www.youtube.com/watch?v=TDJBJf2IWUc
VENUE: Jamsil Sports Complex
DATES: Feb 23, 24
MORE INFO: To sign up, visit www.cbhk.org
GETTING THERE: Sports Complex Station 잠실운동장역 (Line 2), Exit 6 or 7
RAS-KB Tour: Kiln Tour–Korean Pottery & Porcelain in Icheon Area
We will visit some famous kilns to see some time-honored traditions at work. Traditionally, the important ingredients in making porcelain were good quality kaolin and large quantities of firewood. Kaolin was only found in some areas of the country, and the best kaolin close to the capital was found around Gwangju, Gyeonggi-do. There were also heavily wooded areas nearby, and the Han River provided a transportation route for moving raw materials to the kilns and finished products to the capital and beyond, so the nearby town of Icheon became the production center for much of Korea's most famous porcelain.
DATE: Feb 23
COST: 39,000 won for members and 46,800 won for non-members
GETTING THERE: See link above.
Tteuran Teahouse
Photographer's wife pours tea at Tteuran, a cozy hanok teahouse in Ikseon-dong, near Insa-dong. Photo by Robert Koehler.
*Click the photo to see a full-size version at our website.
NOTE: If you have a photo you would like to see in our Everyday Koreans section, please sent it to story@seoulselection.com. Photos should be AT LEAST 950px wide. Send a one-line bio, too.

Tell Us About 'Your Korea': If you're a long-time resident of Korea and would like to share your story in KOCIS's KOREA magazine, shoot an email with your story idea to book@seoulselection.com.
Update Your Shopping Mall ID – Seoul Selection encourages you to change your ID and password for our online bookshop and shopping mall at Seoulselection.com. The old IDs and passwords no longer work following our recent upgrade.
Looking for translators – Seoul Selection is looking for a few good translators (Korean to English) for general translation work. Those interested should send a resume and cover letter to Eugene at planner@seoulselection.com.
Seoul Selection eBooks
– You can purchase some Seoul Selection titles in ebook format via
Amazon.com
(for Kindle) and Apple's
iBookstore
. Titles include
Ask a Korean Dude
,
Moon Tides
,
Doing Business in Korea
,
Once Around the Sun
, and seven volumes of our Korean Film Directors series:
BONG Joon-ho
,
IM Kwon-taek
,
KIM Jee-woon
,
LEE Chang-dong
,
LEE Man-hee
,
PARK Chan-wook
, and
SHIN Sang-ok
.
Seoul Selection via Ingram
– Seoul Selection now has a direct wholesale distribution agreement with
Ingram Book Group
, the world's largest wholesale distributor of publisher content. By choosing to allow Ingram to represent our material, we have opened our titles to a wider audience. Our titles will be available for order through Ingram at more than 35,000 distribution channels worldwide. Ask your local bookstore to have Seoul Selection titles available!
Send Your Event Info
– If you would like to advertise any upcoming events you are organizing, please send us the press release material at
book@seoulselection.com
by the preceding Friday in order for it to appear in the following Tuesday's issue.
Freelance Contributors Wanted – SEOUL magazine needs writers who are fluent in both Korean and English. Writers should have a strong interest in Korean culture and be able to interview Koreans. Send your resume and writing samples to book@seoulselection.com.
We Buy & Sell Used Books – Seoul Selection buys and sells used books in English. Unlike our regular selection of publications that specialize in Korea-related topics, our Used Book section carries books on all subjects. It's all part of our effort to make life easier for the English-speaking community.
SEOUL
(February 2013)
Traditional Natural Dyeing
Traffickers
47 Korean Pronunciation for Foreigners 1
47 Korean Pronunciation for Foreigners 2
Consumer Trend in Korea 2013
Bee-bim Bop!
STORYTELLING ASIA Delhi
Fermentation Family
Arang and the Magistrate
Spring, Snow
The Spies
Publisher: Hank Kim / Editor: Robert Koehler
Seoul Selection reserves all intellectual property rights on information provided in this newsletter. Some event information has been provided by the Korea Foundation. The IPRs are protected by pertinent laws
https://magazine.seoulselection.com/wp-content/uploads/2013/02/GOODS2_1355218105.jpg
559
406
rjkoehler
https://magazine.seoulselection.com/wp-content/uploads/2018/01/Seoul-logo.png
rjkoehler
2013-02-13 11:07:58
2013-02-20 17:26:41
SEOUL Weekly: 'Letters from Joseon' on Amazon