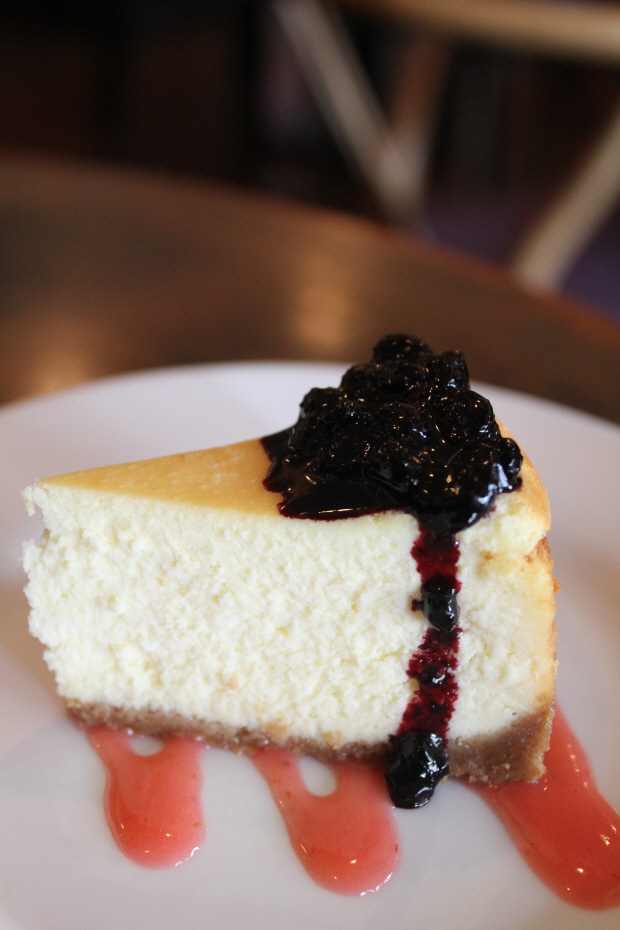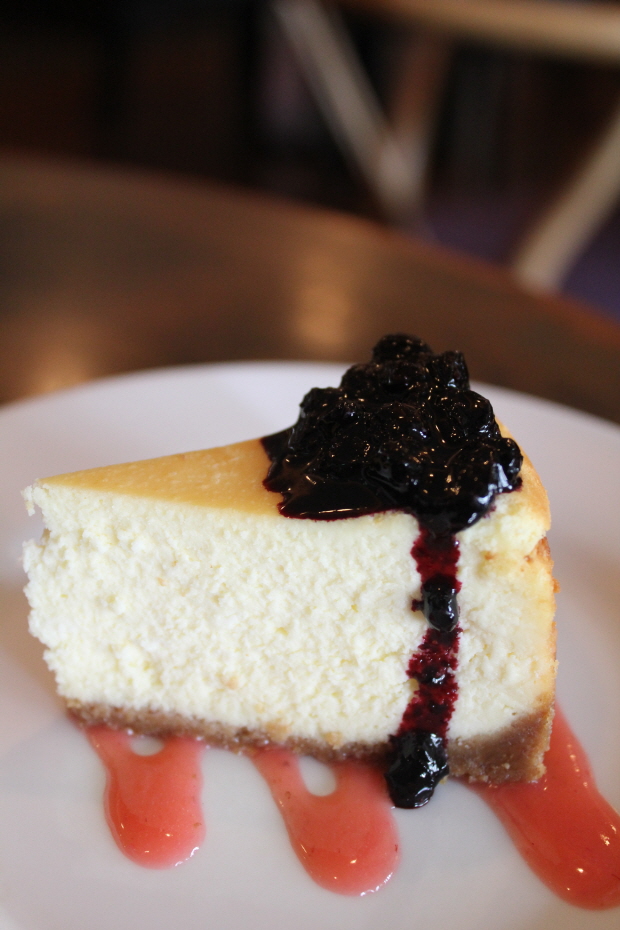 [box_dark]
Myeong-dong Gems
Dining delights in Seoul's commercial heart[/box_dark]
Written and photographed by Daniel Gray
Dessert Café: Dolce la Sera | 돌체라세라
(Chungmuro Area)
Dolce la Sera is a dessert café at the historic Astoria Hotel, which is conveniently located in Myeong-dong near Chungmuro Station 충무로역 (Lines 3, 4). It offers an array of desserts and bistro food for those looking for an afternoon refreshment. Dolce la Sera has a range of regular café offerings as well as some of their own inventions, such as a black sesame shake and even a red-ginseng frappuccino. Since the weather was cold, I ordered a red-ginseng latte, which was frothy and had a pungent ginseng scent. Surprisingly, the ginseng latte tasted great; it had a hint of sweet vanilla. For my meal I ordered a hearty club sandwich with crisp bacon, an over-easy egg, cheese, fresh lettuce, and tomato. The sandwich was good as well. So on to the desserts. My luscious vanilla bavarois (bavarian cream) came on top of a persimmon and had hundreds of little fl ecks of vanilla. It tasted like a vanilla-cream still life. Delicious. The star of the desserts was the chocolate mousse made with 70% Valrhona dark chocolate and 100% love. It was light yet had a robust chocolate structure; this is a decadent dessert, so small bites are advised. The desserts, food, and drinks here have a homestyle flair. If you are near the Astoria Hotel, Dolce la Sera is a nice place to tame your sweet tooth. Oh, and the quality desserts are reasonably priced—they start from just 5,000 won.
[box_light]
Dolce la Sera | 돌체라세라
FYI>
7:30am–9:30pm (last call)
T. 02-2275-7473
(13-2 Namhak-dong, Jung-gu, Seoul | 서울시 중구 남학동 13-2)
GO>
Astoria Hotel: Chungmuro Station 충무로역 (Lines 3, 4), Exit 4.
[/box_light]
Arirang: A Great First BBQ Experience in Korea | 아리랑
(Myeong-dong District)
Many tourists arrive to Korea late at night and with a hungry belly. Many might be overwhelmed by the large number of restaurants here. The first meal in a new country is important because it will set expectations for the rest of that person's stay. For those who are staying over in the Myeong-dong area and craving some barbecue, Arirang comes highly recommended. Located across from the Westin Chosun Hotel, they have English menus and English-speaking servers that will help you cook and show you how to eat Korean barbecue properly. The restaurant prides itself on serving only high-quality hanu beef that is seared over white-hot wood charcoal. They are generous with their side dishes and sauces as well. You'll get a wonderful array of kimchis and salads as well as fresh leaves and garlic to make your "beef and leaf" wraps, and there is a nice variety soju, beer, and wines to wash it all down. I recommend you start out with their chadol (thinly sliced marbled beef) and follow it up with some marinated beef rib. If you are adventurous, the beef tongue is not a bad option. The place is a bit more upscale, but you won't be disappointed—it will serve you a great first meal in Korea.
[box_light]
Arirang | 아리랑
FYI>
Cost: 20,000–50,000 won
11:30am–midnight
T. 02-752-1342
(#76-1, B1F, Sogong Underground Shopping Cneter, 9-9 Namdaemun-ro 2-ga, Jung-gu, Seoul | 서울시 중구 남대문로2가 9-9 소공지하쇼핑센터 B1 76-1)
GO>
Eulji-ro 1-ga Station 을지로입구역 (Line 2), Exit 7
[/box_light]
https://magazine.seoulselection.com/wp-content/uploads/2013/01/사본-치즈케잌.jpg
930
620
rjkoehler
https://magazine.seoulselection.com/wp-content/uploads/2018/01/Seoul-logo.png
rjkoehler
2013-01-28 15:32:08
2018-02-13 16:32:40
Myeong-dong Gems