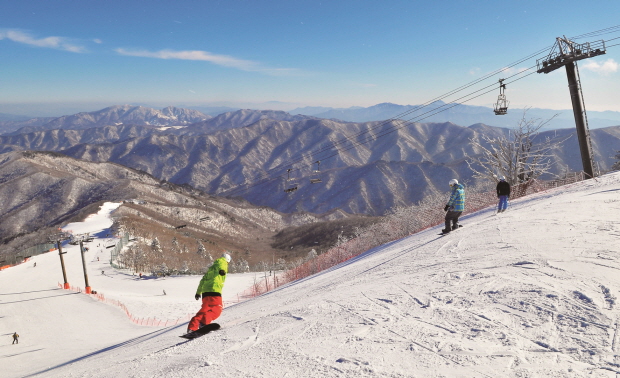 Muju Deogyusan Resort | 무주 덕유산 리조트
Winter vacationers can experience extraordinary thrills from sunrise to sunset and through midnight at Deogyusan Resort. Its winter sports facilities are globally recognized, as it hosted the 1997 Winter Universiade. There are 34 ski/snowboard slopes, including the nation's longest 6.1 km slope and steepest 60-degree slope. Take the cable car up to the top of the ski slopes. From there, a 20-minute trail takes you to the summit. Ski rentals and winter clothing are available if you aren't properly equipped. Prices vary between 20,000 won and 40,000 won per day.
EAT>
A wide selection of food and entertainment is available: Korean and Western restaurants, pubs, snack bars, karaoke parlors, and café lounges.
STAY>
The resort has three hotels—the premium Hotel Tirol, the Family Hotel, and the modest Kookmin Hotel. Kookmin offers lots of six-person rooms where visitors sleep on the floor and share a kitchen. It's also possible to stay in a little village down the road. One can spend the night in an overnight sauna or jjimjilbang there as well.
DO>
After you are done with skiing, the resort has a lot more to offer—sledding hills, snowmobile rides, outdoor sauna, amusement parks and a golf driving range.
FYI>
www.deogyusanresort.com (T. 063-322-9000, 063-320-7367)
(San 43-15, Simgok-ri, Seolcheon-myeon, Muju-gun, Jeollabuk-do | 전라북도 무주군 설천면 심곡리 산43-15)
GO> Intercity buses depart from Seoul Nambu Bus Terminal to Muju Bus Terminal at 7:40am, 9:20am, 10:40am, 1:40pm, and 2:35pm. From the back gate of Muju Terminal in front of Jeil Clinic, take the free shuttle bus to Deogyusan Resort. For inquiries, call 063-320-7113.
https://magazine.seoulselection.com/wp-content/uploads/2013/01/DSC4092.jpg
378
620
rjkoehler
https://magazine.seoulselection.com/wp-content/uploads/2018/01/Seoul-logo.png
rjkoehler
2013-01-28 15:38:33
2013-03-04 16:55:46
Muju Deogyusan Resort