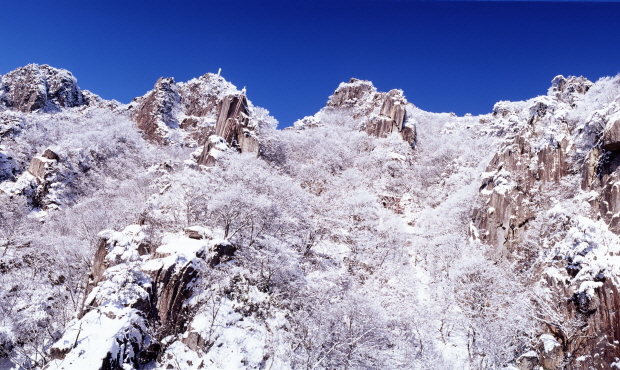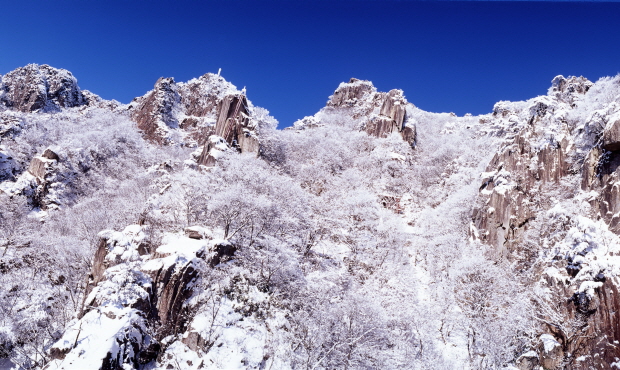 Daedunsan Provincial Park | 대둔산 도립공원
Defined by its grandiose rock cliffs and lush forest habitats, Mt. Daedunsan (878 m) is called sogeumgang (Little Diamond) in an allegory to the magnificent Diamond Mountains of North Korea. It is quite rare for one mountain to have these two distinctively different features. The area spanning from the summit peak, from Macheondae ("Sky-scraping Plateau") to Nakjodae ("Sunset Plateau"), offers a magnificent spectacle. There are a number of historic Buddhist temples in the area. Spread over a vast inland border area between Chungcheongnam-do and Jeollabuk-do provinces, the mountain park can be accessed from many different points.
EAT>
Each entrance area boasts a variety of distinctive foods based on local specialties, like the ginseng from Geunsam, a northern gateway. There are plenty of Korean restaurants and snack stalls lining each entrance area.
STAY>
There are a few modest hotels at the bottom of the hill, including Daedunsan Hotel (T. 063-263-1260) near the southern entrance in Wanju.
DO>
Cable cars operate from a station behind Daedunsan Hotel. The cable car takes you about 600 m above sea level in six minutes. After getting off the cable car, a 10-minute walk on a steep staircase leads to a hallmark 50-meter-long bridge, which hangs 81 m aboveground.
FYI>
T. 063-240-4560, 063-263-9949, 063-263-6621, 041-750-2937
tour.wanju.go.kr (Korean)
www.daedunsancablecar.com (Korean)
(611-34 Sanbuk-ri, Unju-myeon, Wanju-gun, Jeollabuk-do | 전라북도 완주군 운주면 산북리 611-34)
GO>
The mountain is accessible from Daejeon and Jeonju. From Daejeon Seobu (West) Bus Terminal, take No. 34 bus to Daedunsan. From Jeonju Intercity Bus Terminal, an intercity bus for Daedunsan departs at 6:40am, 9:00am, 9:40am, 2:20pm, and 3:50pm.
https://magazine.seoulselection.com/wp-content/uploads/2013/01/완주군대둔산설경.jpg
370
620
rjkoehler
https://magazine.seoulselection.com/wp-content/uploads/2018/01/Seoul-logo.png
rjkoehler
2013-01-28 15:43:44
2013-03-04 16:54:42
Daedunsan Provincial Park