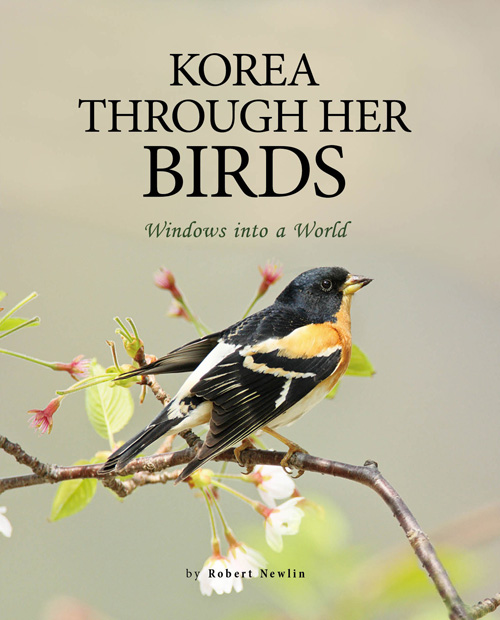 June 26, 2013 / Issue No. 586
'Korea Through Her Birds'
Discover Korea's underappreciated avifauna world
Seoul Selection is pleased to announce the release of "
Korea Through Her Birds
" by writer/photographer Robert Newlin.
About the book
Korea's birds deserve a wider audience. The country's geographical location, topography, temperate climate, and wealth of diverse habitats combine to support an extraordinarily attractive avifauna. Many visitors to Korea see the impressive metropolitan centers of Seoul or Busan, and others may visit Jejudo Island's black sand beaches or hike the popular mountain trails. Fewer see the more hidden parts of the country: the western offshore islands, the scattered and diminishing wetlands, the picturesque east coast fishing villages, the mountain hamlets and the river valleys.
We can glimpse these places through the birds that live there. Moreover, we can glimpse something else—hints of Korea's people, culture, and history.
A picture of a bird yields a narrow but genuine window into a country's identity.
What a country's arts or folklore or language says about nature—or says by means of nature—has a special authenticity.
Above all, there are the birds themselves, in all their many types of beauty. This book seeks to introduce the birds: through photographs, through descriptions of their lives, and through the ways our different cultures, Western and Asian both, perceive them.
Price: KRW 28,000.
Vacation in Seoul, Namhae and more
Getting hot out there? Turn on the AC, pour yourself a cool, refreshing beverage and open up a copy of the
July issue of SEOUL
, Seoul Selection's monthly travel and culture magazine.
In this issue of SEOUL, we explore ways to spend your summer vacation within the city limits; venture off to far off Namhae for some sights, inspiration and pampered relaxation; talk with Kim Ok-hee of Yeouido Tteok Bang; enjoy a bit of summertime boyangsik; wander about Chungmuro and Seochon; and much, much more.
And don't forget, there's always the Goings On Around Town, our monthly round-up of concerts, festivals, parties and other fun stuff happening around Seoul.
The Korean musical "Arirang" by renowned director Oh Tae-suk features performances of the many versions of the title song, a UNESCO-recognized piece of heritage. It focuses on the effort to bring back the remains of Korean independence fighter Gen. Hong Beom-do home from Kazakhstan, where he was deported by the Soviets in 1921.
VENUE: National Gugak Center
PERIOD: Jun 26–30
ADMISSION: S: KRW 30,000, A: KRW 20,000, B: KRW 10,000
MORE INFO: T. 02-580-3300, www.gugak.go.kr
GETTING THERE: Nambu Bus Terminal Station 남부터미널역 (Line 3), Exit 5. Transfer to maeul bus No. Seocho 12 or green bus No. 4429.
Gauguin: Voyage into the Myth
An exhibition titled Gauguin: Voyage into the Myth is under way at the Seoul Museum of Art, marking the first retrospective in Korea devoted to the French Post-Impressionist artist Paul Gauguin. Highlighted in this exhibition are two distinctive periods of his career: the Brittany period, when he started his career as a professional painter, and the Polynesian period, when the artist lived on the southern Pacific island of Tahiti. Five renowned contemporary artists try to reinterpret Gauguin's works through installation works, video art, and large-scale portraits.
VENUE: Seoul Museum of Art
PERIOD: Thru Sep 29
ADMISSION: KRW 13,000, http://gauguin.kr
GETTING THERE: City Hall Station 시청역 (Lines 1, 2), Exit 1, 11 or 12. Walk 5 minutes.
Mise-en-scene Short Film Festival
Mise-en-scene Short Film Festival is one of the most prestigious short film festivals in Korea. It differentiates itself from other short film festivals by trying a new concept that short films can also be categorized into a genree. In other words, the basic idea of the festival is that it would be interesting and fresh to view short films within the genre tradition.
VENUE: Art Nine
PERIOD: Jun 27–Jul 4
ADMISSION: T. 02-927-5696, www.msff.or.kr
GETTING THERE: Isu Station 이수역 (Lines 4, 7), Exit 7
Spend a fun evening in the coolest part of town (both literally and figuratively), the rooftop pool of the Hamilton Hotel. The pool is followed by an after-club party.
VENUE: Hamilton Hotel Pool
DATES: Jul 5/13/20/27, Aug 2/3/9/10, 6pm–10pm (after club: 10pm–6am)
ADMISSION: KRW 50,000
MORE INFO: T. 010-9793-9897
GETTING THERE: Itaewon Station 이태원역 (Line 6), Exti 1
Top Talent: Korea's First Multi-Cultural All English Talent Search
This is a compilation of amazing performances from the Top Talent finalists resulting in the announcement of the winner of Korea's first all-English talent search competition. Following performances from the top acts, the audience will vote to determine which act will become the the winner of Top Talent and the cash prize. The show is presented entirely in English.
AUDITIONS: Jun 29, 11am at Haechi Hall, Seoul Global Culture and Tourism Center (Myeong-dong)
FINALE: Jul 6, 6pm at Yongsan Art Hall
MORE INFO: www.toptalentkorea.com
RAS-KB Excursion: Introducing Korea's Unique Gods and Indigenous Faiths
Koreans have traditionally followed Buddhism and Confucianism as their two main religions. However, in addition to these two traditions, there have existed a variety of beliefs in gods whom Koreans have worshiped and enshrined. The goal of this excursion is to introduce some of Korea's unique gods and indigenous faiths in our urban surroundings.
VENUE: Several shrines throughout Seoul
PERIOD: June 30
ADMISSION: KRW 22,000 for members, KRW 26,000 for non-members
GETTING THERE: See link above.
Supermoon over Seoul
June 23's "supermoon" over Seoul. The moon appeared 30% brighter and 14% larger than normal. Photo by Robert Koehler.
*Click the photo to see a full-size version at our website.
NOTE: If you have a photo you would like to see in our Everyday Koreans section, please sent it to story@seoulselection.com. Photos should be AT LEAST 950px wide. Send a one-line bio, too.

Tell Us About 'Your Korea': If you're a longtime resident of Korea and would like to share your story in KOCIS's KOREA Magazine, shoot an email with your story idea to book@seoulselection.com.
Update Your Shopping Mall ID – Seoul Selection encourages you to change your ID and password for our online bookshop and shopping mall at Seoulselection.com. The old IDs and passwords no longer work following our recent upgrade.
Looking for Translators – Seoul Selection is looking for a few good translators (Korean to English) for general translation work. Those interested should send a resume and cover letter to Kyehyun at trans@seoulselection.com.
Seoul Selection eBooks
– You can purchase some Seoul Selection titles in ebook format via
Amazon.com
(for Kindle) and Apple's
iBookstore
. Titles include
Ask a Korean Dude
,
Moon Tides
,
Doing Business in Korea
,
Once Around the Sun
, and seven volumes of our Korean Film Directors series:
BONG Joon-ho
,
IM Kwon-taek
,
KIM Jee-woon
,
LEE Chang-dong
,
LEE Man-hee
,
PARK Chan-wook
, and
SHIN Sang-ok
.
Seoul Selection via Ingram
– Seoul Selection now has a direct wholesale distribution agreement with
Ingram Book Group
, the world's largest wholesale distributor of publisher content. By choosing to allow Ingram to represent our material, we have opened our titles to a wider audience. Our titles will be available for order through Ingram at more than 35,000 distribution channels worldwide. Ask your local bookstore to have Seoul Selection titles available!
Send Your Event Info
– If you would like to advertise any upcoming events you are organizing, please send us the press release material at
book@seoulselection.com
by the preceding Friday in order for it to appear in the following Tuesday's issue.
Freelance Contributors Wanted – SEOUL Magazine needs writers who are fluent in both Korean and English. Writers should have a strong interest in Korean culture and be able to interview Koreans. Send your resume and writing samples to book@seoulselection.com.
We Buy & Sell Used Books – Seoul Selection buys and sells used books in English. Unlike our regular selection of publications that specialize in Korea-related topics, our Used Book section carries books on all subjects. It's all part of our effort to make life easier for the English-speaking community.
Buy Books at Seoul Selection's ONLINE Bookshop!
Nothing to Envy: Ordinary Lives in North Korea
Duresori: The Voice of East
The Great Successor Kim Jong-Un
Quick and Easy Korean for Migrant Workers
The Impossible State: North Korea, Past and Future
4cut Cartoon Korean: Onomatopoeia, Mimetic word
Korea Annual 2013
School 2013
Man on the Edge
Night And Day
Asako In Ruby Shoes
Night and Day
Publisher: Hank Kim / Editor: Robert Koehler
Seoul Selection reserves all intellectual property rights on information provided in this newsletter. Some event information has been provided by the Korea Foundation. The IPRs are protected by pertinent laws
https://magazine.seoulselection.com/wp-content/uploads/2013/06/GOODS2_1372118969.jpg
620
500
rjkoehler
https://magazine.seoulselection.com/wp-content/uploads/2018/01/Seoul-logo.png
rjkoehler
2013-06-26 10:22:50
2013-07-22 16:55:11
Weekly SEOUL: Korea Through Her Birds