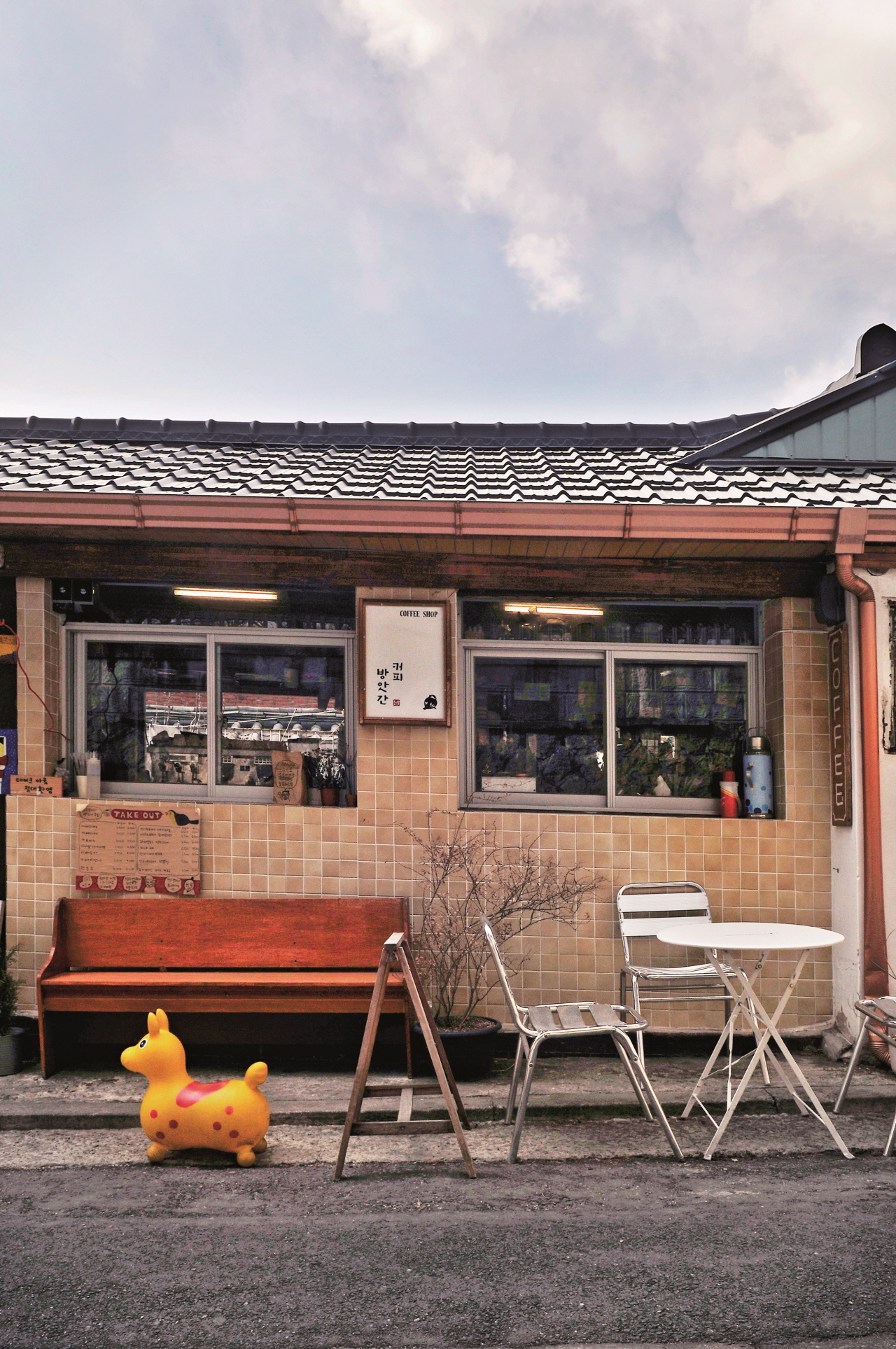 [box_dark]
Bukchon | 북촌
Losing yourself in the charm of old Korea
[/box_dark]
Written and photographed by Robert Koehler
It's lunchtime, and Jo Chang-yeon is waiting at the top of an alley as a group of film students shoots some footage of scenery. A photographer, he comes here at least once a month. "It's easy to get lost in here and discover new things," he says.
That's probably the best way to sum up Bukchon. There are few other older neighborhoods in Seoul that have managed to survive more or less intact through Korea's turbulent 20th century history, but Bukchon is by far the largest, and the most picturesque. Its winding alleys lined by stately Korean homes are best explored slowly, and with only the most rudimentary of plans. The goal here is to get lost, discovering what Bukchon has to offer each corner at a time.
[box_light]Between two palaces[/box_light]
Bukchon, or "North Village," takes its name from its location north of two of old Seoul's landmarks: Jongno Street and Cheonggyecheon Stream. Its position on the hills between Gyeongbokgung and Changdeokgung palaces is much more defining, however. In the Joseon Dynasty, high officials kept large estates in the area, where they enjoyed easy access to the throne and fine views of the royal capital.
In the early 20th century, however, Seoul began to modernize; as it did, its population skyrocketed. To relieve the pressures, the large estates here were divided into smaller plots. On the plots were built hanok, or "Korean homes," easily recognized by their graceful, curved roofs. Unlike their country cousins, however, these hanok were densely packed, townhouse-style, into the alleys that spread along the hills like the veins of a leaf. The result, when seen from above, resembles a cascading sea of black roof tiles.
For much of the 20th century, Bukchon was the wealthiest neighborhood in Seoul. In the 1970s, however, the development of the tony Gangnam district sparked a demographic shift as many of the wealthy moved south of the Hangang River. In the 1990s, many of the hanok were torn down to make way for unsightly multifamily homes. This caused concern, and in 2001, Seoul City and local residents got together to launch a program to allow residents to update their homes while preserving the hanok's unique beauty and the singular charm of the neighborhood.
[box_light]31 Gahoe-dong[/box_light]
The Bukchon area is home to about 900 hanok homes, but the two biggest clusters are along two alleys, 31 Gahoe-dong in the west and 11 Gahoe-dong in the east.
Of these, 31 Gahoe-dong is by far the most visited. It's easy to see why: set on a hill, the inclined street climbs steeply to the top, not unlike San Francisco's Lombard Street (minus the hairpin turns), and is lined bottom to top by handsome old hanok homes with their rustically decorated stone and brick walls. From the bottom, it's a picture-perfect vision of old Korean charm. From the top, it's a postcard clash of old and new, the tile roofs striking a dramatic contrast with the skyscrapers in the backdrop. In the distance, Mt. Namsan looms like a folding screen. Of Bukchon's eight most scenic spots—the so-called Bukchon Palgyeong—three can be found on this road (or just overlooking it) alone.
Come here any day of the week, and you'll find groups of people gathered at the bottom and top of the street, posing for group photos or just pausing to admire the view. At the top of the hill, American Peter Goughnour is touring the area with some Korean friends of his. Asked what he thinks of the area, he says, "It's one of the few neighborhoods still around in the old Korean traditional style." Oh Junho, a film student shooting some practice film in the area, puts it succinctly, "This is Korean beauty."
Most of the homes here are, well, homes and therefore off-limits to the public. One home, however, is open and well-worth the visit. Simsimheon (admission: 10,000 won. simsimheon. com), or "House Where the Heart is Found," is a private residence currently operated by the National
Trust of Korea, an NGO working to protect Korea's environmental and historical heritage. Built in 2002 by master craftsman Jung Yeong-soo, it's a perfect blend of Korean traditional charm and modern convenience. The National Trust of Korea's Chung Young-jin, who shows Japanese and Englishspeaking guests around the home, explains, "None of the homes in Bukchon are open to the public. Here, visitors can experience the hanok, the hanok lifestyle, the furniture and the layout." Typical of Korean traditional architecture, the hanok strikes a harmony with nature. Wood is left unpainted and unprocessed, architectural elements like the ceiling rafters are exposed. Simsimheon's courtyard, a grass garden with a couple of crooked red pines, a rough-hewn stone basin and some stone steps, connects the home with nature and provides a relaxing visual element. Each window presents its own enchanting view. Even the furnishings are works by master artisans. Says Chung, "Everything here is a work of art." It's an experience best enjoyed over a cup of homemade plum tea, which is served to visitors.
[box_light]Coffee and tea[/box_light]
While mostly residential, Bukchon does have a couple of spots where the weak and weary can stop for a bit of refreshment. Cha Masineun Tteul (T. 02-722-7006), or "The Garden Where Tea Is Drunk," is a gorgeous old hanok perched on a hill near 31 Gahoe-dong; true to its name, it surrounds a lovely garden. Plate-glass walls allows guests to appreciate the surroundings as they enjoy their hot beverage of choice. The hobak sirutteok, or pumpkin rice cake, is especially delightful.
Coffee Bangatgan (T. 02-732-7656), or "Coffee Mill," is a cozy, atmospheric coffee shop hidden in an alley near Jeongdok Public Library. The roguishly good-looking guy manning the expresso machine is Lee Gyeong-hwan, who moved to the renovated hanok from a nearby location in 2011. Complaining about the overcommercialization elsewhere in the city, he says, "I feel at peace here." He filled the renovated hanok with a miscellany of antiques and other vintage items, giving it a lived-in feel reminiscent of your Korean grandmother's home. "Some of the younger customers find it a bit unfamiliar," says Lee, "But to older customers, it's like the home they used to live in when they were young." Along the walls are portraits sketched by Lee himself; for customers, he'll draw you up a quick portrait for just 5,000 won. The waffles are a real treat, but the draw is the coffee, brewed from fair-trade beans.
[box_info]
Tip: Experience the hanok
If you'd like to spend a night in a Bukchon hanok (highly recommended!), a number of homes have been renovated as guest houses. The nicest—and priciest—of the bunch is Rak-Ko-Jae (see "Places to Stay, p16"). The friendly Sophia Guest House (T. 02-720-5467), in an alley near Jeongdok Public Library, has single rooms beginning at 35,000 won a night (breakfast included). Bukchon Guest House (T. 010-6711-6717),
on the road in front of Jungang High School, has single rooms beginning at 40,000 won a night; cultural classes and programs offered, too.
[/box_info]
[box_info]
Tip: Be quiet!
Bukchon is a residential neighborhood. As you explore, respect the neighbors and keep your voice down.
[/box_info]
[box_dark]
Tip: Bukchon tours
SEOUL's executive editor Robert Koehler conducts walking tours of Bukchon every Saturday at 2:30pm. Tours depart from Seoul Selection Bookshop next to Gyeongbokgung Palace. Cost: 30,000 won. Call the bookshop at 02-734-9565 for more information.
[/box_dark]
GO>
Exit 2, Anguk Station, Line 3. Head up the stonewalled alley to Jeongdok Public Library, in front of which you'll find a tourism information booth. Pick up a map there—they're very helpful.
https://magazine.seoulselection.com/wp-content/uploads/2013/03/RYU1940-1-사본.jpg
1927
1280
rjkoehler
https://magazine.seoulselection.com/wp-content/uploads/2018/01/Seoul-logo.png
rjkoehler
2013-03-04 17:41:40
2013-03-04 17:41:40
Bukchon