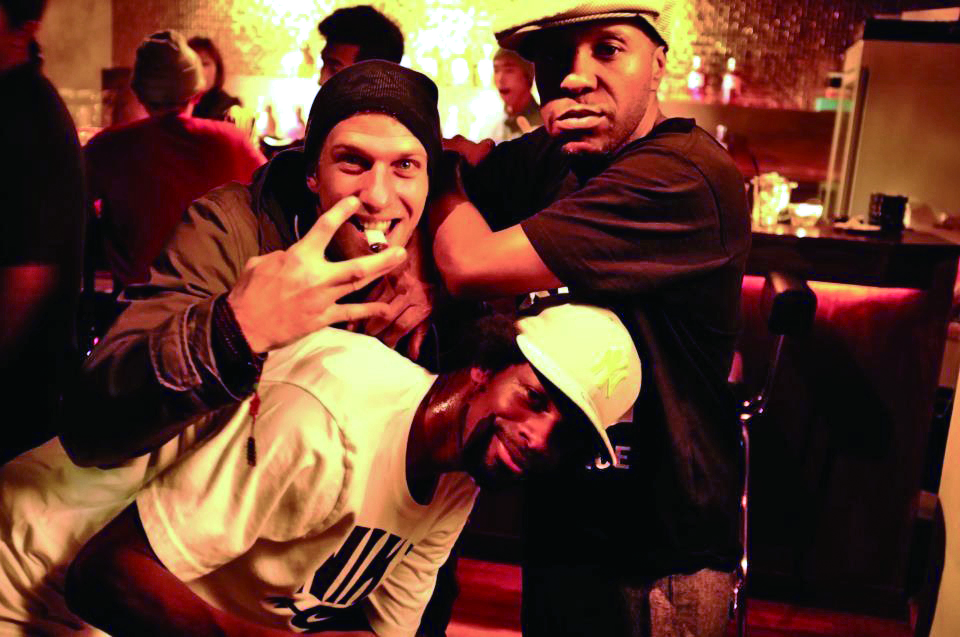 [box_dark]
HIP-HOP CLUBS REDEFINED
In pursuit of authenticity
Written by Daisy Larios
[/box_dark]
Although electronic music tends to dominate the clubbing scene in Seoul, hip-hop clubs are increasingly common, too, with a few newcomers taking a departure from Top 40 hits and coming into their own among veterans like Noise Basement (NB). Check out the latest hip-hop bars and clubs to grace Seoul's eardrums.
[box_light]
Brown Soul/Seoul | 브라운
[/box_light]
The laid-back crowd seems to appreciate Brown's efforts to give "soulful music" its rightful place, with the ardent beats of hip-hop, R&B, dancehall, and funk proselytizing to the bodies shaking away on the dance floor. Although Brown opens at 9pm, the dance floor doesn't really take off until after 1am or so, and the party pumps away until 6am on Fridays and Saturdays. Tables can be reserved for groups, but don't expect any pretentiousness here; the pretty-boy look will probably be looked upon with suspicion! Look for an unassuming sign with stairs heading underground. Cover charge is KRW 10,000 on weekends, with women free before 12am.
FYI>
T. 02-3141-2330
www.facebook.com/brownsoulseoul
(394-20 Seogyo-dong, Mapo-gu, Seoul ㅣ서울시 마포구 서교동 394-20)
GO>
Hapjeong Station 합정역 (Line 2, 6), Exit 5
[box_light]
Diss Bar & Club | 디스
[/box_light]
Attention, hip-hop heads and music lovers: a new brand of hip-hop club has come to town. No longer satisfied to have hip-hop clubs act solely an accessory to drunken romantic fumblings, Diss shifts the focus back where it should be: the music. After noting how many so-called hip-hop clubs played music of other genres, the owner decided to take matters into his own hands, opening Diss two months ago with a focus on 1990–2000s R&B and hip-hop. Hongdae's hiphop scene is for the better as a result. Open until 6am on Friday and Saturday nights (with DJs hyping up the crowd after 1am) and until 3am on weekdays.
FYI> T. 02-334-3326
www.facebook.com/barclubdiss
(363-24 Seogyo-dong, Mapo-gu, Seoul ㅣ 서울시 마포구 서교동 363-24)
GO>
Sangsu 상수역 (Line 6), Exit 1
[box_light]Venue/ | 베뉴[/box_light]
The smell of incense greets you as you walk into this subterranean cavern, tucked into a side alley in the heart of Itaewon. The wood paneling and wooden floors make it feel more like your best friend's basement than a club (in a good way), and the dim lights and friendly, down-to earth crowd make it all the more welcoming. The DJ spins expertly mixed tunes that compel movement out of even the shyest, rhythmless souls. Fridays nights are dedicated to hip-hop and its forebears, soul, funk, and disco. Although not strictly a hip hop club—Thursdays are a wild card and Saturdays are devoted to house music—Venue wins points for its earthy, chill vibe.
FYI>
T. 02-790-0840
www.facebook.com/venuerok
(119-29 Itaewon-dong, Yongsan-gu, Seoul ㅣ 서울시 용산구 이태원동 119-29)
GO>
Itaewon Station 이태원역 (Line 6), Exit 1
https://magazine.seoulselection.com/wp-content/uploads/2013/05/304228_243128095819853_1320536474_n.jpg
637
960
rjkoehler
https://magazine.seoulselection.com/wp-content/uploads/2018/01/Seoul-logo.png
rjkoehler
2013-05-22 17:15:06
2018-02-13 16:20:52
HIP-HOP CLUBS REDEFINED