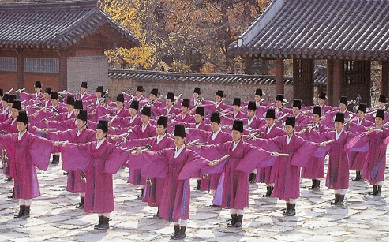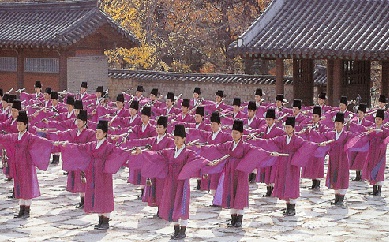 May 1, 2013 / Issue No. 578
English-to-Korean Translator Needed
Seoul Selection is looking for an English-to-Korean translator, preferably with experience translating economy-related material. If you're interested, send a resume to Eugene at planner@seoulselection.com.
Book Giveaway For The Voices of Heaven
Royal ancestral rite a link to Korea's past
The Jongmyo Jerye (also known as Jongmyo Daeje, or the "Jongmyo Grand Ancestral Rite") is a Confucian rite held every first Sunday of May at Seoul's Jongmyo Shrine. Performed by the Jeonju Yi family, Korea's old royal family, the rite honors the kings and queens of the Joseon Dynasty. It is attended by traditional music (originally written by King Sejong and later adapted for use in the ceremony by King Sejo) and beautiful traditional dancing. The rite has been designated a Intangible Heritage of Humanity by UNESCO. For more information, see
here
and
here
.
VENUE: Jongmyo Shrine
DATE: May 5, 11:30am to 6:30pm
ADMISSION: Free
MORE INFO: See links above or call T. 02-3011-2637~8
GETTING THERE: Jongno 3-ga Station (Seoul Subway Line 1, 3, 5), Exit 8 or 11
Looking for Writers
We are looking for writers to pen the Korea Essentials 2013 series, a cooperative project between the Korea Foundation and Seoul Selection. We've published
12 volumes so far
, which you can find on Seoul Selection's online bookshop. This year, we plan to release four volumes:
Hanbok and Korean Fashion
,
Taekwondo
,
Korean Traditional Medicine,
and
Korean Dance
. Each volume is about 20,000 words; manuscripts should focus on providing readers fun, easy explanations rather than excessively technical content.
If you are interested in writing, please send a resume and writing sample to the appropriate supervisor below:
Taekwondo: Hwa-pyeong Kim – word@seoulselection.com
Sanirang Rock Climbing School
Sanirang Alpine Networks' begins its 15th Climbing School Program of the season on Sunday, May 5. The climbing school meets every Sunday at 7:30 am at Bukhansan National Park for five consecutive weeks. The sessions include learning basic rock climbing skills on slab' crack and face. Technical skills learned are the basic principles behind climbing safety' knots' top-rope belaying' abseiling and very basic technical multi-pitch skills. The course is designed to learn and practice the fundamentals of climbing in a friendly, safe and laid-back environment. The course also gears clients up for the final multi-pitch climb to the top of Insu Peak via different routes in the final outing. In total' the five week climbing school program covers all skills up to the SAN Beginner Course and touches on the very basic aspects and skills of the Multi Pitch Course.
PERIOD: May 5–Jun 2
TUITION: KRW 450,000 plus the 10% VAT or KRW 495,000 total
Universal Ballet–Shim Chung
The Universal Ballet of Korea will present its adaptation of Shim
Chung, a beloved Korean folktale that illustrates the Korean virtue of
one's dedication to their parents. A daughter of the blind man, Shim
Chung willingly sells herself in return for 300 bags of rice for her
father. Since its creation in 1986, the dance show has been staged
more than 200 times worldwide. The production is complete with a
masterful original score and many authentic elements of traditional
Korean court clothing and architecture.
VENUE: National Theater of Korea
PERIOD: May 9–12
ADMISSION: KRW 10,000–100,000
Tickets: http://ticket.interpark.com/global
MORE INFO: T. 070-7124-1737, www.ntok.go.kr
GETTING THERE: Dongguk Univ. Station 동대입구 (Line 3), Exit 2.
Unite all Originals Live with Snoop Dogg
American hip-hop heavyweight Snoop Dogg, who has sold over 170 million
albums worldwide throughout his 20-year career, is coming to Seoul for
his first Korea concert on May 4. Korean hip-hop girl group 2NE1 will
share the stage as a guest performer. Snoop's debut album
Doggystyle was released in 1993, topping on both the Billboard
200 and Billboard Hot R&B/Hip-Hop Songs charts. His second album
Tha Doggfather was certified double platinum in 1997. Under the
pseudonym Snoop Lion, the rapper released a new reggae single, "La La
La," in 2012.
VENUE: OL PARK Soccer Stadium (Velodrome), Olympic Park
DATE: May 4, 7pm
ADMISSION: Standing: KRW 88,000, seat: KRW 55,000
Tickets: http://ticket.interpark.com/global
MORE INFO: T. 010-3360-7846, facebook.com/unitealloriginals
GETTING THERE: Olympic Park Station 올림픽공원역 (Line 5), Exit 3
Saul Hudson, better known by his nickname Slash, is ready to take heavy metal enthusiasts by storm during his concert slated for May 9 in Seoul. Slash was the former lead guitarist of the American hard rock band Guns N' Roses, with whom he achieved worldwide success in the late 1980s and early 1990s. He then cofounded the supergroup Velvet Revolver, which reestablished him as a mainstream performer in the mid to late 2000s. His debut solo album Slash was released in April 2010.
VENUE: Uniqlo AX
DATE: May 9, 8pm
ADMISSION: KRW 60,000
Tickets: http://ticket.interpark.com/global
MORE INFO: T. 02-3141-3488
GETTING THERE: Olympic Park Station 올림픽공원역 (Line 5), Exit 3
The Chungcheongbuk-do town of Osong hosts the Cosmetics & Beauty Expo, Osong Korea 2013. The expo seeks to create a converged and complex cultural and economic effect focused on the beauty industry, including cosmetics, through a comprehensive approach blending industry, culture and environment. The expo will feature a body painting show, beauty shows, performances, exhibits and plenty of hands-on programs. There's lots to see and do nearby, too.
VENUE
: The vicinity of KTX Osong Station (Osong Advanced Medical Complex),
Chungcheongbuk-do
PERIOD: May 3–26
MORE INFO: T. 043-249-4523, www.osongbeautyexpo.kr
Russian ice ballet troupe Bolshoi on Ice (a.k.a. Moscow Stars on Ice) comes to Seoul with a program of Snow White and Carmen. Under the direction of former Soviet figure skater Igor Bobrin, the Bolshoi on Ice has warmed the hearts of audiences with spectacularly designed ice shows for all ages of figure skating fans and performed by Olympic, World and European Champions, sport masters and circus artists, who competed in national and international events.
VENUE: Mokdong Ice Rink
PERIOD: May 1–26
ADMISSION: KRW 60,000–100,000
Tickets: http://ticket.interpark.com/global
MORE INFO: T. 1899-0783, www.ice-show.com
GETTING THERE: Omokgyo Station 오목교역 (Line 5), Exit 3
YEOL Lecture: The Way of Pungnyu : the Historic and Social Contexts of Pungnyu Music
YEOL, Society for Korean Cultural Heritage, has presented some of Korea's most prominent scholars, experts, and intellectuals in the field of Korean art, culture, and history as lecturers on the first or second Tuesday of the month, excluding summer and winter breaks. In this lecture, SNU professor Hilary Vanessa Finchum-Sung discusses "The Way of Pungnyu : the Historic and Social Contexts of Pungnyu Music."
VENUE: Seoul Museum of History, Seminar Room (2nd Floor)
DATE: May 7, 10:30am–noon
ADMISSION: Free
REGISTRATION: Send name and contact details to yeol400@hanmail.net for registration
MORE INFO: yeol400@hanmail.net or T: 02-736-5868, 02-735-5878
RASKB: Korean Pottery & Porcelain in Icheon Area
The RASKB will visit some famous kilns to see some time-honored traditions at work. Traditionally, the important ingredients in making porcelain were good quality kaolin and large quantities of firewood. Kaolin was only found in some areas of the country, and the best kaolin close to the capital was found around Gwangju, Gyeonggi-do. There were also heavily wooded areas nearby, and the Hangang River provided a transportation route for moving raw materials to the kilns and finished products to the capital and beyond, so the nearby town of Icheon became the production center for much of Korea's most famous porcelain.
DATE: May 4, 2013 – 9:00am to 6:30pm
COST: KRW 39,000 for members or KRW 46,800 for non-members.
GETTING THERE: See link above.
Gwanghwamun Gate
Gwanghwamun Gate, the historic entryway to Gyeongbokgung Palace. The silhouette of Mt. Inwangsan on the horizon makes the gate all the more beautiful. Photo by Robert Koehler.
*Click the photo to see a full-size version at our website.
NOTE: If you have a photo you would like to see in our Everyday Koreans section, please sent it to story@seoulselection.com. Photos should be AT LEAST 950px wide. Send a one-line bio, too.

Tell Us About 'Your Korea': If you're a longtime resident of Korea and would like to share your story in KOCIS's KOREA Magazine, shoot an email with your story idea to book@seoulselection.com.
Update Your Shopping Mall ID – Seoul Selection encourages you to change your ID and password for our online bookshop and shopping mall at Seoulselection.com. The old IDs and passwords no longer work following our recent upgrade.
Looking for Translators – Seoul Selection is looking for a few good translators (Korean to English) for general translation work. Those interested should send a resume and cover letter to Kyehyun at trans@seoulselection.com.
Seoul Selection eBooks
– You can purchase some Seoul Selection titles in ebook format via
Amazon.com
(for Kindle) and Apple's
iBookstore
. Titles include
Ask a Korean Dude
,
Moon Tides
,
Doing Business in Korea
,
Once Around the Sun
, and seven volumes of our Korean Film Directors series:
BONG Joon-ho
,
IM Kwon-taek
,
KIM Jee-woon
,
LEE Chang-dong
,
LEE Man-hee
,
PARK Chan-wook
, and
SHIN Sang-ok
.
Seoul Selection via Ingram
– Seoul Selection now has a direct wholesale distribution agreement with
Ingram Book Group
, the world's largest wholesale distributor of publisher content. By choosing to allow Ingram to represent our material, we have opened our titles to a wider audience. Our titles will be available for order through Ingram at more than 35,000 distribution channels worldwide. Ask your local bookstore to have Seoul Selection titles available!
Send Your Event Info
– If you would like to advertise any upcoming events you are organizing, please send us the press release material at
book@seoulselection.com
by the preceding Friday in order for it to appear in the following Tuesday's issue.
Freelance Contributors Wanted – SEOUL Magazine needs writers who are fluent in both Korean and English. Writers should have a strong interest in Korean culture and be able to interview Koreans. Send your resume and writing samples to book@seoulselection.com.
We Buy & Sell Used Books – Seoul Selection buys and sells used books in English. Unlike our regular selection of publications that specialize in Korea-related topics, our Used Book section carries books on all subjects. It's all part of our effort to make life easier for the English-speaking community.
SEOUL
(May 2013)
Green Frogs: A Korean Folktale
The Man From Nowhere
Talk To Me In Korean Level 4
How do you say this in Korean?
Talk Talk Korean for Beginners
Korean Usage for foreigners 1
Art of Korea
Three Monsters
One Fine Spring Day
Helpless
A Werewolf Boy
A Wonderful Moment
Publisher: Hank Kim / Editor: Robert Koehler
Seoul Selection reserves all intellectual property rights on information provided in this newsletter. Some event information has been provided by the Korea Foundation. The IPRs are protected by pertinent laws
https://magazine.seoulselection.com/wp-content/uploads/2013/05/제목-없음.jpg
242
389
rjkoehler
https://magazine.seoulselection.com/wp-content/uploads/2018/01/Seoul-logo.png
rjkoehler
2013-05-01 09:58:59
2013-05-06 18:09:38
SEOUL Weekly: Jongmyo Jerye