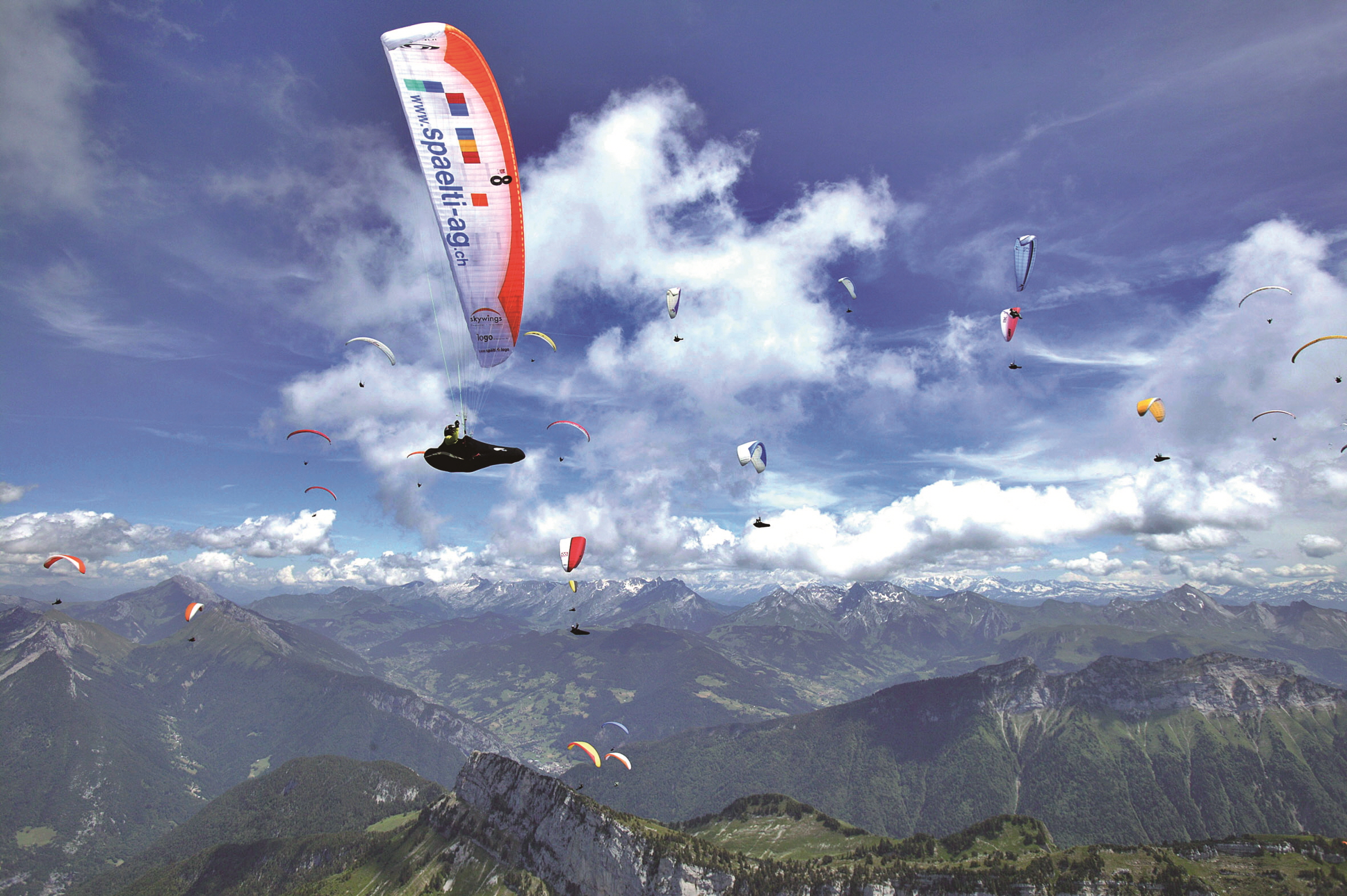 Namhansanseong Fortress
[box_dark]
SEOUL OUTDOORS
IT'S TIME TO GET OUTSIDE AND DO SOMETHING
[/box_dark]
Spring truly begins in earnest, making it the perfect time to take advantage of Seoul's countless opportunities for outdoor sports and leisure. Whether its bagging the rocky peaks surrounding the city, biking pleasant riversides, paragliding above the city, or simply strolling amidst historic alleyways, you'll find something that matches your inclinations. SEOUL has asked several residents to recommend their favorite places to enjoy the great outdoors.
Running
Written by Kevin Dowling
Spring is right around the corner and there is no better time to hit the trails of Namhansanseong! A favorite for this writer, Namhansanseong has it all: smooth runnable trails, beautiful scenery, and a great choice of eateries in traditional Korean hanok-style restaurants. The fortress wall that runs along the mountain ridge offers great photo opportunities and views of Seoul. The best part is that this heritage site is easy to access by subway. Follow the Wirye Dullegil signs and enjoy a trail run through the rolling hills of Korea's countryside. You will feel miles away from the hustle and bustle of Seoul city yet be only a short train ride away.
Kevin Dowling has run ultramarathons in Vermont, Hawaii, Hong Kong, and Jejudo Island. When he is not running in the mountains of Korea he is studying for an MBA at Sejong University and working full-time at AGS Four Winds International Movers.
GO> Sanseong Station 산성역 (Line 8), Exit 3. Take city bus 9 to the Namhansanseong rotary.
Rock Climbing
Written by Peter Jensen-Choi
Insubong Peak in northern Seoul's Bukhansan National Park is our choice for natural traditional (trad) climbing for its stunning views, numerous multi-pitch trad routes, and easy park access. Insubong is one of the main climbing meccas for Seoul's traditional climbers and boasts well over one hundred routes ranging in difficulty from 5.6 to 5.13. Insubong is truly the climber's climbing crag, with bouldering, sport, and trad climbing available with crack, slab, face, chimney, and ridge style climbs. Insubong is not for the faint of heart; it should be climbed with a professional guide or someone with sufficient trad climbing experience.
Peter Jensen-Choi is the founder of Sanirang Alpine Networks (sanirang.net), a privately owned climbing business designed to expand the accessibility of climbing in Korea's finer alpine environments to foreign and Korean enthusiasts alike.
GO> Take Bus 120 to its final stop and then take a cab or shuttle bus to the Doseonsa Temple parking lot. From there, begin hiking the main trail for 30 minutes to Insu Campground, then cut across the campground and head directly up the less obvious trails for another fifteen minutes. You cannot miss the headwall of Insubong's main Big Slab.
Walking
Written by Robert Fouser
Without question, my favorite walk in Seoul is weaving through the alleys of Tongui-dong, the micro-neighborhood that sits at the entrance to Seochon. The easiest way to start is from the Daelim Art Museum. Take the alley behind the museum and walk past the site of the famous white pine. Turn right and then turn left again at Gallery Artside and enter the narrow alley on the left. The long narrow alley lined with hanok (traditional Korean-style houses), each with its own personality, is the most exotic alley in Seoul.
Prof. Robert Fouser is an associate professor of Korean Language Education at Seoul National University and writes SEOUL's Historic Walks column.
GO> Gyeongbokgung Station 경복궁역 (Line 3), Exit 9
Paragliding
Written by Ohudy Luna
Not many people partake in paragliding, but if you're in Seoul and are curious, then you're in
luck. Not too far from Guri Station (a 10-minute walk from Exit 2) are a number of paragliding schools where you have the option of either doing a tandem flight (KRW 120,000), receiving lessons to become a certified pilot (KRW 400,000 for P1), or, if you're already licensed, just paying for the transportation up the hill (KRW 40,000 for P1–P3, KRW 20,000 for P4 and above). Although there are a number of schools, the easiest one for foreigners to get in contact with is Daehan Paragliding School because of the friendly Englishman named Andrew who works for them. You do ground training and theory with him by the Hangang River near Banpo Bridge or Guri Station, and once you're ready to fly, you can go to Guri Station (Jungang Line) to start flying.
Originally born in Los Angeles, Ohudy is a 26-year-old guy constantly cycling everywhere, in any weather, looking for new experiences with others.
FYI>
Daehan Paragliding (Andrew): T. 010-2189-9688
Daehan Paragliding (Seong Hyu): T. 010-5329-6330
Hiking
Written by Robert Koehler
One of the best things about Seoul is that it's surrounded by mountains—you can find dramatic alpine scenery even in the heart of Seoul. The Baegundae Trail of Bukhansan National Park is one of my favorites. It's not an especially difficult hike—it takes just two hours to walk from the parking lot of Doseonsa Temple to Baegundae Peak—but the views of the park's countless peaks from the upper reaches of the trail are inspiring. Just below the peak is Baegunsanjang, an historic mountain shelter/lodge that offers simple meals and, when the weather is warm enough, accommodations. It's worth spending the night here in spring and autumn (especially May and October)—you can then reach the peak just before sunrise and take in the "sea of clouds" that gather below the granite peak of Insubong.
Robert Koehler is the editor in chief of SEOUL.
GO> Take bus No. 120 from Suyu Station 수유역 (Line 4), Exit 3 to the last stop. From there, take a shuttle bus or taxi to the parking lot of Doseonsa Temple. The trail begins from there.
Biking
Written by Daisy Larios
Nothing says spring like a leisurely riverside bike ride! Luckily, Seoul Metropolitan Government offers bike rentals starting at KRW 1,000 throughout the city, as do many of the city's individual districts. There's one in the parking lot near Exit 1 of World Cup Stadium Station (Line 6); you can pay with a T-Money card but you'll need your passport number for the computerized rental system. Look for the path that heads down to Bulgwangcheon Stream and head due north along the stream until Eungam Station (Line 6), or go down to the Hangang River and to the right, where a pleasant ride through its adjacent parks awaits you. Drop by the Nanji Ecological Wetlands for a dose of springtime renewal.
A California native, Daisy Larios is a trained librarian who enjoys eating, reading, writing, and photographing her way around the world. She currently edits and writes for Seoul Selection.
https://magazine.seoulselection.com/wp-content/uploads/2013/04/sl897.jpg
1572
2362
rjkoehler
https://magazine.seoulselection.com/wp-content/uploads/2018/01/Seoul-logo.png
rjkoehler
2013-05-08 13:27:56
2013-05-08 13:28:26
SEOUL OUTDOORS