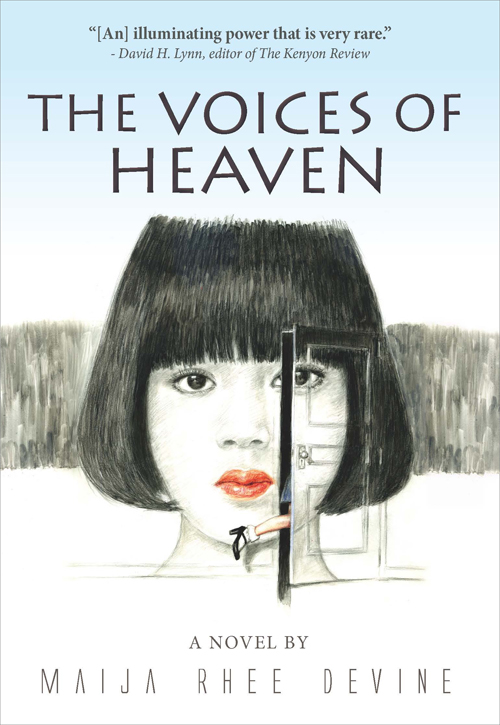 April 3, 2013 / Issue No. 574
Looking for Writers
We are looking for writers to pen the Korea Essential 2013 series, a cooperative project between the Korea Foundation and Seoul Selection. We've published
12 volumes so far
, which you can find on Seoul Selection's online bookshop. This year, we plan to release four volumes:
Hanbok and Korean Fashion
,
Taekwondo
,
Korean Traditional Medicine,
and
Korean Dance
. Each volume is about 20,000 words; manuscripts should focus on providing readers fun, easy explanations rather than excessively technical content.
If you are interested in writing, please send a resume and writing sample to the appropriate supervisor below:
Hanbok and Korean Fashion: Hye Young Park pubco@seoulselection.com
Taekwondo: Hwa-pyeong Kim word@seoulselection.com
Korean Traditional Medicine: Eugene Kim planner@seoulselection.com
Korean Dance: Jin Lee publisher@seoulselection.com
Maija Rhee Devine's novel looks at family drama during the Korean War
The latest from Korean-American author Maija Rhee Devine,
The Voices of Heaven
(Seoul Selection, 2013) is a rare gem in English-language literature about Korea, a story that takes us deep into the devotion and secrets of a family living in Seoul at the cusp of the Korean War. A tale that spans decades,
The Voices of Heaven
has been expertly woven together to reveal not only the injustices of unmitigated life circumstances but also the restorative power of truth and love. Maija Rhee Devine presents a stellar cast of empathetic characters to spin a tale that draws readers into the shadows of Korea's Confucian web that at once constrains and defines the powerful will of its people.
Synopsis
During the final years of the Japanese Occupation, when most Korean brides and grooms were married sight unseen, Gui-yong and Eum-chun strike gold by finding a love as sweet as sticky rice. But their love for each other and for their secretly adopted daughter is not enough, as they must soon accept the impossible—a mistress moving in to bear Gui-yong the male child deemed necessary in a society still smoldering in Confucianism. After the Korean War drives the family apart, it falls on the shoulders of their adopted daughter, Mi-Na, to figure out how to keep her parents' love burning through this life and into the next—and ultimately make sense of the past.
Flowing from her firsthand experience of growing up in Seoul during the Korean War, Maija Rhee Devine's novel reveals uniquely Korean colors and sounds as she leads readers through an extraordinary love story that parallels the tragedies of the war.
Koreana Antique Furniture Sale
Looking for some good Korean antique furniture? Koreana Antique Furniture at the Dapsimni Antique Mall is hosting a sale (April 6–13) with all goods going for 50%! Korean chests, boxes, tables, and other folk craft available. Founded by Jeonn Symon in 1994, Koreana Antique Furniture has discovered many sources for antique collection quality pieces at reasonable prices; it also specializes in beautiful reproductions.
For more info, call 010-8899-4349. The store is on the second floor of Dapsimni Antique Mall near Exit 1, Dapsimni Station, Line 5.
Address: Building 2, Dapsimni Antique Mall, 530-6 Dapsimni-dong, Dongdaemun-gu, Seoul
2013 SAC Orchestra Festival
See 16 of Korea's finest regional orchestras at the 2013 SAC Orchestra Festival. First held in 1989 to mark the first anniversary of the SAC Concert Hall, this is the largest orchestra festival in Korea. Nationally and internationally renowned guest musicians will be performing as well.
VENUE: Concert Hall, Seoul Arts Center
PERIOD: Thru Apr 17
ADMISSION: R: KRW 30,000, S: KRW 20,000, A: KRW 10,000
MORE INFO: T. 02-580-1300, www.sac.or.kr
GETTING THERE: Nambu Bus Terminal Station 남부터미널역 (Line 3), Exit 5. Transfer to shuttle bus, or green bus No. 4429.
Globally-touted Spanish singer Julio Iglesias is returning to Korea for a concert in April. Blessed with a powerful voice and a gift for communicating with the audience, Iglesias is one of the most popular and enduring figures in the history of Latin music. He has sold over 300 million albums worldwide and remains a popular concert draw and chart-topping recording artist with a long-spanning career. The height of his success was during the 1970s and 1980s. Among his best-known songs are "Hey", "1110 Bel Air Place", "Non Stop", "Starry Night", "Calor," and "Crazy." His duets with Willie Nelson, Diana Ross, and Stevie Wonder all topped the charts.
VENUE: Gymnasium No. 1, Olympic Park
DATE: Apr 9, 8pm
ADMISSION: VIP: KRW 220,000, FR: KRW 190,000, R: KRW 160,000, S: KRW 120,000, A: KRW 90,000
Tickets: http://ticket.interpark.com/global
MORE INFO: T. 02-407-2589, www.ehyundai.com
GETTING THERE: Olympic Park Station 올림픽공원역 (Line 5), Exit 3
Psy—yes, one of
TIME'
s most influential people—is releasing his next single "Happening" at a concert at World Cup Stadium. Even if you can't make the concert, he'll be streaming it live via YouTube.
VENUE: Sangam Seoul World Cup Stadium
DATE: Apr 13, 6:30pm
ADMISSION: SR: KRW 110,000, R: KRW 99,000, S: KRW 88,000, A: KRW 77,000, B: KRW 55,000
Tickets: http://ticket.interpark.com/global
MORE INFO: T. 1544-1555
GETTING THERE: World Cup Stadium 월드컵경기장역 (Line 5), Exit 1
Russian-born German electronic music producer and DJ Zedd will be in Seoul. Born Anton Zaslavski and raised in Kaiserslautern, Germany by two classically trained musicians, he began playing the piano at the age of four and built up his knowledge of the classical repertoire throughout
his childhood, at times writing a song a day. With his gift for musicality and background in instrumentation, composition, and production, the move into the realm of electronic dance music was seamless. Signing with Interscope Records in 2012, he released his debut album
Clarity
in October 2012.
VENUE: Walkerhill Theatre
DATE: Apr 6, 10pm
ADMISSION: KRW 66,000
Tickets: http://ticket.interpark.com/global
MORE INFO: www.vuent.co.kr
GETTING THERE: Take shuttle bus at Gwangnaru Station 광나루역 (Line 5), Exit 4
Photo & Imaging Seoul 2013 (P&I 2013)
Photo & Imaging Seoul 2013 will take place at COEX, bringing together 300 leading brands—including Samsung, Canon, Nikon, and Sony—from 18 countries. Five exclusive photography-focused events are expected to attract an estimated 90,000 domestic and international participants. Over 750 booths will showcase everything from compact and DSLR cameras to printers, SD cards, editing software, and photo albums. On-site events will provide visitors with hands-on activities and demonstrations for an unparalleled photo and imaging experience. Exclusive biz-matching meetings between buyers and exhibitors will optimize trade opportunities at the event, ensuring global exposure for participants.
VENUE: Hall A & B, COEX
PERIOD: Apr 4–7
ADMISSION: Online registration: free; on-site: KRW 20,000
GETTING THERE: Samseong Station, Line 2
RASKB: Daehangno and Hyehwa-dong: An Architectural Walk
During this excursion of Daehangno and Hyehwa-dong, we will look at a variety of styles of Korean architecture in the 20th century. The excursion will begin around Marronnier Park, which is where Seoul National University and its Japanese colonial forerunner, Gyeongseong Imperial University, were located. Several university buildings built during the colonial period still stand, including the former headquarters building which was designed by Park Kil-yong (1898–1943), a noted Korean architect during the colonial period. The tour will then move through Hyehwa-dong and Seongbuk-dong, stopping by fascinating pieces of historical architecture along the way.
DATE: April 13
COST: KRW 20,000 for members and KRW 25,000 for nonmembers
GETTING THERE: See link above.
Naesosa Temple
Beautiful Joseon Dynasty main hall of Naesosa Temple, Byeonsanbando National Park. Photo by Robert Koehler.
*Click the photo to see a full-size version at our website.
NOTE: If you have a photo you would like to see in our Everyday Koreans section, please sent it to story@seoulselection.com. Photos should be AT LEAST 950px wide. Send a one-line bio, too.

Tell Us About 'Your Korea': If you're a longtime resident of Korea and would like to share your story in KOCIS's KOREA Magazine, shoot an email with your story idea to book@seoulselection.com.
Update Your Shopping Mall ID – Seoul Selection encourages you to change your ID and password for our online bookshop and shopping mall at Seoulselection.com. The old IDs and passwords no longer work following our recent upgrade.
Looking for Translators – Seoul Selection is looking for a few good translators (Korean to English) for general translation work. Those interested should send a resume and cover letter to Kyehyun at trans@seoulselection.com.
Seoul Selection eBooks
– You can purchase some Seoul Selection titles in ebook format via
Amazon.com
(for Kindle) and Apple's
iBookstore
. Titles include
Ask a Korean Dude
,
Moon Tides
,
Doing Business in Korea
,
Once Around the Sun
, and seven volumes of our Korean Film Directors series:
BONG Joon-ho
,
IM Kwon-taek
,
KIM Jee-woon
,
LEE Chang-dong
,
LEE Man-hee
,
PARK Chan-wook
, and
SHIN Sang-ok
.
Seoul Selection via Ingram
– Seoul Selection now has a direct wholesale distribution agreement with
Ingram Book Group
, the world's largest wholesale distributor of publisher content.
By choosing to allow Ingram to represent our material, we have opened our titles to a wider audience. Our titles will be available for order through Ingram at more than 35,000 distribution channels worldwide. Ask your local bookstore to have Seoul Selection titles available!
Send Your Event Info
– If you would like to advertise any upcoming events you are organizing, please send us the press release material at
book@seoulselection.com
by the preceding Friday in order for it to appear in the following Tuesday's issue.
Freelance Contributors Wanted – SEOUL Magazine needs writers who are fluent in both Korean and English. Writers should have a strong interest in Korean culture and be able to interview Koreans. Send your resume and writing samples to book@seoulselection.com.
We Buy & Sell Used Books – Seoul Selection buys and sells used books in English. Unlike our regular selection of publications that specialize in Korea-related topics, our Used Book section carries books on all subjects. It's all part of our effort to make life easier for the English-speaking community.
SEOUL
(April 2013)
The Voices of Heaven
The Innocent Man
STORYTELLING ASIA : Seoul
Koreana (Spring 2013)
Pyongyang: A Journey in North Korea
Korean Folk Tales
Tears of Blood
A Gentleman's Dignity
Beat
Radio Star
The Horse Doctor Vol. 1 of 2
Two Weddings and a Funeral
Publisher: Hank Kim / Editor: Robert Koehler
Seoul Selection reserves all intellectual property rights on information provided in this newsletter. Some event information has been provided by the Korea Foundation. The IPRs are protected by pertinent laws
https://magazine.seoulselection.com/wp-content/uploads/2013/04/GOODS2_1364862076.jpg
725
500
rjkoehler
https://magazine.seoulselection.com/wp-content/uploads/2018/01/Seoul-logo.png
rjkoehler
2013-04-03 10:17:17
2013-04-04 13:55:30
SEOUL Weekly: The Voices of Heaven