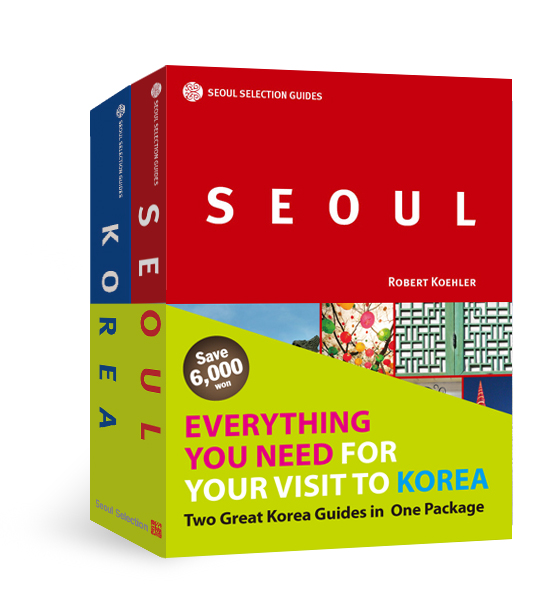 March 27, 2013 / Issue No. 573
Looking for Writers
We are looking for writers to pen the Korea Essential 2013 series, a cooperative project between the Korea Foundation and Seoul Selection. We've published
12 volumes so far
, which you can find on Seoul Selection's online bookshop. This year, we plan to release four volumes:
Hanbok and Korean Fashion
,
Taekwondo
,
Korean Traditional Medicine,
and
Korean Dance
. Each volume is about 20,000 words; manuscripts should focus on providing readers fun, easy explanations rather than excessively technical content.
If you are interested in writing, please send a resume and writing sample to the appropriate supervisor below:
Hanbok and Korean Fashion: Hye Young Park pubco@seoulselection.com
Taekwondo: Hwa-pyeong Kim word@seoulselection.com
Korean Traditional Medicine: Eugene Kim planner@seoulselection.com
Korean Dance: Jin Lee publisher@seoulselection.com
Seoul Selection Guides Set: Seoul & Korea
Two Great Guides in One Convenient Set
Celebrate April by getting out of the house with
a copy of SEOUL
, Seoul Selection's monthly travel and culture magazine. In this issue of SEOUL, we explore some great outdoors activities in Seoul (hiking, rock-climbing, running, paragliding, walking, biking) with suggestions from knowledgable residents, walk Goesan's historic and scenic Old Sanmagi Road, talk with Korean rock bank Galaxy Express (back from their third SXSW appearance) and much, much more. And don't forget our Goings-On Around Town section, your guide to the month's festivals, performances, and events.
The 51st Jinhae Gunhangje Festival
When Jinhae turns into a virtual sea of pale-pink blossoms from some 340,000 cherry trees each spring, Jinhae Gunhangje Festival (also known as the Naval Port Festival) kicks in. This year, it will last 10 days beginning Apr 1, and over one million are expected to flock here from all over the country. The largest of its kind in Korea, the flower festival also commemorates Korea's famous Admiral Yi Sun-sin, who saved the country from Japanese invaders. The cadets marching band from the Korea Naval Academy will join the festival to add more excitement to the floral spring festival. A full-size replica of Admiral Yi Sun-sin's 16th-century turtle ships will be on view at the Naval Academy's dock.
VENUE: Jinhae, Gyeongsangnam-do
PERIOD: Apr 1—10
ADMISSION: Free
MORE INFO: 055-225-2341, http://gunhang.changwon.go.kr
GETTING THERE: From Seoul Nambu Bus Terminal, take an intercity bus to Jinhae. Travel time is 4 hours 20 minutes. Or, take a KTX train to Masan Station and continue to travel aboard local bus 162 or 760 to Jinhae terminal. Estimated travel time: 4 hours.
Richard Yongjae O`Neill—My Way
Violist Richard Yongjae O'Neill is one of the very few violists ever to receive an Avery Fisher Career Grant as well as a Grammy Award Nomination (Best Soloist with Orchestra). A Universal Classics Recording Artist, he has made four solo albums that have sold well over 100,000 copies. Much in demand, he was recently appointed to the roster of the Chamber Music Society of Lincoln Center as an Artist of the Society, becoming the third violist in the Society's history.
VENUE: Concert Hall, Seoul Arts Center
DATE: Mar 31, 2pm, 7pm
ADMISSION: R: KRW 100,000, S: KRW 80,000, A: KRW 50,000, B: KRW 30,000
MORE INFO: T. 1577-5266, www.sac.or.kr
GETTING THERE: Nambu Bus Terminal Station 남부터미널역 (Line 3), Exit 5. Transfer to shuttle bus, or green bus No. 4429.
Voyage to the Pop-Up Book World
Pop-up books—you loved them when you were a kid. Check out rare pop-up books from top collectors and works by the pop-up book masters. Around 400 books are on display.
VENUE: Hangaram Design Museum, Seoul Arts Center
PERIOD: Mar 31–May 19
ADMISSION: Adults: KRW 12,000, Youths: KRW 10,000
MORE INFO: T. 02-730-4360, www.sac.or.kr
GETTING THERE: Nambu Bus Terminal Station 남부터미널역 (Line 3), Exit 5. Transfer to shuttle bus, or green bus No. 4429.
Yeongdeok produces some of Korea's tastiest snow crabs. They aren't cheap, but during the Yeongdeok Crab Festival, you can enjoy this delicacy at more reasonable prices. While you're in the neighborhood, check out the Yeongdeok Blue Road, one of Korea's most pleasant walking trails.
VENUE: Yeongdeok-gun, Gyeongsangbuk-do
PERIOD: Mar 28–Apr 1
ADMISSION: Free
MORE INFO: T. 054-730-6114, http://crab.yd.go.kr
GETTING THERE: It takes four and a half hours to get from DongSeoul Bus Terminal to Yeongdeok by express bus.
Photo & Imaging Seoul 2013 (P&I 2013)
Photo & Imaging
Seoul 2013 will take place at COEX, bringing together 300 leading brands—including Samsung, Canon, Nikon, and Sony—from 18 countries. Five exclusive photography-focused events are expected to attract an estimated 90,000 domestic and international participants. Over 750 booths will showcase everything from compact and DSLR cameras to printers, SD cards, editing software, and photo albums. On-site events will provide visitors with hands-on activities and demonstrations for an unparalleled photo and imaging experience. Exclusive biz-matching meetings between buyers and exhibitors will optimize trade opportunities at the event, ensuring global exposure for participants.
VENUE: Hall A & B, COEX
PERIOD: Apr 4–7
ADMISSION: Online registration: free, on-site: KRW 20,000
MORE INFO: T. 02-6000-8133, www.photoshow.co.kr/english
GETTING THERE: Samseong Station, Line 2
RASKB: Visit to Sewang Brewery and Botapsa Temple
Located in Jincheon County, North Chungcheong Province, Sewang Brewery is one of Korea's oldest continuously functioning breweries. Built in 1930, and run by the same family for three generations, the beautiful wooden brewery—built of pine cut from the forests of Mt. Baekdusan—was so perfectly designed for its task, that when repair work was done in 2006, it was discovered its framework hadn't rotted at all. The clay jars in the fermentation room are from the 1930s, too. The brewery even got featured in cartoonist Huh Young-man's serial in the Dong-A Ilbo, "Sikgaek." If you're a fan of makgeolli, you won't want to miss this excursion—Sewang Brewery produces some of the finest makgeolli in the Republic of Korea, along with a wide variety of other interesting yakju (medicinal liquors). We'll be trying some of its firewater at the brewery's recently built tasting center and gallery.
PS: I'll be leading this tour.
DATE: March 30
COST: 65,000 won for members and 78,000 won for non-members
GETTING THERE: See link above.
Byeonsanbando National Park
Scenic seashore of Byeonsanbando National Park. Photo by Robert Koehler.
*Click the photo to see a full-size version at our website.
NOTE: If you have a photo you would like to see in our Everyday Koreans section, please sent it to story@seoulselection.com. Photos should be AT LEAST 950px wide. Send a one-line bio, too.

Tell Us About 'Your Korea': If you're a longtime resident of Korea and would like to share your story in KOCIS's KOREA Magazine, shoot an email with your story idea to book@seoulselection.com.
Update Your Shopping Mall ID – Seoul Selection encourages you to change your ID and password for our online bookshop and shopping mall at Seoulselection.com. The old IDs and passwords no longer work following our recent upgrade.
Looking for translators – Seoul Selection is looking for a few good translators (Korean to English) for general translation work. Those interested should send a resume and cover letter to Eugene at planner@seoulselection.com.
Seoul Selection eBooks
– You can purchase some Seoul Selection titles in ebook format via
Amazon.com
(for Kindle) and Apple's
iBookstore
. Titles include
Ask a Korean Dude
,
Moon Tides
,
Doing Business in Korea
,
Once Around the Sun
, and seven volumes of our Korean Film Directors series:
BONG Joon-ho
,
IM Kwon-taek
,
KIM Jee-woon
,
LEE Chang-dong
,
LEE Man-hee
,
PARK Chan-wook
, and
SHIN Sang-ok
.
Seoul Selection via Ingram
– Seoul Selection now has a direct wholesale distribution agreement with
Ingram Book Group
, the world's largest wholesale distributor of publisher content. By choosing to allow Ingram to represent our material, we have opened our titles to a wider audience. Our titles will be available for order through Ingram at more than 35,000 distribution channels worldwide. Ask your local bookstore to have Seoul Selection titles available!
Send Your Event Info
– If you would like to advertise any upcoming events you are organizing, please send us the press release material at
book@seoulselection.com
by the preceding Friday in order for it to appear in the following Tuesday's issue.
Freelance Contributors Wanted – SEOUL magazine needs writers who are fluent in both Korean and English.
Writers should have a strong interest in Korean culture and be able to interview Koreans. Send your resume and writing samples to book@seoulselection.com.
We Buy & Sell Used Books – Seoul Selection buys and sells used books in English. Unlike our regular selection of publications that specialize in Korea-related topics, our Used Book section carries books on all subjects. It's all part of our effort to make life easier for the English-speaking community.
SEOUL
(April 2013)
STORYTELLING ASIA : Seoul
The Horse Doctor Vol. 1 of 2
Korean Verb Conjugation Dictionary for Foreigners
Yonsei Korean Workbook 1-1 (with Audio CD)
(Pagijong) Korean Grammar for Foreigners 1
Yonsei Korean 1-1 (with Audio CD)
Hello Korean 2 English Edition
The Innocent Man
A Werewolf Boy
My Sassy Girl
A Gentleman's Dignity
Barbie
Publisher: Hank Kim / Editor: Robert Koehler
Seoul Selection reserves all intellectual property rights on information provided in this newsletter. Some event information has been provided by the Korea Foundation. The IPRs are protected by pertinent laws
https://magazine.seoulselection.com/wp-content/uploads/2013/04/GOODS2_1363933181.jpg
615
559
rjkoehler
https://magazine.seoulselection.com/wp-content/uploads/2018/01/Seoul-logo.png
rjkoehler
2013-03-27 11:31:57
2013-04-04 13:54:36
SEOUL Weekly: Seoul Selection Guides Set: Seoul & Korea