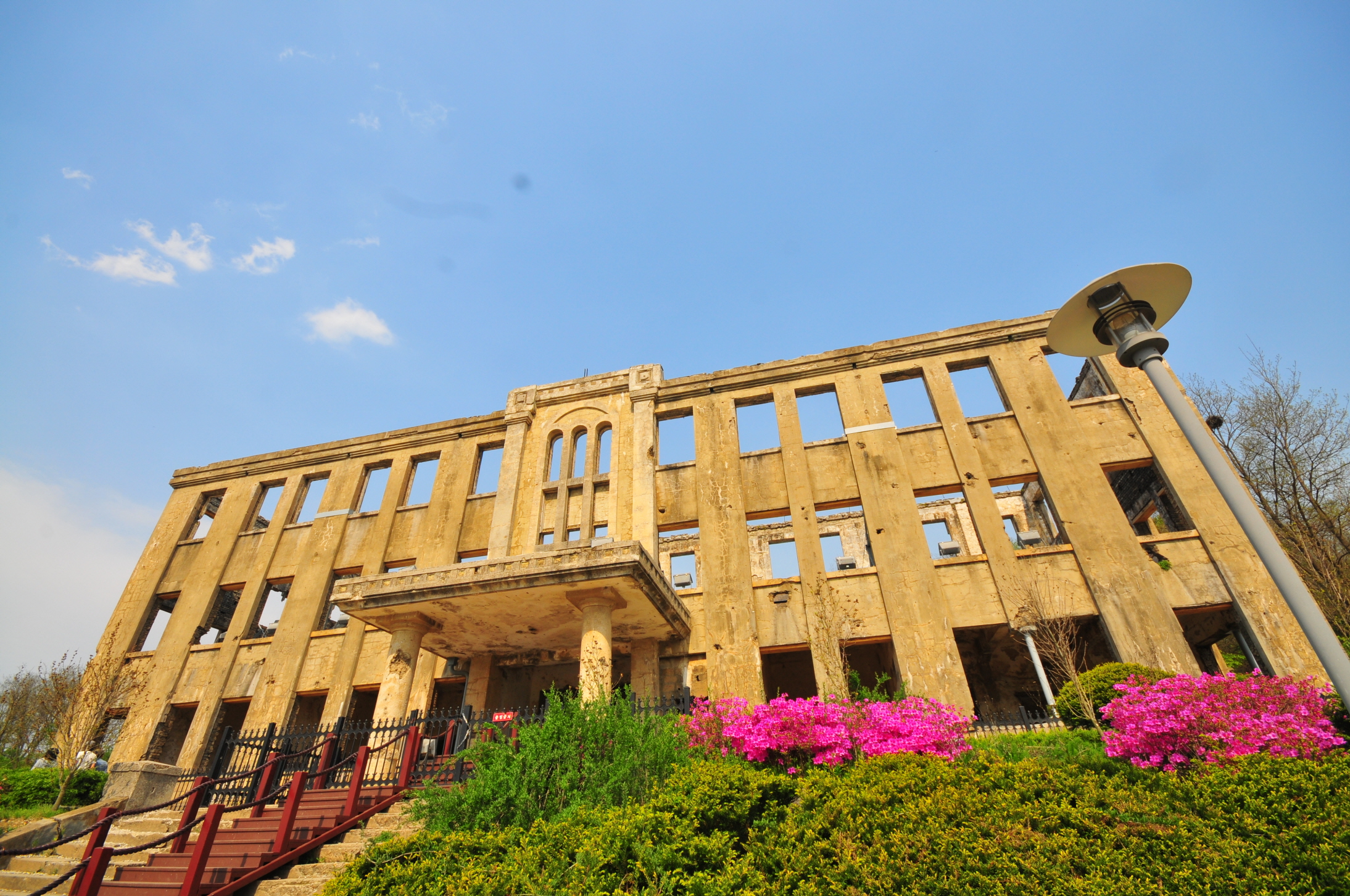 [box_dark]Cheorwon | 철원[/box_dark]
At one time, the city of Cheorwon was a flourishing railway town on the Seoul–Wonsan railway line. When Korea was divided along the 38th parallel in 1945, however, the city found itself in what would soon become North Korea. Then, in the Korean War, the city was virtually erased from the surface of the Earth during the brutal Battle of the Iron Triangle. All that is left of the town now are eerie ruins amidst the quiet rice paddies.
Cheorwon's most famous ruin is the Nodongdangsa, the former regional headquarters of North Korea's ruling party. The gutted Soviet-style office is scarred by countless bullet holes and shell marks. Across the Civilian Control Line lay still more ruins and the Cheorwon Peace Observatory, which offers breathtaking views over this entire sector of the DMZ. Near the observatory is the Second Tunnel of Aggression, also worth exploring. Another touching monument is Seungilgyo Bridge—started before the Korean War and completed after it, the beautiful old arch bridge is sometimes called "Korea's Bridge over the River Kwai."
EAT>
There are some good places to eat around Goseokjeong Pavilion.
SEE>
While it has little to do with the Korean War, the river gorge around Goseokjeong Pavilion is one of Korea's most scenic natural spots.
DO>
The Hantangang River is a good place to do river rafting in summer. Call T. 033-450-4274.
STAY>
Even if you don't stay there—and most folk do Cheorwon as a day trip—it's worth stopping by the Hantan River Spa Hotel, which enjoys a commanding view of the Hantangang River gorge. Non-guests can use the sauna/spa for KRW 7,000.
FYI>
To see the sites across the Civilian Control Line, you'll need to work with Hantangang River Tourist Agency (T. 033-450-5558). They'll tell you when you can cross (you can do so only at certain times of the day); frankly, it's best to talk to them beforehand to get all the salient details. If you don't have your own wheels, you'll need to rent a taxi, too.
(Cheorwon-gun, Gangwon-do | 강원도 철원군)
GO>
Buses to the Nodongdangsa run from Sintan-ri Station, the closest whistle-stop to the DMZ. Transfer to a commuter train at Dongducheon Station 동두천역 (Line 1) to get there.
https://magazine.seoulselection.com/wp-content/uploads/2013/06/as_dsc_8625.jpg
1452
2188
rjkoehler
https://magazine.seoulselection.com/wp-content/uploads/2018/01/Seoul-logo.png
rjkoehler
2013-06-21 18:07:08
2013-06-21 18:27:54
Cheorwon