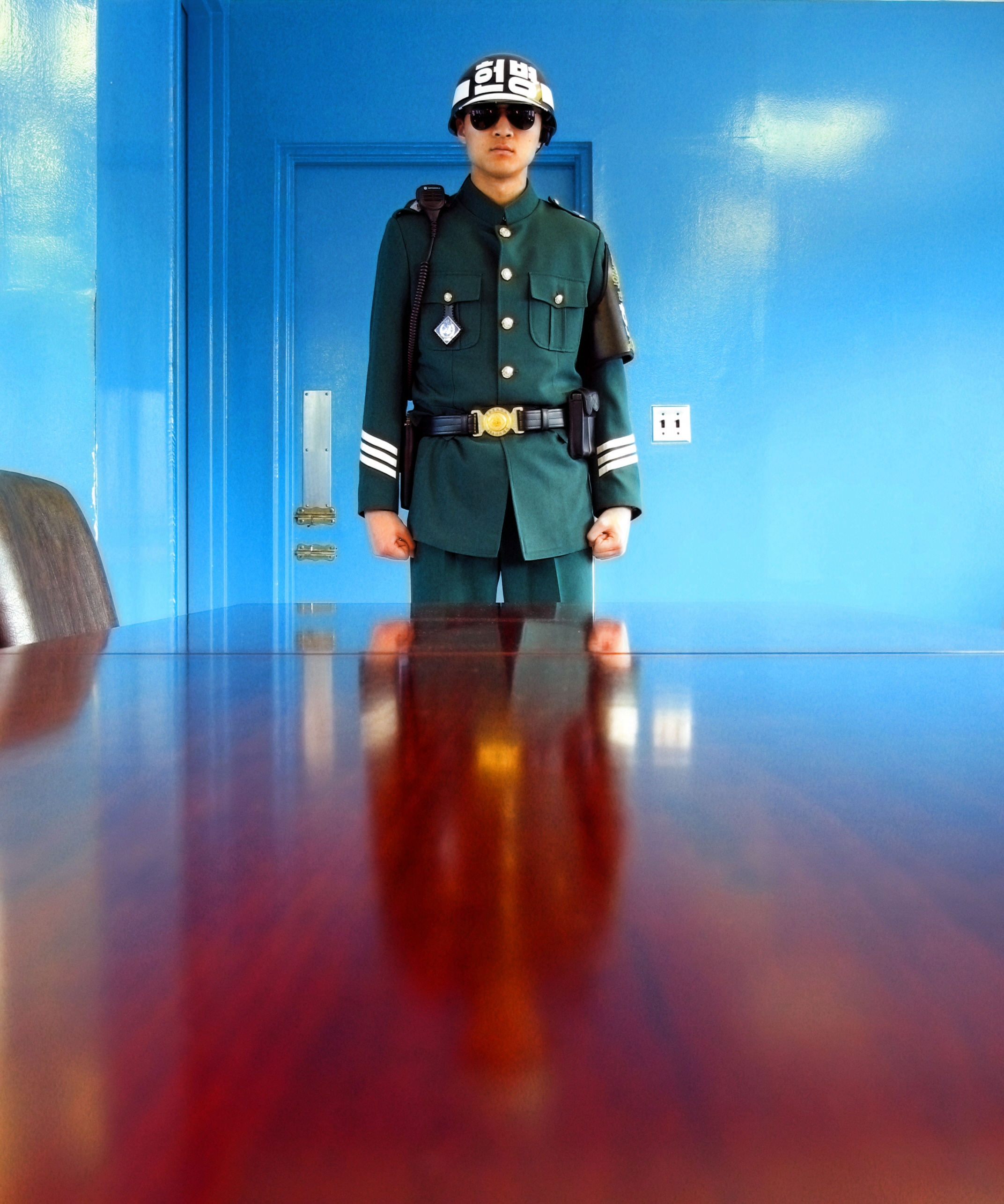 [box_dark]Panmunjeom | 판문점[/box_dark]
The "truce village" of Panmunjeom is one of Korea's most iconic images. The village itself was abandoned after the Korean War; what most visitors see is the nearby Joint Security Area (JSA), where the UN Command and North Korea have held discussions ever since the Armistice Agreement that "ended" the Korean War was signed here six decades ago. One of the last remnants of the Cold War, it is the only place along the DMZ where South and North Korea come directly face-to-face.
Because of its unique place in world history and the unparalleled opportunity it provides to experience inter-Korean tensions and the tragedy of national division firsthand, the JSA is visited by thousands of tourists a year. Since it is, after all, a military facility at the very edge of one of the world's most militarized frontiers, visits are by guided tour only. The Military Demarcation Line (MDL)—the very border between South and North Korea—passes through the middle of the complex. In one of the light-blue conference halls, you can actually cross the line into North Korea, but only within the confines of the hall. South Korean military police stand guard throughout the complex while North Korean soldiers look on from a distance.
Some of the highlights of the JSA include South Korea's Freedom House and North Korea's Panmungak, Checkpoint 3, the Bridge of No Return, and Third Tunnel of Aggression.
EAT>
Most tours include lunch.
SEE>
At Camp Bonifas you'll pass by the "world's most dangerous golf course," a short par 3 with mine fields in the roughs.
DO>
More like a don't—DON'T talk to, motion towards, or otherwise interact with the North Koreans. And whatever you do, DON'T cross the MDL (except inside the one conference hall). Tours usually have a dress requirement, too.
FYI>
T. 02-795-3028, http://affiliates.uso.org/korea
(Eoryeong-ri, Jinseo-myeon, Paju-si, Gyeonggi-do | 경기 파주시 진서면 어룡리)
GO>
The USO conducts tours of Panmunjeom three to four times a week. Tours cost US$80 for non-US military personnel. Korean nationals are not usually permitted to join these tours.
https://magazine.seoulselection.com/wp-content/uploads/2013/06/as_IMG_6670_1.jpg
2572
2144
rjkoehler
https://magazine.seoulselection.com/wp-content/uploads/2018/01/Seoul-logo.png
rjkoehler
2013-06-21 18:15:01
2013-06-21 18:26:15
Panmunjeom