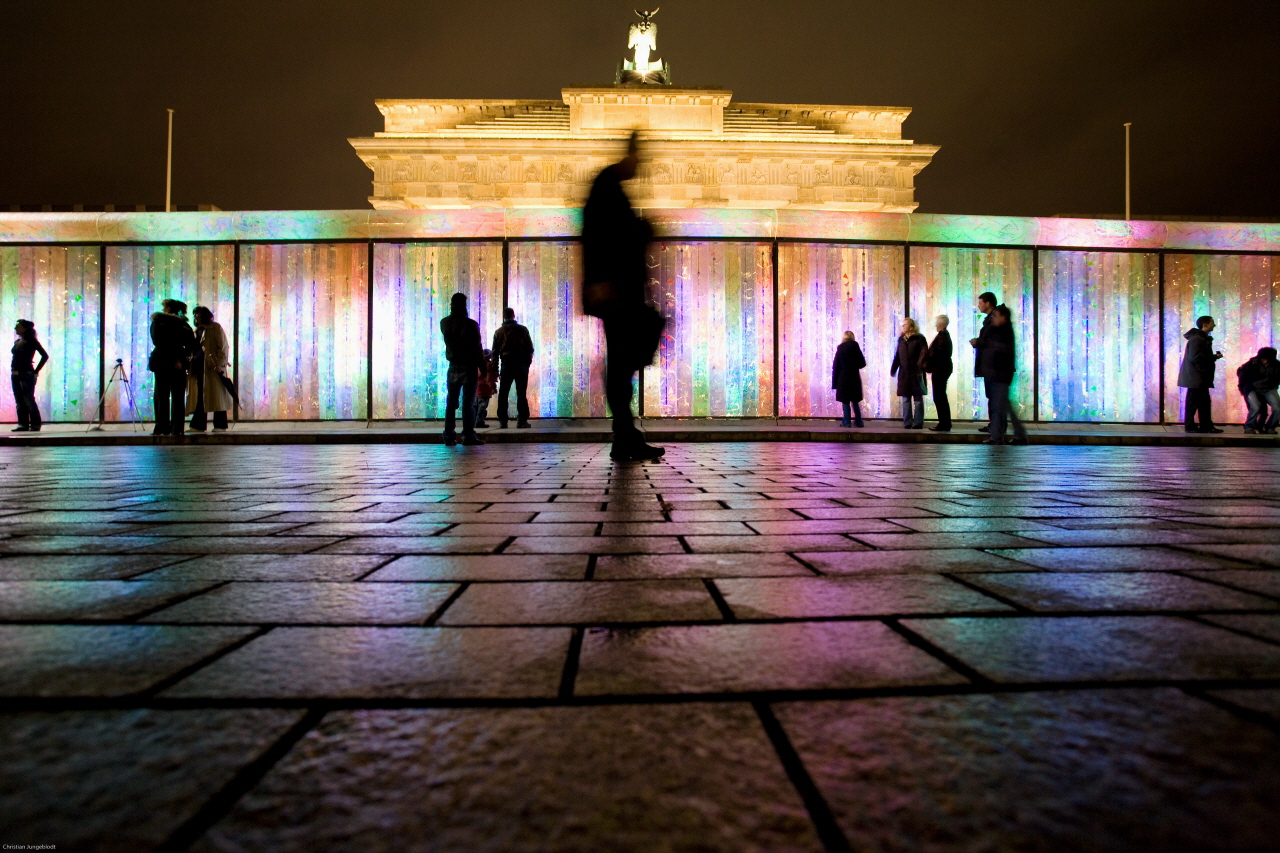 Lee Eunsook
Neon Lights at the DMZ?
Writen by Brenda Paik Sunoo
Photographed by Ryu Seunghoo
[box_info]
Artist Lee Eun-sook highlights tragedy of separated families
To mark the 60th anniversary since the armistice of the Korean War, globally-acclaimed installation artist Lee Eun-sook has dedicated her latest work along the wired fence located in the border village of Imjingak, north of Seoul. Lee experiments with her materials and light as a sculptural element. The tragic war theme is reflected in her use of old photographic images from the 1950–53 fratricidal war in the Korean Peninsula with iconic florescent threads and translucent polyester film panels. In particular, she highlights the millions of families who were forced to separate in the two Koreas as a result of the civil war.
To mark the opening of the exhibit, there will be a special sparkler event on Saturday starting at 6:30pm. To make things easier for those without cars, a free shuttle bus to the venue will depart from Gyeongbokgung Palace's parking lot at 4:30pm Saturday.
VENUE: Imjingak Village
PERIOD: Feb 23–Mar 10
MORE INFO: www.eunsooklee.com
GETTING THERE: Various bus lines available from Paju City Hall
[/box_info]
Upon first glance, one would not suspect that Lee Eunsook once dreamt of becoming a housewife. Often donning hats with flowers springing from her head or orange neon tights concealing her legs, the Korea- and Germany-based fiber and installation artist is used to arousing public attention.
"It's very strange to make small things," she says. "I want my work to be big."
Her latest installation, entitled From Vanished Berlin Wall to DMZ, will run from February 23 to March 10, 2013 in Paju, South Korea. Having received permission from the Ministry of Culture and Tourism, Lee will create at least 100 meters of transparent polyester letters laminated with neon threads and fibers that are lit up with ultraviolent black light. "My message is peaceful reunification with light."The project, she says, will include the names and stories of families separated at the Civilian Control Line. "Next year marks the 60th anniversary of the end of the Korean War, and we're still divided."
This is not the first time Lee has engaged the themes of family, separation, life, and death. Both of her parents were refugees during the Korean War and met at Geoje-do Island before they moved to Busan, where Lee was born. As an adult, she learned that her father had actually left behind four children in the north. "My father died two years ago without seeing them. So I will include his [North Korean] children's four names as part of my installation."
Sadly, her father never encouraged her art. A successful businessman, he had hoped Lee and her four South Korean siblings would pursue more lucrative professions. When she entered Ewha University for her Bachelor of Fine Arts and Hongik University for her Master of Fine Arts, she pursued fiber arts because of her initial interest in embroidery. What she could not have predicted was how one catastrophic event would transform the direction of her life and her art.
While preparing for her first art exhibit in 1986, Lee sustained 40% burns on her face and right arm after hot paraffin exploded in her kitchen. This was the darkest period of her life, as she underwent eight plastic surgery operations in three years. Lying in bed, she would ponder life, death, family, and art. "My two sons can live without me. But who will take care of my work? I thought a lot about death after that."
But after a long, tortuous period of rehabilitation, she began to contemplate new forms of expression. "If I don't produce art, my pain will have been meaningless." One day while at a shopping center, she was attracted to bright fluorescent threads. Lee became fascinated by the yellowish green and orange fibers, especially after seeing them glow under black light. "I spent days and nights without sleep to create new work," she said.
Thus began her ongoing affinity with transparent polyester material laminated with neon threads and fibers that is then woven into three-dimensional shapes using basic basket techniques. "It's amazing how a few or hundred strands of threads can radiate different colors and effects."
Many Koreans and art critics, she says, did not praise her work back in the 90s. The neon colors were viewed as childish; the polyester material was considered cheap. And the black lights reminded people of the discotheque craze that marked the late 70s. Nevertheless, Lee refused to extinguish the fire burning within her.
Serendipity intervened. Lee's luck changed after a German curator viewed her work in Korea and invited her to exhibit in Berlin in 2005. For the exhibition, she created objects symbolizing a house and furniture at the Potsdamer Platz—the site where the Berlin Wall once existed. "The house stood for a place where South and North Korea—also divided—could join and live together."
A year later, undaunted by having been refused a permit to exhibit at the Cecilienhof Palace—site of the 1945 Potsdam Conference that divided Korea at the 38th parallel—Lee staged a public installation on the lake in front of the Palace. New Potsdam Conference displayed her neon artwork on two half globes, symbolizing South and North Korea. "It was like a floating museum. I stayed on the raft for two weeks," she said. People either swam or took boats to meet her and view the art.
In 2007, she staged what many predicted would be impossible. Without any social network or German language proficiency, Lee created Vanished Berlin Wall (22m × 3.5m × 0.3m). The black light installation incorporated the names of 5,000 Korean separated family members. It was installed in front of the Brandenburg Gate, a symbol of German reunification, and consisted of numerous transparent parts that lit up the once formidable area that divided the country. On November 9, 2007, Lee cut her way through the installation as a performance artist to dramatize her vision for reunification. Her latest installation at the DMZ is a continuation of this theme, but with a current political twist.
Upon completion of the DMZ project, Lee will set her sights on even bigger dreams. She envisions an installation that will be housed in a castle anywhere in the world, completely furnished with objects designed and made with her own hands. Impossible? Not to this rising phoenix.
FYI>
https://magazine.seoulselection.com/wp-content/uploads/2013/02/Vanished-Berlin-Wall.jpg
853
1280
rjkoehler
https://magazine.seoulselection.com/wp-content/uploads/2018/01/Seoul-logo.png
rjkoehler
2013-02-21 14:33:06
2013-02-21 14:34:30
Neon Lights at the DMZ? --- Interview with Lee Eunsook