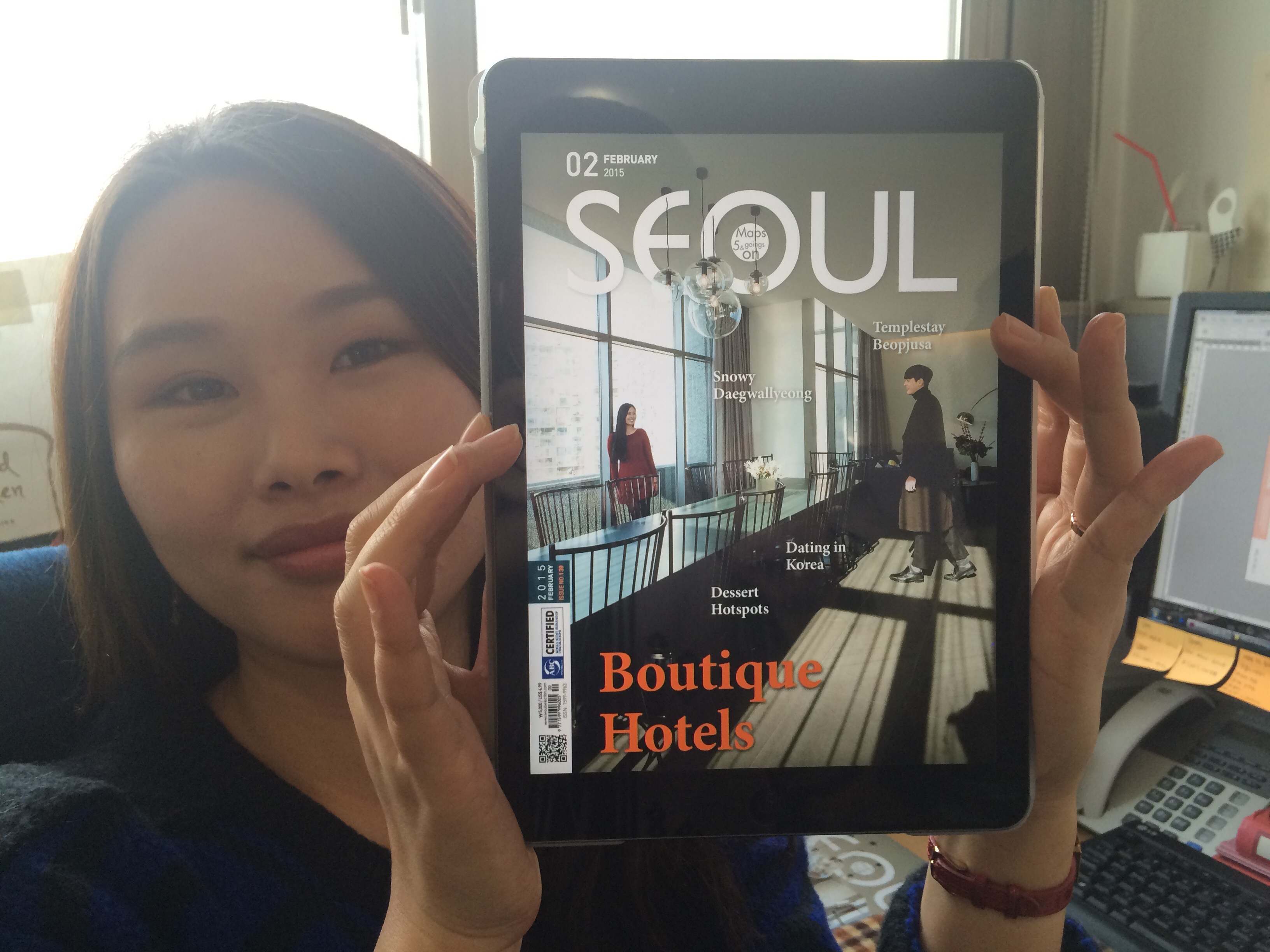 Feb. 4, 2015 / Issue No. 670

Download SEOUL for your mobile device




February issue out for iOS, Android


Magazine designer Lee Bokhyun with the iPad version of SEOUL

Want to read SEOUL on the move?

Well, wait no longer – the digital edition of the February issue of SEOUL is ready and available for download at iTunes (iOS) and Google Play (Android).

In this issue of SEOUL, we introduce some great boutique hotels in Seoul, visit the snowy highlands – well, when it snows, anyway – of Daegwallyeong, talk with a master silver artisan, experience Beopjusa's Templestay, and much, much more.

Optimized for your tablet, the digital edition of SEOUL gives you everything you love about our popular monthly travel and culture magazine, but in mobile format for reading on the go.

---

AROUND THE WEB

A miscellany of high-quality hyperlinks from the week, courtesy of SEOUL editor-in-chief Robert Koehler.

---

EVENTS

Dulwich College Seoul Open House

Dulwich College Seoul cordially invites all prospective parents to its Open House for Prospective Parents – DUCKS and Primary School (2-11 years old). RSVP: Admissions@dulwich-seoul.kr.

VENUE: Dulwich College Seoul
DATE: Feb. 12, 10 AM
MORE INFO: 02-3015-8517
GETTING THERE: See this link.

Belle and Sebastian

Belle and Sebastian is an indie pop band from Glasgow, Scotland. Lead singer Stewart Murdock initially formed the band in 1996 for a final project while attending college, planning to disband the group after his final exam. But when their debut album "Tigermilk†received overwhelmingly positive feedback, he and his bandmates decided to continue. The name of the group was inspired by a French children's book "Belle et Sebastien,†and, fittingly, the band is known for the mythical but playful tone of its music. Some of their best-known songs from their nine-album catalogue include "The Boy with the Arab Strap,†"Funny Little Frog†and "I'm a Cuckoo.†This is the first time the band will be performing in Korea.

VENUE: AX-KOREA
DATE: Feb. 12, 20:00
MORE INFO: T. 02-563-0595, www.axhallkorea.com
ADMISSION: KRW 121,000
GETTING THERE: Gwangnaru Station 광나루역 (Line 5), Exit 2. Cross the road, turn left and walk 5 minutes. The hall is located behind the youth center.

Art Garfunkel in Seoul

Along with Bob Dylan and the Beatles, folk rock duo Simon & Garfunkel were pop icons for the baby boomer generation and representative of social revolution in the '60s and '70s. Topping the Billboard charts with international hits like "The Sound of Silence,†"Mrs. Robinson†and "Bridge over Trouble Water,†the duo disbanded in 1970 because of artistic differences. Their popularity has sustained, with the pair being honored with a Lifetime Achievement Grammy Award in 2003, and Art Garfunkel has released a number of solo albums since the breakup. He will be visiting Korea for the first time as part of his world tour, and will be performing hits from both his Simon & Garfunkel and solo albums.

VENUE: Jamsil Indoor Stadium
DATE: Feb. 14, 18:00
MORE INFO: 02-6925-3627, stadium.seoul.go.kr
ADMISSION: KRW 99,000-176,000
GETTING THERE: Sports Complex Station 종합운ë™ìž¥ì—­ (Line 2), Exit 6 or 7

RASKB Excursion: Korean War Remains and Migratory Birds in Cheorwon

Prior to the division of Korea, Cheorwon was a sizable town. The junction of the Seoul-Wonsan and the Mt. Geumgangsan lines, it was a major transportation hub. After the division of Korea, however, the city — located north of the 38th parallel — fell under North Korean control. The worst came during the Korean War: as the southern point of the Iron Triangle (a major invasion route to Seoul), the city was wiped off the map by merciless shelling, mostly courtesy the Americans.

After the war, the city was never rebuilt, per se, although a "New†Cheorwon was built several kilometers away. Old Cheorwon is now rice paddies and hills — much of where the old town used to be, in fact, lies across the Civilian Control Line, a military district bounding the DMZ where entry is by permit only. For Korean history buffs, however, the paddies are dotted with several ruins and bombed-out buildings from the period that are well-worth seeing, including the iconic ruins of the local headquarters of the Workers Party of Korea, North Korea's ruling party. Also in Cheorwon is the Seungil-gyo, sometimes called "Korea's Bridge Over the River Kwai,†a scenic arch bridge that, depending on whom you believe, was either started by the North Koreans and finished by the South Koreans, or started by the Japanese and finished by the Americans.

VENUE: Gyeonggi-do
DATE: Feb 15
MORE INFO: See this link.
ADMISSION: KRW 45,000-54,000
GETTING THERE: See link above.

---

EVERYDAY KOREANS

Alleyway in Changsin-dong. Photographed by Robert Koehler.

NOTIFICATIONS

Seoul Selection's Free Book Giveaway – Our free book give-away continues! Check out the list in last week's newsletter here.

Seoul Selection Offline Bookshop Sale – One of the greatest repositories of Korea-related English-language books anywhere, Seoul Selection is offering a 10% sale on any and all books published by Seoul Selection purchased from our OFFLINE bookshop next to Gyeongbokgung Palace.

Looking for Translators – Seoul Selection is looking for a few good translators (Korean to English) for general translation work. Those interested should send a resume and cover letter to Kyehyun at atoz@seoulselection.com. Experienced translators only.

Seoul Selection eBooks – You can purchase some Seoul Selection titles in ebook format via Amazon.com (for Kindle) and Apple's iBookstore. Titles include Ask a Korean Dude, Moon Tides, Doing Business in Korea, Once Around the Sun, and seven volumes of our Korean Film Directors series: BONG Joon-ho, IM Kwon-taek, KIM Jee-woon, LEE Chang-dong, LEE Man-hee, PARK Chan-wook, and SHIN Sang-ok.

Send Your Event Info – If you would like to advertise any upcoming events you are organizing, please send us the press release material at pubco@seoulselection.com by the preceding Friday in order for it to appear in the following Tuesday's issue.

Freelance Contributors Wanted – SEOUL Magazine needs writers who are fluent in both Korean and English. Writers should have a strong interest in Korean culture and be able to interview Koreans. Send your resume and writing samples to english@seoulselection.com.

We Buy & Sell Used Books – Seoul Selection buys and sells used books in English. Unlike our regular selection of publications that specialize in Korea-related topics, our Used Book section carries books on all subjects. It's all part of our effort to make life easier for the English-speaking community.

SEOUL (February 2015)


Buy Books at Seoul Selection's ONLINE Bookshop!

---

---

RECOMMENDED


Lighting in Seoul
Kundo: Age of the Rampant

---

NEW BOOKS
Real TOPIK 1: Mock Test


Conversacion en coreano- Nivel basico (con un solo CD)


Escritura en coreano – Nivel basico (con un solo CD)


Compresnsion auditiva en coreano- Nivel basico.(con un solo CD)


Acta Koreana: Vol.17 Number 2 December 15 2014

---

NEW DVDs
B) You Who Came From The Stars


The Divine Move


A Girl at My Door


Han Gong-ju


Futureless Things
Copyright © , All rights reserved.
Our mailing address is:
https://magazine.seoulselection.com/wp-content/uploads/2015/02/Photo-2015.-2.-3.-오전-11-46-20.jpg
2448
3264
rjkoehler
https://magazine.seoulselection.com/wp-content/uploads/2018/01/Seoul-logo.png
rjkoehler
2015-02-07 03:50:28
2015-02-08 19:16:31
SEOUL Weekly: Download SEOUL for your mobile device