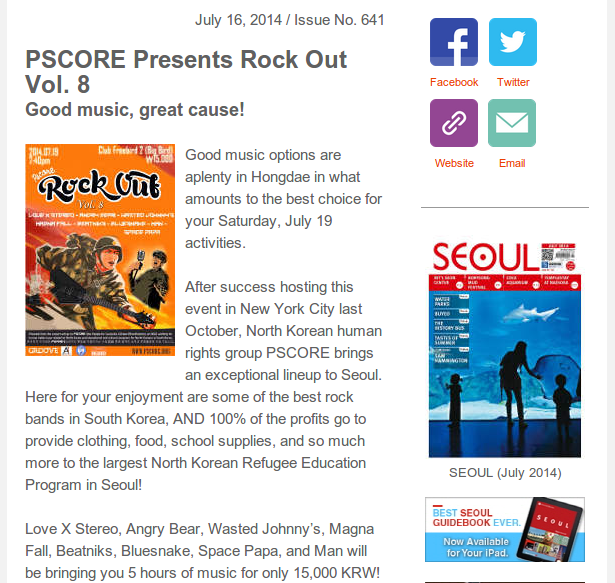 July 16, 2014 / Issue No. 641

PSCORE Presents Rock Out Vol. 8
Good music, great cause!

Good music options are aplenty in Hongdae in what amounts to the best choice for your Saturday, July 19 activities.

After success hosting this event in New York City last October, North Korean human rights group PSCORE brings an exceptional lineup to Seoul. Here for your enjoyment are some of the best rock bands in South Korea, AND 100% of the profits go to provide clothing, food, school supplies, and so much more to the largest North Korean Refugee Education Program in Seoul!

Love X Stereo, Angry Bear, Wasted Johnny's, Magna Fall, Beatniks, Bluesnake, Space Papa, and Man will be bringing you 5 hours of music for only 15,000 KRW!

Rock n Roll is the spirit of freedom and resistance, which matches our cause—freedom for North Koreans. So, come out, have fun, and know that your money is going to a very important cause; helping North Korean refugees succeed in South Korea and abroad.

07:40 – Bluesnake
08:20 – Man
09:00 – 마그나폴/Magna Fall
09:40 – 스페이스 파파/Space Papa
10:20 – 비트닉스/Beatniks
11:00 – Love X Stereo
11:40 – 웨이스티드 자니스/Wasted Johnny's
12:20 – 화난 ê³°/Angry Bear

DATE: Saturday, July 19, 7:40PM to Sunday, July 20, 1AM
VENUE: Club Freebird 2 (Big Bird) in Hongdae

Book Launch: Assimilating Seoul
Todd A. Henry's new book examines role of public space in the colonial era

Seoul Selection Bookshop will be hosting the launch of Todd A. Henry's new book "Assimilating Seoul: Japanese Rule and the Politics of Public Space in Colonial Korea, 1910–1945" (University of California Press) on July 24, 5PM. An Assistant Professor of History at the University of California, San Diego, Henry offers a transnational account that treats the city's public spaces as "contact zones," showing how residents negotiated pressures to become loyal, industrious, and hygienic subjects of the Japanese empire.

From the book description:

Unlike previous, top-down analyses, this ethnographic history investigates modalities of Japanese rule as experienced from below. Although the colonial state set ambitious goals for the integration of Koreans, Japanese settler elites and lower-class expatriates shaped the speed and direction of assimilation by bending government initiatives to their own interests and identities. Meanwhile, Korean men and women of different classes and generations rearticulated the terms and degree of their incorporation into a multiethnic polity. Assimilating Seoul captures these fascinating responses to an empire that used the lure of empowerment to disguise the reality of alienation.

Beverages and light snacks will be on hand, too. Seoul Selection will be selling the book for just KRW 48,000, a much better deal than you'll find anywhere else.

VENUE: Seoul Selection Bookshop
DATE: July 24, 5PM to 7PM
GETTING THERE: See this link

More Free Books at Seoul Selection
And discount rates on some great reads

Seoul Selection's free book give-away continues, with some additional titles added to our list:

Writing for Peace – 3 copies
The Globalizing World and the Human Community – 3 copies
A Yang for Every Yin – 2 copies
Doing Business in Korea – 3 copies
The institutional Basis of Civil Governance in the Choson Dynasty – 2 copies
육쾌하게 먹어라 – 1 copy
미국인을 매혹시킨 리더 수키캥 – 2 copies
목격담, UFO는 어디서 오는가 – 1 copy

In addition to our free book giveaway, Seoul Selection Bookshop is also offering 50% off on copies of our titles with slight imperfections or damage (like dog ears, etc). We've even made a separate corner for them so drop by and see what's in there because whatever's there is a steal.


---

AROUND THE WEB

A miscellany of high-quality hyperlinks from the week, courtesy of SEOUL editor-in-chief Robert Koehler.

---

EVENTS

TempleStay: Magoksa Temple

Hidden in the mountains a few kilometers to the north of the west-central town of Gongju, Magoksa Temple has earned a reputation as one of Korea's most sublime monasteries. It gets its fair share of visitors, to be sure, but it's isolation ensures that compared to other temples its size, it's a tranquil, relatively untouristed place. The complex itself is a treasure trove of Korean traditional architecture, home to several national treasures, including a grand two-story wooden hall from the 18th century. The temple is surrounded by thick, fragrant forests and rushing rivers which themselves provide a space for reflection and renewal.

Magoksa hosts a number of Templestay programs, including its two day SuriSuri Forest Sound program on the weekends. The weekend program includes meditation, bowing, talks with monks, Buddhist meals and more. For more information, send an email to magoksa@templestay.com or give them a ring at T. 041-841-6226.

W Seoul Walkerhill: W Heat Wave

Enjoy a summer of a lifetime at the W's poolside party "W Heat Wave." Flashy decor, uniquely designed sunbeds and a massive dance stage await along with hot hip hop from world class DJs and the W's best tropical cocktails. Play with water guns and water balls against the backdrop of the Hangang River at night. Revelers will be able to check out waterproof makeup, the best booze from global labels, and the latest fashions, too.
This is a once-in-a-year experience—don't miss it!

VENUE: W Seoul Walkerhill
DATE: Aug 2, 9PM to 2AM
MORE INFO: T. 02-2022-0333 or www.facebook.com/wseoulwalkerhill

St. Petersburg State Ballet on Ice

The St. Petersburg State Ballet on Ice brings you "Sleeping Beauty," a classic we all know and love. Based on a story by French children's writer Charles Perrault about a prince and a princess, this Tchaikovsky classic is sure to entertain anyone in the family. When the princess does not invite an evil witch to her birthday celebration, the envious witch casts a spell on the princess, putting her to sleep for 100 years. And who could be more perfectly set to wake her than the dashing young prince, who kisses the lovely princess and ends up marrying her. The Saint-Petersburg State Ballet on Ice (formerly the Leningrad State Ballet on ice) was founded in 1967 and has since become a successor of the traditions of the St. Petersburg school of classical ballet, promoting the style and grace of the school through its performances of popular ballets throughout the world. Not only a charming show, the company has featured some of the world's top athletes, including former Olympic and European champions. Among the more famous shows they've performed are "Sleeping Beauty", "Swan Lake", "Nutcracker" and "Cinderella." The significance of the company is its achievement of performing real classical ballets, in classical ballet costumes, on ice rinks installed onto the stages of theaters—for the first time ever. By bringing famous classics to the ice, ballet has become much more accessible to the mainstream public, who often views classical ballet as unapproachable or difficult to sit through. The company has toured worldwide since 1967 and has toured countries such as the United States, Canada, the Netherlands, Germany, China, Spain, Taiwan, Greece, Portugal, Ireland, Turkey, Switzerland, Argentina and more.

VENUE: Gyeonggi Arts Center
DATES: Jul. 25–26, 19:30 on Fri., 15:00, 19:00 on Sat.
MORE INFO: T. 031-230-3440, www.ggac.or.kr
ADMISSION: KRW 22,000–55,000
GETTING THERE: Suwon Station 수원역 (Line 1), Exit 4. Transfer to bus numbers 92, 92-1, 83, 83-1, 82-1, 15, 51.

The 18th Seoul International Cartoon & Animation Festival

Animation fanatics will be pleased to hear that the Seoul International Cartoon and Animation Festival is back. Founded in 1995, SICAF has served as the stage for introducing some of the world's best and most unique forms of animated films. Ever year more than 1,500 films are submitted to be exhibited at the festival, a number that can compete with any of the world's top animation festivals. Winners of the various categories will receive prize money that can be used for future film production. The festival is sponsored by the Seoul Metropolitan Government, the Ministry of Culture, Sports and Tourism and other festival organizers. In addition to showcasing some of the world's best animated filmmakers' hard work, the program is also designed to raise cultural awareness and boost the aesthetic quality of life for all citizens, regardless of age, artistic taste or social status. The festival is divided into the competition section and the invited guest section. Some of the categories in the competition section are Feature Films, Short Films and Student Films. There are also a number of booths available where visitors can delight in all that the participants have prepared over the year, including special screenings and opportunities for filmmakers to network.

VENUE: Seoul Animation Center & CGV Myeongdong Station
PERIOD: Jul. 22–27
MORE INFO: T. 02-3455-8435, www.sicaf.org
ADMISSION: KRW TBA
GETTING THERE: Myeongdong Station 명동역 (Line 4), Exit 1 (Seoul Animation Center), Exit 7 (CGV)

Encounter with Amitayus in Sukhavati, Buddhist Hanging Scroll at Heungguksa Temple

Originally reserved for the Heungguksa Temple in Goyang, The National Museum of Korea has managed to attain a very precious Buddhist scroll for its special exhibition, part of the museum's ongoing regular series of Buddhist paintings. The scroll was originally used for special Buddhist rituals that were held outside. The exhibition is intended to be an opportunity for the public to better understand Buddhist rituals and traditions through artwork and visual craft. Visitors will also be able to enlighten themselves on the history of modern Buddhist art in Korea, something that not many people get to see on a normal basis. Although Buddhism is often perceived as only an ancient tradition, this exhibition proves that it's an ongoing—and very relevant—culture that continues to thrive with full vitality. Buddhist paintings have evolved just as other art forms have, adapting to perceive the troubles and peculiarities of our time, struggling to express them through its unique perspective.

VENUE: National Museum of Korea
PERIOD: Thru Oct. 26
MORE INFO: T. 02-2077-9493, www.museum.go.kr
ADMISSION: Free
GETTING THERE: Take the underpass at Ichon Station 이촌역 (Jungang Line or Line 4) and follow the signs.

Boryeong Mud Festival

Anyone who's been to Korea or even anyone who's considered visiting Korea has probably heard of the Boryeong Mud Festival. The festival started out in 2007, and now attracts more than 2 million visitors a year to Boryeong, which is about 200 kilometers south of Seoul. What is the mud festival all about? It's not complicated: you throw mud at each other, bathe in mud, and do everything in the mud—with about 2 million other people. The mud is taken from the mud flats nearby and transferred to Daecheon beach, where the festivities are held. The reason why the festival is held at Daecheon beach and not the actual mud flats is that people would have a very hard time standing on the mud flats without sinking. Although simple in concept, the festival's massive popularity has now made it the town's greatest tourist attraction. The festival has become extremely popular with foreign tourists—perhaps even more so than with locals—as well as American military stationed in Korea.

VENUE: Daecheon Beach in Boryeong, Chungcheongnam-do
PERIOD: Jul. 18–27
MORE INFO: T. 010-5438-4865, www.boryeongmudfestival.com
ADMISSION: TBA

RAS Korea: Representations of Korean Shamanism in the Media

They communicate with the spirits of the dead, become possessed by various gods, heal, divine the future, and even stand on sharp blades. Today, Korean shamans (mudang or manshin) practice their spiritualistic rituals in a hyper-technologized society and within the huge metropolis of Seoul. In this talk several new modes of representing shamanic ritual and activities are discussed to show how advanced technology and innovative ideas have created new means for the incorporation of Korean shamanism (musok) into the cultural life of South Korea. Examples of musok depictions in films, television, and the Internet will be shown to demonstrate the vitality of this tradition in contemporary Korea.

Liora Sarfati is a lecturer at the Department of East Asian Studies of Tel Aviv University. She received her Ph.D. from Indiana University, Bloomington, and her ethnographic research on the production of shamanic rituals in contemporary South Korea includes the representation of this belief system in private rituals, staged public rituals, museums, films, television and the Internet. She is now in Seoul performing fieldwork on male Korean shamans.

VENUE: Second floor Residents' Lounge, Somerset Palace
DATE: July 29, 7:30PM
ADMISSION: KRW 7,000 for non-members, free for members
MORE INFO and GETTING THERE: See this link.


---

EVERYDAY KOREANS

Sky on fire above Gwanghwamun Plaza. Photographed by Robert Koehler.

NOTIFICATIONS

Seoul Selection Offline Bookshop Sale – One of the greatest repositories of Korea-related English-language books anywhere, Seoul Selection is offering a 10% sale on any and all books published by Seoul Selection purchased from our OFFLINE bookshop next to Gyeongbokgung Palace.

Looking for Translators – Seoul Selection is looking for a few good translators (Korean to English) for general translation work. Those interested should send a resume and cover letter to Kyehyun at atoz@seoulselection.com. Experienced translators only.

Seoul Selection eBooks – You can purchase some Seoul Selection titles in ebook format via Amazon.com (for Kindle) and Apple's iBookstore. Titles include Ask a Korean Dude, Moon Tides, Doing Business in Korea, Once Around the Sun, and seven volumes of our Korean Film Directors series: BONG Joon-ho, IM Kwon-taek, KIM Jee-woon, LEE Chang-dong, LEE Man-hee, PARK Chan-wook, and SHIN Sang-ok.

Send Your Event Info – If you would like to advertise any upcoming events you are organizing, please send us the press release material at pubco@seoulselection.com by the preceding Friday in order for it to appear in the following Tuesday's issue.

Freelance Contributors Wanted – SEOUL Magazine needs writers who are fluent in both Korean and English. Writers should have a strong interest in Korean culture and be able to interview Koreans. Send your resume and writing samples to english@seoulselection.com.

We Buy & Sell Used Books – Seoul Selection buys and sells used books in English. Unlike our regular selection of publications that specialize in Korea-related topics, our Used Book section carries books on all subjects. It's all part of our effort to make life easier for the English-speaking community.

SEOUL (July 2014)


Buy Books at Seoul Selection's ONLINE Bookshop!




---

---

RECOMMENDED


A Korean-English Dictionary of Buddhism

---

NEW BOOKS


Get It Korean Reading 1


Korea Annual 2014


Kim Dae Jung and Mass Economy Theory


거침없이 한국어 3: 사회와 ì œë"

---

NEW DVDs


Lee Seong-Gu Collection


Another Promise


Love Me Once Again


Hot Young Bloods


Miss Granny
Copyright © , All rights reserved.
Our mailing address is:
https://magazine.seoulselection.com/wp-content/uploads/2014/07/스크린샷-2014-07-18-155406.png
583
615
rjkoehler
https://magazine.seoulselection.com/wp-content/uploads/2018/01/Seoul-logo.png
rjkoehler
2014-07-18 06:54:08
2014-07-30 16:44:00
SEOUL Weekly: Rock Out Vol. 8