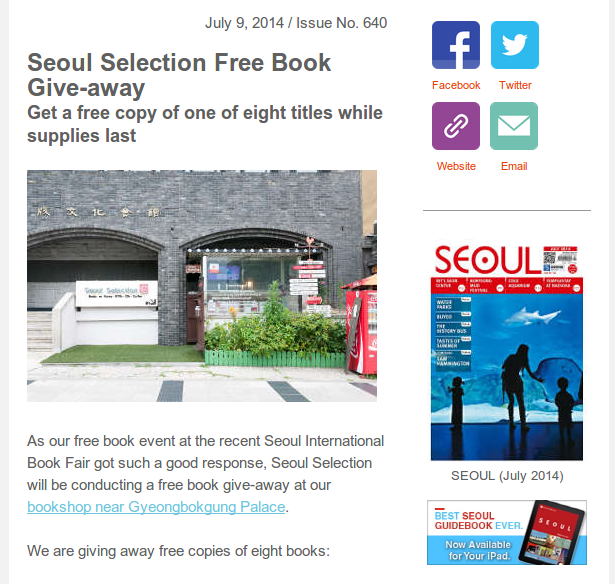 July 9, 2014 / Issue No. 640

Seoul Selection Free Book Give-away
Get a free copy of one of eight titles while supplies last

As our free book event at the recent Seoul International Book Fair got such a good response, Seoul Selection will be conducting a free book give-away at our bookshop near Gyeongbokgung Palace.

We are giving away free copies of eight books:

Kim Ki-young – 5 copies
Lee Doo-yong – 5 copies
Lee Jang-ho – 5 copies
Ryoo Seung-wan – 5 copies
Lim Soon-rye – 5 copies
ê½ƒì œë¹" 영대 – 5 copies
Across the Tumen – 3 copies
Once around the Sun – 5 copies


---

AROUND THE WEB

A miscellany of high-quality hyperlinks from the week, courtesy of SEOUL editor-in-chief Robert Koehler.

---

EVENTS

NANTA Summer Sale

Tickets for the hit Korean non-verbal performance NANTA are 20% off during the month of July. For more information, call T. 02-739-8288 or visit www.Nanta.co.kr.

Modern Terrace, More Blues Room Package

Have a cool summer retreat with a "Modern Terrace, More Blues" concert, Apple Mango Bingsoo at Granum Dining Lounge, and a room night stay. On July 31, Banyan Tree Club & Spa Seoul is introducing a funky Blues Concert at Namsan Terrace. This concert will be performed by rising stars "Blues Chamber" who have participated in a variety of concerts, festivals and sound tracks.

MORE INFO: T. 2250-8074

Sound Festival 2014

The first of its kind, Sound Festival 2014 is a project that's being launched by Sound the music magazine. Founded to expand the foundations of mainstream music, the basis of Sound is to expand people's taste in music as well as increase the number of people who listen to mainstream music in the current market; this means expanding beyond people in their teens and twenties. All too aware that the K-pop movement is severely limited in its ability to create real fans of real music, Sound is looking to increase more people who actually listen to music, as opposed to those who simply consume it. Sound's first music festival, in response to the popularization of "girl groups," or girl bands, is launching under the theme of Korea's female musicians. Come and see for yourself what the women of Korea are really singing about, because it's most likely not going to be broadcast on your television or radio.

VENUE: Mapo Arts Center
PERIOD: Jul. 18–19, 20:00 on Fri., 15:00 & 20:00 on Sat.
MORE INFO: T. 02-575-9123 , www.mapoartcenter.or.kr
ADMISSION: KRW 44,000–55,000
GETTING THERE: Daeheung Station 대흥역 (Line 6), Exit 2. Go straight and turn right at the intersection.

Boryeong Mud Festival

Anyone who's been to Korea or even anyone who's considered visiting Korea has probably heard of the Boryeong Mud Festival. The festival started out in 2007, and now attracts more than 2 million visitors a year to Boryeong, which is about 200 kilometers south of Seoul. What is the mud festival all about? It's not complicated: you throw mud at each other, bathe in mud, and do everything in the mud—with about 2 million other people. The mud is taken from the mud flats nearby and transferred to Daecheon beach, where the festivities are held. The reason why the festival is held at Daecheon beach and not the actual mud flats is that people would have a very hard time standing on the mud flats without sinking. Although simple in concept, the festival's massive popularity has now made it the town's greatest tourist attraction. The festival has become extremely popular with foreign tourists—perhaps even more so than with locals—as well as American military stationed in Korea.

VENUE: Daecheon Beach in Boryeong, Chungcheongnam-do
PERIOD: Jul. 18–27
MORE INFO: T. 010-5438-4865, www.boryeongmudfestival.com
ADMISSION: TBA

RAS-KB Lecture: Sassanggye [World of Thought] and the evolution of the Public Sphere in 1950s Korea

This talk will outline the evolution of the intellectual journal, Sasanggye, and its role in the creation of a post-colonial public sphere in South Korea. Begun as an narrow intellectual journal, it soon broadened its content to cover every aspect of politics, economics, social, even religious life. It was a forum split between an anti-communist message and a progressive political agenda as it emerged in the late 1950s as a major antagonist to Syngman Rhee, a lightning rod for student activism, and ultimately a thorn in the side of the leaders of the Military Coup of 1961.

VENUE: Second floor Residents' Lounge, Somerset Palace
DATE: July 15, 7:30 PM
ADMISSION: 7,000 won (non-member); free for members
MORE INFO: See this link.
GETTING THERE: See link above.


---

EVERYDAY KOREANS

Sunrise at Yangsu-ri, Yangpyeong, Gyeonggi-do. Photographed by Robert Koehler.

NOTIFICATIONS

Seoul Selection Offline Bookshop Sale – One of the greatest repositories of Korea-related English-language books anywhere, Seoul Selection is offering a 10% sale on any and all books published by Seoul Selection purchased from our OFFLINE bookshop next to Gyeongbokgung Palace.

Looking for Translators – Seoul Selection is looking for a few good translators (Korean to English) for general translation work. Those interested should send a resume and cover letter to Kyehyun at atoz@seoulselection.com. Experienced translators only.

Seoul Selection eBooks – You can purchase some Seoul Selection titles in ebook format via Amazon.com (for Kindle) and Apple's iBookstore. Titles include Ask a Korean Dude, Moon Tides, Doing Business in Korea, Once Around the Sun, and seven volumes of our Korean Film Directors series: BONG Joon-ho, IM Kwon-taek, KIM Jee-woon, LEE Chang-dong, LEE Man-hee, PARK Chan-wook, and SHIN Sang-ok.

Send Your Event Info – If you would like to advertise any upcoming events you are organizing, please send us the press release material at pubco@seoulselection.com by the preceding Friday in order for it to appear in the following Tuesday's issue.

Freelance Contributors Wanted – SEOUL Magazine needs writers who are fluent in both Korean and English. Writers should have a strong interest in Korean culture and be able to interview Koreans. Send your resume and writing samples to english@seoulselection.com.

We Buy & Sell Used Books – Seoul Selection buys and sells used books in English. Unlike our regular selection of publications that specialize in Korea-related topics, our Used Book section carries books on all subjects. It's all part of our effort to make life easier for the English-speaking community.

SEOUL (July 2014)


Buy Books at Seoul Selection's ONLINE Bookshop!




---

---

RECOMMENDED


Get It Korean Speaking 1

---

NEW BOOKS


What Has Yet to Happen


거침없이 한국어 3: 사회와 ì œë"


Survival Korean


Korean Abstract Painting: A Formation of Korean Avant-Garde


Contes macabres et autres merveilles de Coree


---

NEW DVDs


Hot Young Bloods


Miss Granny


Total Messed Family


The Dinner
Copyright © , All rights reserved.
Our mailing address is:
https://magazine.seoulselection.com/wp-content/uploads/2014/07/스크린샷-2014-07-18-155104.png
584
615
rjkoehler
https://magazine.seoulselection.com/wp-content/uploads/2018/01/Seoul-logo.png
rjkoehler
2014-07-18 06:49:46
2014-07-18 15:52:43
SEOUL Weekly: Seoul Selection Free Book Give-away