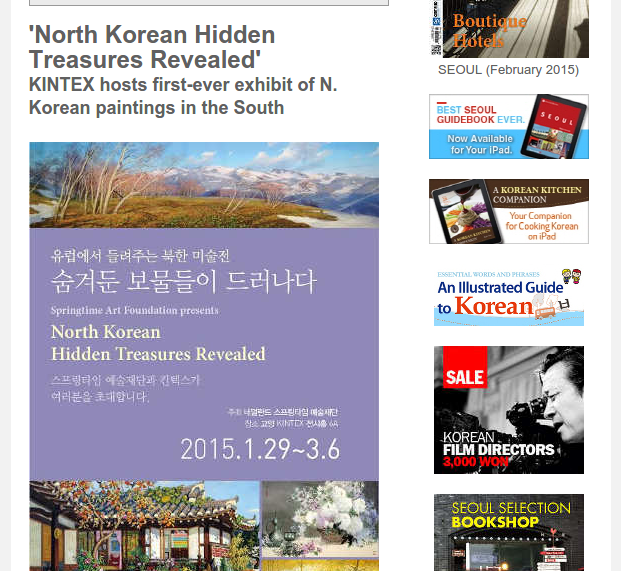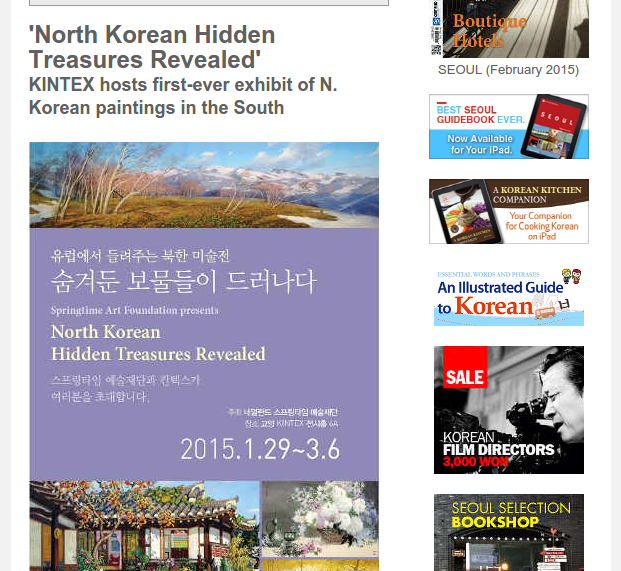 Jan. 22, 2014 / Issue No. 668

SEOUL Discussion: Studying in Korea, Studying Overseas

SEOUL Magazine would like to host a panel discussion on studying overseas for our March issue. We are looking for international students studying in Korea and Korean students who have studied or are studying overseas who can talk about their experiences. If you're interested, please email Claire at english@seoulselection.com: include your name, age, occupation, in which countries you've studied, when you'd be available and, in the case of international students in Korea, how long you've been here.

'North Korean Hidden Treasures Revealed'
KINTEX hosts first-ever exhibit of N. Korean paintings in the South

The Springtime Art Foundation of the Netherlands presents "North Korean Hidden Treasures Revealed," an exhibition of about 150 paintings by 70 North Korean artists, some of whom are international award-winners. The exhibition, which has already toured Europe, is the first exhibition featuring artwork by North Korean artists held in South Korea.

VENUE: KINTEX, Hall 6A
PERIOD: Jan. 29–March 6
ADMISSION: TBA
MORE INFO: T. 031-995-8183
GETTING THERE: 15 minute walk from Exit 2, Daehwa Station (Line 3)


---

AROUND THE WEB

A miscellany of high-quality hyperlinks from the week, courtesy of SEOUL editor-in-chief Robert Koehler.

---

EVENTS

Rent Corea



If you're looking for a quiet, high-end place to live in Seoul, Rent Korea is the place to go.

Rent Korea has 15 years of experience helping international residents of Seoul and Korea relocate and find rental properties. They'll find exactly what you're looking for, from apartments to houses.

MORE INFO: T. 02-755-0001, 010-4323-0991 (Juile), hello@rentCorea.com. See this website, too.

Vienna Boys New Year's Concert

There are many boys choirs that visit Korea during the New Year season, but none can match the history and tradition of the Vienna Boys Choir. The roots of the choir date back to the 15th century court of Maximilian I, the Holy Roman Emperor. In 1498, by the order of the Emperor, the choir was established to accompany music during mass. There are countless musicians and composers that have gone through the choir since then. Shubert and Haydn were members of the choir, Beethoven and Mozart have conducted the choir, and Brukner wrote hymnals for the choir. The legacy continues to this day as the choir performs with the world's finest orchestras, such as the Vienna Philharmonic and the London Philharmonic. The choir selects its members through auditions that occur only twice a year. Once recruited as a member, the boys move into Palais Augarten, which serves as a boarding school for the choir. The boys go through extensive training, and when they turn ten, they get placed into sub-groups Mozart, Shubert, Haydn and Brukner for world tours and recording projects. The New Year's concert program will include medieval chants, waltzes, polka and folk music from around the globe. The choir will tour around other cities in Korea as well. Other than Seoul, they will be visiting Jeonju, Busan, Yeosu, Namdong and Nowon.

VENUE: Concert Hall, Seoul Arts Center
DATE: Jan. 24
MORE INFO: T. 1577-5266, www.sac.or.kr
ADMISSION: KRW 30,000–100,000
GETTING THERE: Nambu Bus Terminal Station 남부터미널역 (Line 3), Exit 5. Transfer to shuttle bus, or green bus No. 4429.

Africa Now: Political Patterns

Members of the African diasporas around the world have joined artists living in Africa to present a collection of works showcasing contemporary movements in African art. The exhibition will feature 21 artists and over 100 pieces, including installations, drawings, sculptures and films. The overarching theme of the collection will be a depiction of the struggle faced by Africa and Africans in relation to imperialism, minority identity, slavery, religious conflict, nationalism and multicultural issues in post-colonial societies. Overall, the exhibition is intended to provide an opportunity for Koreans to better understand the social plurality that African communities have fought so hard to achieve. This event will mark the first time that Korea has hosted a large-scale exhibition spotlighting works by African artists, and will include works from artists such as Yinka Shonibare, Chris Ofili and Kehinde Wiley.

VENUE: Seoul Museum of Art
PERIOD: Thru Feb. 15
MORE INFO: T. 02-2124-8800, sema.seoul.go.kr
ADMISSION: Free
GETTING THERE: Walk along the Deoksugung Doldam-gil from Exit of City Hall Station, Line 1.

2015 Cinematheque Friends Film Festival

Seoul Art Cinema is a movie theater run by local nonprofit the Korean Association of Cinematheques. Every year, Seoul Art Cinema holds the Cinematheque Friends Film Festival, an event where the organization invites its supporters to view notable films selected by notable film critics and directors. This year's selection panel includes directors such as Park Chan-wook and Bong Jun-ho, and most of the supporting directors and critics will also hold small panel discussions after the screening of the film they chose. For the festival's opening ceremony, Charlie Chaplin's "City Lights" will be screened along with a live music performance.

VENUE: Seoul Art Cinema
PERIOD: Thru Feb. 15
MORE INFO: T. 02-741-9782, www.cinematheque.seoul.kr
ADMISSION: KRW 8,000
GETTING THERE: Jongno 3-ga Station 종로3가역 (Lines 1, 3 or 5), Exit 5. Walk straight for 5 minutes. The theater is located in the Nagwon Arcade.

RASKB Excursion: Winter Break in Gwangneung & Sanjeong Lake

A favorite "break the winter blahs" excursion, this will help to cure that feeling of cabin fever! The RAS prescription is to get out into the countryside and back in touch with nature. This excursion will take us to Gwangneung, the tomb of King Sejo and his queen, located near Seoul in a picturesque National Forest Reserve, and then on to the enchanting Sanjong Lake.

VENUE: Gyeonggi-do
DATE: Jan. 25
MORE INFO: See this link.
ADMISSION: KRW 55,000–66,000
GETTING THERE: See link above.


---

EVERYDAY KOREANS

Hangang Park on a cloudy winter day. Photographed by Robert Koehler.

NOTIFICATIONS

Seoul Selection's Free Book Giveaway – Our free book give-away continues! Check out the list in last week's newsletter here.

Seoul Selection Offline Bookshop Sale – One of the greatest repositories of Korea-related English-language books anywhere, Seoul Selection is offering a 10% sale on any and all books published by Seoul Selection purchased from our OFFLINE bookshop next to Gyeongbokgung Palace.

Looking for Translators – Seoul Selection is looking for a few good translators (Korean to English) for general translation work. Those interested should send a resume and cover letter to Kyehyun at atoz@seoulselection.com. Experienced translators only.

Seoul Selection eBooks – You can purchase some Seoul Selection titles in ebook format via Amazon.com (for Kindle) and Apple's iBookstore. Titles include Ask a Korean Dude, Moon Tides, Doing Business in Korea, Once Around the Sun, and seven volumes of our Korean Film Directors series: BONG Joon-ho, IM Kwon-taek, KIM Jee-woon, LEE Chang-dong, LEE Man-hee, PARK Chan-wook, and SHIN Sang-ok.

Send Your Event Info – If you would like to advertise any upcoming events you are organizing, please send us the press release material at pubco@seoulselection.com by the preceding Friday in order for it to appear in the following Tuesday's issue.

Freelance Contributors Wanted – SEOUL Magazine needs writers who are fluent in both Korean and English. Writers should have a strong interest in Korean culture and be able to interview Koreans. Send your resume and writing samples to english@seoulselection.com.

We Buy & Sell Used Books – Seoul Selection buys and sells used books in English. Unlike our regular selection of publications that specialize in Korea-related topics, our Used Book section carries books on all subjects. It's all part of our effort to make life easier for the English-speaking community.

SEOUL (February 2015)


Buy Books at Seoul Selection's ONLINE Bookshop!




---

---

RECOMMENDED


My Korean Grammar 1 (Elementary Level)

---

NEW BOOKS


New Topik 1 (beginner's level) Listening & Basic Vocabulary


New Topik 2 Essential Vocabulary 2000


Letter of Korean Language : Proper Usage of Hangeul


Korean Speaking Intermediate Theme-based. 1


Faces of the Festival: Poems of 12 modern Korean poets


---

NEW DVDs


Han Gong-ju


No Tears For the Dead


Futureless Things


The March of Fools


B) The Housemaid
Copyright © , All rights reserved.
Our mailing address is:
https://magazine.seoulselection.com/wp-content/uploads/2015/02/스크린샷-2015-02-05-110010.png
571
621
rjkoehler
https://magazine.seoulselection.com/wp-content/uploads/2018/01/Seoul-logo.png
rjkoehler
2015-02-05 01:59:48
2015-02-05 11:03:16
SEOUL Weekly: 'North Korean Hidden Treasures Revealed'