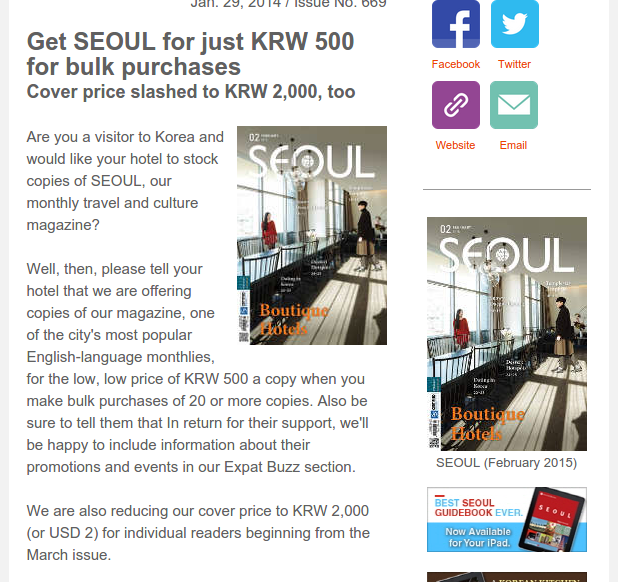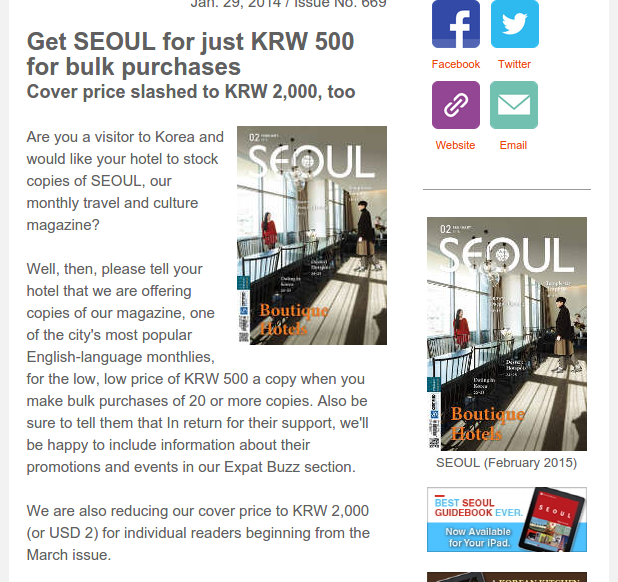 Jan. 29, 2014 / Issue No. 669

Get SEOUL for just KRW 500 for bulk purchases




Cover price slashed to KRW 2,000, too

Are you a visitor to Korea and would like your hotel to stock copies of SEOUL, our monthly travel and culture magazine?

Well, then, please tell your hotel that we are offering copies of our magazine, one of the city's most popular English-language monthlies, for the low, low price of KRW 500 a copy when you make bulk purchases of 20 or more copies. Also be sure to tell them that In return for their support, we'll be happy to include information about their promotions and events in our Expat Buzz section.

We are also reducing our cover price to KRW 2,000 (or USD 2) for individual readers beginning from the March issue.

Since we're talking about SEOUL, the February issue of SEOUL is out and in stores.

In this issue, we visit some boutique hotels, travel to the snowy highlands of the Daegwallyeong Pass, talk about multicultural dating in Korea, experience the Templestay program of Beopjusa Temple and much, much more. And don't forget, you can read it on your mobile device by downloading our app (iOS, Android).

---

AROUND THE WEB

A miscellany of high-quality hyperlinks from the week, courtesy of SEOUL editor-in-chief Robert Koehler.

---

EVENTS

YISS Open house

YISS is a Kindergarten (age 5) through 12th grade college-preparatory international school where a commitment to academic excellence is fostered through the encouragement of exploration, risk taking and inquisitiveness. Accredited by both WASC and ACSI, YISS offers a well-rounded educational program based on the U.S. model, fostering a student body of over 1,000 pupils representing more than 50 different countries.

VENUE: YISS
DATE: Feb. 3, 10 AM
MORE INFO: See this link.
GETTING THERE: See this map.

Templestay: Beopjusa

Beopjusa, or "Temple Where the Dharma Dwells,†was founded in 553 during the reign of King Jinheung (r. 540-576) of the Silla Kingdom (57 B.C.-A.D. 935). It would develop into the largest and most important Buddhist temple in the central Hoseo region, or what is known today as the Chungcheong-do provinces. During the Goryeo Dynasty (918-1392) — the temple's heyday — Beopjusa's 70 halls housed as many as 3,000 monks, overseeing about 70 hermitages in the surrounding mountains.

Even today, the temple remains an important and active center of Korean Buddhism. It is home to no less than 43 cultural properties, including the temple itself as well as the breathtaking Palsangjeon Hall, one of Korea's few remaining wooden pagodas. Standing five stories high, the ornate structure cuts an impressive figure against the verdant hillsides and deep blue sky.

Like many of Korea's other major Buddhist temples and monasteries, Beopjusa hosts a number of rewarding Templestay programs, which has existed since 2002. These short recesses from one's daily routine allow participants to have a brief experience of Korean temple life and gain a deeper appreciation for Korea's 1,700-year-old Buddhist tradition. They also offer a much-needed chance to unplug and, perhaps — if you're lucky — discover a bit of your "true self.â€

MORE INFO: See this link.

Giorgio Morandi: Dialogue with Morandi

Italian painter Giorgio Morandi (1890-1964) specialized in still life and landscape scenes, producing works that have gained renown for their subtlety and simplicity. Rather than being swayed by popular philosophies and techniques at the time, Morandi quietly and methodically practiced his own investigation into the metaphysical nature of the objects he encountered every day — items such as bottles, vases and books. So dedicated was Morandi to the visual shape and forms of his subjects, he is known to have taken extensive measures to remove anything that would distract from the composition, including the labels or other unnecessary decoration. The exhibition features 40 pieces of Morandi's work, and will also display works of Morandi's Korean contemporaries.

VENUE: National Museum of Modern and Contemporary Art, Deoksugung
PERIOD: Thru Feb. 25
MORE INFO: T. 02-2022-0600, www.mmca.go.kr
ADMISSION: KRW 4,000-9,000
GETTING THERE: Exit 2, City Hall Station (Line 1 or 2)

Henri Cartier-Bresson

The landmark Dongdaemun Design Plaza is hosting a retrospective to mark the 10th anniversary of legendary French photographer Henri Cartier-Bresson's death. The exhibition features 259 original prints never before seen in Korea. Cartier-Bresson is considered the father of photojournalism and street photography and is one of the founders of Magnum Photos.

VENUE: Dongdaemun Design Plaza
PERIOD: Thru Mar. 1
MORE INFO: T. 02-735-4237, www.hcb2014.co.kr
ADMISSION: KRW 7,000-12,000
GETTING THERE: Dongdaemun History & Culture Park Station ë™ëŒ€ë¬¸ì—­ì'¬ë¬¸í™"ê³µì›ì—­ (Line 2, 4 or 5), Exit 1

Michael Buble: To Be Loved Tour in Seoul

Four-time Grammy award-winning singer Michael Buble is coming to Seoul for the first time!

This tour is the Canadian's fifth worldwide, and his very first Asia tour. Buble's "To Be Loved Tour†album, with its hit single "It's a Beautiful Day," is an entertaining mix of jazz, swing and pop with a retro Rat Pack, big-band feel.

VENUE: Jamsil Indoor Stadium
DATE: Feb. 4
MORE INFO: T. 02-2240-8000
ADMISSION: KRW 99,000-253,000
GETTING THERE: Sports Complex Station 종합운ë™ìž¥ì—­ (Line 2), Exit 6 or 7

'North Korean Hidden Treasures Revealed'



The Springtime Art Foundation of the Netherlands presents "North Korean Hidden Treasures Revealed," an exhibition of about 150 paintings by 70 North Korean artists, some of whom are international award winners. The exhibition, which has already toured Europe, is the first exhibition featuring artwork by North Korean artists held in South Korea.

VENUE: KINTEX, Hall 6A
PERIOD: Jan. 29-March 6
ADMISSION: TBA
MORE INFO: T. 031-995-8183
GETTING THERE: A 15-minute walk from Exit 2, Daehwa Station (Line 3) 

RASKB Excursion: Korean War Remains and Migratory Birds in Cheorwon

Prior to the division of Korea, Cheorwon was a sizable town. The junction of the Seoul-Wonsan and the Mt. Geumgangsan lines, it was a major transportation hub. After the division of Korea, however, the city — located north of the 38th parallel — fell under North Korean control. The worst came during the Korean War: as the southern point of the Iron Triangle (a major invasion route to Seoul), the city was wiped off the map by merciless shelling, mostly courtesy the Americans.

After the war, the city was never rebuilt, per se, although a "New†Cheorwon was built several kilometers away. Old Cheorwon is now rice paddies and hills — much of where the old town used to be, in fact, lies across the Civilian Control Line, a military district bounding the DMZ where entry is by permit only. For Korean history buffs, however, the paddies are dotted with several ruins and bombed-out buildings from the period that are well-worth seeing, including the iconic ruins of the local headquarters of the Workers Party of Korea, North Korea's ruling party. Also in Cheorwon is the Seungil-gyo, sometimes called "Korea's Bridge Over the River Kwai,†a scenic arch bridge that, depending on who you believe, was either started by the North Koreans and finished by the South Koreans, or started by the Japanese and finished by the Americans.

VENUE: Gyeonggi-do
DATE: Feb 15
MORE INFO: See this link.
ADMISSION: KRW 45,000-54,000
GETTING THERE: See link above.

---

EVERYDAY KOREANS

Neighborhood shop in Seoul's Ihwa Mural Village. Photographed by Robert Koehler.

NOTIFICATIONS

Seoul Selection's Free Book Giveaway – Our free book give-away continues! Check out the list in last week's newsletter here.

Seoul Selection Offline Bookshop Sale – One of the greatest repositories of Korea-related English-language books anywhere, Seoul Selection is offering a 10% sale on any and all books published by Seoul Selection purchased from our OFFLINE bookshop next to Gyeongbokgung Palace.

Looking for Translators – Seoul Selection is looking for a few good translators (Korean to English) for general translation work. Those interested should send a resume and cover letter to Kyehyun at atoz@seoulselection.com. Experienced translators only.

Seoul Selection eBooks – You can purchase some Seoul Selection titles in ebook format via Amazon.com (for Kindle) and Apple's iBookstore. Titles include Ask a Korean Dude, Moon Tides, Doing Business in Korea, Once Around the Sun, and seven volumes of our Korean Film Directors series: BONG Joon-ho, IM Kwon-taek, KIM Jee-woon, LEE Chang-dong, LEE Man-hee, PARK Chan-wook, and SHIN Sang-ok.

Send Your Event Info – If you would like to advertise any upcoming events you are organizing, please send us the press release material at pubco@seoulselection.com by the preceding Friday in order for it to appear in the following Tuesday's issue.

Freelance Contributors Wanted – SEOUL Magazine needs writers who are fluent in both Korean and English. Writers should have a strong interest in Korean culture and be able to interview Koreans. Send your resume and writing samples to english@seoulselection.com.

We Buy & Sell Used Books – Seoul Selection buys and sells used books in English. Unlike our regular selection of publications that specialize in Korea-related topics, our Used Book section carries books on all subjects. It's all part of our effort to make life easier for the English-speaking community.

SEOUL (February 2015)


Buy Books at Seoul Selection's ONLINE Bookshop!

---

---

RECOMMENDED


The Korean Kitchen: 75 Healthy, Delicious and Easy Recipes
B) You Who Came From The Stars

---

NEW BOOKS
Wake Up and Laugh: The Dharma Teaching of Zen Master Daehaeng


In The Heart Of A Moment


Sogang Libro de Coreano


Korean Film Directors Set


Korean Speaking Intermediate Theme-based. 1

---

NEW DVDs
Kundo: Age of the Rampant


A Girl at My Door


Han Gong-ju


Futureless Things


B) The Housemaid
Copyright © , All rights reserved.
Our mailing address is:
https://magazine.seoulselection.com/wp-content/uploads/2015/02/스크린샷-2015-02-05-110033.png
582
618
rjkoehler
https://magazine.seoulselection.com/wp-content/uploads/2018/01/Seoul-logo.png
rjkoehler
2015-02-05 02:04:38
2015-02-08 15:39:25
SEOUL Weekly: Get SEOUL for just KRW 500 for bulk purchases