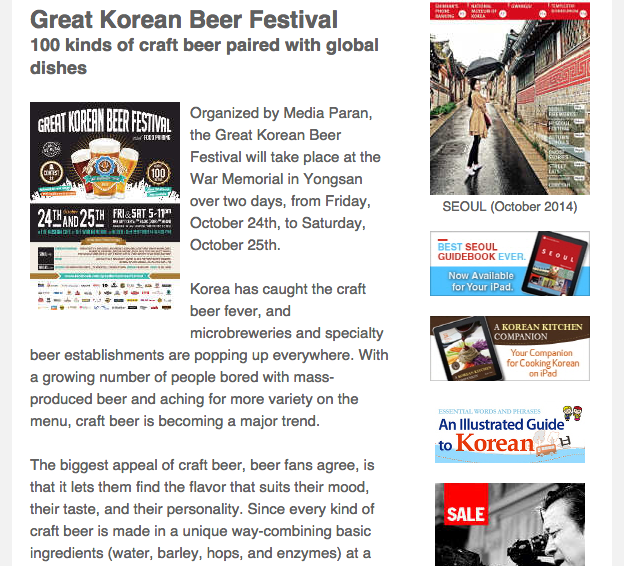 Oct. 23, 2014 / Issue No. 655

English-to-Japanese and Korean-to-Japanese Translators Needed

Seoul Selection needs an English-to-Japanese and an Korean-to-Japanese translator for a project we are working on. Only experienced translators need apply. Send a resume and a cover letter to atoz@seoulselection.com.

Great Korean Beer Festival
100 kinds of craft beer paired with global dishes

Organized by Media Paran, the Great Korean Beer Festival will take place at the War Memorial in Yongsan over two days, from Friday, October 24th, to Saturday, October 25th.

Korea has caught the craft beer fever, and microbreweries and specialty beer establishments are popping up everywhere. With a growing number of people bored with mass-produced beer and aching for more variety on the menu, craft beer is becoming a major trend.

The biggest appeal of craft beer, beer fans agree, is that it lets them find the flavor that suits their mood, their taste, and their personality. Since every kind of craft beer is made in a unique way-combining basic ingredients (water, barley, hops, and enzymes) at a different ratio and adding in various spices – the flavor of the beer depends on who's making it.

Taking place at Peace Plaza on the grounds of the War Memorial, the festival will feature 100 kinds of beers, along with foods from around the world regarded as being a good match with beer (and we're not just talking about fried chicken!). There will also be fun events such as a Halloween costume contest (KRW 3 million worth of prizes), live music, B-boy (Gamblerz Crew (on 24th)) show and nonverbal performance, along with non-alcoholic drink options. The festival is sure to be an entertaining time for couples, friends, and families.

Tickets are being sold at select locations to those who are 19 years old or above. The 30,000 won price of the tickets includes a 10,000 won cash coupon that can be used like cash at the festival. Visitors can exchange their ticket for the cash coupon when they arrive at the festival.

VENUE: War Memorial of Korea
DATE: Oct. 24–25
ADMISSION: KRW 30,000
MORE INFO: https://www.facebook.com/greatkoreanbeerfestival
GETTING THERE: Samgakji Station (Line 6), Exit 1, 11 or 12.


---

AROUND THE WEB

A miscellany of high-quality hyperlinks from the week, courtesy of SEOUL editor-in-chief Robert Koehler.

---

EVENTS

2014 Kosign

Visitors to the 22nd Korea International Sign and Design Show (KOSIGN), held from Nov. 5 to 8 at COEX, will experience a whole new side to the sign industry, as the exhibition will be held together with 3D Printing Korea 2014 for the first time.

Jointly organized by COEX and Korea's 3D Printing Industrial Association, 3D Printing Korea will present a range of 3D printers, printing materials, scanners, software, prototypes and organizations for research and education. Participants will also hear from industry leaders and specialists about this new generation of printing technology.

Adding to the impressive range of digital sign and design items KOSIGN, 3D Printing 2014 is expected to further boost the show's reputation as a comprehensive business platform for the global signage and printing market. KOSIGN is the largest exhibition in the Korean outdoor advertising and digital printing industry, with last year's event showcasing 179 exhibitors across 641 booths to more than 10,000 visitors.

VENUE: COEX
DATE: Nov. 5–8
MORE INFO: http://kosign.info, kosign.info@coex.co.kr
GETTING THERE: Samseong Station, Line 2

The Silk Road Ensemble & Yo-Yo Ma

Inspired by a desire to see the world while bridging the gaps between different cultures, disciplines and generations, cellist Yo-Yo Ma founded a nonprofit organization called The Silk Road Project in 1998. It was designed to promote collaboration among various artists and institutions, as well as to boost intercultural exchange along the "silk road," or Eurasian countries. The Silk Road Ensemble was formed in 2000 as part of the Silk Road Project, and is intended to be a fluid gathering of musicians rather than a fixed group, usually composed of anywhere between 50 to 60 different musicians, composers, arrangers and even storytellers. The group serves as a way for innovative performers and composers from around the world to gather and make music that's both fresh and traditional. Yo-Yo Ma is a cellist who was born in Paris to Chinese immigrant parents, and moved to New York City at age 5. He performed for Presidents Dwight D. Eisenhower and John F. Kennedy when he was only 7 years old.

VENUE: Seoul Arts Center, Concert Hall
DATE: Oct. 28, 20:00
MORE INFO: T. 02-1544-1555, www.sac.or.kr
ADMISSION: KRW 50,000–180,000
GETTING THERE: Nambu Bus Terminal Station 남부터미널역 (Line 3), Exit 5. Transfer to shuttle bus, or green bus No. 4429.

The Divine Comedy

Italian poet and politician Dante wrote his epic when he was in exile between 1308 and his death in 1321. It has since cemented itself in the Western world as one of the greatest pieces of literature ever written, and is certainly a representative piece from medieval Italy. Outlining his allegorical view on the afterlife—sometimes comic, sometimes horrific, almost always tragic—"The Divine Comedy" offers a representative portrait of the medieval worldview and its take on morality and mortality. In addition to being a journal through Heaven, Hell and Purgatory, it is also a ruthless and insightful breakdown of human history, politics, religion and sociology. The National Theater of Korea brings audiences this timeless classic by adding a modern twist—adding elements of pansori, a traditional genre of musical narrative, and orchestral music.

VENUE: National Theater of Korea
PERIOD: Oct. 31–Nov. 8
MORE INFO: T. 02-2280-4114~6, www.ntok.go.kr
ADMISSION: KRW 30,000–70,000
GETTING THERE: Dongguk Univ. Station 동대입구 (Line 3), Exit 2

The Blue and White Porcelain of The Joseon Dynasty

This is the largest exhibition of Joseon's blue and white porcelain to ever be held in the country, and will feature several exquisite works of timeless craft, including 10 registered cultural relics. First created in China, blue and white porcelain came to be known as "chinoiserie" in the West, where it influenced much of the porcelain used in Europe from 18th century onwards. Joseon's version first appeared in the 15th century, being the second country to learn the craft after China. Relatively unknown compared to its counterparts, Joseon porcelain was made only by officially ordained artisans and remained an essential part of royal life until the late 19th century. Some pieces will be on public display for the first time since the Japanese Occupation.

VENUE: National Museum of Korea
PERIOD: Thru Nov. 16
MORE INFO: T. 02-2077-9265, www.museum.go.kr
ADMISSION: KRW 2,500–5,000
GETTING THERE: Take the underpass at Ichon Station 이촌역 (Jungang Line, Line 4).

RASKB Excursion: Mt. Seoraksan and Waterpia

The RAS will once again offer you its very popular excursion to the magnificent Mr. Seoraksan in Gangwon-do. In addition to the usual magnificent beauty of this scenic area, participants will have two options of dipping in to the local Cheoksan hot springs, first night, and to even extend the chill-out to second day, at the Seorak Waterpia. This is a Hot-spring resort which features a Spa, hot sauna, 18 kinds or artificial waves and more. For those who would rather skip the options and enjoy the mountain range instead, you are guaranteed to enjoy the excursion just as much.

VENUE: Gangwon-do
DATES: Oct. 25–26
MORE INFO: See this link.
COST: KRW 258,000–288,000
GETTING THERE: See link above.


---

EVERYDAY KOREANS

Autumn at Gyeongbokgung Palace. Photographed by Robert Koehler.

NOTIFICATIONS

Seoul Selection's Free Book Giveaway – Our free book give-away continues! Check out the list in last week's newsletter here.

Seoul Selection Offline Bookshop Sale – One of the greatest repositories of Korea-related English-language books anywhere, Seoul Selection is offering a 10% sale on any and all books published by Seoul Selection purchased from our OFFLINE bookshop next to Gyeongbokgung Palace.

Looking for Translators – Seoul Selection is looking for a few good translators (Korean to English) for general translation work. Those interested should send a resume and cover letter to Kyehyun at atoz@seoulselection.com. Experienced translators only.

Seoul Selection eBooks – You can purchase some Seoul Selection titles in ebook format via Amazon.com (for Kindle) and Apple's iBookstore. Titles include Ask a Korean Dude, Moon Tides, Doing Business in Korea, Once Around the Sun, and seven volumes of our Korean Film Directors series: BONG Joon-ho, IM Kwon-taek, KIM Jee-woon, LEE Chang-dong, LEE Man-hee, PARK Chan-wook, and SHIN Sang-ok.

Send Your Event Info – If you would like to advertise any upcoming events you are organizing, please send us the press release material at pubco@seoulselection.com by the preceding Friday in order for it to appear in the following Tuesday's issue.

Freelance Contributors Wanted – SEOUL Magazine needs writers who are fluent in both Korean and English. Writers should have a strong interest in Korean culture and be able to interview Koreans. Send your resume and writing samples to english@seoulselection.com.

We Buy & Sell Used Books – Seoul Selection buys and sells used books in English. Unlike our regular selection of publications that specialize in Korea-related topics, our Used Book section carries books on all subjects. It's all part of our effort to make life easier for the English-speaking community.

SEOUL (October 2014)


Buy Books at Seoul Selection's ONLINE Bookshop!




---

---

RECOMMENDED


And So Flows History

---

NEW BOOKS


Gugak: Traditional Korean Music Today


Contemporary Korean Theater : Beyond Tradition and Modernization


Contemporary Korean Ballet : Scenes and Stars


INTRODUCTION TO KOREAN CULTURE


Rat Fire: Korean Stories from the Japanese Empire


---

NEW DVDs


Experience Korea through your five senses


Obsessed


The Target


Her Lovely Heels


The Attorney
Copyright © , All rights reserved.
Our mailing address is:
https://magazine.seoulselection.com/wp-content/uploads/2014/10/Screen-Shot-2014-10-24-at-4.53.44-AM.png
566
624
rjkoehler
https://magazine.seoulselection.com/wp-content/uploads/2018/01/Seoul-logo.png
rjkoehler
2014-10-23 19:57:28
2014-10-24 04:58:48
SEOUL Weekly: Great Korean Beer Festival