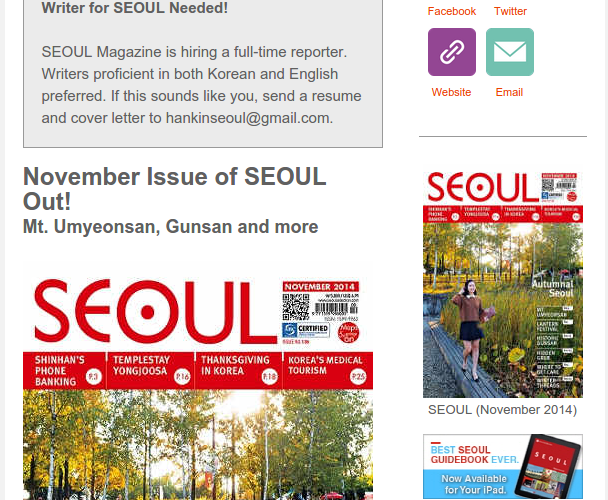 Oct. 29, 2014 / Issue No. 656

Writer for SEOUL Needed!

SEOUL Magazine is hiring a full-time reporter. Writers proficient in both Korean and English preferred. If this sounds like you, send a resume and cover letter to hankinseoul@gmail.com.

November Issue of SEOUL Out!
Mt. Umyeonsan, Gunsan and more

As the autumn foliage turns, keep yourself warm with a copy of the November issue of SEOUL, our monthly travel and culture magazine.

In this issue of SEOUL, we explore the Mt. Umyeonsan area of Gangnam, check out the colonial-era monuments of Gunsan, experience the Templestay program of Yongjoosa Temple, learn about some of Seoul's lesser known culinary gems and much, much more.

If that's not enough, there's always Goings On Around Town, our listings of the month's concerts, festivals, exhibits and other happenings. So go out and get a copy while it's still got that new magazine smell.


New interface for SEOUL Magazine app with bigger font.

Oh, and don't forget about our mobile magazine apps! (iOS, Google). We've done a bit of fine-tuning with the apps, including making the font bigger for the benefit of smartphone users.


---

AROUND THE WEB

A miscellany of high-quality hyperlinks from the week, courtesy of SEOUL editor-in-chief Robert Koehler.

---

EVENTS

A+ Dental Clinic Contact Info

The contact information for A+ Dental Clinic in our November issue of SEOUL is wrong. The correct number is +82-2-3442-7616. If you'd like to consult by text, please send your questions or concerns to 010-9325-2875.

A+ Dental Clinic provides quality care and service to Korea's expat community, and is approved to provide TRICARE services.

If you've been searching for a dentist in Korea but don't know where to go, find your perfect smile at A+ Dental Clinic

MORE INFO: www.aplusnetworks.co.kr

Turkey Day in Korea



If you're a fan of Thanksgiving in North America, then you're probably aware of how challenging it is to prepare a hearty Thanksgiving meal in Korea. Ingredients are often scarce, if not impossible to find—and even if you manage to acquire them there's no guarantee they'll be of good quality. This situation is changing, although slowly. A couple of years ago, mega markets like Costco began selling turkeys, as did some food stores in the Itaewon area, and restaurants and hotels have started to prepare full Thanksgiving meals. There's still nothing like a good home-cooked meal, however. High Street Market, an Itaewon supermarket founded two years ago by an expat Californian, was one of the first places in Korea to provide real, home-cooked Thanksgiving meals. They provide whole-cooked turkeys, roasted pork, prime rib, lamb leg and ham—all made to order and to perfection. They also offer full-fledged Thanksgiving sets, with plenty of side dishes coupled with delicious pumpkin pie. All meats are marinated for 24 hours before cooking, using top-quality seasonings. If you want to stay in for Thanksgiving but still want a gourmet meal, give High Street Market a try.

MORE INFO: Hours of Operation: 10:00–21:00, T. 02-790-5450, www.highstreet.co.kr
GETTING THERE: From Exit 2 of Itaewon Station, simply walk straight until you pass the Starbucks and IP Boutique Hotel on your left. You should see High Street Market on your left, on the second floor of the next building.

Marie Antoinette, the Musical

First performed in Tokyo in 2006, "Marie Antoinette" is a musical that was inspired by the 1979 novel of the same name by Shusaku Endo. Using the events of the French Revolution as a backdrop, the story highlights two young and beautiful women, one rich and one in living poverty. The rich woman is Marie Antoinette, queen in the court of Louis XVI, ruling in an era where nobles and aristocrats live in luxury while completely oblivious to the suffering of the working classes. She is contrasted by Margrid Arnaud who, poor and in rags, appeals to Queen Antoinette for help, but is scoffed at as the queen laughs and pours champagne on her. As the French Revolution erupts and the future of the monarchy begins to crumble, Margrid rises as a social leader while the Queen falls with the rest of the rotten system.

VENUE: Charlotte Theater
PERIOD: Nov. 1–Feb. 1, 2015
MORE INFO: T. 02-1644-0078, www.charlottetheater.co.kr
ADMISSION: KRW 50,000–140,000
GETTING THERE: Jamsil Station ìž ì‹¤ì—­ (Line 2 or 8), Exit 3. Walk straight beside Lotte Department Store and cross the road. Walk straight and turn right.

Sunchang Fermented Soybean Festival

The southwestern town of Sunchang, famous throughout Korea for its red pepper sauce and its other fermented pastes, plays host to the annual Sunchang Fermented Sauce Festival. So good is Sunchang's red pepper sauce, lauded for its benefits in fighting cancer and obesity, that it was provided to the royal court during the days of the Joseon Dynasty. Gochujang Village, a community of master red pepper sauce makers, hosts a hot sauce competition, cultural performances, exhibits and more.

VENUE: Sunchang, Jeollabuk-do
PERIOD: Oct. 30–Nov. 2
MORE INFO: T. 063-650-1611
GETTING THERE: Buses to Sunchang depart from Seoul Central City Bus Terminal (travel time: 3 hours, 30 minutes). From Sunchang Bus Terminal, take a local bus to Gochujang Village.

Jangseong Baegyang Maple Festival

The area around Baegyangsa Temple, which is part of Naejangsan National Park, is famous for its spectacular autumn foliage, some of the most beautiful in Korea. Every year, the temple's maples turn the brightest crimson, a color made all the more dramatic by the deep blue skies above. The Jangseong Baegyang Maple Festival celebrates this natural beauty with cultural performances, craft programs and food, but the real highlight here is the trees themselves.

VENUE: Baegyangsa Temple, Jeollabuk-do
PERIOD: Oct. 31–Nov. 2
MORE INFO: T. 061-392-7502
GO: Trains to Baegyangsa Station depart from Yongsan Station (travel time: 3 hours, 30 minutes). You could also take a KTX to Jangseong Station (travel time: 2 hours, 30 minutes). During peak foliage season, you may have to walk an hour from Baegyangsa Station due to heavy traffic.

Yeoncheon Jeongok-ri Paleolithic Festival

In 1977, a U.S. Army staff sergeant enjoying some leisure time happened upon some rocks where he found an ancient hand axe, a revolutionary find as it was the first proof that Paleolithic culture did in fact exist in East Asia.
The Jeongok-ri Prehistoric Site, as the spot is called today, yielded over 3,000 artifacts in the excavations that followed. Some of those remains are on display at the beautifully designed Jeongok Prehistory Museum. During the Yeoncheon Jeongok-ri Paleolithic Festival, you can take part in family-oriented programs like hands-on archeology classes and watch performances by actors doing their best to emulate the dress, customs and mannerism of Paleolithic humans.

VENUE: Jeongok-ri, Yeoncheon, Gyeonggi-do
PERIOD: Oct. 31–Nov. 2
MORE INFO: www.paleolith.org
GO: Take the Gyeongwon Line to Hantanggang Subway Station, and then take a local bus to Jeongok Prehistory Museum.

RASKB Excursion: Old Gunsan: Exploring the Remains of Colonial Korea

Once a small fishing village on Korea's West Sea coast, Gunsan developed into one of Korea's most important ports after it was opened to international trade in 1899. During the colonial era, Japanese traders, merchants and farmers settled en masse in Gunsan and the nearby Honam Plain, Korea's most fertile agricultural region, and the city became especially important as the port of exit for Korean rice exports to mainland Japan. The Japanese left an indelible imprint on the city, and while the Japanese left following Korea's liberation from colonial rule in 1945, their presence can still be felt in the city's exotic historic architecture.
In this tour, we will visit some of Gunsan's historic colonial architecture and learn a bit about Japanese colonial rule in Korea.

VENUE: Jeollabuk-do
DATES: Nov. 8
MORE INFO: See this link.
COST: KRW 60,000–72,000
GETTING THERE: See link above.


---

EVERYDAY KOREANS

Morning exercise near Oksu Station. Photographed by Robert Koehler.

NOTIFICATIONS

Seoul Selection's Free Book Giveaway – Our free book give-away continues! Check out the list in last week's newsletter here.

Seoul Selection Offline Bookshop Sale – One of the greatest repositories of Korea-related English-language books anywhere, Seoul Selection is offering a 10% sale on any and all books published by Seoul Selection purchased from our OFFLINE bookshop next to Gyeongbokgung Palace.

Looking for Translators – Seoul Selection is looking for a few good translators (Korean to English) for general translation work. Those interested should send a resume and cover letter to Kyehyun at atoz@seoulselection.com. Experienced translators only.

Seoul Selection eBooks – You can purchase some Seoul Selection titles in ebook format via Amazon.com (for Kindle) and Apple's iBookstore. Titles include Ask a Korean Dude, Moon Tides, Doing Business in Korea, Once Around the Sun, and seven volumes of our Korean Film Directors series: BONG Joon-ho, IM Kwon-taek, KIM Jee-woon, LEE Chang-dong, LEE Man-hee, PARK Chan-wook, and SHIN Sang-ok.

Send Your Event Info – If you would like to advertise any upcoming events you are organizing, please send us the press release material at pubco@seoulselection.com by the preceding Friday in order for it to appear in the following Tuesday's issue.

Freelance Contributors Wanted – SEOUL Magazine needs writers who are fluent in both Korean and English. Writers should have a strong interest in Korean culture and be able to interview Koreans. Send your resume and writing samples to english@seoulselection.com.

We Buy & Sell Used Books – Seoul Selection buys and sells used books in English. Unlike our regular selection of publications that specialize in Korea-related topics, our Used Book section carries books on all subjects. It's all part of our effort to make life easier for the English-speaking community.

SEOUL (November 2014)


Buy Books at Seoul Selection's ONLINE Bookshop!




---

---

RECOMMENDED


Transformation of Modern Korean Sport: Imperialism, Nationalism, Globalization

---

NEW BOOKS


Arirang Korean Art Song: International Edition


Self-Learning Korean the Easy Way


Yonsei Korean in 3 weeks 1


Yonsei Korean in 3 weeks 2


Anthology of Korean Traditional Patterns


---

NEW DVDs


Cheer Up, Mr. Lee


Shuttlecock


For the Emperor


Experience Korea through your five senses


Obsessed
Copyright © , All rights reserved.
Our mailing address is:
https://magazine.seoulselection.com/wp-content/uploads/2014/10/스크린샷-2014-10-29-171315.png
500
608
rjkoehler
https://magazine.seoulselection.com/wp-content/uploads/2018/01/Seoul-logo.png
rjkoehler
2014-10-29 08:25:55
2014-10-29 17:37:02
SEOUL Weekly: November Issue of SEOUL Out!