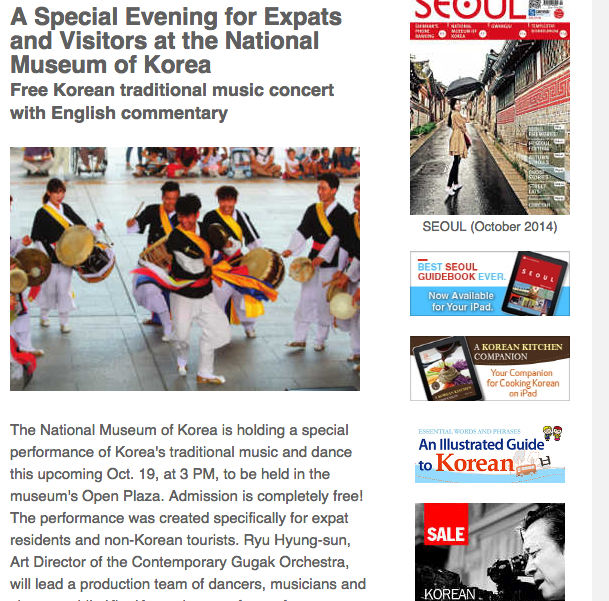 Oct. 15, 2014 / Issue No. 654

Bookshop Video Wanted

Seoul Selection bookshop is looking for volunteers to shoot some videos of our bookshop to help promote what we do. If you are interested, send an email to publisher@seoulselection.com

A Special Evening for Expats and Visitors at the National Museum of Korea
Free Korean traditional music concert with English commentary



The National Museum of Korea is holding a special performance of Korea's traditional music and dance this upcoming Oct. 19, at 3 PM, to be held in the museum's Open Plaza. Admission is completely free! The performance was created specifically for expat residents and non-Korean tourists. Ryu Hyung-sun, Art Director of the Contemporary Gugak Orchestra, will lead a production team of dancers, musicians and singers, while Kim Kyong-hee, professor from Sukmyung Women's University, will conduct the traditional orchestra. To enhance the spectator's experience, Professor Kim Hee-sun, specialist in Music Anthropology and Korean Studies, will moderate the performances with historical insight and cultural explanations. All moderations will be made in both English and Korean. Along variations of the classic "Arirang," the audiences will be introduced to a variety of traditional music and dance under a beautiful autumn sky.

As an added bonus, those with foreign passports will be given a 20 percent discount off admission to the museum's special exhibition, "Blue and White Porcelain of the Joseon Dynasty."

VENUE: National Museum of Korea
DATE: Oct. 19, 3 PM
MORE INFO: www.museum.go.kr or www.joseonchunghwa.com
ADMISSION: KRW 2,500–5,000 (special exhibit)
GETTING THERE: Ichon Station, Line 4


---

AROUND THE WEB

A miscellany of high-quality hyperlinks from the week, courtesy of SEOUL editor-in-chief Robert Koehler.

---

EVENTS

Seoul Eulalia Festival

Located in the eastern end of town by World Cup Stadium, Haneul Park is a former landfill that has been transformed into one of Seoul's most beautiful parks. In autumn, its endless fields of eulalia grass turn into a shimmering sea of silver. The most popular time to visit is during the Seoul Eulalia Festival, when the fields are lit up at night, but the best time to visit in this writer's opinion is sunrise, when the reeds glow red in the light of the rising sun. The views of the Hangang River, Mt. Namsan and Bukhansan National Park are inspiring.

VENUE: Haneul Park
PERIOD: Oct. 18–27
GETTING THERE: World Cup Stadium Station 월드컵경기장역 (Line 6), Exit 1

Mr. Show

M&M Productions and renowned musical director Kolleen Park present Korea's first top-class male review. Come see eight hot Korean guys strip down and grind away on stage. Needless to say, this is an adults-only show, and no men allowed!

VENUE: Kwanglim Arts Center
PERIOD: Thru Oct. 29
MORE INFO: www.mrshow.co.kr (Korean only)
ADMISSION: KRW 60,000
GETTING THERE: A short walk from Exit 5 of Apgujeong Station, Line 3.

RASKB Excursion: Mt. Seoraksan and Waterpia

The RAS will once again offer you its very popular excursion to the magnificent Mr. Seoraksan in Gangwon-do. In addition to the usual magnificent beauty of this scenic area, participants will have two options of dipping in to the local Cheoksan hot springs, first night, and to even extend the chill-out to second day, at the Seorak Waterpia. This is a Hot-spring resort which features a Spa, hot sauna, 18 kinds or artificial waves and more. For those who would rather skip the options and enjoy the mountain range instead, you are guaranteed to enjoy the excursion just as much.

VENUE: Gangwon-do
DATES: Oct. 25–26
MORE INFO: See this link.
COST: KRW 258,000–288,000
GETTING THERE: See link above.


---

EVERYDAY KOREANS

People walk on the Seoul Station Overpass, which Seoul City plans to turn into a park. Photographed by Robert Koehler.

NOTIFICATIONS

Seoul Selection's Free Book Giveaway – Our free book give-away continues! Check out the list in last week's newsletter here.

Seoul Selection Offline Bookshop Sale – One of the greatest repositories of Korea-related English-language books anywhere, Seoul Selection is offering a 10% sale on any and all books published by Seoul Selection purchased from our OFFLINE bookshop next to Gyeongbokgung Palace.

Looking for Translators – Seoul Selection is looking for a few good translators (Korean to English) for general translation work. Those interested should send a resume and cover letter to Kyehyun at atoz@seoulselection.com. Experienced translators only.

Seoul Selection eBooks – You can purchase some Seoul Selection titles in ebook format via Amazon.com (for Kindle) and Apple's iBookstore. Titles include Ask a Korean Dude, Moon Tides, Doing Business in Korea, Once Around the Sun, and seven volumes of our Korean Film Directors series: BONG Joon-ho, IM Kwon-taek, KIM Jee-woon, LEE Chang-dong, LEE Man-hee, PARK Chan-wook, and SHIN Sang-ok.

Send Your Event Info – If you would like to advertise any upcoming events you are organizing, please send us the press release material at pubco@seoulselection.com by the preceding Friday in order for it to appear in the following Tuesday's issue.

Freelance Contributors Wanted – SEOUL Magazine needs writers who are fluent in both Korean and English. Writers should have a strong interest in Korean culture and be able to interview Koreans. Send your resume and writing samples to english@seoulselection.com.

We Buy & Sell Used Books – Seoul Selection buys and sells used books in English. Unlike our regular selection of publications that specialize in Korea-related topics, our Used Book section carries books on all subjects. It's all part of our effort to make life easier for the English-speaking community.

SEOUL (October 2014)


Buy Books at Seoul Selection's ONLINE Bookshop!




---

---

RECOMMENDED


Han Sorya and North Korean Literature

---

NEW BOOKS


Koreana Autumn 2014


Reflections Of A Zen Buddhist Nun


Landlords, Peasants and Intellectuals in Modern Korea


Death, Mourning And The Afterlife In Korea


The Origins of the Choson Dynasty


---

NEW DVDs


A Devilish Homicide


Broken


Mr. Perfect


The Ugly Duckling


Believe Me
Copyright © , All rights reserved.
Our mailing address is:
https://magazine.seoulselection.com/wp-content/uploads/2014/10/Screen-Shot-2014-10-24-at-4.53.10-AM.png
601
609
rjkoehler
https://magazine.seoulselection.com/wp-content/uploads/2018/01/Seoul-logo.png
rjkoehler
2014-10-23 19:54:34
2014-10-24 04:56:34
SEOUL Weekly: A Special Evening for Expats and Visitors at the National Museum of Korea