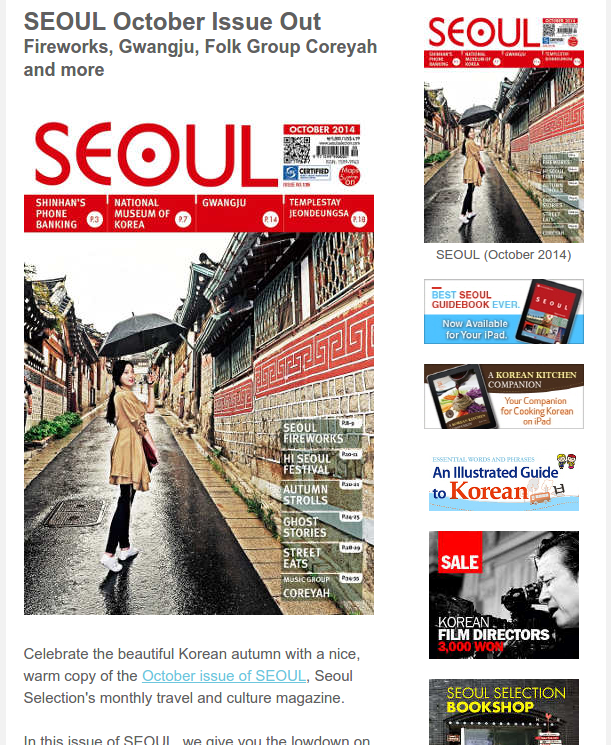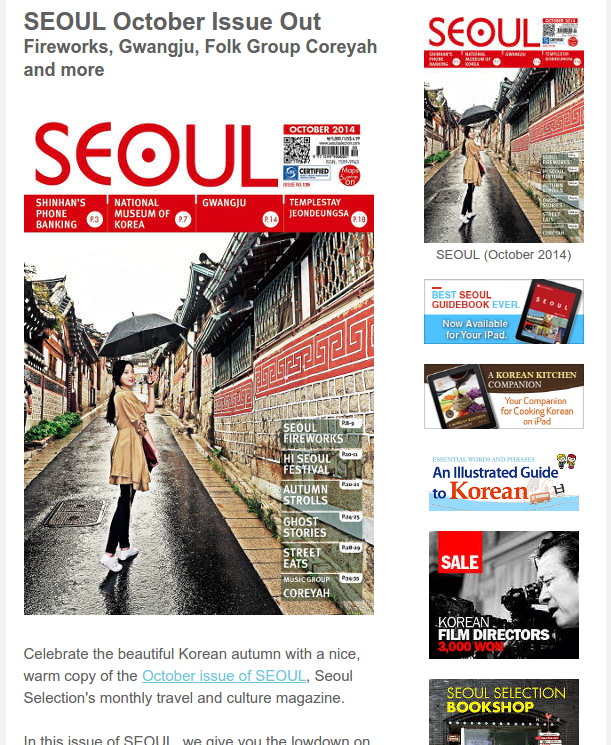 Sep. 24, 2014 / Issue No. 651

Translator Wanted: Seoul Selection is looking for full-time and part-time Korean-to-English translators to work on our various translation projects. Those interested should send a resume and cover letter to hankinseoul@gmail.com.

SEOUL October Issue Out
Fireworks, Gwangju, Folk Group Coreyah and more

Celebrate the beautiful Korean autumn with a nice, warm copy of the October issue of SEOUL, Seoul Selection's monthly travel and culture magazine.

In this issue of SEOUL, we give you the lowdown on the Seoul International Fireworks Festival, introduce the MICE opportunities of Gwangju, meet the Korean music group Coreyah, go on a Templestay at Ganghwado's Jeondeungsa Temple and explore Seoul's street food scene.

If that's not enough, there's always our Goings On Around Town, our listings of the month's concerts, festivals, exhibits and other happenings. So go out and get a copy while it's still got that new magazine smell.

Oh, and don't forget about our mobile magazine apps! (iOS, Google). The mobile version of the October issue will be available early next week.


---

AROUND THE WEB

A miscellany of high-quality hyperlinks from the week, courtesy of SEOUL editor-in-chief Robert Koehler.

---

EVENTS

Jean Paul Soulscapes

To counterbalance our busy and hectic lifestyles and mindless consumerism, the idea and importance of healing is spreading in Korea. True to this idea, the photo series Jean Paul Soulscapes by Matthias Ley offers quiet photographs of the landscape of Germany's Northern Bavaria: Open farmland, fields, paths, trees, clear horizons, clouds and wide views during all seasons. For German photographer Matthias Ley, creating this photo series also allowed some personal healing.

VENUE: Mudaeruk Gallery
PERIOD: Sep. 26–Oct. 24
MORE INFO: www.mudaeruk.com, www.leyphoto.com, www.underwearband
GETTING THERE: Hapjeong Station í•©ì •ì—­ (Line 2 or 6), Exit 6

The Universal Ballet Company Presents 'The Love of Chunhyang'

The love story of Chunhyang is one of Korea's most widely known stories. Originally told in the form of pansori, a traditional genre of musical narratives. It's a moving tale that tells of the love between Chunhyang, the daughter of a gisaeng (a female entertainer), and Mongnyong, the son of a local government official. Yi Mongnyong, studying hard to earn his own title within the government, steps out one day to get some fresh air. The minute he does, however, he's greeted with the sight of Chunhyang, who is unbelievably beautiful. Entirely smitten and robbed of his logic, Mongnyong orders his servant to ask Chunhyang to accompany him. When she refuses, Mongnyong talks to her mother, Wolmae, and asks for permission to marry Chunhyang. Wolmae, who's delighted to marry her daughter off to a good family, gives her blessings, and the two marry on that very day. Conveniently enough, Chunhyang ends up sincerely falling in love with Mongnyong, and the two grow to be a happy couple. Unfortunately, Mongnyong is forced to leave for Seoul due to his father's work, making him leave his wife behind for some time. A new lord arrives in his absence, a greedy and wasteful glutton who enjoys partying and lechery. Although Chunhyang is already married, the new lord tries to make her sleep with him, but she refuses. Furious at such a rejection, he punishes her with imprisonment. When Mongnyong passes his exams and returns as a respectable civil servant, he finds out what happened to his lovely wife. He then punishes the new lord and goes on to live happily ever after with his beloved Chunghyang. Interested in seeing such a beautiful story in ballet form? Check out the Universal Ballet Company's interpretation.

VENUE: Sejong Center for the Performing Arts, Grand Theater
DATES: Sep. 27–Sep. 28
MORE INFO: T. 02-399-1111, www.sejongpac.or.kr
ADMISSION: KRW 20,000–80,000
GETTING THERE: Gwanghwamun Station 광화문역 (Line 5), Exit 8

Curtis on Tour

The Curtis Institute is a music conservatory in Philadelphia that is one of the most selective institutes of higher education in the United States, with a student body of around 150 to 170 students. The upside of their discerning admissions process, however, is that all who are admitted receive a full scholarship, and nearly all pupils are trained to fill specific places in a number of orchestras or opera companies, mainly the Philadelphia Orchestra. Pianists, organists, singers and composers are offered a chance to apply. As part of the school's curriculum, Curtis on Tour is a performance series organized by the institute to provide pupils with the opportunity to gain real-life experience in venues all over the world. Students have joined celebrated Curtis alumni and faculty on a world tour every year since 2008, a perfect way to put into practice the philosophy of learning by doing. The series is led by Principal and Director of the Curtis Institute Roberto Diaz, as well as lead violinist Eunice Kim, a Korean-American Curtis alumnus from San Francisco.

VENUE: Kumho Art Hall
DATE: Sep. 27, 15:00
MORE INFO: T. 02- 6303-1977, www.kumhoarthall.com
ADMISSION: KRW 9,000–40,000
GETTING THERE: Gwanghwamun Station 광화문역(Line 5), Exit 7. Walk straight for 200 meters in the direction of Seodaemun.

Orchestra Della Svizzera Italiana

Join the Orchestra Della Svizzera Italiana (OSI), or the "Orchestra of Italian Switzerland," for a marvelous concert with legendary pianist and conductor Vladimir Ashkenazy. Founded in the 1933 under the auspices of Italian Swiss Radio, the orchestra originally performed as a radio orchestra for the Italian-speaking regions of Switzerland, with the city of Lugano as their base. Later, with the introduction of television, the orchestra was rechristened as the Radio-Television Orchestra of Italian Switzerland, though didn't take its current name until 1991. The most famous composer to produce a piece specifically for the orchestra is Richard Strauss (1864–1949), who offered his Duet-Concertino in F major. The orchestra is also proud to announce the inclusion of guest Conductor Vladimir Askenazy, who began playing piano at age 6. After studying at the Moscow Conservatory, he won second prize in the International Chopin Piano Competition in Warsaw in 1955. After being harassed by the KGB and refusing to cooperate with Soviet authorities, Ashkenazy used his international fame as an artist to gain leverage to move out of Russia. Being married to an Icelandic woman, he eventually settled in the Nordic nation and became an Icelandic citizen in 1972.

VENUE: Seoul Arts Center, Concert Hall
DATE: Sep. 27, 20:00
MORE INFO: T. 02-1661-1605, www.sac.or.kr
ADMISSION: KRW 50,000–200,000
GETTING THERE: Nambu Bus Terminal Station 남부터미널역 (Line 3), Exit 5. Transfer to shuttle bus, or green bus No. 4429.

W Hotel WOW Party

Enjoy a stylish party with top British producer and electronic artist DJ Stevie Kotey at the W Hotel.

VENUE: W Hotel Seoul
DATE: Sep. 27, 10 PM to 4 AM
ADMISSION: KRW 40,000 with 1 welcome drink. KRW 30,000 with 1 welcome drink for early birds.
MORE INFO: WOOBAR.WSEOUL@WHOTELS.COM or T. 02-2022-0333
GETTING THERE: See here.

Templestay: Jeondeungsa

Jeondeungsa Temple, located in the lushly forested mountains of Gilsang-myeong, Ganghwa-gun, Incheon, is the ideal place to escape the hustle and bustle of city life and rejuvenate one's mind and soul. Upon arrival there is a short but fairly steep hike up to the temple from either the South or East Gate, but the thickness of the forest keeps visitors cool even on hot summer days. The serenity of the pathway up also happens to be the perfect foreshadowing for the rest of the experience at the temple.

A Templestay at Jeondeungsa Temple offers participants the unique opportunity to gain inner peace and experience cultural activities in the natural, serene setting of the mountain ridge. Practitioners can follow a typical monk's daily routine by taking part in Buddhist services, formal monastic meals, meditation and dialogue, or they can choose to design their own schedules if they would rather maximize the amount of rest they experience during their stay.

(Read more about the Jeondeungsa Templestay experience in the October issue of SEOUL)

MORE INFO: http://jeondeungsa.org, T. 032-937-0152, 9370125@hanmail.net

Mindungsan Eulalia Festival

At 1,118.8 meters, Mt. Mindungsan in Jeongseon, Gangwon-do, is not the tallest mountain in Korea, but is still fairly unique; rather than the lush forests found atop other peaks around the peninsula, its summit is almost devoid of trees (hence the mountain's name, which means "empty mountain"), covered instead by great fields of Eulalia grass. In September, the treeless expanses transform into great silver and gold grasslands of reeds waving in the wind like a silver sea. It's really quite a spectacular sight.
Most visitors to the festival come to hike up to the giant fields of reeds. There are plenty of other things to take in at the festival, though, with cultural performances, concerts, rock climbing contents, photo exhibits and much, much more.

VENUE: Jeongseon, Gangwon-do
PERIOD: Thru Oct 26
MORE INFO: T. 033-591-9141
GETTING THERE: Buses to Jeongseon depart from Seoul's Dong Seoul Bus Terminal (Travel time: 3 hours, 40 minutes). From Jeongseon, take a local bus to Nam-myeon.

RASKB: Sutra Writing: A visit to the studio of a master calligrapher

Today's visit is intended to give participants a chance to admire the work of Master Oegil, Kim Kyeong-Ho, a calligrapher of outstanding skills. For many years now he has been studying the ancient practice of Sutra copying, using powdered gold or silver, in an attempt to revive a tradition that flourished in Korea some 1,700 years ago. Having spent many years in an attempt to recover the lost techniques required to prepare and color the paper, and to acquire sufficient calligraphic skill for the task of copying the sutras, he established the Korean Transcribed Sutra Research Association in order to communicate these skills to as many others as possible. In particular, the skill he displays in the paintings and ornaments, with lines a fraction of a millimeter in breadth, is breathtaking. Kim Kyeong-Ho has held 15 exhibitions of his work, in Seoul, Los Angeles and New York.

VENUE: Seoul
DATE: Oct. 4, 3—6 pm
MORE INFO: See this link
COST: Free for members, KRW 10,000 for non-members.
GETTING THERE: See link above.


---

EVERYDAY KOREANS

Fields of eulalia grass near the peak of Mt. Mindungsan in Jeongseon, Gangwon-do. Photographed by Robert Koehler.

NOTIFICATIONS

Seoul Selection's Free Book Giveaway – Our free book give-away continues! Check out the list in last week's newsletter here.

Seoul Selection Offline Bookshop Sale – One of the greatest repositories of Korea-related English-language books anywhere, Seoul Selection is offering a 10% sale on any and all books published by Seoul Selection purchased from our OFFLINE bookshop next to Gyeongbokgung Palace.

Looking for Translators – Seoul Selection is looking for a few good translators (Korean to English) for general translation work. Those interested should send a resume and cover letter to Kyehyun at atoz@seoulselection.com. Experienced translators only.

Seoul Selection eBooks – You can purchase some Seoul Selection titles in ebook format via Amazon.com (for Kindle) and Apple's iBookstore. Titles include Ask a Korean Dude, Moon Tides, Doing Business in Korea, Once Around the Sun, and seven volumes of our Korean Film Directors series: BONG Joon-ho, IM Kwon-taek, KIM Jee-woon, LEE Chang-dong, LEE Man-hee, PARK Chan-wook, and SHIN Sang-ok.

Send Your Event Info – If you would like to advertise any upcoming events you are organizing, please send us the press release material at pubco@seoulselection.com by the preceding Friday in order for it to appear in the following Tuesday's issue.

Freelance Contributors Wanted – SEOUL Magazine needs writers who are fluent in both Korean and English. Writers should have a strong interest in Korean culture and be able to interview Koreans. Send your resume and writing samples to english@seoulselection.com.

We Buy & Sell Used Books – Seoul Selection buys and sells used books in English. Unlike our regular selection of publications that specialize in Korea-related topics, our Used Book section carries books on all subjects. It's all part of our effort to make life easier for the English-speaking community.

SEOUL (October 2014)


Buy Books at Seoul Selection's ONLINE Bookshop!




---

---

RECOMMENDED


Korean Impact On Japanese Culture


Experience Korea through your five senses


---

NEW BOOKS


잃어버린 G를 찾아서


Diary of Dana in Korea


Yollin Korean Beginners (1CD)


Yollin Korean Intermediate 1 (1CD)


Yollin Korean Beginners 2 (1CD)


---

NEW DVDs


Obsessed


The Target


God's Gift – 14 Days


The Attorney
Copyright © , All rights reserved.
Our mailing address is:
https://magazine.seoulselection.com/wp-content/uploads/2014/10/스크린샷-2014-10-06-105250.png
745
611
rjkoehler
https://magazine.seoulselection.com/wp-content/uploads/2018/01/Seoul-logo.png
rjkoehler
2014-10-06 01:52:19
2014-10-06 10:54:33
SEOUL Weekly: SEOUL October Issue Out