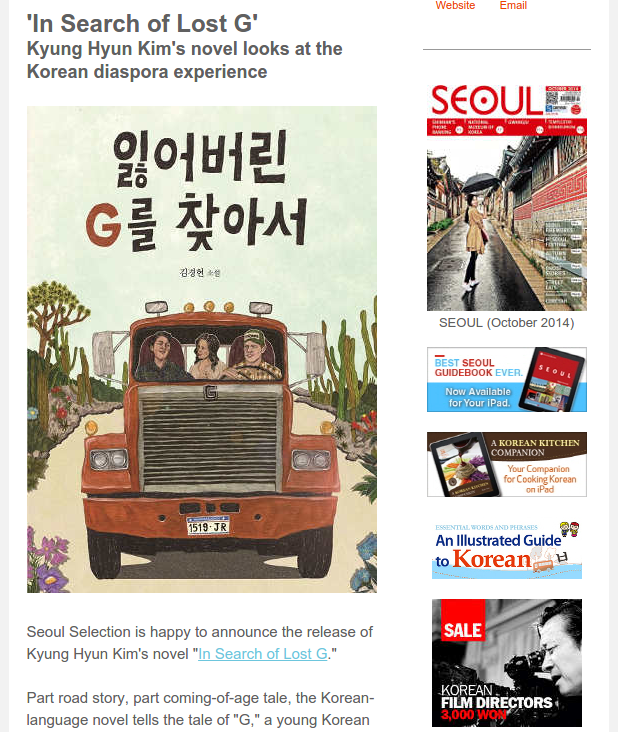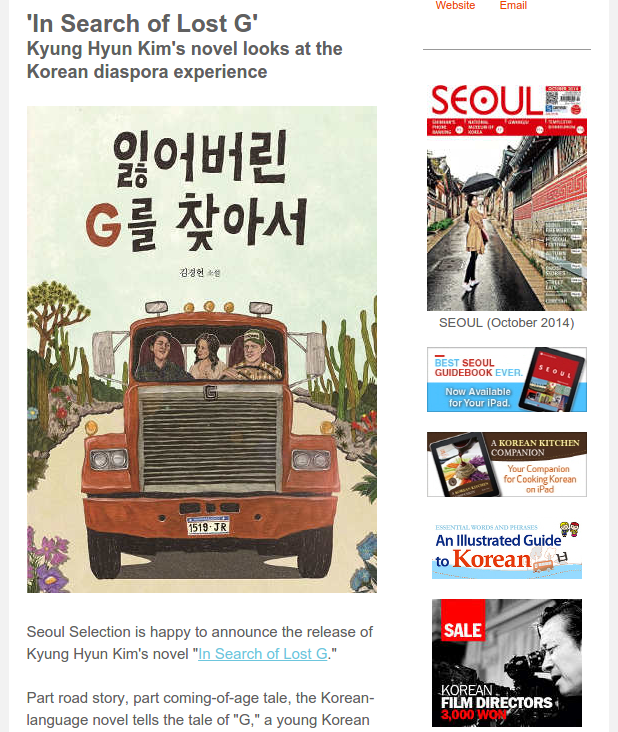 Oct. 2, 2014 / Issue No. 652

FYI: The digital version of the October Issue of SEOUL is now available at Apple's Newsstand. The Android version is on its way.

'In Search of Lost G'
Kyung Hyun Kim's novel looks at the Korean diaspora experience

Seoul Selection is happy to announce the release of Kyung Hyun Kim's novel "In Search of Lost G."

Part road story, part coming-of-age tale, the Korean-language novel tells the tale of "G," a young Korean man from an upper-class family in Seoul struggling at a prestigious private high school in New England. When he disappears with his girlfriend Paige. G's mother flies in from Korea to join his cousin in the States and Paige's grandfather to track him down. They're not alone in trying to track down G, though.

The novel examines a number of facets of the Korean diaspora, including the phenomenons of "studying abroad early" and US dormitory life.

Price: KRW 13,800


---

ATTENTION GYOPOS: SEOUL is looking for people to participate in November's panel discussion on being a Gyopo in Korea and how people treat you, as well as how you perceive yourself. The theme would be something like "Native or Foreign?" If you're ethnically Korean but were raised abroad, or if you're a native Korean who's received a good chunk of your education abroad, this discussion is for you! Korean adoptees are also welcome! Those who are interested should send an email to English@seoulselection.com with your name, age, phone number, occupation and length of stay in Seoul.


---

AROUND THE WEB

A miscellany of high-quality hyperlinks from the week, courtesy of SEOUL editor-in-chief Robert Koehler.

---

EVENTS

The 19th Busan International Film Festival

Although the Busan International Film Festival started as a small event in the port area of Nampo-dong, it is now the largest film festival in Asia. In 2011, the festival's popularity allowed it to relocate to a new, luxurious home in the Busan Cinema Center, Centum City, in the fashionable Haeundae area. Costs to erect the building peaked around USD 150 million, and the space was designed in a sleek, avant-garde fashion by Austria-based architecture collective Coop Himmelblau. Last year, the festival showed 301 films from 70 countries; this year's roster is set to include 313 films from 79 countries, with 132 world and international premiers. Although major stars and directors are always present, the focus of the festival always has been new films and emerging directors. The festival also offers a variety of special events and outdoor performances. Tickets for opening and closing films are only available online, while 20 percent of seats for regular films (both indoor and outdoor) will go on sale at on-site ticket booths.

VENUE: Busan Cinema Center, Centum City and Haeundae area
PERIOD: Oct. 2–11
MORE INFO: T. 02-1688-3010, www.biff.kr

The 11th Jarasum International Jazz Festival

Set on a normally peaceful Jarasum Island ("terrapin island" in Korean) in Gyeonggi-do, the Jarasum International Jazz Festival has been hosting some of the world's most prominent jazz musicians for the past 10 years. The event attracts over 200,000 visitors ever year, the majority of which actually end up being repeat attendees. The festival was selected by the Ministry of Culture, Sports and Tourism this year as Korea's best festival. A couple of major acts this year are U.S.-based jazz fusion quarter Yellowjackets and Cuban trumpeter and pianist Arturo Sandoval. The popularity of the festival has made competition to perform very stiff, with only 20 acts being selected for the final cut among the 500 who applied. As every year highlights a particularly country's jazz tradition, this year's spotlighted country is Norway.

VENUE: In and around Jara Island (Jarasum), Gapyeong-gun, Gyeonggi-do
PERIOD: Oct. 3–5
MORE INFO: T. 02-1544-6399, www.jarasumjazz.com/the11th/home
ADMISSION: KRW 45,000–90,000

Korean-German Chamber of Commerce and Industy Seminar: Work, Lead & Communicate Successfully with Koreans

The Korean-German Chamber of Commerce and Industy Seminar, in cooperation with the MindsGroup, will be hosting an intercultural seminar to help foreign residents of Korea gain a comprehensive understanding of intereactions with Koreans. The seminar consists of two, half-day sessions with presentation slides, workbooks & participants' real-life cases. If you'd like to participate, RSVP by Oct. 24, 2014 by submitting the registration form you can download here.

VENUE: KGCCI conference room (7th Fl.)
DATE: Oct. 30–31
MORE INFO: See here.
ADMISSION: KRW 900,000 (VAT not included)

Renaissance Seoul Hotel's 'Unlimited Pleasure'

The Renaissance Seoul Hotel's Club Horizon is hosting its 'Unlimited Pleasure' promotion where you can enjoy unlimited wine or beer with eight different kinds of snacks, icnluding grilled sausage, tortilla chips with tomato salsa, cheese quesadilla with sour cream, smoked salmon canapé, garlic shrimp, assorted cheese plate, fried chicken wings and seasonal fresh fruits.

VENUE: Renaissance Seoul Hotel's Club Horizon
TIMES: 5 PM to 9 PM from Monday through Thursday and 5 PM to 12 midnight from Friday through Sunday
PRICE: KRW 35,000 for unlimited beer and a snack and KRW 48,500 for unlimited wine and a snack.
GETTING THERE: Exit 8, Yeoksam Station, Line 2

Korea International Music Festival: Dong-Min Lim & Dong-Hyek Lim Play Chopin's Concertos

The opportunity to see two of Korea's best pianists perform on one stage is attractive on its own. What's even better, however, is that they're brothers. Lim Dong-min and Lim Dong-hyek will join forces for their first shared recital in nine years. The playlist is slated to include the two complete Chopin concertos, with Lim Dong-min, the elder of the two, playing the first while Lim Dong-hyek takes on the second. Joining them will be the Gyeonggi Philharmonic Orchestra and conductor Sung Shi-yeon. The two brothers shared third prize at the 15th International Frederick Chopin Competition in 2005, becoming the first Korean pianists in the concert's history to make it into the top five. Unlike other famous pianists, Lim Dong-min started late, at age 9, while his younger brother started playing at age 7. Chopin wrote and premiered both concertos in 1830, and the adagio movement of the first is supposedly dedicated to the woman he loved at the time. In actuality, the famous composer wrote Piano Concerto No. 2 first, but published it after number one. He was only 20 years old when they both premiered.

VENUE: Seoul Arts Center
DATE: Oct. 4
MORE INFO: T. 02-1588-1210, www.sac.or.kr, kimf.co.kr
ADMISSION: KRW 30,000–120,000
GETTING THERE: Nambu Bus Terminal Station 남부터미널역 (Line 3), Exit 5. Transfer to shuttle bus, or green bus No. 4429.

Scala & Kolacny Brothers Concert

In spite of its name, Scala and Kolacny Brothers is a Belgian women's choir that is conducted by Stijn Kolacny with arrangements and accompaniments by Steven Kolacny on the piano. They were formed in 1996, and won Belgium's Choir of the Year contest in 2000. Although most of their tunes are rearrangements of well-known songs from major musicians such as Oasis, Bjork, Radiohead, U2, Nirvana, Depeche Mode and others, they've also produced a great deal of original material. Those who are familiar with the film "The Social Network" may remember the rendition of Radiohead's "Creep" featured in the preview—one of the many works of Scala and Kolacny making a splash in pop culture.

VENUE: Sejong Center for the Performing Arts, Grand Theater
DATE: Oct. 6
MORE INFO: T. 02-2650-7481, www.sejongpac.or.kr
ADMISSION: KRW 20,000–180,000
GETTING THERE: Gwanghwamun Station 광화문역 (Line 5), Exit 8

Medea

Greek tragic dramatist Euripides is generally considered one of the three great tragedians of classical Athens, the other two being Aeschylus and Sophocles. Although he is said to have written around 92 plays, only around 18 have survived more or less complete. Distinguished for exploring the dark side of the human psyche, his masterpiece "Medea" takes audiences down the eerie path of a woman who takes revenge on her unfaithful husband by slaying not only his lover but also their children. This dark piece has been reborn as a work of changgeuk, or traditional opera. The hatred and anger of the original Greek tragedy is accompanied by the sorrow inherent in Korean music.

VENUE: National Theater of Korea
PERIOD: Thru Oct. 5, 20:00 on weekdays, 15:00, 19:00 on Sat., 15:00 on Sun. (Only 15:00 show on Oct. 3)
MORE INFO: T. 02-2280-4114/6, www.ntok.go.kr
ADMISSION: KRW 20,000–70,000
GETTING THERE: Dongguk Univ. Station 동대입구 (Line 3), Exit 2

Global Gathering Korea 2014

The Global Gathering is an annual dance music festival organized by Angel Music Group, which serves a pivotal role in the international festival market. Since being founded in 2001, the festival has become one of the U.K.'s most popular electronic music fests. The festival offers a wide range of genres such as house, trance and dubstep, and is held across the globe, stopping in places such as Ukraine, Poland, Turkey, Russia, Belarus, Australia and the U.K. Global Gathering Korea was first held in 2009, with every event held since then surpassing the last. This style of music event is part of a larger trend of taking electronic music out of clubs and into outdoor venues, and the results so far have been epic. This year's lineup includes Dada Life, Idiotape, Bassjackers, Krewella and more.

VENUE: Jamsil Sports Complex
DATE: Oct. 4
MORE INFO: T. 02-2240-8809, globalgatheringkorea.co.kr
ADMISSION: KRW 85,000
GETTING THERE: Sports Complex Station 종합운동장역 (Line 2), Exit 6 or 7

RASKB: Sutra Writing: A visit to the studio of a master calligrapher

Today's visit is intended to give participants a chance to admire the work of Master Oegil, Kim Kyeong-Ho, a calligrapher of outstanding skills. For many years now he has been studying the ancient practice of Sutra copying, using powdered gold or silver, in an attempt to revive a tradition that flourished in Korea some 1,700 years ago. Having spent many years in an attempt to recover the lost techniques required to prepare and color the paper, and to acquire sufficient calligraphic skill for the task of copying the sutras, he established the Korean Transcribed Sutra Research Association in order to communicate these skills to as many others as possible. In particular, the skill he displays in the paintings and ornaments, with lines a fraction of a millimeter in breadth, is breathtaking. Kim Kyeong-Ho has held 15 exhibitions of his work, in Seoul, Los Angeles and New York.

VENUE: Seoul
DATE: Oct. 4, 3—6 pm
MORE INFO: See this link
COST: Free for members, KRW 10,000 for non-members.
GETTING THERE: See link above.


---

EVERYDAY KOREANS

Fields of flame grass as Haneul Park. Photographed by Robert Koehler.

NOTIFICATIONS

Seoul Selection's Free Book Giveaway – Our free book give-away continues! Check out the list in last week's newsletter here.

Seoul Selection Offline Bookshop Sale – One of the greatest repositories of Korea-related English-language books anywhere, Seoul Selection is offering a 10% sale on any and all books published by Seoul Selection purchased from our OFFLINE bookshop next to Gyeongbokgung Palace.

Looking for Translators – Seoul Selection is looking for a few good translators (Korean to English) for general translation work. Those interested should send a resume and cover letter to Kyehyun at atoz@seoulselection.com. Experienced translators only.

Seoul Selection eBooks – You can purchase some Seoul Selection titles in ebook format via Amazon.com (for Kindle) and Apple's iBookstore. Titles include Ask a Korean Dude, Moon Tides, Doing Business in Korea, Once Around the Sun, and seven volumes of our Korean Film Directors series: BONG Joon-ho, IM Kwon-taek, KIM Jee-woon, LEE Chang-dong, LEE Man-hee, PARK Chan-wook, and SHIN Sang-ok.

Send Your Event Info – If you would like to advertise any upcoming events you are organizing, please send us the press release material at pubco@seoulselection.com by the preceding Friday in order for it to appear in the following Tuesday's issue.

Freelance Contributors Wanted – SEOUL Magazine needs writers who are fluent in both Korean and English. Writers should have a strong interest in Korean culture and be able to interview Koreans. Send your resume and writing samples to english@seoulselection.com.

We Buy & Sell Used Books – Seoul Selection buys and sells used books in English. Unlike our regular selection of publications that specialize in Korea-related topics, our Used Book section carries books on all subjects. It's all part of our effort to make life easier for the English-speaking community.

SEOUL (October 2014)


Buy Books at Seoul Selection's ONLINE Bookshop!




---

---

RECOMMENDED


Colorful story of Seoul

---

NEW BOOKS


Whispers of the DMZ


Colorful story of Seoul


North Korea's Cities


STORYTELLING ASIA : Incheon


Exploring Korean History Through World Heritage


---

NEW DVDs


Bel Ami


Rough Play


Driving With My Wifes Lover


Tough as Iron


Monster
Copyright © , All rights reserved.
Our mailing address is:
https://magazine.seoulselection.com/wp-content/uploads/2014/10/스크린샷-2014-10-06-105557.png
732
618
rjkoehler
https://magazine.seoulselection.com/wp-content/uploads/2018/01/Seoul-logo.png
rjkoehler
2014-10-06 01:55:55
2014-10-06 10:57:42
SEOUL Weekly: In Search of Lost G